For the one and only official ESNY Mock Draft of 2018, the New York Giants land their stud while the Jets go excitement creating a myriad of questions.
Only one, folks. It's the fab that needs to take hold of the National Football League and never let go.
Stop it with all of these mock drafts. Please.
For months, over half a year even, everybody from your mother to the mail carrier is filling us in on who's going No. 1 overall to the Cleveland Browns. These individuals are letting us know who's gonna make a splash while hopping into the top 10 and which stars are going to end up busting. Gauging by the talk over the last couple months, we already know who's Hall of Fame bound.
Folks just love seeing those names in a fictitious manner next to their beloved NFL colors. It provides hope. All 32 organizations are in it to win it.
Stop the nonsense. We know fantasy takes hold this time around, but over 100 mock drafts—especially those that come with the preamble of "way too early"—are totally and completely unnecessary.
Only one is needed, just a few days prior to the draft. That's what we're doing here today on this space of the internet.
Here's ESNY's official top 10 NFL Mock Draft: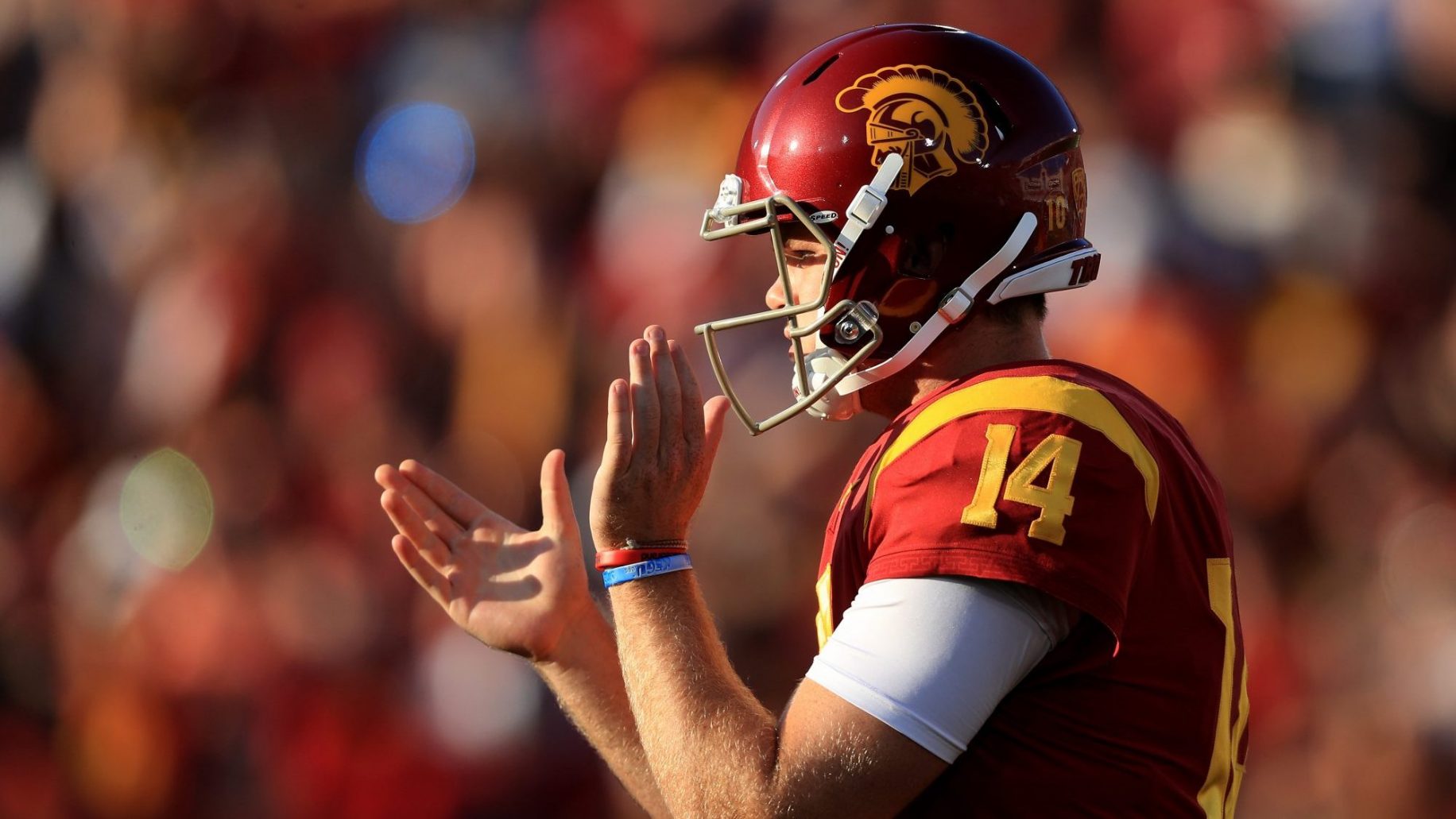 1. Cleveland Browns: Sam Darnold, QB-USC
The draft play that carries two giant stones would have the Cleveland Browns taking Saquon Barkley first overall. It would then ensure them a quarterback in the four hole, at the very worst, the third QB taken in the draft.
Not only that, but who knows. Maybe the Barkley pick stuns Dave Gettleman so much that no deal is done and they go Quenton Nelson over Sam Darnold last moment.
It's not going to happen. The franchise in search of a franchise face for so long won't wait. They'll hand-choose the arm they want at the top of the board and in this version, it's USC's Sam Darnold.
Josh Allen is a candidate, no doubt. Hell, Josh Rosen should also be a candidate. And while I do believe the team is still very much split between Darnold/Rosen, the tie will go to the runner.
Darnold's been the favorite since last offseason and aside for a little patch during the offseason, he'll remain the favorite after Roger Goodell spouts out the first pick on the night of April 26.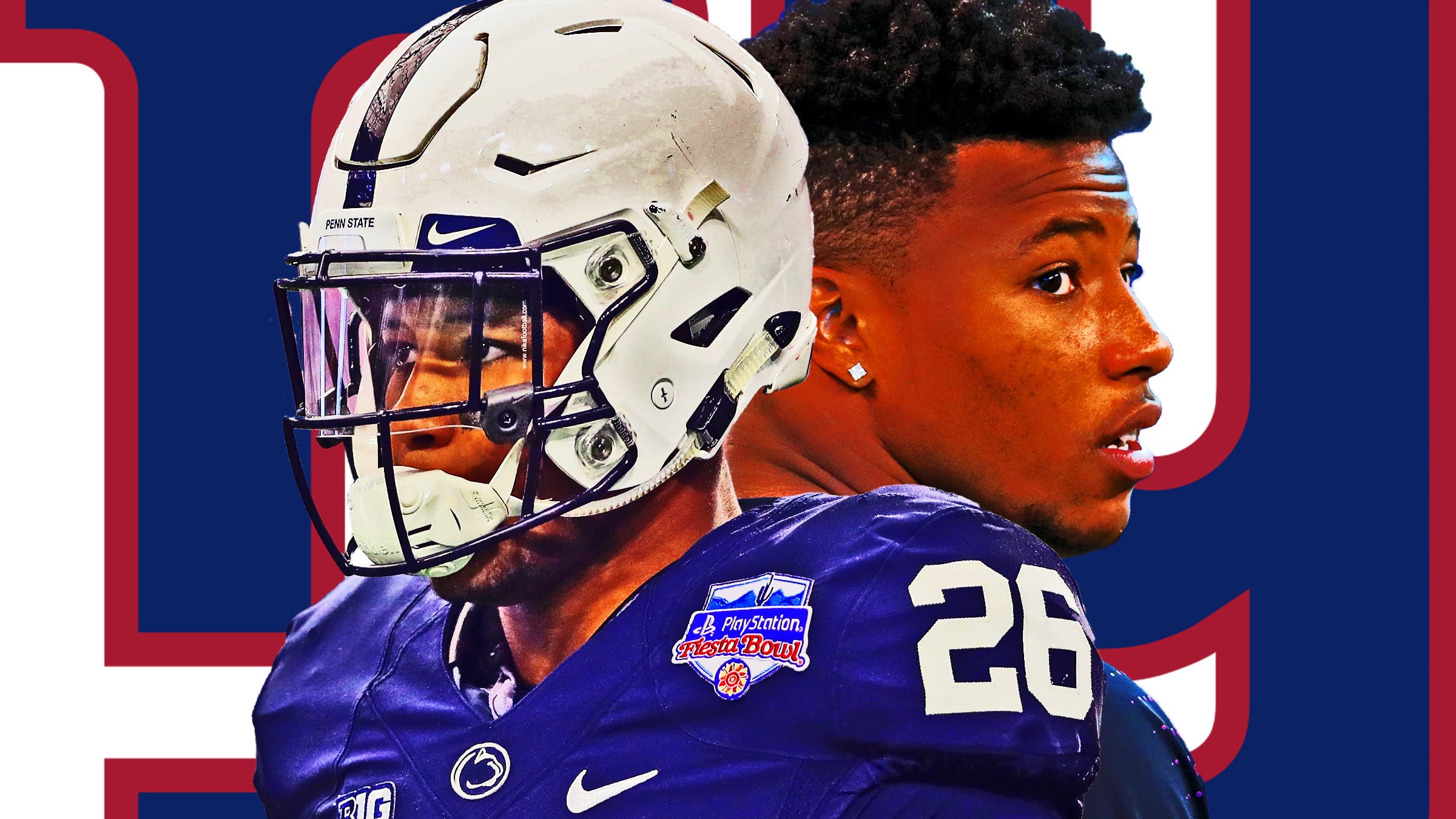 Seeing that name of Darnold go No. 1 means Gettelman and the New York Giants have an easy decision on their hands. Yes, running backs are a devalued commodity in the league that plays for pay. This notion is not a fantasy (despite many attempting to push that new and creative narrative). But this kid is just that special.
Saquon Barkley immediately and drastically alters an NFL offense. The only decision Gettleman will have to make is whether or not to move down. The Miami Dolphins, Arizona Cardinals and Buffalo Bills will all be on the horn pushing the former Panthers GM.
In the end, Barkley's talent will be too much to pull that trade trigger.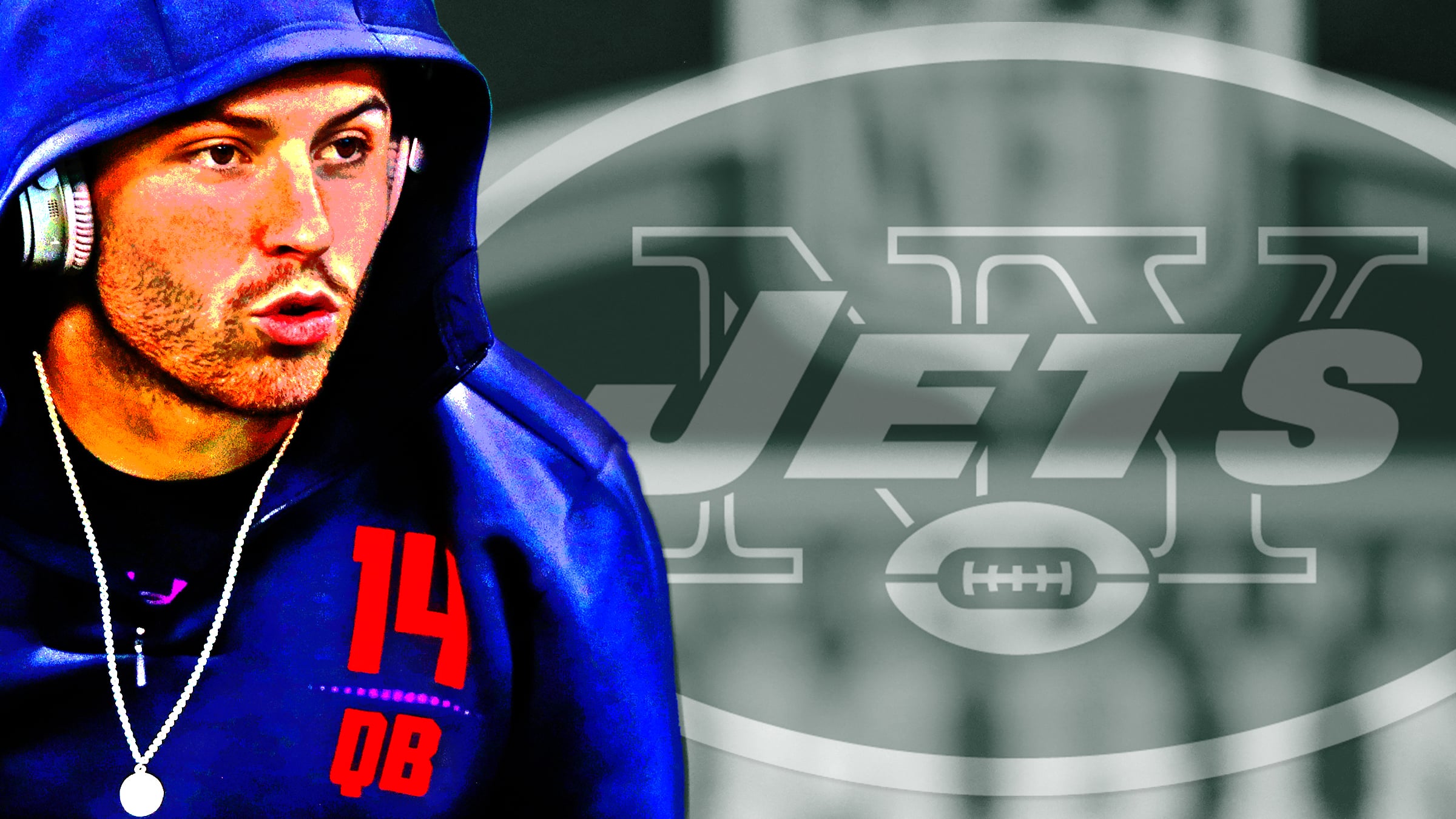 Via Indianapolis Colts: Traded No. 6 pick, two 2018 second rounders and one 2019 second rounder.
It's not that I'm not a fan of Baker Mayfield. It's that I'm not a fan of Baker Mayfield as a top 10 pick.
Ready? Name the last Big 12 quarterback to truly make it in the NFL … go.
There isn't anybody. In terms of spread-offense quarterbacks, who's made it? Marcus Mariota? Ryan Tannehill? Come on, now. Some folks will claim Drew Brees played in a spread at Purdue, but that's just not accurate. Joe Tiller's four wideout offense tailored more to run-and-shoot down-the-field principles.
Generally speaking, spread quarterbacks just don't make it. Stats always blind us, especially coming from the no-defense conference that is the new Big 12.
Around this time last year, the 2017 Heisman Trophy winner wasn't even a first-round selection. There was talk, but he hovered mainly in the second round. One bloated statistical season in the Big 12—the conference that mirrors offensive ways of the Arena League—and Mayfield is the darling QB of the entire pool.
Of course, Mike Maccagnan's already relented a king's ransom to move up three spots. The talk is that New York favors just two of the four big boys: Sam Darnold and Baker Mayfield. Why Josh Rosen and Josh Allen are on the outs in Jet land is anybody's best guess (here's looking at the Republican Woody Johnson and the liberal Rosen), but that's the way it's shaping up at the moment.
And hey, how can we not believe it? Rarely do the Jets create an effective smokescreen? They desperately were engaged with Kirk Cousins and it turned out to be true all along.
I'd chose Rosen or Allen in this spot every day of the week (probably Rosen first). I simply see the Mayfield to the Jets narrative holding true. For those who don't want to see Mayfield in Florham Park, hope the Browns take Barkley and the Giants snag Darnold.
Giving up an incredible three second rounders to move up three spots and take a guy who could have easily lasted until No. 6 will put the Jets in a position of already failing.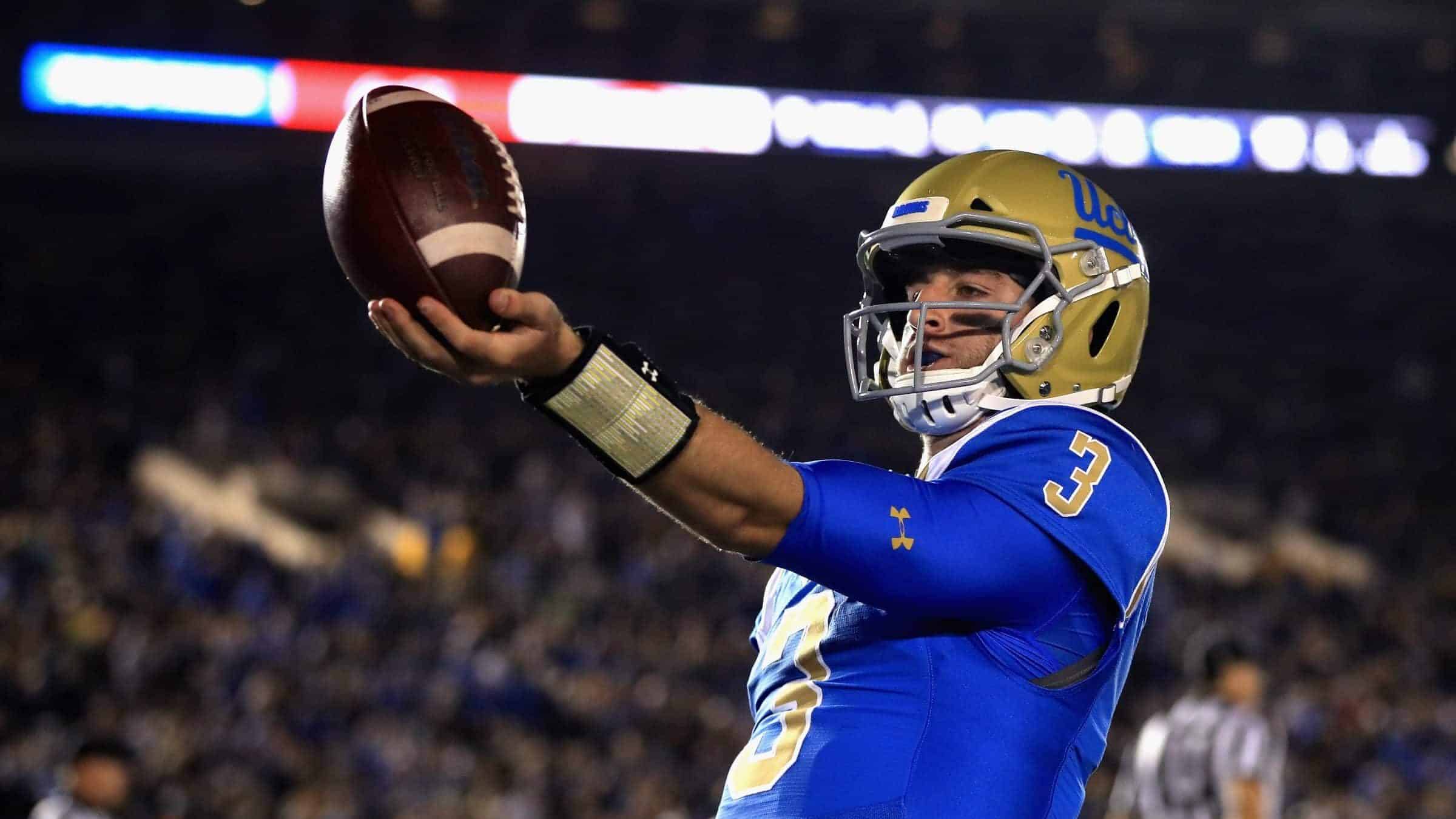 4. Miami Dolphins: Josh Rosen, QB-UCLA
Via Cleveland Browns: Trades No. 11 overall pick, second and fourth rounders in 2018 and first-rounder in 2019.
Doubling the draft-day troubles for Jets fans (if they wind up with the Big 12 numbers guy) would be the Miami Dolphins jumping the Denver Broncos to snag Josh Rosen.
Think about it. Over the last half-decade or so, every time we think the quarterbacks are going to dip a little, they never do. Jameis Winston and Marcus Mariota went one-two as did Jared Goff and Carson Wentz. Once the draft starts in this pumped up air-it-out passing league, teams go nuts for the thrower.
Once the Jets shock the sense and take Mayfield while leaving Rosen and Allen on the board, the phones are going to go nuts. Buffalo has the most ammo (two first rounders, two second rounders, two third rounders), but we'll hedge our bets on the Dolphins to give up the most. They'll snag their guy but pay dearly for it.
Mayfield in New York. Rosen in Miami.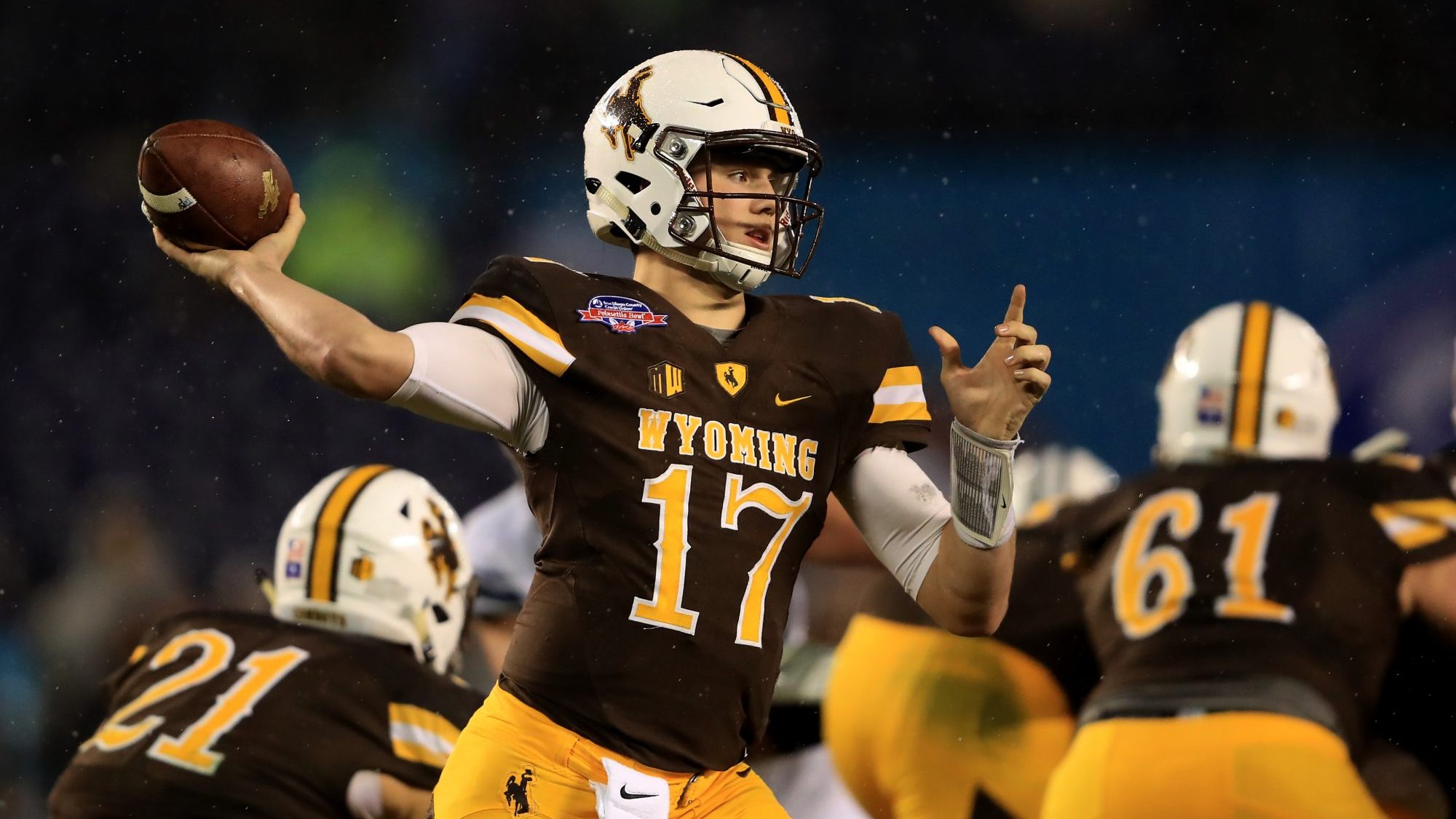 5. Denver Broncos: Josh Allen, QB-Wyoming
Through all of the nonsense and the waiting, John Elway gets the guy he's extremely comfortable with in Josh Allen. In fact, the Wyoming stud is the most talented arm from a raw physical standpoint in the draft and it isn't even close.
Completion percentage, accuracy issues, blah, blah, blah. For those who scream about Allen's 57 percent completion percentage and his inaccurate ways simply haven't watched him play or watched the tape carefully. That Wyoming offense is unlike anything the other QBs experienced at the collegiate level. In fact, it's more of a run-and-shoot/Kevin Gilbride attack down the field offense that would suit many of the early 1990s offensive minds.
Allen was always throwing down the field. What's critical via Allen and his bust potential is whether he's coachable and can effectively play smart at the line of scrimmage pre-snap. We have no idea. Therefore, it's just impossible to claim "bust." Those who do are simply looking at past bust prototypes and carelessly throwing Allen in that category. This kid could easily turn out to be Carson Wentz 2.0.
The Broncos get a steal with the kid at No. 5 if Allen possesses those coachability traits.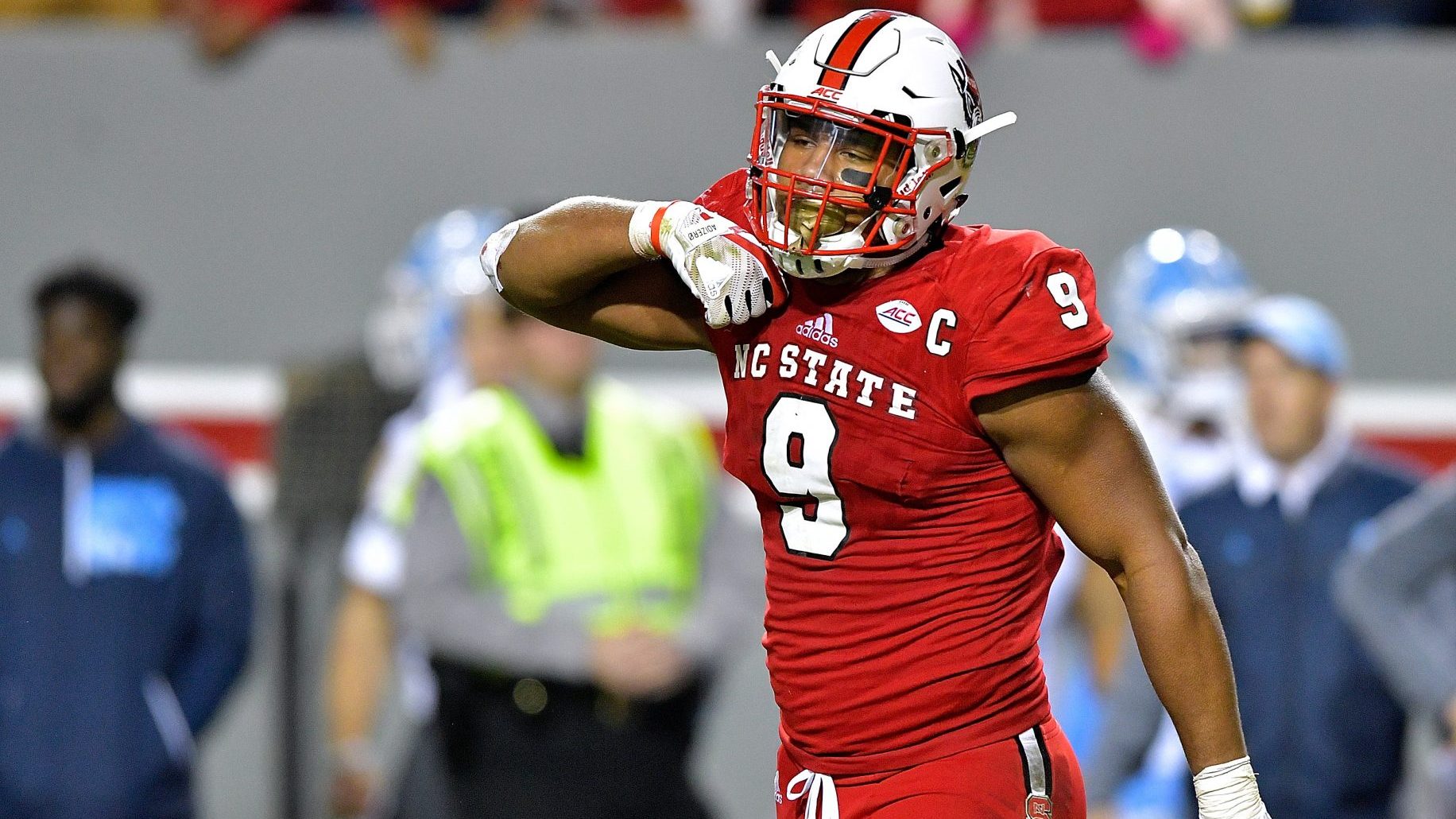 6. Indianapolis Colts: Bradley Chubb, EDGE-South Carolina
Via New York Jets: Traded No. 3 overall pick.
Imagine this … the Indianapolis Colts receive a boatload from the New York Jets to move back just three spots and still land their top target in Bradley Chubb. It's completely feasible. All that's needed is a quarterback-hungry team to move into the top five to snag that extra arm.
Chubb is the best defensive player in the draft by a mile and at the edge, plays the spot toughest to snag behind quarterback. Just ask those New York Jets who've gone without a legit edge presence since John Abraham.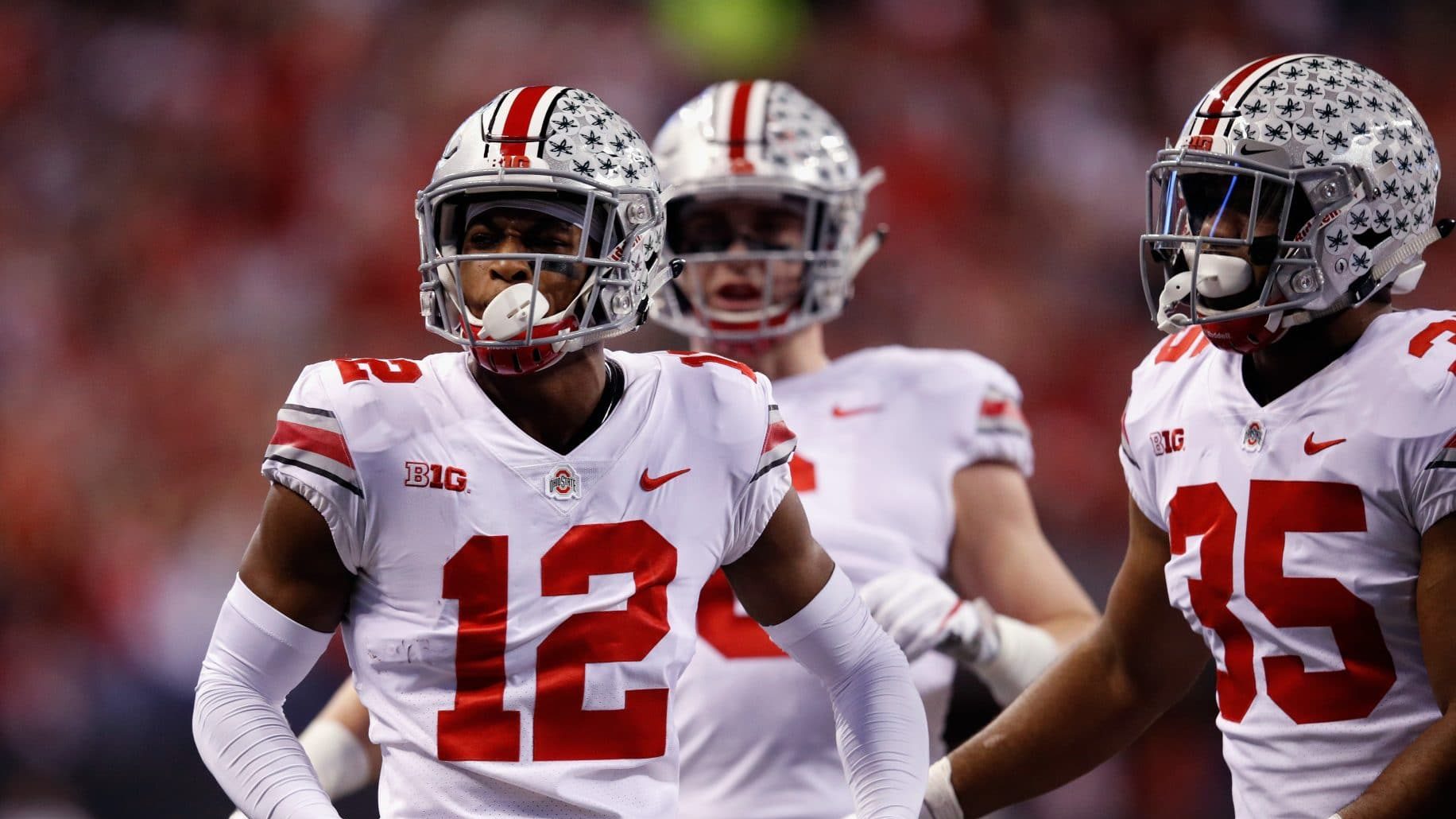 7. Tampa Bay Buccaneers: Denzel Ward, CB-Ohio State
Denzel Ward is the selection of the Tampa Bay Buccaneers edging out Bama's Minkah Fitzpatrick. Ward's corner-cover ability is off the charts and the Bucs can do some real damage moving forward with the Ohio State product.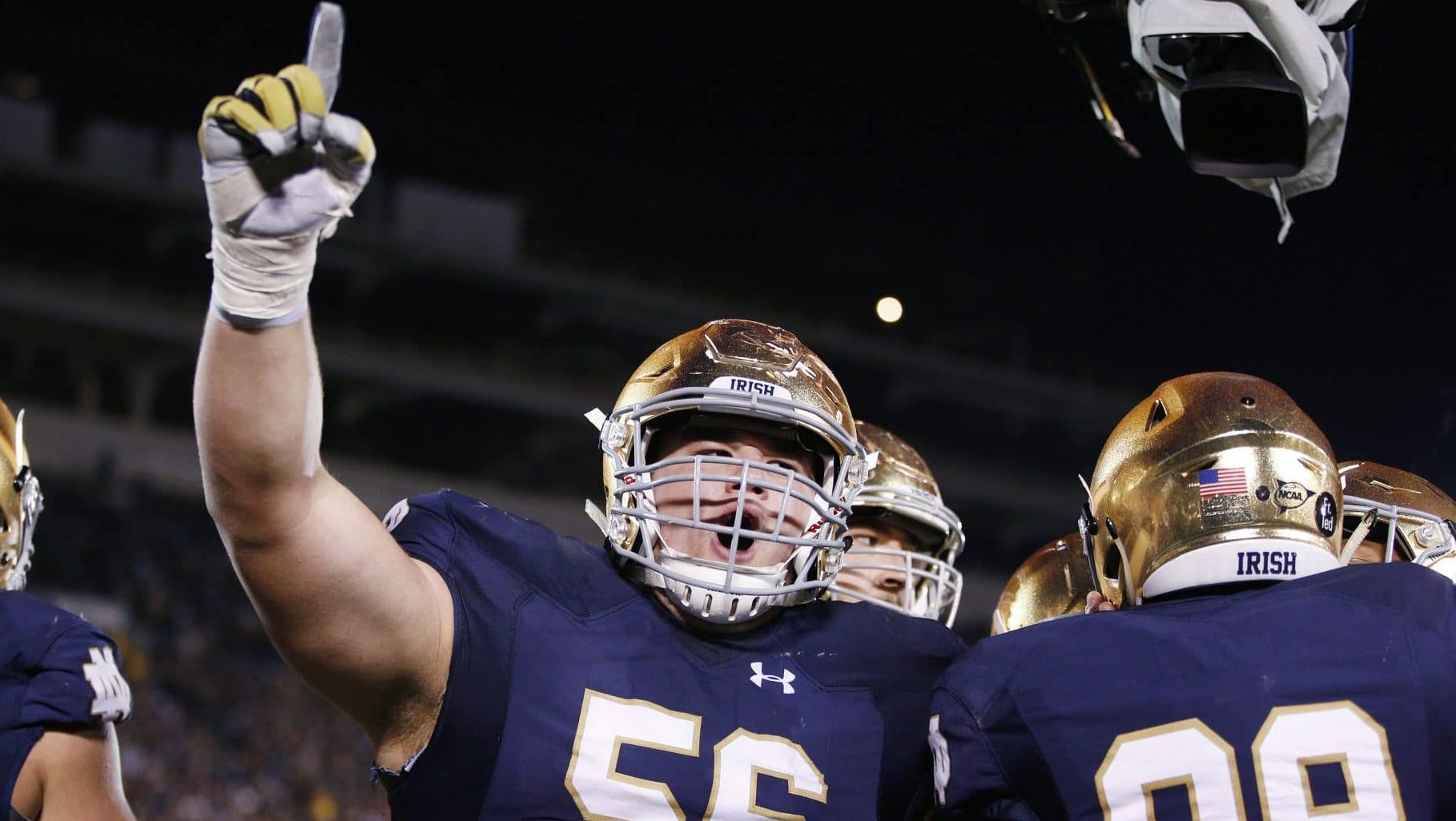 8. Chicago Bears: Quenton Nelson-Notre Dame
When the Chicago Bears take Notre Dame's Quenton Nelson eighth, a tear will be shed by Gettleman. Not only does he desperately want the kid, but he'd be perfect to mesh with newcomer Nate Solder.
It just doesn't work out in the No. 2 hole. For Nelson to come to Jersey, a trade down situation would have to occur.
The Bears will be more than happy with this near sure thing along the offensive line.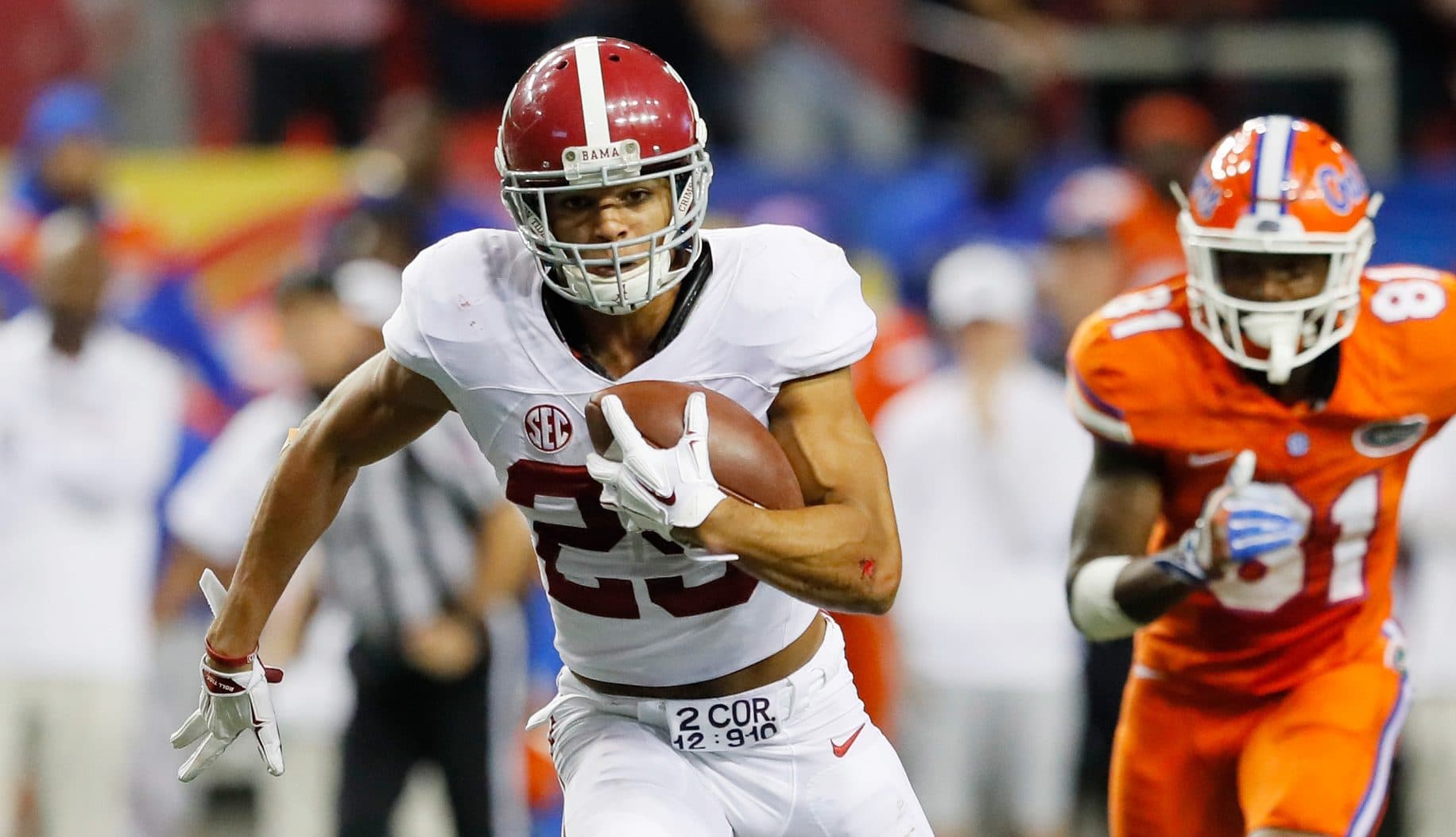 9. San Francisco 49ers: Minkah Fitzpatrick, DB-Alabama
The two options here—considering Denzel Ward heads to Chicago—will be Minkah Fitzpatrick and Florida State safety Derwin James.
Based on Fitzpatrick's alma mater, we'll provide the kid a slight edge. Easily, though, either or (even one of the inside linebackers) could be snagged at this spot via the Bay Area.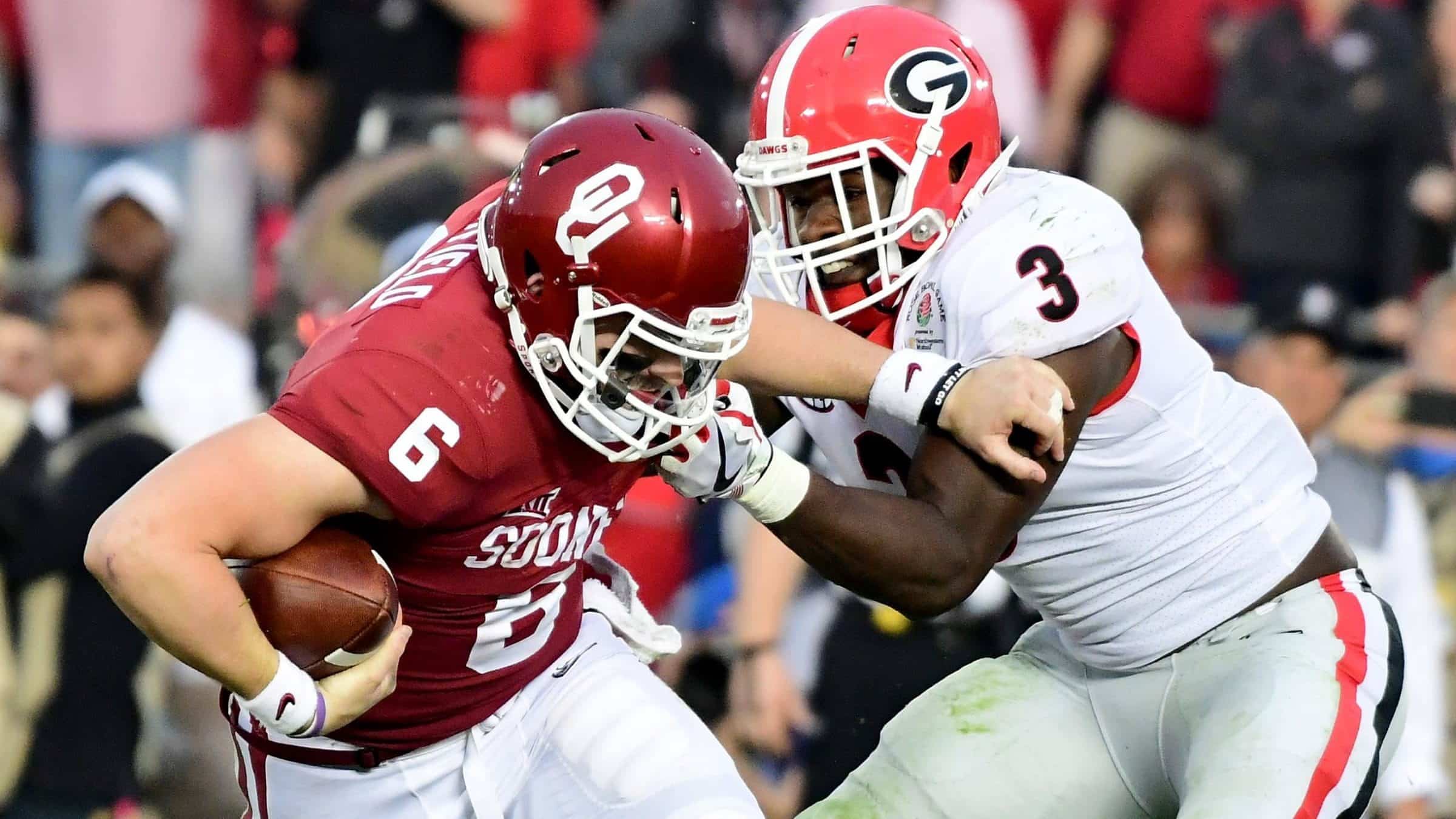 10. Oakland Raiders: Roquan Smith, ILB-Georgia
By all accounts, Georgia's Roquan Smith is the top inside backer in the pool. He's pushed by Virginia Tech's Tremaine Edmunds, but Smith will head to the Silver and Black to create an excellent second-level force behind Khalil Mack's best-in-the-business edge presence.
Final Thoughts
Like previously mentioned, just when you attempt to talk yourself into witnessing a QB or two falling just a bit, it rapidly changes courses. This is the new National Football League, the place where arms are salivated over for months, even years prior.
If the last five or so drafts have indicated anything, it's that those unsteady QB teams will do anything to land one of the big four. And having the No. 3 hole extremely interested in the one guy who could possibly drop a bit (Mayfield), ensures us that all four will come off the board extremely high.
In New York, by the time Thursday comes and goes, a beastly stud will be wearing blue while an exciting arm will have to break out those green-colored clothes.
Saquon Barkley is the newest running back of the New York Giants while Baker Mayfield and everything that comes with him is the new face of the franchise for the New York Jets.