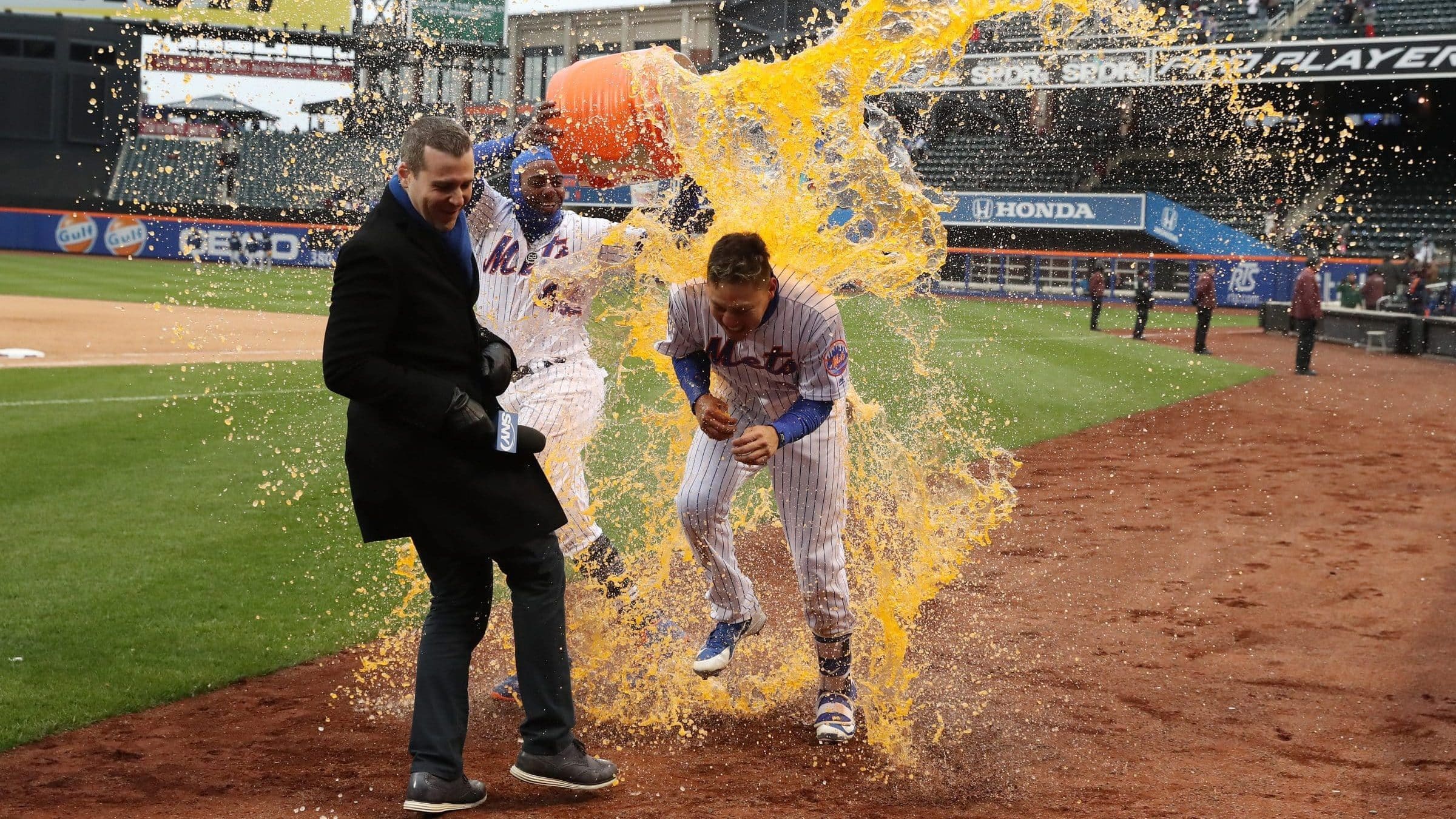 New York Mets outfielder Yoenis Cespedes dishes out epic Gatorade bath on Sunday in the direction of walk-off master Wilmer Flores.
Folks, there are Gatorade baths. These are the typical human-body drenching celebratory acts first made famous by the 1986 New York Giants circa Bill Parcells.
The players will sneakily roam the sideline while setting up a path towards the head coach and ultimately, to championship-clinching glory.
That's the regular Gatorade bath.
But then there are Yoenis Cespedes Gatorade baths, the casual yet forceful kind in which routes and planning simply act as elementary.
Yo don't care. He'll take the entire jug of fluid by himself while sprinting across the entire path en route towards the unsuspecting victim.
That's what happened on Sunday.
After New York Mets first baseman Wilmer Flores smacked a 1-2 hanging sinker for a walk-off home run at Citi Field against the Milwaukee Brewers, Cespedes provided us with a savage Gatorade bath for the ages:
This Yo bath targeted for Wilmer was a BRUTAL one. #LGM pic.twitter.com/ifvxKJPzq3

— Elite Sports NY (@EliteSportsNY) April 15, 2018
Here it is in slow-motion:
A SLO-MO YO Gatorade bath. #LGM pic.twitter.com/W8JEBv08ZU

— Elite Sports NY (@EliteSportsNY) April 15, 2018
Listen, we know Wilmer will take a walk-off any chance he receives, but man, Cespedes will make him pay for it.
The savagery of such a bath on such a cold day can't be great for the immune system. But hey, as it pertains to the 2018 New York Mets at this very moment, it's great for clubhouse chemistry.
The Mets currently sit with a sparkling record of 12-2 as they await the arrival of the defending NL East champion Washington Nationals who come in for a three-game slate starting on Monday night in Flushing.