Despite the money and fame, it's not always easy to find a date when you're a professional athlete. Let's take a look some fictional Tinder profiles for our New York Knicks.
Listen, if you're like me, although it can be fun to watch and write about the development of Trey Burke and Frank Ntilikina, the bottom line is, the New York Knicks are terrible and will most likely be terrible again next season.
Therefore, I chose to embrace a little levity and ridiculousnesses while I cling to whatever shreds of sanity I have left.
The Knicks will have a good amount of time on their hands during the latter parts of April, in addition to the whole months of May and June. And like most young people in New York City, temptation and boredom almost always give way to 'swiping right' on dating apps like Tinder.
The idea of Tinder and the NBA is nothing new. Last year, Tom Haberstroh of ESPN wrote a ground-breaking piece on how Tinder is helping players get more sleep on the road because they don't need to leave the hotel to find a date.
Haberstroh's article goes on to point out that the home-field advantage that used to be so prevalent in the 1980s has been almost cut in half with the advent of smartphone technology and dating apps.
That begs the question, what does a professional athlete's Tinder profile look like? Do they use their real name or an alias? What's in their bio? Let's find out.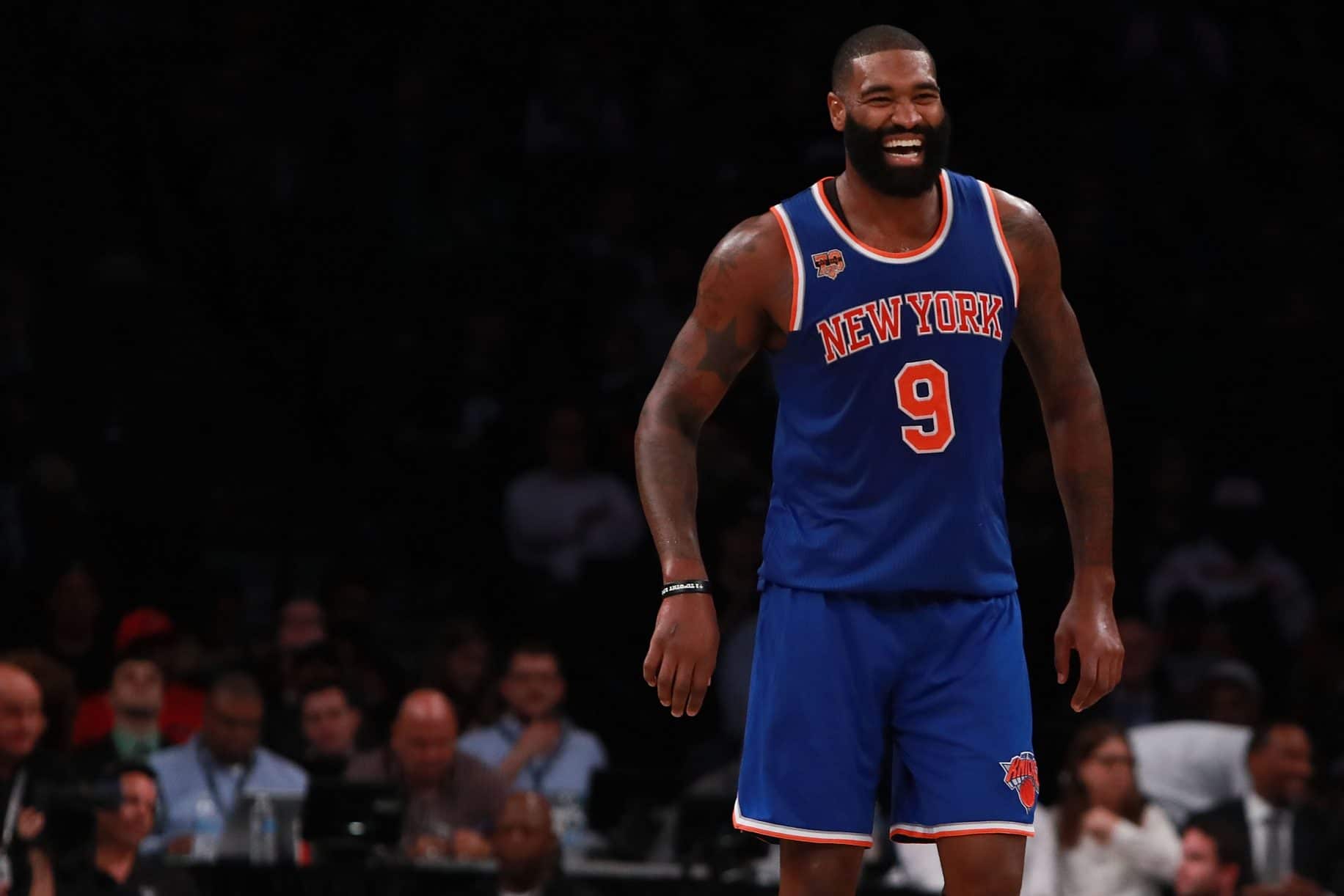 Kyle O'Quinn "K.O.", "King of Queens", "Big Irish"

Me: Larger than life personality and a great smile combined with the most fantastic facial hair you've ever seen. Avid Photographer. Big family man.
I tucked the bottom of my shorts into my tights hoping it would catch on like 'Hoodie Melo'. It didn't. Oh well, you win some and you lose some.
You: Someone who doesn't mind regularly combing and oiling my beard. Someone who can abide by some simple food rules; if you bring leftovers home and they're in the fridge for more than 24 hours, I'm eating them. If you bring home any sweets without labeling them in a clear plastic cylinder, I'm eating them.
If you don't give me at least two hours notice prior to discussing take-out options for the evening, you're dead to me!
Future Goals: Getting paid this summer
Hornacek supporters swipe left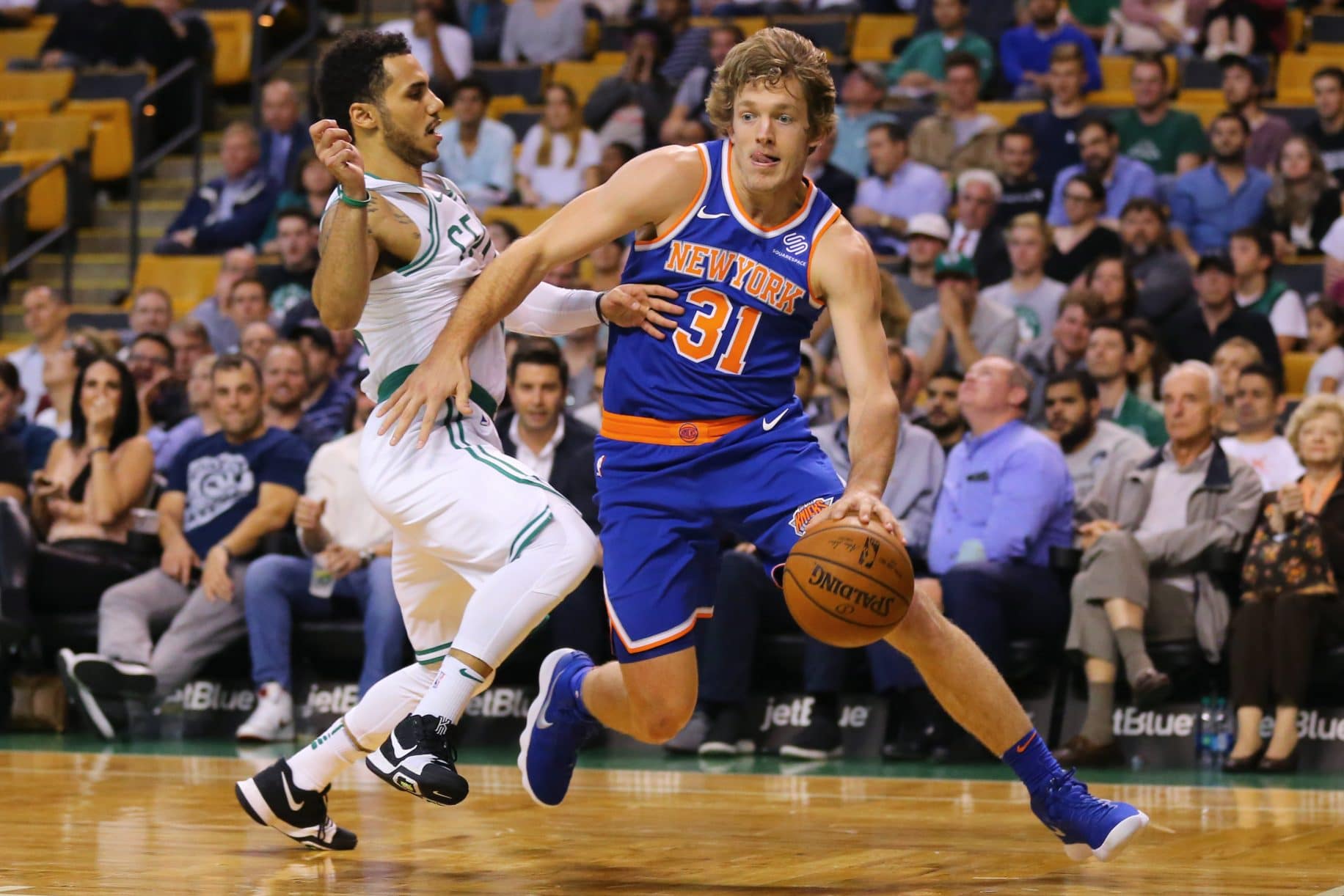 Ron Baker "Ron Burgundy"
Manhattan-based, published author, and shooting guard for the New York Knicks.
Ladies, you can generally find me at Jacob's Pickles, chowin' down on some killer BBQ with my friends from back home. Looking for someone who doesn't mind that my hair will always look better…you just can't compete with my golden locks.
Facts: You can still be a man and have an impressive stuffed animal collection. I'm living proof.
Warning: I'm a bit injury prone, Anthony Davis rocked me in the face with his elbow, so I had to wear a mask for a while, and now my shoulder is messed up so I have to wear a sling. There's a chance our first date might take place in a hospital.
If you need someone who can write a good bedtime story, I'm your man. Stay classy, New York!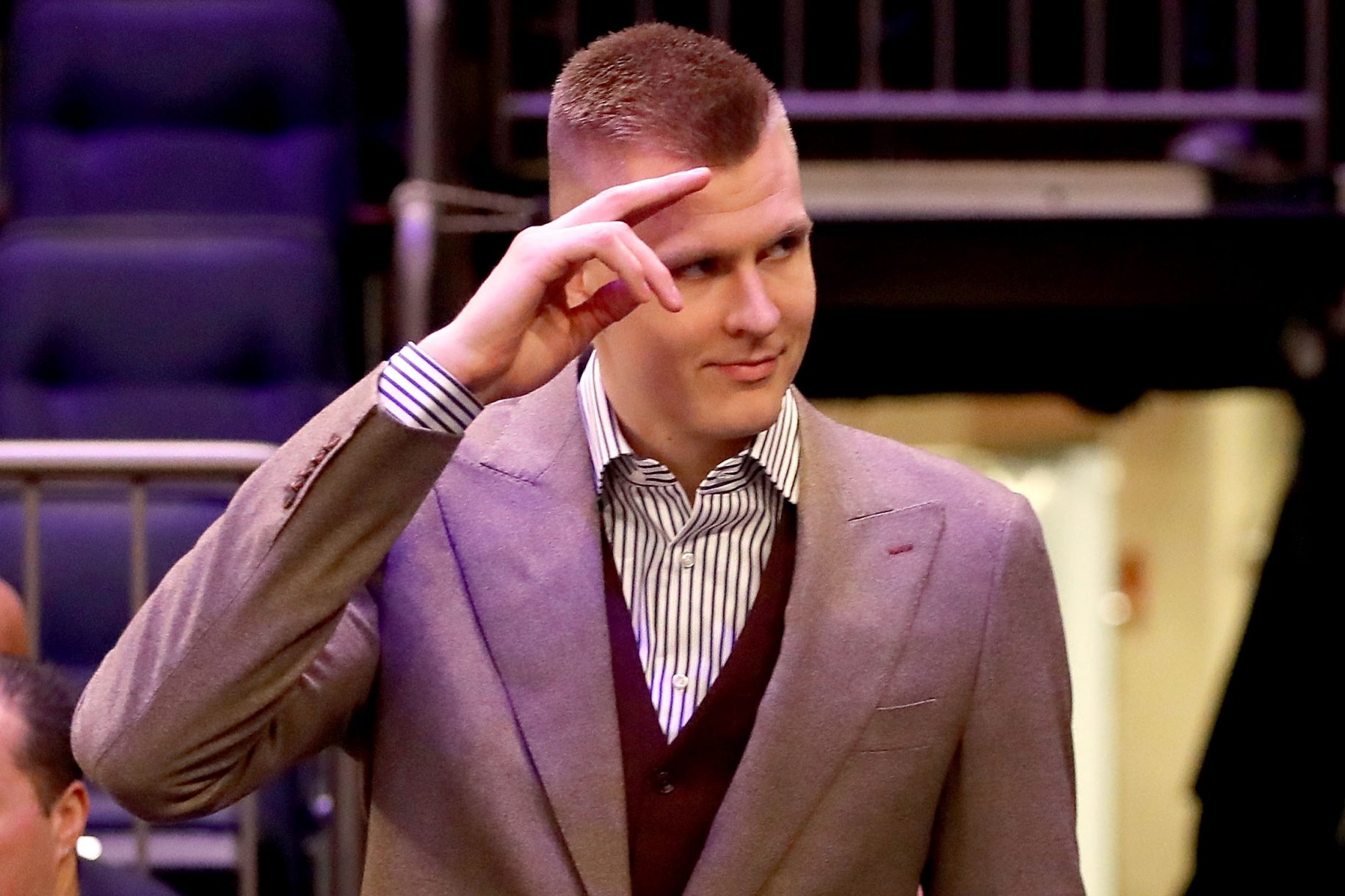 7-foot-3 (and still growing) 🙂
Fluent in three languages including Latvian, Spanish, and English.
Currently accepting all applications from Instagram models. But PLEASE!!! If I send you a DM, don't screenshot it, let it be our little secret.
Family is a big part of my life. My brothers Janis and Martins also work as my agent and manager respectively. They also screen my dates. Just saying, if you have two friends, this may work out better for you. ¯\_(ツ)_/¯
Pros: I'm about to be super rich and James Dolan's wallet is about get a little lighter. I'm about two years away from running this city. My emoji game is on point, deadass.
Cons: I'll be honest, somtimes I struggle with conflict. If we get in a fight, there's a possibility I may get on a plane with my brothers and fy to Latvia for summer, without saying goodbye. Or maybe that was just with Phil Jackson…sorry :/
You will always come second to Willy Hernangomez. Te amo, mi amigo!
Beneath all the hype I'm really just looking for someone who will occasionally rub Icy Hot on my knee.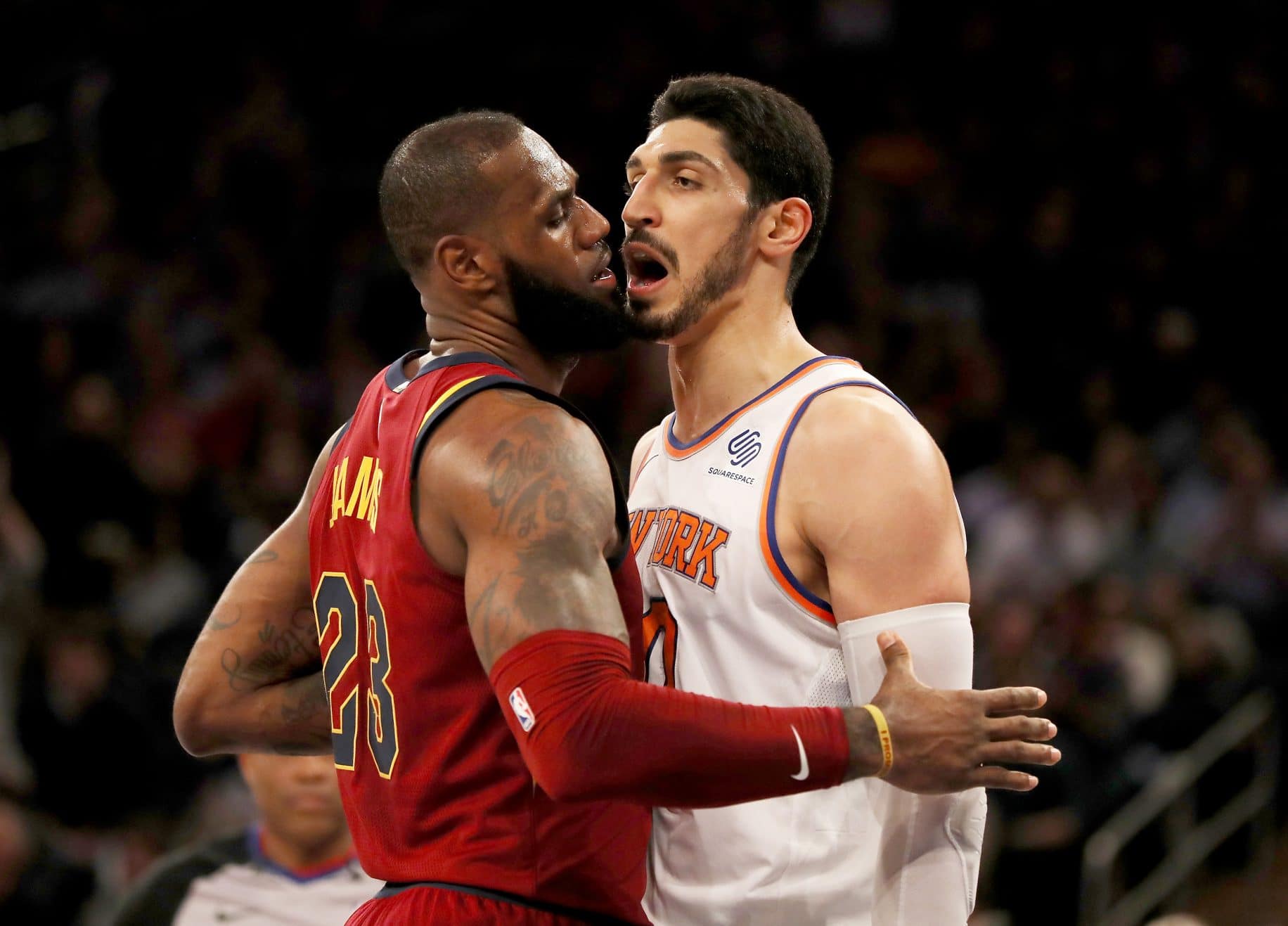 Enes Kanter "Enes the Menace"
If you like bad boys, the President of Turkey wants me in jail. If you like good guys, I fiercely defend my friends and teammates, even against the notorious Queen James.
People say your Mario Cart character says a lot of about you. I rock with Bowser, no exceptions. Guess I'm just looking for my Princess (wink, wink).
People once thought I was dating Rihanna and I didn't have to thirst trap her like Joel Embiid. #Trustthehealingprocess #Howsyourface:)
If you like defense…….ummm………I hear Frank is single?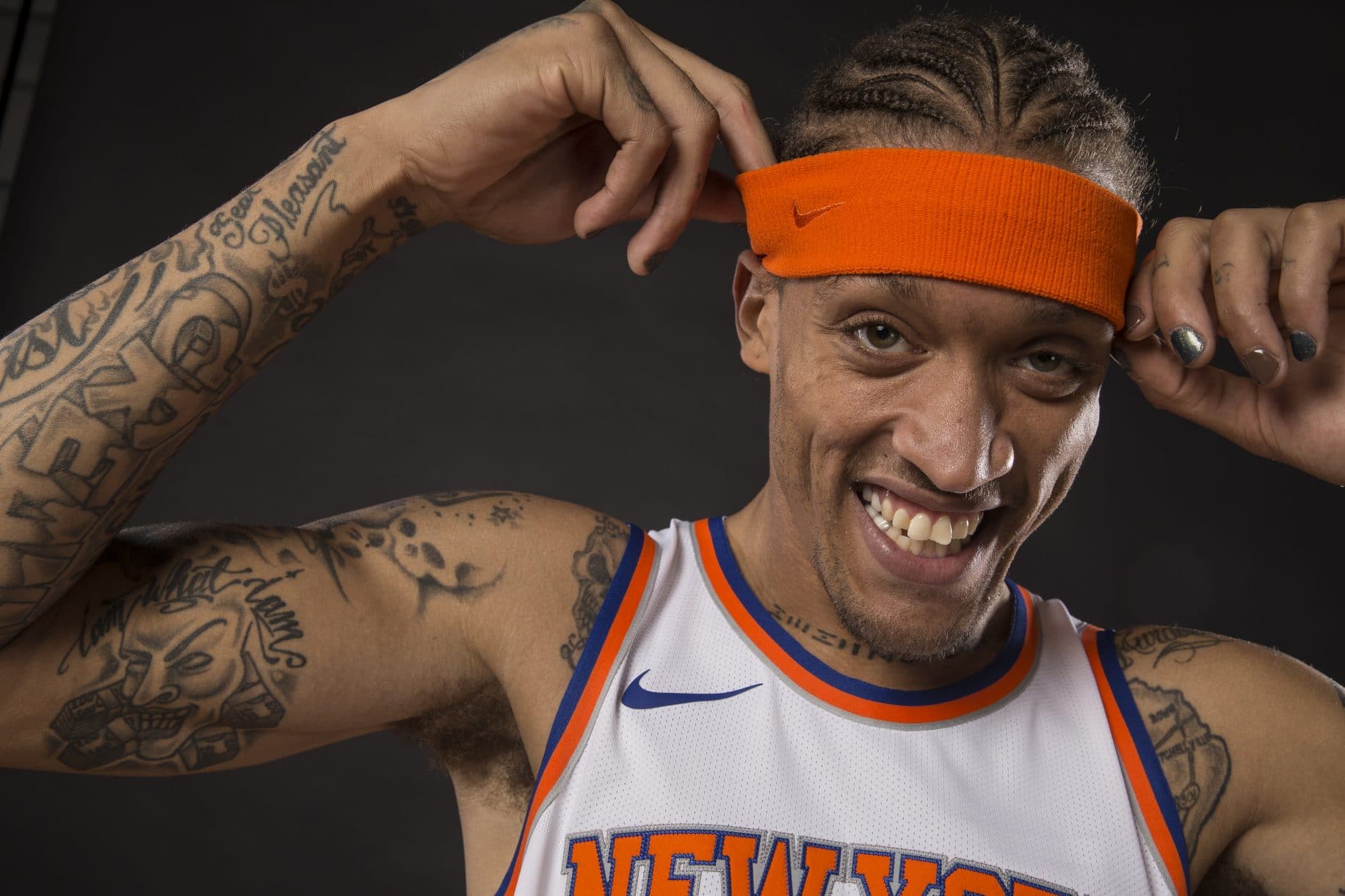 Michael Beasley "B-Easy" "Your favorite player's favorite player" "Walking Bucket"
I paint my nails.
I use more then ten percent of my brain.
I have more tattoos than follicles of hair on my body.
I play Fortnite.
Looking for someone who can discuss the trials and tribulations of having an investment portfolio with an emphasis on Bitcoin and other areas of cryptocurrency as well as the difference between Beethoven's 5th and 7th symphonies. AND DON'T TELL ME THAT THE SEVENTH IS BETTER, JUST DON'T!!!
If we match and it goes somewhere, we can tell everyone that we met at a "Save the Whales" conference in San Diego.
What do you think, folks? It seems like these guys have more game off the court than they do on it.