Kawhi Leonard has recently popped up as a potential trade chip for the San Antonio Spurs this coming offseason. Given that he is a top-five player when healthy, do the New York Knicks have the pieces to work a deal?
San Antonio Spurs star Kawhi Leonard is officially on the hypothetical trade block. The New York Knicks are one of the perennial NBA franchises. Kawhi in Madison Square Garden? We need to find a way to make this happen at any cost.
ESPN's Brian Windhorst, one of the absolute best in the business, has rarely gotten reports wrong. He is in the ears of many around the league, and he dropped one hell of a nugget recently.
What on earth is going on with Kawhi Leonard?
"That's a simple question with a complicated answer." – @WindhorstESPN pic.twitter.com/DwjLcG5lka

— Outside The Lines (@OTLonESPN) April 2, 2018
A report like this from a media figure like Windhorst about a player like Kawhi Leonard is enough to rile up league-wide front offices into drafting up ideas about how to pry the Klaw from the Spurs.
It looks like, at the very least, teams will have the chance to seduce San Antonio this offseason into giving up Kawhi Leonard, even if it remains unlikely he goes anywhere other than where he has spent his whole career.
Would the Spurs ever move him? History tells us that they probably wouldn't. The Spurs as an organization are usually stable and open to working out issues with personnel.
When All-Star LaMarcus Aldridge was unhappy with his role last season, Coach Gregg Popovich had a meeting with him to iron it out. He listened to Aldridge, and now Aldridge has turned their season around while playing like an all-NBA center. This season of superstar drama is rarely seen from such a professional team like the Spurs.
But if Kawhi is potentially on the block, could the Knicks even make an offer? What would it take? What would the Knicks feel comfortable moving?
Remember, this is Kawhi Leonard, an NBA champion, NBA Finals MVP, and two-time Defensive Player of the Year. The Spurs would require a hefty return.
However, this season became one of the strangest in Spurs history, largely due to the injury Kawhi sustained in last year's playoff run. His injury was misdiagnosed by the Spurs' medical staff, and it ended up being a quadriceps injury that would keep him out for an indefinite period.
During rehab, he injured his shoulder, and also re-aggravated his quadriceps, leading to him playing only 9 games this season, where he looked clearly unprepared for NBA basketball.
His value as a franchise player is still alive and well, however. His versatility and defensive prowess make him an instant boost to any team's offense and defense, and he is just starting to hit his prime, a few months away from his 27th birthday.
Kristaps Porzingis and Leonard? Bring it on. If Kawhi is seeking a bigger stage, where is there to go other than Madison Square Garden in the Big Apple?
Hypothetically, what would the Knicks give up to get him? Assuming Porzingis is not on the table, it would take a ton.
Frank Ntilikina would be necessary. This year's first-round draft pick is also a must.
Beyond that, it becomes tough. The Spurs would not want Emmanuel Mudiay, given his lack of on-court success through a few seasons. They wouldn't want Trey Burke and besides, the Spurs already have Dejounte Murray. They definitely would not accept Enes Kanter, Joakim Noah, or Tim Hardaway Jr. based on their contracts.
The Spurs would want young talent in return for Kawhi. Given San Antonio's history of winning basketball since the beginning of time, they would want to both compete and grow. Ntilikina and a top-10 lottery pick in this year's stacked draft could be nice moving forward, but Ntilikina has taken only baby steps this year.
That's not going to be enough to get a franchise-changing player like Leonard.
The Knicks have little else to offer that makes a lot of basketball sense. Courtney Lee is a great piece, but he is a bit pricey and the Spurs already have Manu Ginobili, Patty Mills, and Danny Green for that spot, with Murray and Tony Parker rounding out the guard positions.
Giving Lee some minutes at small forward would be smart. Even though he is undersized and defensively overmatched there, his shooting and veteran presence could mix well on the Spurs roster. He has had a great season, and at 32, he is averaging the second-most points of his career (11.9). Combine this moderate usage with his exactly 40 percent three-point shooting, and he brings a long-range element that the Spurs have been dying for in Leonard's absence.
Lance Thomas is similar to Lee in the way he offers a forward presence for a team that really needs one. He is still only 29, probably just leaving his physical prime, and he has added a three-point stroke to his offensive arsenal. His three-point shot has only been in use for three seasons, but since shooting them, he's made 130 out of 316 (41.1 percent, fantastic!). He also is not the best on defense but offers a stretchy option for any lineup, either at small forward or power forward. He could mix nicely on a Spurs roster for a few years.
Names like Ron Baker, Luke Kornet, and Damyean Dotson have potential to be impactful, but there is little chance of any of them getting rotation minutes anytime soon on a winning team.
The only option left is to throw in another potentially valuable draft pick. The Spurs have a filled roster already with trusted guys who make impacts, so finding spots for multiple players could be challenging. Not to mention, the Knicks roster is full of overpaid average players and undeveloped young talent with low ceilings. Just Frank Ntilikina and a first round pick, even in this loaded draft, is not exactly a haul for a top-five NBA superstar.
If the Knicks were really desperate to pair Kawhi with Kristaps and that was their sole goal for next year, they could potentially send out Frank Ntilikina, Courtney Lee, Lance Thomas, this year's 2018 first round draft pick, and next year's 2019 first round draft pick. In return, the Knicks could get Kawhi Leonard. This worked out through ESPN's trade machine.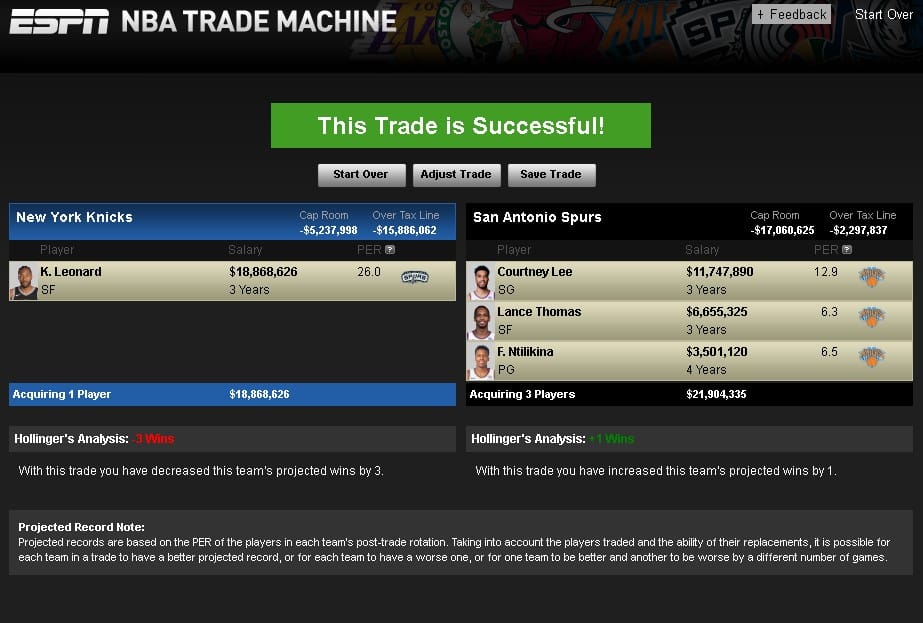 Moving forward, the Knicks would have a lineup of Trey Burke, Tim Hardaway Jr., Kawhi Leonard, Kristaps Porzingis, and Enes Kanter. Not too shabby. Two defensive monsters in Kawhi and KP could hopefully keep New York under the twenties in Defensive Efficiency, and with a lineup like that, maybe top seven or eight in Offensive Efficiency wouldn't be out of the question.
It would be a somewhat young core, and if the Knicks were able to stretch Noah's contract, they could add a seventh-or-eighth option in free agency to go along with less surefire names like Ron Baker, Michael Beasley, and Kyle O'Quinn. That would be a playoff team next year if healthy.
Of course, this is a desperation move, one that neither team would probably do. But it's fun to imagine the future possibilities, especially in another lost season at the World's Most Famous Arena.