It's officially time to grade Tim Hardaway Jr.'s contract and how it impacts the future with the New York Knicks season depressingly winding down.
Hindsight is always 20/20 when it comes to contract decisions. Were the New York Knicks helping their future handing out a long-term deal for Tim Hardaway Jr. or will they regret giving up their cap flexibility?
One season in, the answer lies in the context of his contract and the Knicks' future, along with league-wide contracts as a whole.
Hardaway Jr. is 26-years-old. He is at the very beginning of his physical prime, and at 6-foot-6 and 210 pounds, he does have a nice frame for where the league is headed in terms of wing value. He signed his new deal last summer in 2017, agreeing to a four-year deal worth $71 million. His last year on the contract will be in the 2020-2021 season when he is paid $18,975,000.
On paper, the deal isn't too bad. Many players received unjustified contracts over the 2016 offseason when the salary cap was expected to boom.
Orlando's Evan Fournier signed a four-year, $85 million contract and he is similar to Hardaway on the court. Hardaway's ex-teammate Kent Bazemore got four years on $70 million, but he is much stronger on the defensive end than Hardaway.
There were also extremely overvalued contracts as well.
Chandler Parsons received $94 million on a four-year deal, and he's barely stayed on the court. Luol Deng signed for four years at $72 million, and he hasn't even seen the court. Harrison Barnes signed a four-year deal worth $94 million and has yet to take the next step to stardom. These are all overestimates on player value as teams got a little too liberal with their money once the cap spiked two years ago.
What's different about Tim Hardaway's contract is that he signed in the 2017 offseason.
The Knicks had the season-long opportunity in 2016-2017 to look at these other contracts that teams and players agreed to and learn from their mistakes. Fournier isn't worth $17 million a year. Deng doesn't play. Parsons barely plays. Barnes hasn't taken the next step.
The New York Knicks should have anticipated the possibility of Hardaway not playing up to that dollar amount, even in a new cap environment. But they signed it anyway.
Is there any chance Hardaway can actually provide $17 million of on-court value? It seems unlikely. But context is important. The Knicks other contracts are a key factor as well. Here are the major contracts the Knicks will be paying for the next few years.
Enes Kanter will make a little over $18 million next season. Joakim Noah somehow makes a little over $18 million next year as well. Hardaway will make $17 million. Courtney Lee will make a little over $12 million. Those four combined make $65 million, roughly two thirds of the salary cap. Four other players, Lance Thomas, Frank Ntilikina, Ron Baker and Kyle O'Quinn combine for about another $24 million next season.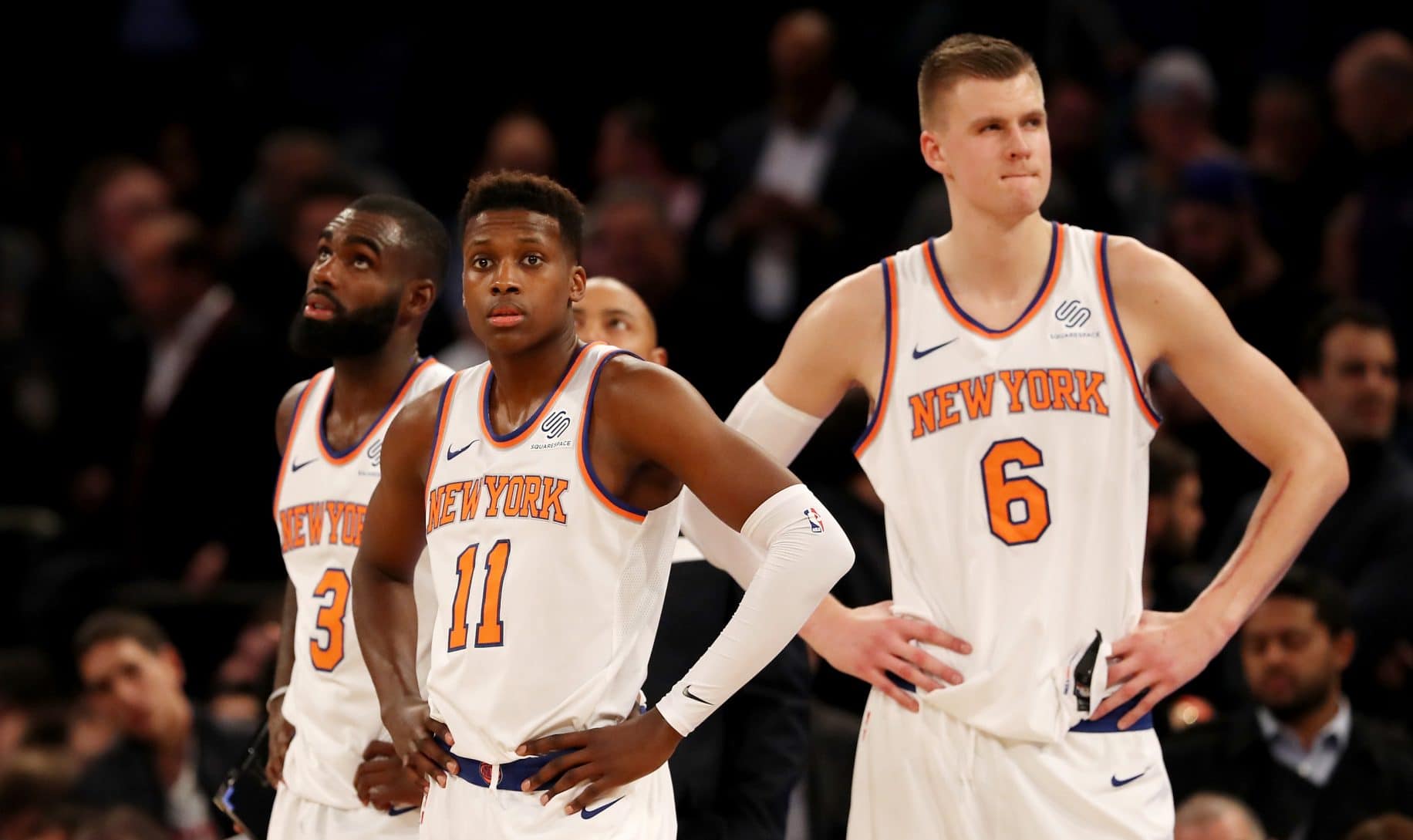 Eighty-nine million dollars are already under the books for next year. The Knicks are paying for their team as if they think they could get to the Finals this year, but they aren't even close to the playoffs.
Ideally, there are two ways to structure contracts from a team standpoint. One of them is to pay a lot of money for talent in order to compete for a championship. Teams sign good players for expensive deals because the team can contend for a ring.
The other is to limit expenses if the team isn't good enough for a playoff run. Since you aren't paying players tons of money, you become a nice landing spot for free agents, who can be signed to big deals when the franchise believes they can contend. Drafted players also can be extended if they develop, since money isn't tied up in other places. The one spot a team never wants to be in is paying multiple expensive contracts for a team that isn't going anywhere.
Guess where the Knicks fall …
Hardaway did have a nice break-out season in Atlanta last year. After the NBA All-Star break, he averaged 17.5 points, 3.5 rebounds and 2.6 assists on 47.1 percent shooting and 37.9 percent three point shooting in 32 minutes per game. That's great, but it's also a very small sample size. His career numbers are significantly lower, and he is one of the worst defenders in the league.
Paying $71 million to a player that can't defend wings on a team that is looking at the lottery is not good and we haven't even mentioned Kristaps Porzingis' name yet.
KP is signed on his rookie deal through next season at a little under $6 million. He's going to need the Brinks Truck from New York when he gets extended. He almost certainly will receive max-level money from somebody, ideally the Knicks.
But how much money is already tied up for 2019-2020?
Assuming the Knicks keeps Ntilikina on the team, he, Noah, Hardaway, Thomas and Lee require about $63 million. Add KP's rookie extension of most likely $27 million for the first year if he decides to stay, and the Knicks are already at $90 million in salaries two entire seasons from now. This leaves very little money to build a contender around KP. Hardaway's contract by that point could have been saved to attain a solid piece next to Porzingis.
Noah will not play, and Thomas and Lee will be into their early-or-middle 30s. It's hard to believe other teams will want to trade for any of these players at the deals they have, which means the Knicks have their core set for the next few years, a core that is aging quickly and overpaid. Yikes.
The Knicks are a complete disaster anywhere you look. Even if hindsight is 20/20, this level of inability to look towards the future is borderline criminal. Now, to hand out the grades.
Short-Term: C-
Hardaway is just entering his physical prime and has strengths scoring the ball. Outside of scoring and stretching the floor, he offers little else on the offensive end and practically nothing on the defensive end. Not to mention, defense at the wing positions has never been more important.
He complements the 2017-2018 Knicks, but what exactly is there to show for it? His market value is certainly lower than his contract, and should have been signed to the "Josh Richardson" type of deal of four years and $40 million or not be signed at all.
Long-Term: F
The Hardaway contract forced the Knicks to sacrifice any future flexibility they had. They effectively have no path to regaining cap space since their contracts are all overpriced. Even if the Knicks did make trades, they would need to attach picks or young players to the deal in order to justify the expensive contracts.
Porzingis needs the big bucks in a couple of years and a roster to match his strengths. The contract doesn't compliment Porzingis' future, and it leaves little future cap space to find any other way to help him.
Indirectly, this contract could cost the Knicks KP's future and his athletic prime.