The New York Knicks have had an overcrowded guard rotation all season. Frank Ntilikina has been pushed to the side in favor of other guards that aren't part of the Knicks' future and it could be a grave mistake.
The New York Knicks have been the laughing stock of the NBA for a few years. From Phil Jackson to Tim Hardaway Jr.'s contract to endless roster changes that usually don't make basketball sense, the Knicks are far from a role model as an organization. Frank Ntilikina was the apple of New York's eye with the eighth pick in the 2017 draft, but they aren't treating him like he's their future.
In fact, the point guard rotation has been the Knicks' biggest failure this year.
New York drafted French import Frank Ntilikina, a then 18-year-old (now 19) defensive-minded combo guard. Of the several draftees that seemed NBA ready, with Lonzo Ball, Markelle Fultz, Dennis Smith Jr., De'Aaron Fox, and Jayson Tatum among them, Frank Ntilikina was the longest of projects.
He was raw on offense and barely scouted compared to players in the States. Yet, Phil Jackson took him with the eighth pick as a parting gift on his way out (also, why let Phil make the pick if he's going to be fired two weeks later?). Regardless, it was actually an okay pick. His defense is for real. However, his offense is far from NBA-ready. He is not a good shooter. His dribble penetration is average at best. He is very turnover-prone. Almost all of his positive value comes from the defensive end.
But he's only 19. He needs the reps from the coaching staff in order to polish his offensive talent. He needs 35 minutes a night on the court with a very long leash. Why is he not getting nearly enough minutes? The answer is found in the organization itself.
By this point, it is common knowledge that you are either tanking or competing in the NBA. There is no middle ground…unless you are the Knicks. They put out rotations that maximize trying to win. But the Knicks need to tank. Even if you are going to win games when you are a rebuilding team, win the games using your young talent. Instead, competing guards Trey Burke, Emmanuel Mudiay, and Jarrett Jack receive far too many minutes at point guard, leaving their 19-year-old spending more than half of every game on the bench. What is the point in giving Mudiay minutes? It makes no sense. Not only is he a failed prospect that Denver completely banished from the team, but he is, and I'm not kidding, one of the absolute worst players in the entire NBA. Here's some numbers from him.
Mudiay has a career effective field goal percentage of 41.9. His career three-point shooting is 31.9 percent. He has a career total, through 183 games, of -1.8 win shares. He is a negative in both offensive and defensive box plus/minus in every season on every team he's been on. From cleaningtheglass.com, we figure out among point guards, he is in the seventh percentile of points per 100 possessions: literally the worst of the worst. He is in the bottom half percentile of both assist percentage and assist-to-usage ratio. These terrible offensive numbers come primarily from his time spent on a fantastic offensive team in Denver, showing his inability to be effective on an NBA court. Yet here he is, posting 25 or more minutes in 10 of his 18 games as a Knick. This needs to stop.
Trey Burke is another confusing addition. He is in his fifth season on his third team. Sure, he is getting 12.2 points on 52.6 percent shooting. He's even getting four assists in only 19 minutes a game. That's good for Trey Burke and his career but it's not good for the Knicks. Burke is 25 years old and entering the beginning of his prime. He shouldn't take up 19 minutes a game that Ntilikina needs. His best case scenario for the Knicks is increased trade value from solid play. If this is what they are attempting, then kudos, but do we trust the Knicks to be so forward thinking? Burke is signed through 2019 on less than $2 million, and could be a viable trade piece for maybe a second-round pick, at best.
Jarrett Jack was the most sensible signing for the Knicks. He is a veteran point guard and could teach Ntilikina the ins and outs of the NBA to a degree. He's getting modest averages of 7.6 points and 5.7 assists in 25.6 minutes per game. However, he's started 56 of his 58 games. Ntilikina has started in four…of 72.
This was supposed to be the franchise's defensive point guard of the future. The Knicks were supposed to give him the keys to the castle. Giving Trey Burke and the advanced metrics trash can Mudiay more minutes is nonsensical.
The Knicks knew Frank was a project, and it's completely fair to expect a long timeline on his improvement. The best way to speed up his level of development is to be on the court getting used to an NBA offense. The Knicks are treating him like a second round throw-in. He was the number eight pick in a strong draft! He needs minutes, reps, and, most importantly, a chemistry with the other starters. The other point guards in the league of last year's draft are getting a significantly larger workload.
Here are the games started and minutes per game from the other top point guards of the same draft class. De'Aaron Fox has started 53 of 66 games with 27.3 mpg. Lonzo Ball has started 49 of 51 with 34.4 mpg. Dennis Smith Jr. has started all 63 of his games with 29.7 mpg. Donovan Mitchell has started 63 of 71 games and averages 33.3 mpg on a playoff team. Frank Ntilikina started four of 72 games and averages 21 minutes per game…
In Ntilikina's puny 21 minutes a game, his offense is looking pretty brutal, even for a 19-year-old overseas prospect. In those minutes, he averages 5.7 points, 2.1 rebounds, and 3.1 assists on 36.1 percent shooting from the floor. It's bad. But the numbers are incapable of gauging defense even in the year 2018. We need the eye test for that. The eye test proves that he could be one of the most excellent defensive point guards in the league. The way he uses his body to cut off driving lanes is like a veteran and his long arms are a pest for opposing smaller guards. His frame is lean, but that will surely improve over the years. He is 6-foot-5 with a 7-foot wingspan, giving hope for his ability to switch between all positions on the perimeter. Fortunately, as far as point guards, there may not be a better rookie prospect for defense outside of Rookie of the Year names like Donovan Mitchell and Ben Simmons. This brings us to another issue of the coaching Frank receives.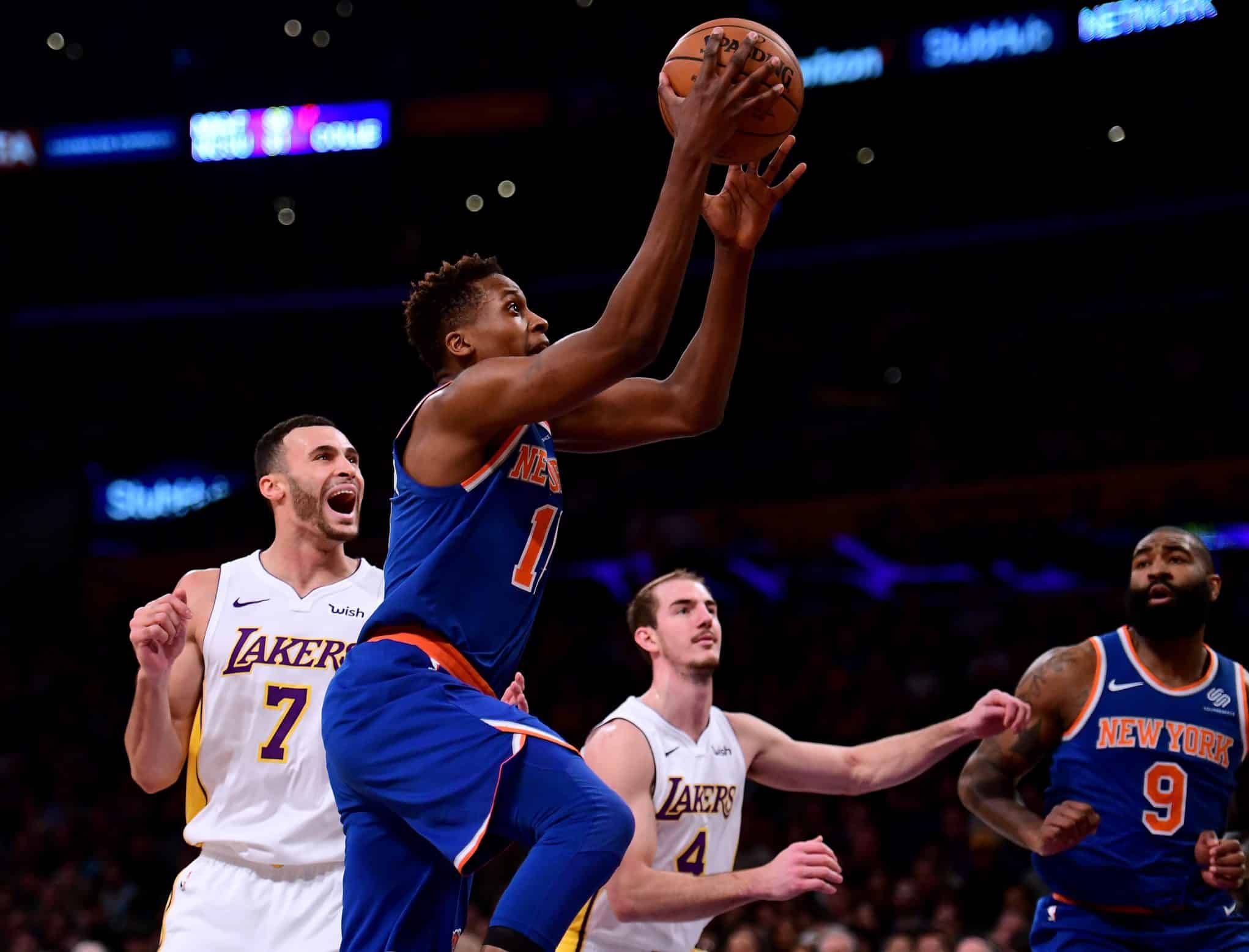 When it comes to offense, Ntilikina has very little upside in any position other than point guard (specifically shooting guard) since there is no chance he will play small forward, power forward, or center. This is entirely due to his inability to stretch the floor off the ball. Even the most optimistic of predictions couldn't see Ntilikina being even an average shooter any time soon. If he can't play shooting guard, he has no choice but to be a full-time point. There are very few non-shooting point guards that have a significant positive impact. Ben Simmons, John Wall, Russell Westbrook, and Dejounte Murray may be the only starting point guards that have a positive impact without shooting threes well.
Other non-shooting candidates like Dennis Schroder and Reggie Jackson have not yet proven they can win games with their skill sets. Predicting Ntilikina's career arc next to any of theirs seems wildly too optimistic, except maybe Dejounte Murray. They are all awesome defenders except Westbrook, but he was an MVP. From basketball-reference.com, Ntilikina plays 23 percent of his minutes at shooting guard. Both now and in the future, he has to play much closer to every single minute at point guard, since playing him at shooting guard will hurt the offense drastically on a team that already doesn't have enough shooting.
The Knicks' series of questionable front office and coaching decisions might very well come back to bite them down the road. When Kristaps Porzingis is anxious to start contending for a championship a few years down the line, Ntilikina might still not be prepared on offense to help them get there. The blame for his lack of development is going to fall on the organization, and if the Knicks can't develop the pieces to compliment Porzingis, KP might choose to take his talents elsewhere.
Frank Ntilikina must get all the practice and experience he can handle. The Knicks future may depend on it.
*All per game averages come from www.basketball-reference.com
**All percentile ranks come from www.cleaningtheglass.com