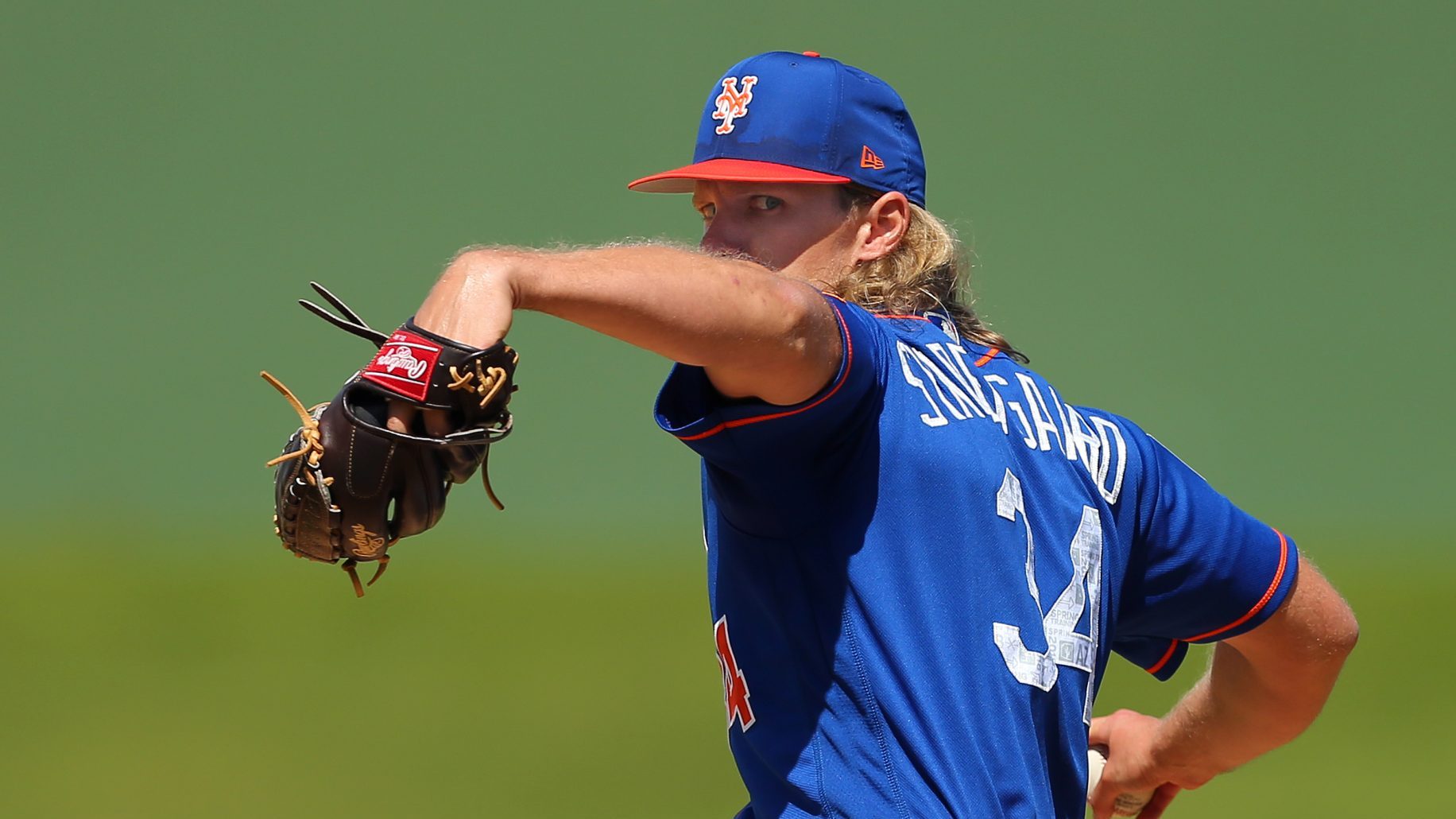 New York Mets pitcher Noah Syndergaard threw seven innings against the Orioles on Sunday in what probably was his last spring training start before Opening Day.
New York Mets starting pitcher Noah Syndergaard was very efficient on Sunday as he and the Amazins defeated the Baltimore Orioles 5-4 at Ed Smith Stadium.
He was so efficient that he pitched into the seventh inning. That's what it took for Thor to get his work in for the day.
"His pitch count was so low, he did such a good job of keeping it down that we sent him back out there," "He still didn't get to the pitches we wanted him to get to, but up and down made up for that for sure."
That's what Mets manager Mickey Callaway told Kristie Ackert of the New York Daily News as he spoke about the unusual move of having a starter go seven innings in a spring game.
After seven dominant innings yesterday, @Noahsyndergaard said he's ready to get to New York. https://t.co/Hq2Cuv14Rd pic.twitter.com/gHxK0QE4D0

— New York Mets (@Mets) March 19, 2018
⚡️ @Noahsyndergaard: 7.0 IP, 8 H, 1 R, 1 ER, 0 BB, 5 K. ⚡️

Spring ERA: 1⃣.3⃣5⃣ pic.twitter.com/yrnQOOWDBH

— New York Mets (@Mets) March 18, 2018
Syndergaard threw a total of 86 pitches in the game, 14 in the seventh inning. He is scheduled to pitch again next Saturday in a game against the St. Louis Cardinals, but since the Mets open the season against the Cardinals, Syndergarrd will probably throw a batting session consisting of 50 pitches or so instead as the organization would prefer not to have him throw against the same team he will face on Opening Day.
"He's not just trying to blow everybody away. He's using his pitches really well. It's kind of hard to say he's staying within himself when he's throwing 94 mile-an-hour sliders in the seventh, but it's outstanding. He's pitching,"
Mets manager Mickey Calloway said of Syndergaard's ability to mix up pitched on Sunday.
Syndergaard was working on holding runners, a problem that he has had in the past few seasons. the past couple of seasons. Syndergaard allowed 48 stolen bases in 2016, his only full season in the big leagues.
Mets Catcher Travis d'Arnaud thought Syndergaard was good today at keeping the runners in check.
 "Definitely, he's mixing up his times (to the plate) a lot, a little quicker to the plate, it's nice to see that he's really put a lot of work into this, me and Kevin (Plawecki) are noticing, so is the rest of the team and we really appreciate it"
Syndergaard would have probably held back some if he did pitch on his next scheduled day, so the time between now and opening day will get him ready for what Met fans hope is his best season as a New York Met.
Syndergaard is excited about his start on Opening Day, as he posted a GIF tweet with his buddy Thor.
Opening Day pic.twitter.com/4bPCOPnFFX

— Noah Syndergaard (@Noahsyndergaard) March 13, 2018