With the New York Knicks possibly a month away from looking for a new head coach, Mark Jackson's name has already started to pop up among segments of the fan base. Here's why it's a road they should avoid taking at all costs.
Before we get to the meat of the coaching discussion, let's get one thing out of the way: Jeff Hornacek still has a job coaching the New York Knicks. You probably know this, as much as you may wish you didn't.
If you root for the team, you're likely in one of two camps:
"I guess it wouldn't be the worst thing if Hornacek stayed," or
"Please pass the cyanide if he's still here on opening night 2018."
Even those in the former camp have to admit that Hornacek seems to decide on his nightly rotations through the use of a dartboard, a blindfold and a bottle of vodka. Or gin. Gin hits the spot sometimes.
There have already been plenty of names tossed around as potential successors for a position that has been manned by no less than 10 men since Jeff Van Gundy stepped down 17 years ago this month. Most of those – David Fizdale, Jay Wright, Ettore Messina, David Blatt, even JVG himself – have merit for one reason or another.
There's one name, however, that has been brought up perhaps more than any other, and it should be accompanied by many flashing red lights, obnoxious sirens, and maybe even one of those little kids you see in the science fiction movies who looks out into the distance as the very bad thing ominously approaches, and then screams in abject terror.
The kid knows things.
At first glance …
To say that Mark Jackson's resume doesn't warrant a second shot on someone's bench undersells his accomplishments. Winning in the NBA is hard, and over three seasons coaching Golden State, Jackson won more games than he lost. That alone is meritorious.
Over his last two seasons, he took a team that had been to the playoffs once in the previous 18 years and guided them to two consecutive postseasons. He won nine playoff games over that span. That's also good.
By comparison, Boston Celtics' wunderkind Brad Stevens, who had two playoff wins over his first three seasons as a top-five coach, has just five postseason victories since 2011. It took this year's Coach of the Year frontrunner Dwane Casey seven seasons to get his first playoff series win. Jackson did it on his first try.
More than any of this though, Jackson appeals to Knicks fans not only because he's a hometown product who understands the unique pressures that come with playing and performing in New York, but because he took a franchise slapped with the Capital "L" loser label and turned it around.
New York fans imagine the former St. John's and Knicks' point guard coming home and doing the same thing here. They look at the team and feel that Jackson would instill a culture change that has been a long time coming.
Those fans would definitely get a culture change. It just may not be the one they envision.
Rough sledding
The warning signs with Jackson started well before his coaching career ever began. For starters, he was traded six times in his NBA career and waived once. Following his first five seasons in New York, he never spent three consecutive seasons in any one place.
Yes, players get traded all the time and it doesn't mean they're bad dudes. Digging a little deeper though, we see that there's some fire to go along with this smoke.
In 2003, during his only season with the Utah Jazz, according to reports, Jackson attempted to lead a mutiny against John Stockton in the Jazz locker room. It nearly caused Hall of Fame coach Jerry Sloan to quit before the end of the season, and ultimately may have led Stockton himself to retire after the Jazz were eliminated from the playoffs that year.
According to reports, the nature of the discontent was that Jackson was rallying bench players over what he felt was a lack of deserved playing time, for them and him. It was the first time that Jackson attempted to drum up support over perceived slights. It wouldn't be the last.
The Warrior years
Oddly enough, Jackson's first season coaching the Warriors – one in which he finished with a record of 23-43 during a lockout-shortened and injury-plagued season – was the only one not marred by controversy of any kind.
That June, Jackson was the victim of an extortion plot by a stripper with whom he cheated on his wife.
Granted, a little extramarital tomfoolery doesn't mean someone is a bad person or a bad coach. After all, who amongst us hasn't sent an inappropriate picture of our genitals – as Jackson did – to the wrong person every now and again.
(Looking around … looking around … runs to the emergency exit.)
Still, the whole thing stunk of a certain…insincerity. To say Jackson's shtick as a coach was based on the whole righteous indignation act is an understatement. If nothing else, this episode revealed his persona to be at least partly that: an act.
The real fun for Jackson started in the spring of his final season with Golden State.
Following a dispute with assistant coach Brian Scalabrine over whether or not to watch a segment of game tape, Jackson apparently attempted to get the rest of the assistant coaches to openly proclaim that Scalabrine was not only in the wrong but that his actions were disrespectful. At least one former Warriors player, Andrew Bogut, has come out in support of Scal since then.
After the incident, Scalabrine was demoted to the team's D-League affiliate just 11 games before the playoffs were set to begin. Shortly thereafter, the team was eliminated in the first round by a Clippers squad that was in the middle of the Donald Sterling fiasco, and Jackson was fired.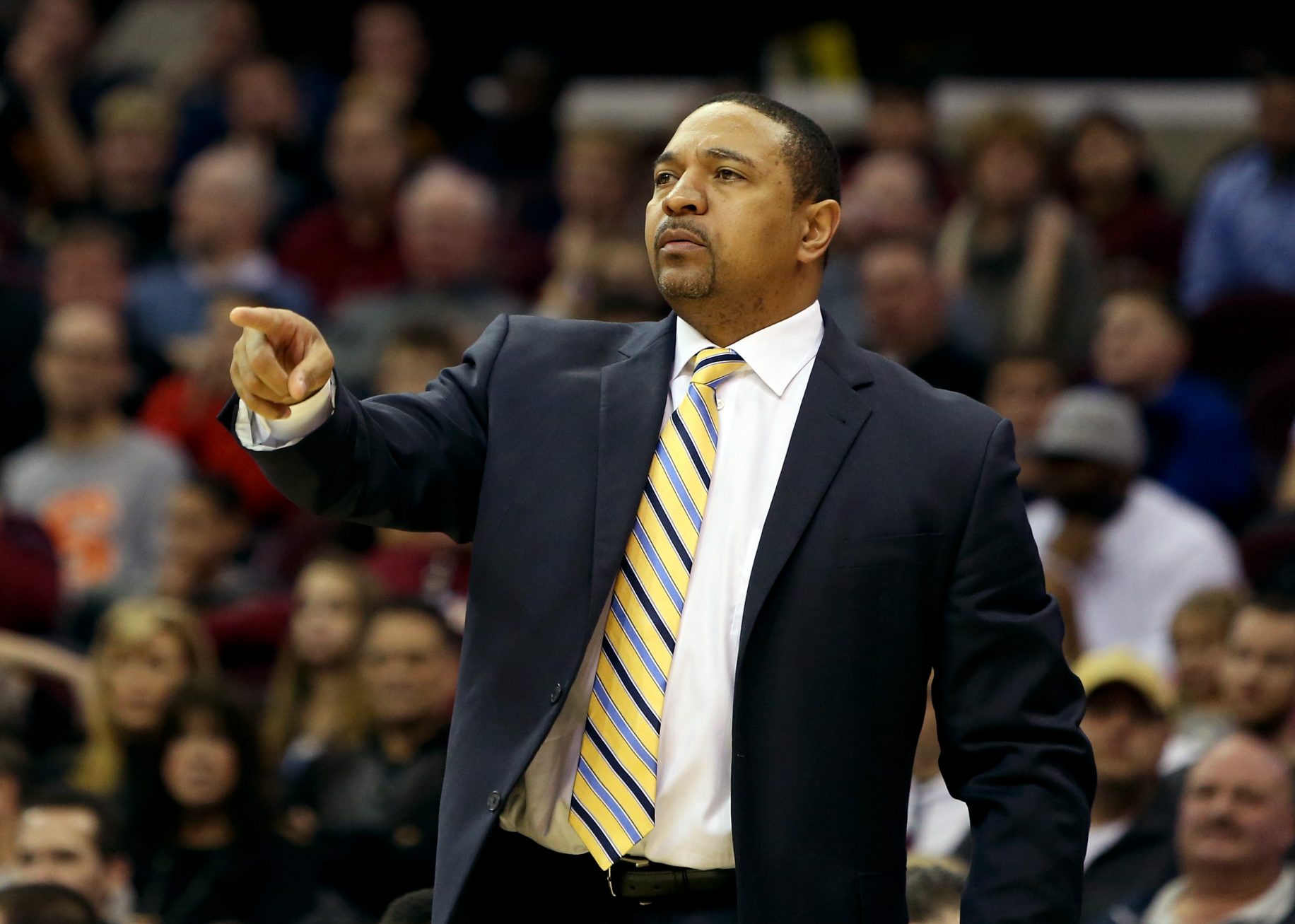 An ugly postmortem
Following his termination, it became clear as to just how dysfunctional Golden State's locker room had become towards the end of Jackson's tenure.
Rather than rehash every detail that has since been unearthed, take a gander at Jesse Taylor's recap. It paints a picture of a coach that became not only embroiled in his own personal battles to the detriment of the team but one who became nearly unhinged in the process. The terms "smear campaign" and "culture of fear" are used in Taylor's piece, as well as this gem: "… over and over, [Jackson] would be friendly to your face and rip you behind your back. If you weren't in his inner circle, you were the enemy."
Even worse than the stuff that came out after he was fired was how Jackson responded.
Rather than taking the high road, he trashed both Scalabrine and fellow former assistant Darren Erman in interviews following his dismissal. Erman was let go after he was caught secretly recording conversations as retaliation in the "us against them" war Jackson waged in the locker room. He has since had a successful stint in Boston and is currently a big part of the Pelicans staff in New Orleans.
Again, the question begs to be asked: what kind of environment did Jackson foster where this kind of stuff took place?
During Steve Kerr's first season on the bench, when Warriors owner Joe Lacob was asked about Jackson, he told ESPN's Ethan Sherwood-Strauss that his former head coach "couldn't get along with anybody else in the organization," and that "you can't have 200 other people in the organization not like you."
Is this a bit of sour grapes over a situation went awry? Absolutely. But in light of everything else, can it be completely discounted? Not a chance.
But he can coach, right? Right???
Putting aside all of the above, if Jackson were a mastermind with the clipboard, you could see a path back into the coaching ranks. After all, some coaches make their bones as X's and O's savants who play chess while their opponent plays checkers.
If that's Jackson's gig, he sure hid it well. It was an open secret that for the first two years of his coaching tenure, assistant coach Mike Malone, not Jackson, drew up the offensive plays. It wasn't an accident that the Joe Lacob made Malone the highest paid assistant coach in the league while he was with Golden State, during which time he was also named the top assistant coach in the NBA by rival general managers.
Only during Jackson's last season was Malone not there to help him, a year in which the team won 51 games.
51 wins … with a healthy Splash Brothers duo (both shooting above 40 percent from deep), Andre Iguodala, Harrison Barnes, Andrew Bogut, David Lee (one year removed from an All-Star appearance) and second-year forward Draymond Green playing 21 minutes a night.
Sure, comparing Golden State's record in Steve Kerr's first season to Jackson's last feels unfair for a few reasons. A young group gained more experience, and Kerr (admittedly) lucked into fully unlocking Draymond Green as a game-changing, two-way force that would become key to the most unstoppable lineup in basketball.
It doesn't change the fact that Kerr took essentially the same roster that Jackson had to work with and not only increased the win total by 16 but led the same group that the Clippers ousted in the first round of the playoffs to an NBA Championship.
It all adds up
Since they won, Warriors' players and Kerr himself have said the right things. They've talked about how none of it would have happened without Jackson and how he laid the framework for what they were able to achieve. All of that is well and good. The result is still the result, and it's incontrovertible.
Here's something else that can't be denied: 17 head coaches have been hired since Jackson was let go, and 20 if you count the three interim hires that took place this season. That means more than half of the league's teams have had a chance to bring Jackson aboard and thought better of it. Are all of them missing something? Or are the ones advocating for his hire the guy at the poker table looking around for the sucker?
If, at the end of the day, this is really about culture, the final question that needs to be asked may seem silly at first blush: do the Knicks need a culture change?
We know about James Dolan. Say what you will of the man (but please refrain from unleashing a string of expletives if you're at work or in a public space), but for eight solid months now, he's been the owner of a team that has operated like a normal, non-Crazy Town rational actor. 'Round these parts, we call that "progress."
All of the negative hallmarks that have characterized the Knicks for years have, for the most part, been absent this season (well, except for the losing. They still are quite good at that). The locker room seems intact. Despite Hornacek's latest protestations, they have, on balance, played hard. Guys seem to like being here. There is a sense that sunnier days are ahead. Maybe, for once, the culture around the team isn't the problem.
For the rest of you – those who think the MSG culture is and forever will be toxic thanks to captain harmonica and his underlings throughout the organization – I'll leave you with this:
Knowing everything we know, is Mark Jackson really the type of guy that should be brought into that environment?