The New York Knicks cap space may be restricted. That does not mean that they cannot make moves to be active in the free agent market.
The New York Knicks are not currently in a position financially to make a big splash this upcoming offseason. A few player-friendly contracts were handed out over the last two seasons and this has limited the amount of available cap space.
The projected salary cap for the 2018-19 season is $101 million. The Knicks are currently sitting around $104 million. That figure includes 12 players under contract and a projected $4 million allotted for their first-round draft pick. The problem is that New York is thin at the power forward position. Kristaps Porzingis is injured and Michael Beasley is unsigned for next season.
One area in which the Knicks could improve their roster is in the restricted free agent market. In order to do so though, a few roster moves would need to happen.
Clearing Space
The first and most obvious move would be to trade Courtney Lee and the two years, $25 million that he has remaining on his contract. The ten-year veteran is a solid guard who should be able to garner the Knicks a first-round draft pick in the offseason from a team with playoff aspirations.
The second roster move that would need to be done is completely out of New York's control. Enes Kanter and Kyle O'Quinn both possess a player option in their contracts for the 2018-19 season. Kanter is scheduled to make a little over $18.6 million. O'Quinn is scheduled to make a little over $4.2 million. Based on the projected salary cap and the number of teams that will actually have cap space, it is safe to say that Kanter will be opting in next year. O'Quinn, on the other hand, has outperformed his current contract. He could be looking to cash in on the career year he is having and opt out.
The third and final move that could be made would be to use the stretch provision on Joakim Noah's contract. This move would free up a little under $11 million in cap space for New York. The problem is that Noah's contract would then be on the books for the next five seasons. As it currently stands, he is only under contract for the next two seasons. I am a firm believer in letting the Noah deal play out based on its current structure. The team, however, should revisit this option after next season.
The New York Knicks could free up around $16.5 million in cap space. Here are the restricted free agents that they should look to pursue.
Aaron Gordon is the most unattainable target of the players listed here for the Knicks. Gordon is having a very good season for the Orlando Magic. He has transformed his game from being a one trick pony who could dunk to an all-around star. The 6-foot-9, 220-pound combo forward is averaging career highs in points per game (18.0) and rebounds per game (8.2). He is also shooting a career-high 34.5 percent from behind the three-point arc on 5.9 attempts per game.
The Magic are a young team who are trying to build for the future and Gordon is their best player. It is hard to imagine that he is not part of those plans going forward. If he is not, then it is also hard to imagine Orlando letting him walk without receiving anything in return. Gordon could find himself in a similar situation that Blake Griffin was in earlier this season.
The one target that makes the most sense is also the one that comes with the most concern. Jabari Parker is an explosive scorer when he is on the court. The issue is keeping him healthy enough to stay on the court. Parker is currently in his fourth season in the NBA. There have been 307 possible regular season games that he could have participated in. He has only played in 162 of them. It just does not seem wise for the New York Knicks to add a star with a history of knee injuries. Especially when they do not even know how their own superstar will return from his knee injury.
The Knicks are the Knicks so they could decide to throw caution to the wind and pursue Parker anyways. Like Gordon, Parker is shooting a career high from behind the three-point line this season. He is knocking down 43.8 percent of those shots. The difference is that Parker is attempting 4.3 fewer attempts per game. The former second overall pick would be a perfect fit next to Kanter, Porzingis or both.
The decision comes down to whether the Milwaukee Bucks or any other team has concerns about Parker's knees. The Knicks, however, have their own injuries to worry about. They can improve their roster without sacrificing their fan's remaining nerves.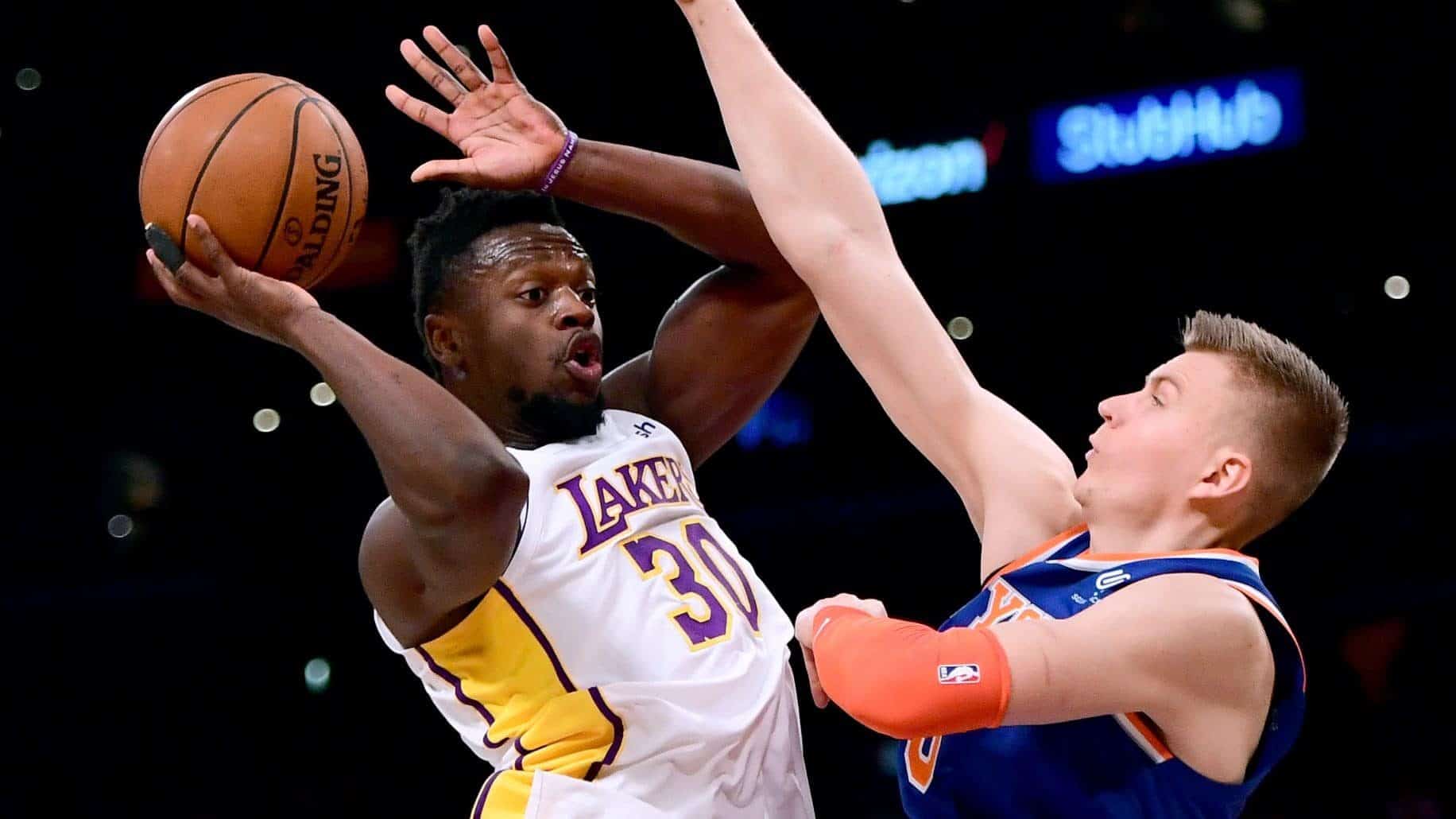 Julius Randle
At first glance, a Julius Randle and New York Knicks marriage does not seem like a great fit. A frontcourt of Kanter and Randle would cause congestion in the paint. There would be zero spacing on the offensive end of the court.
The appeal of bringing Randle aboard is more of a long-term solution rather than a short-term fix. As bad as Randle would be playing alongside Kanter, he would be that great playing with Porzingis. That is the ultimate goal. Both players possess the ability to play either the power forward or center positions depending on match-ups. The 6-foot-9 250-pound big man can do what Kanter does but with more athleticism. The former Kentucky Wildcat is putting up career highs this season in points per game (14.8) and field goal percentage (56.1). The field goal percentage is currently good for eighth in the league.
Any team looking to acquire Randle may not receive much or any resistance from the Los Angeles Lakers. Randle's current team is looking to free up as much cap space as possible. They are hoping to acquire two max contracts this summer.
The Orlando Magic are not going to let Gordon walk without receiving any compensation. Parker's risk may outweigh the reward. Randle is the correct choice for the long-term success of the franchise. It comes down to whether the Knicks value him more than his current team.