Jason Vargas had an undistinguished go-around with the New York Mets a decade ago, but he was part of one of the great games in the franchise's recent history. 
Jason Vargas' first go-around with the New York Mets was rather forgettable. His debut game, however, was something of a dandy. Jason Vargas has already etched his name, sort of, into Mets lore.
Vargas, who recently signed a two-year $16 million contract to add a veteran arm to the Mets rotation had a memorable Mets debut a decade ago.
Jason Vargas first came to the Mets in 2007. The Mets seemed flush with relievers and given how the 2006 postseason played out, starting pitching depth was something of a concern.
That offseason, then general manager Omar Minaya sent two relief prospects, Henry Owens and Matt Lindstrom, to the Marlins as part of a deal for Vargas, a budding starter who had shown promise as a rookie but had worn out his welcome in South Florida.
Vargas was something of an enigma at the time, and just 24-years-old. He had turned heads with a solid campaign after a second-half call-up in 2005 but had endured a horrid 2006 season that saw him get bumped from the rotation, exiled to the minors and ultimately shipped to the Mets.
The trade looked like a steal for Florida as both Lindstrom and Owens sported 100-m.p.h. heat and spent time finishing games for the young Marlins.
Vargas saw little work in the spring, pitching just seven innings before being dispatched to minor league camp and began the year with the Mets AAA affiliate New Orleans Zephyrs.
Mike Pelfrey had begun the year as the Mets fifth starter. Despite high expectations and first-round pedigree, he just wasn't getting it done on the mound. Yet to win a game, he had lost his last five starts and was 0-5 with a 6.53 ERA. The team brass decided it was time for a change.
The Mets called on Vargas.
Despite pitching to mixed results in hitter-friendly New Orleans, on May 17, 2007, Vargas made his Mets debut against the Chicago Cubs.
It was a getaway day game following a night contest. Mets skipper Willie Randolph decided to play what play-by-play man Gary Cohen likes to call his irregulars. Vargas had taken Moises Alou's spot on the roster, who had gone on the DL with a strained quad. The left side of the Mets infield consisted of 48-year-old 3B Julio Franco and the little-used Ruben Gotay. David Wright, Jose Reyes and Carlos Beltran all received the day off. David Newhan played 2B.
The early returns from Vargas were surprisingly credible.
In fact, the young southpaw's first two turns through the Cubs order elicited outstanding results. Through five innings he and the Cubs Angel Guzman were locked in something of a pitcher's duel. Vargas used his cutter and changeup to hold the Chicago lineup off balance. It seemed as if the Mets might have struck gold, as he pitched two-hit one-run ball through heading into the sixth inning.
Then it all fell apart … just like that.
Cubs leadoff hitter Ryan Theriot led off with a single. Then switch-hitting CF Angel Pagan—a future Met—pulled an 0-1 pitch from Vargas over the left field fence for a two-run home-run. LF Alfonso Soriano followed with a single. Then perennial right-handed power hitter 3B Aramis Ramirez took a 1-1 pitch from Vargas and promptly deposited over the left-field wall.
Just like that, the Cubs had snatched a 5-1 lead.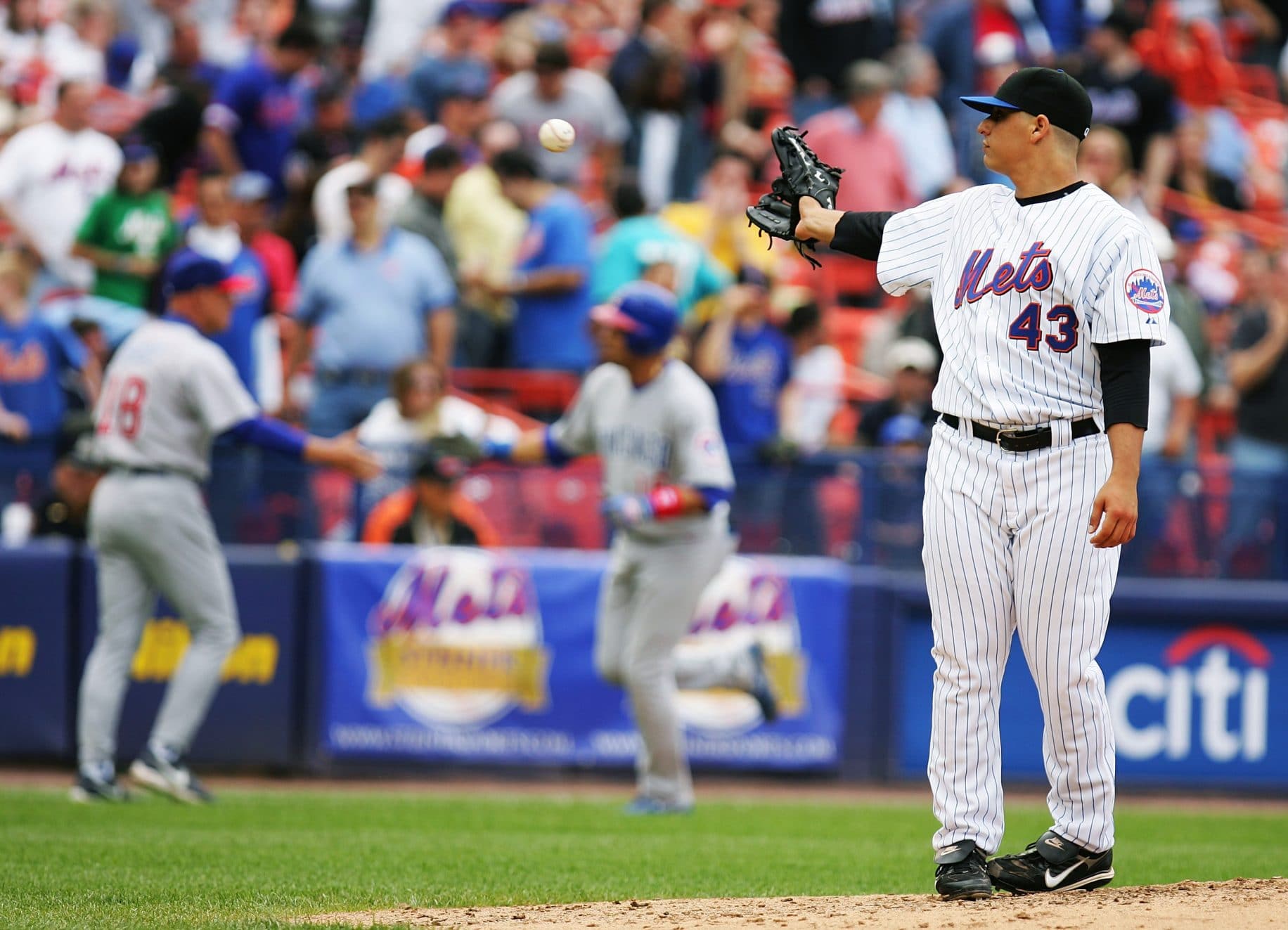 Willie Randolph would send Vargas out there for the seventh where he gave the Mets one last scoreless frame.
Without many of their patented power bats, the Mets failed to muster anything resembling an offensive attack through eight innings managing just a run on six hits.
So, the Mets were down four runs going into the ninth inning.
Cubs closer Ryan Dempster entered the game in what was a non-save opportunity. With the Subway Series coming up the following day, it seemed as if the Mets may very well let this midweek matinee go by the wayside and make Jason Vargas a loser in his Mets debut.
The Cubs had a 96 percent chance of winning the game. Then Dempster cracked open the proverbial door.
David Newhan and rookie RF Carlos Gomez sandwiched singles around a Ramon Castro flyout.
The Mets had only two outs to work with down by four. Then things got interesting as Dempster lost the plate.
Beltran was called on to pinch hit and walked on a 3-2 pitch to load the bases.
CF Endy Chavez drew a free pass of his own to force in a run. The score was still 5-2, but the tying runs were on base.
Ruben Gotay then took an 0-2 pitch and inside-outed a ball to short left field to bring in Gomez and keep the line moving. More importantly, it put the winning runs on base.
The bases were still loaded with the heart of the order coming to the plate.
Willie had kept lefties Shawn Green and Carlos Delgado in the lineu, so Cubs Manager Lou Pinella called on lefty specialist Scott Eyre to try to neutralize the middle of the Mets order and get those elusive final two outs.
Off the bench stepped David Wright who promptly smacked the first pitch he saw up the middle for a base hit, moving the line and putting the winning runs into scoring position. The score was now 5-4.
The sacks were still juiced. Delgado was battling a lefty and the infant days of the shift. He took the first pitch. Eyre threw him a slider on the second pitch and Delgado one-handed a 15-hop grounder past a diving second baseman Ryan Theriot. Chavez raced home with Gotay right behind him as the jubilant Mets poured onto the field to mob Delgado.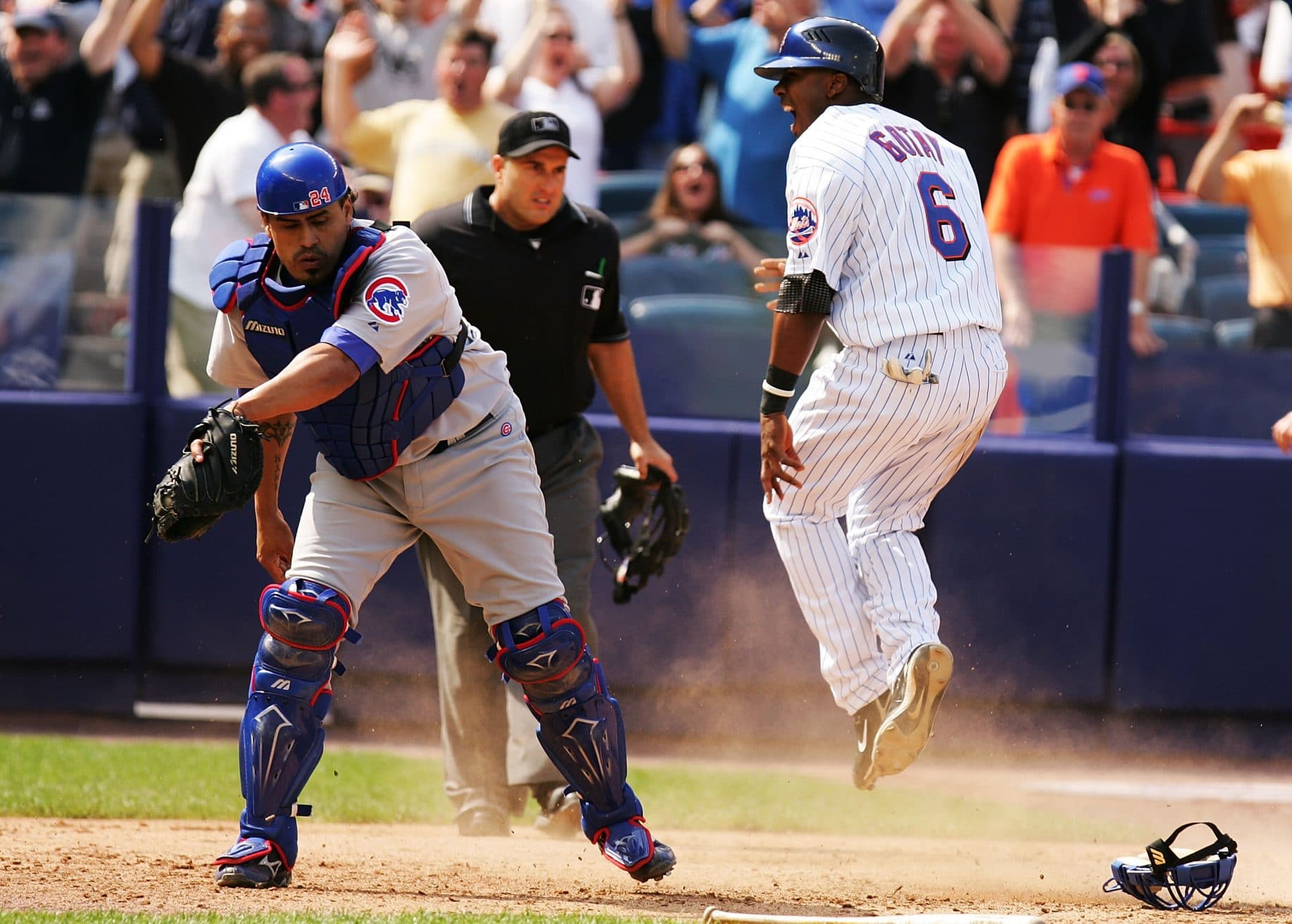 The Mets had completed an unlikely and memorable comeback win.
Ambiorix Burgos earned his only win as a New York Met, one more than has Jason Vargas. Vargas's final line on that day: 90 pitches seven innings, six hits, five runs, two strikeouts and no walks.
Hardly spectacular, but yeoman's work. He kept his team in the game, but it wasn't good enough.
He was promptly sent back to the minors.
Vargas made one more start for the Mets in 2007 and failed to make it out of the fourth inning. His final pitching line as a 2007 Met: two starts, 0-1 with a 12.19 ERA. He would miss all of 2008 with injuries.
The Mets shipped him off to Seattle as part of a deal for J.J. Putz after the 2008 season. It took him two years to make it back to majors, but Vargas finally found his niche as a pitcher.
It was with the Mariners that Vargas developed into a reliable middle-of-the-rotation starter, winning 14 games for Seattle in 2012 before a trade to Anaheim for Kendrys Morales. Vargas then landed in Kansas City where he again proved to be a reliable piece of a winning staff, making three postseason starts for the 2014 Royals. After injury-plagued seasons in 2015 and 2016, he returned to form last season, making his first all-star team, winning 18-games and giving the struggling Royals 180 reliable innings.
Jason Vargas' first go-around as a Mets was in a word: forgettable—except for that one magical day. A decade later his is back in orange and blue. Only David Wright and Jose Reyes can be counted as former Mets teammates.
Reunited with former Royals and incoming Mets pitching coach Dave Eiland, the Mets hope Vargas moves ahead of the immortal Burgos and many others on the Mets all-time win list. Counted on for solid innings and a veteran presence the Mets hope there is some more good luck and magic left in that left arm to stabilize an injury prone Mets rotation that had a 5.14 ERA in 2017.
And … if Julio Franco can play third base going on 50 maybe, just maybe, David Wright has another sharp single to spark a late comeback left in him after all.