I caught up with Knicks rookie, Frank Ntilikina to discuss his transition to the NBA, the upcoming Mountain Dew Rising Stars Game, and his run-in with LeBron James earlier this season.
Most players in the NBA will spend this weekend catching up on rest, relaxing with family, and taking in the All-Star Weekend from home. Not the New York Knicks' rookie Frank Ntilikina. The French Prince, as Knicks fans have taken to calling him, will be in Los Angeles taking part in the Mountain Dew Kickstart Rising Stars Game.
It's easy to forget just how young he is. One year ago he was still living and playing basketball in Strasbourg, France and now he's making the difficult transition to the NBA game in a new city and a new country. The passage was always going to be difficult, but he's facing it head-on. Ntilikina went on to tell me that, "It's a big adjustment for me. It's a long season of 82 games."
Perhaps the biggest moment of his season thus far came earlier in a game in Madison Square Garden against LeBron James and the Cleveland Cavaliers. After LeBron praised Dallas Mavericks rookie Dennis Smith Jr. and said that the Knicks should have drafted him instead, Enes Kanter stepped up to defend his rookie. After some verbal sparring between the teams, they took the floor.
Ntilikina showed no signs of fear as he went chest to chest with LeBron at one point. This is exactly the kind of player New York fans can really buy into. Someone who's not afraid to go toe to toe with the best of the best. When asked about that moment, the 19-year old played it cool.
Yeah I felt at that moment where I didn't back off that I wasn't afraid of the moment. I think that's what [Knicks fans] were waiting for.
Someone who plays with fire and desire will quickly endear himself to the New York faithful. But unfortunately, even after getting on their good side, there are bound to be the negative parts of the fan base.
The Knicks made a trade deadline deal that brought former lottery pick Emmanuel Mudiay to New York by way of the Denver Nuggets. Many took this as a sign that the Knicks organization had already given up on Ntilikina. This doesn't seem to be the case. In their first game together Sunday night against the Indiana Pacers, Mudiay and Ntilikina played extensive minutes alongside each other. The neophyte from France didn't seem to be bothered at all by the move and in fact, he's embracing it. When asked if he has any concerns about playing off the ball, he shrugged off these doubts. He's played off the ball before and knows that chemistry with Mudiay will develop over time.
We can both play with the ball and off the ball so it gives us a lot more options in the offense. We just have to grow together, work together, and find some way to be efficient together. It might be bright for our future.
Mudiay's length and athleticism isn't the only thing Ntilikina is excited about. Originally from the Democratic Republic of the Congo, Mudiay speaks French. The two converse in French from time to time, but Ntilikina says they've been sticking to English on the court.
The rookie is also utilizing his network of French players in the NBA to help ease his transition. There are a number of NBA players from France that he says have offered advice and kept in touch with him.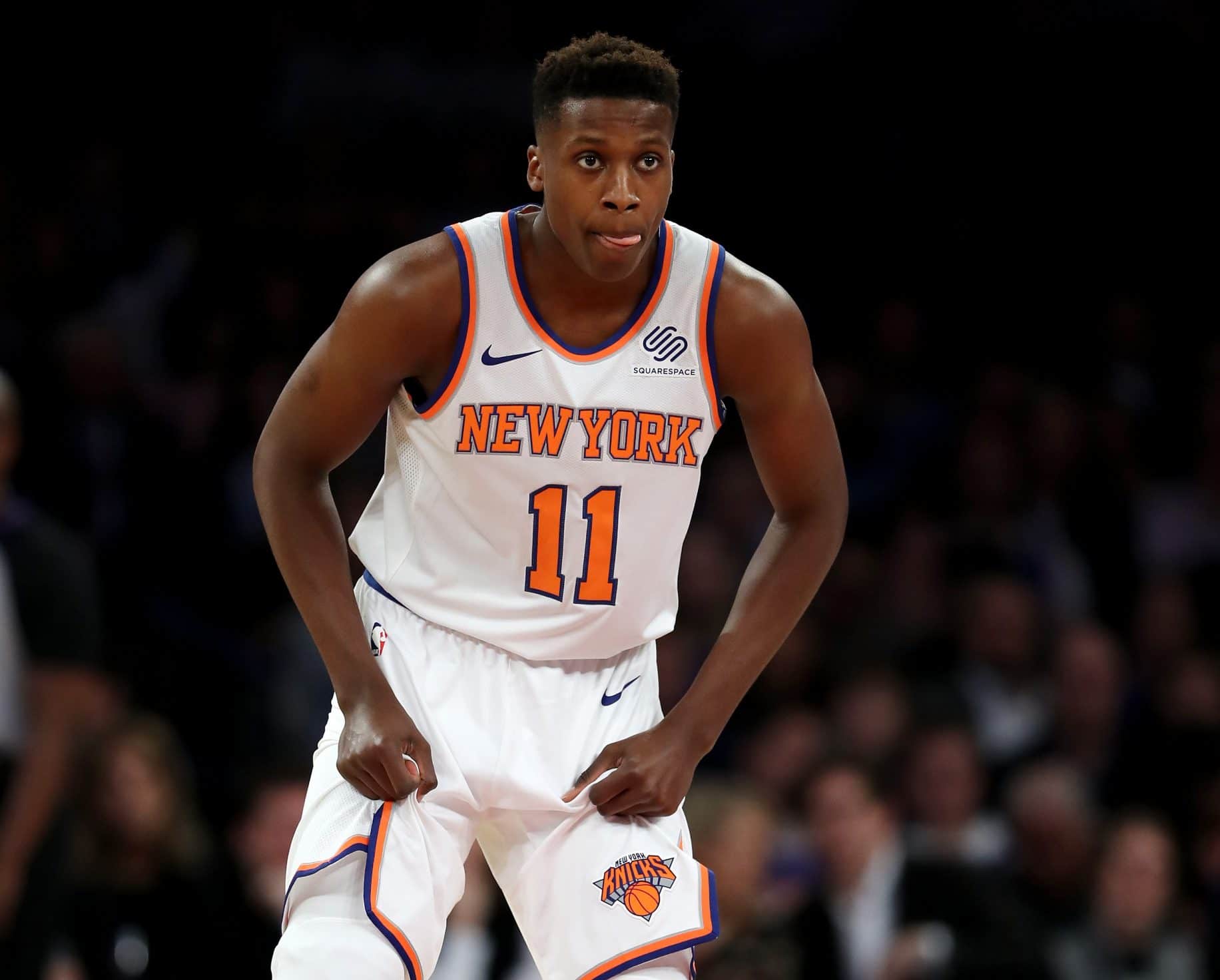 Even with all the help and advice in the world, the NBA season is a grind. This is especially true for rookies. Tons of first-year players have hit the dreaded "rookie wall" over the years. Ntilikina's been up and down at times this season, but for him, the focus is all about getting better and improving every day.
I'm working a lot on my game to give me a chance to become the best player I can be.
His growth as a player is undoubtedly headed in the right direction despite what some may tell you. One of the major flaws pointed out in Ntilikina's game is his inconsistent shooting, particularly from three-point range. The narrative that he has no outside shot is completely overblown. He's shooting 34 percent from deep this season on 1.8 attempts per game. For reference, LeBron James (29 percent), Kevin Durant (29 percent), and Carmelo Anthony (32 percent) all had lower percentages from deep in their age-19 seasons.
So for anyone looking to give up on Ntilikina, pump the brakes. He's still getting his feet wet in the league and despite his inexperience, he's turning heads. Ntilikina was asked to take part in NBA All-Star Weekend's Mountain Dew Kickstart Rising Stars Game and he couldn't be more excited. It's something he's been watching since he was a kid in France and he's looking forward to playing with and against some of his new NBA counterparts.
Going there and playing with my friends and against my friends, like Donovan Mitchell, is going to be fun and I can't wait to be there.
But the Rising Stars game isn't the final goal for Ntilikina. When I asked him about his overall goals for the Knicks he gave an answer that Knicks fans want to hear. He has his sights set on the playoffs and maybe even a championship eventually.
That's where we want to go and we want to win championships in the future.
If you can do that, you'll own this city.