In order to prepare for seemingly inevitable injury and underperformance, the New York Mets must add another starting pitcher. 
T
he
New York Mets
have rested their recent fortunes on their young arms. It was their young pitching that had carried them to back-to-back postseasons in 2015 and 2016. Unfortunately, times have drastically changed.
Fast forward to 2018. Terry Collins is gone and as Mickey Calloway takes over as manager, the Mets' pitching staff remains a question mark. The five lauded young arms whom the Mets nurtured are now established veterans with uncertainties attached to their name.
Yes, what was once an embarrassment of riches is now their biggest need.
---
---
While the Mets have turned their attention to offense this offseason—revamping their infield with the additions of veterans Todd Frazier and Adrian Gonzalez while reuniting with Jay Bruce —they are bringing back the same rotation with which they began last season.
Reports have surfaced that the Mets have examined the pitching market but deem the cost too high. As such, with Spring Training just around the corner, it looks as if the Mets must hope against hope that the arms they have in tow not only stay healthy but regain their form of old. To rely on any of those outcomes would be a dire mistake.
Even under the best-case scenario, the Mets can use a consistent middle-of-the-rotation starter who can be penciled in for 200 innings. Lance Lynn of the St. Louis Cardinals has been mentioned, as has Tampa Bay Rays' starter, Alex Cobb. But Alderson has balked at their respective price tags according to Ken Rosenthal of The Atlantic.
Latest on #Mets, per sources: Nunez, Frazier currently leading infield choices. Team leery of getting used by Frazier if he prefers #Yankees,
reluctant to bring back Walker, getting no traction on #Pirates' Harrison. Also interested in adding SP – Cobb or Lynn – if prices fall.

— Ken Rosenthal (@Ken_Rosenthal) February 3, 2018
An underrated aspect of the Mets pitching rotations that took them to back-to-back postseasons was the 200-steady innings of veteran Bartolo Colon. Last season without Colon, the Mets were missing that-middle-of-the-rotation starter that could give them length every fifth day.
Lynn and Cobb, each coming off Tommy John surgery, pitched 186 and 179 innings, respectively. Lynn, a righty, won 11-games and pitched to a 3.43 ERA, while Cobb, a southpaw, won 12 with a 3.66.
Each would provide the Mets something they don't have, a veteran middle-of-the-rotation starter that can get people out and give them quality innings every five days. While Lynn is known as more of a prototypical workhorse, Fangraphs liked Cobb better, valuing Cobb at 2.4 WAR to Lynn's 1.4. Both, however, represent the quintessential piece that the Mets need: a quality arm that consistently takes the ball.
An even more ambitious undertaking would be to offer a top-of-the-heap pitcher, like Jake Arietta, a short-term high-salary contract in what is a depressed free-agent market. While highly unlikely given Alderson's reservations regarding the respective price tags for Lynn and Cobb, a take-it-or-leave-it offer to an arm like Arietta might get the Mets quality they otherwise wouldn't have been able to get, given how the market has played out.
Two-years removed from his Cy Young Award-winning season, Arietta is known as a workhorse who takes the ball every five days. While some have pointed to his numbers trending in the wrong direction, Arietta still held batters to a .234 average with a 3.53 ERA over 168 innings and a 2.4 WAR.
Whomever the choice, New York needs a reliable veteran starter. Last season the Mets finished with the second-worst ERA in the National League at 5.01, 12 different starters took the mound, and no Mets pitcher (aside from Jacob DeGrom) threw more than 119 innings in 2017. At times they were attempting to compete with the likes of veteran journeyman Tommy Milone and Rafael Montero taking the ball.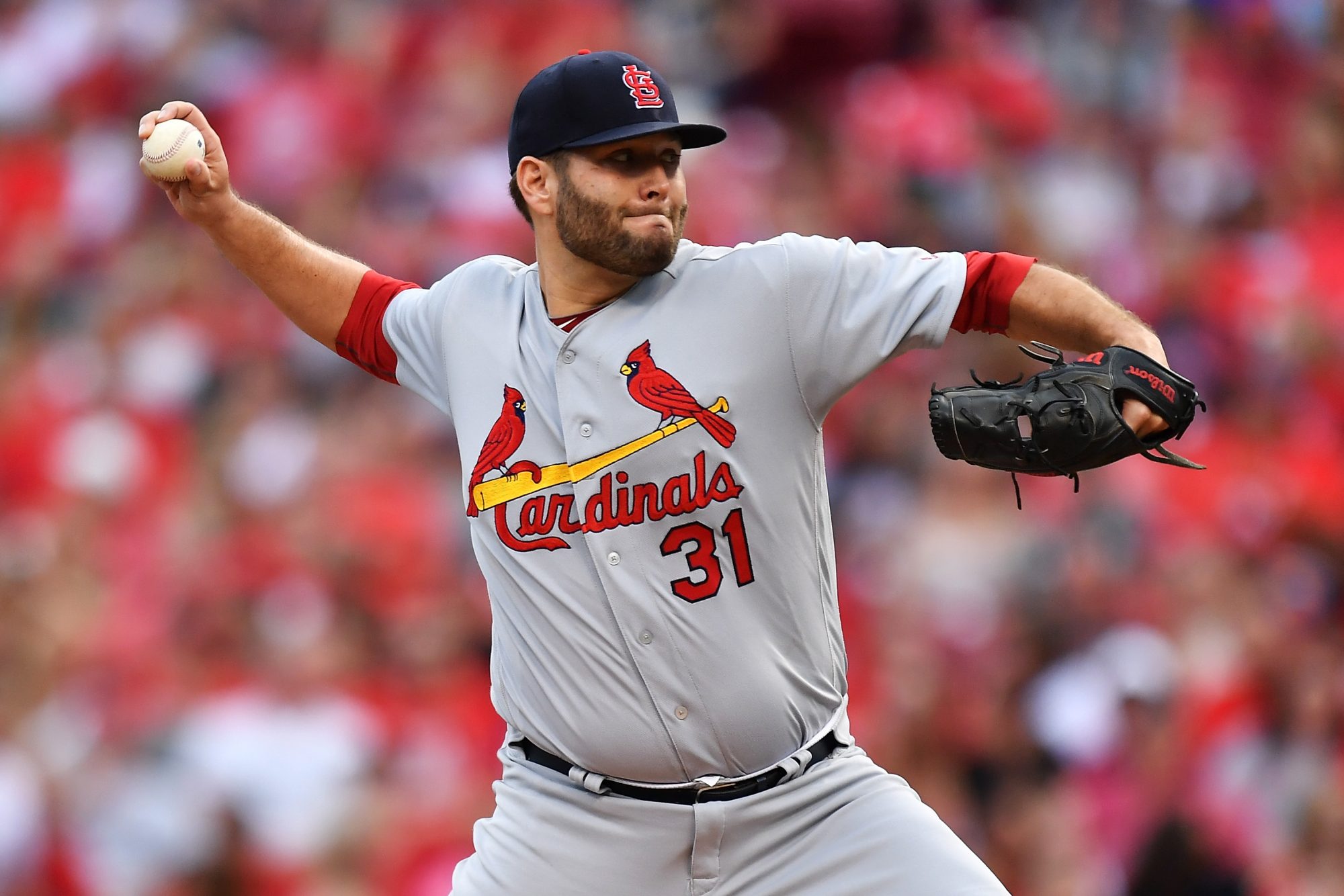 As just mentioned, the lone Mets starter who stayed healthy and effective last season was Jacob DeGrom, who pitched to a 3.53 ERA and 4.4 WAR over 201 innings and notched 15-wins. Four of the Mets five starters penciled in for opening day failed to go even 100-innings.
Noah Syndergaard is the only other member of the rotation who can be counted on to return to form. Syndergaard went down in late April with a partially torn lat muscle and missed most of the season but returned for two abbreviated September starts during which he looked like his old lightning-bolt-throwing self. However, he threw just 30 innings in 2017 thus might be put on an innings restriction by Mets brass. Yet when he takes the mound he can be counted on to give them dominant innings.
It's behind Syndergaard and DeGrom where the questions lye. Matt Harvey, Steven Matz, and Zach Wheeler were all both injured and ineffective in 2017, each failing to even log 100 innings. While all three are expected to start spring training in the rotation, none can be trusted to remain healthy or consistent. Their replacements, Robert Gsellman and Rafael Montero both had ERA's over five.
Matt Harvey can no longer be counted on to deliver quality innings. After an abbreviated 2016 that ended with him undergoing surgery for thoracic outlet syndrome, Harvey was a shell of himself in 2017. His ERA was 6.70 and he threw just 93 innings over 19 starts. After an inconsistent start to the year, he missed nearly three months with a sore shoulder only to come back in September and be rocked.
In six September appearances, five starts, he pitched to an 11.28 ERA while opponents hit a whopping .422 against him. Velocity isn't the issue. According to FanGraphs, Harvey averaged close to 94 miles-per-hour on his fastball. Yet hitters hit .330 against it with 15 home runs. They are hitting him harder and further. He just isn't getting people out anymore.
After two solid seasons, Steven Matz endured an awful, injury-plagued 2017. His season started late and ended early. He took the slider that was so effective in 2016 out of his repertoire due to the strain it put on his arm, and hitters caught up to him, hitting .301. His strikeout rate plummeted. After pitching to a 2.12 ERA through his first six starts, it ballooned to 6.08 when his season ended in August.
Wheeler took the mound after two seasons on the shelf recovering from Tommy John surgery, to mixed results before his season ended with a stress reaction in his arm. Wheeler, who had a 5.21 ERA over just 86.1 innings, at times showed flashes of his brilliant stuff averaging the same 95-mph on both his two and four-seamed fastballs he did pre-injury. Unlike Harvey and Matz, Wheeler was never a terribly consistent pitcher, displaying a similarly high walk rate (4.2) as he has over his career at four per nine innings. Wheeler needs to pitch but hasn't stayed on the mound long enough to develop.
All three, like Syndergaard, will be on innings limits. Giving the ball to Gsellman, who struggled after a solid rookie campaign or especially Montero, who has never shown any disposition toward consistency at the Major League level on a regular basis would be putting the Mets in a similar position as 2017. The Mets spent, albeit modestly, where appropriate to ensure they have the requisite depth. That said it was their pitching, not the offense, that was the problem in 2017. One cannot expect to follow the same course with different results. Bottom line it would be a reckless endeavor, one fraught with uncertainty to open 2018 with the same pitching rotation as 2017. Bottom line, they need help.
It's out there. The question is, does the New York Mets front office have the inclination to act?