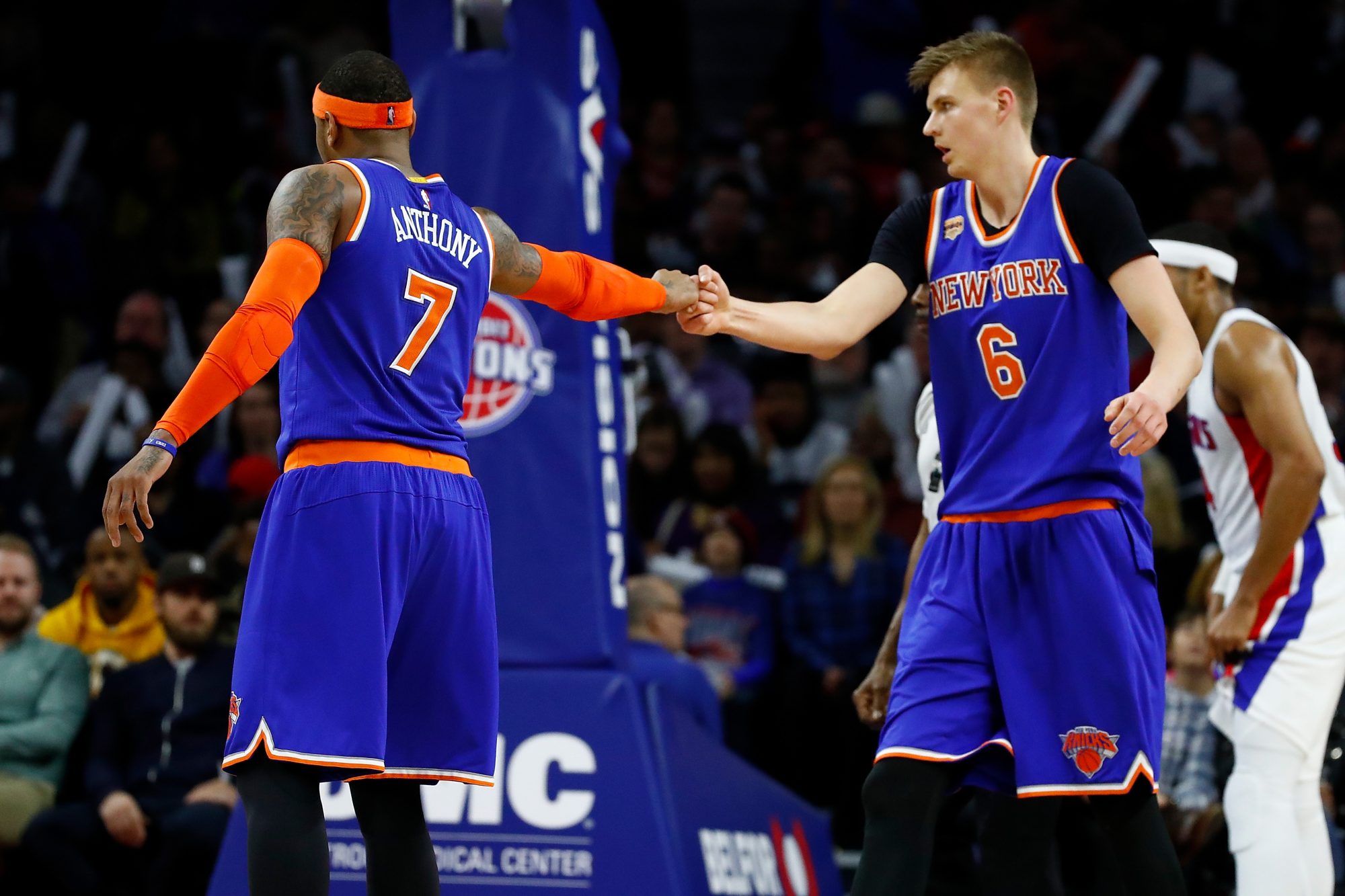 Former New York Knicks forward Carmelo Anthony touches on the horrific injury news surrounding Kristaps Porzingis shortly after the game.
In wake of his devastating knee injury, Kristaps Porzingis is receiving much love from an old running mate and friend.
Former New York Knicks star Carmelo Anthony expressed his sympathies to Fred Katz of the Norman Transcript shortly after hearing the terrible news that KP had torn the ACL in his left knee against the Milwaukee Bucks.
Melo on Kristaps: "It's sad, man. It's sad…just as a friend, forget basketball, as a friend, as a little brother, it's just hard to see anyone go through that." Said he will reach out to Kristaps tonight. pic.twitter.com/wNFWGc5ii0

— Fred Katz (@FredKatz) February 7, 2018
Melo voiced compassion and admiration for his former Knicks teammate.
"It's just sad…the type of year he was having, the growth he's had the past couple of years and this season."

" … just as a friend, forget basketball, as a friend, as a little brother, it's just hard to see anyone go through that."
Anthony added that he plans on reaching out to Porzingis, to whom he played the role of mentor during Kristaps' first two seasons in the NBA.
Porzingis tore the anterior cruciate ligament (ACL) of his left knee in the second quarter of the Knicks loss to the Bucks on Tuesday while dunking over Giannis Antetokounmpo. Porzingis landed awkwardly and fell to the floor. He immediately grabbed his knee while writhing in pain and had to be helped off the floor. An MRI later revealed the tear.
Porzingis will need to undergo surgery to repair the knee. He will likely miss the rest of this season and part of next season.
Anthony and Porzingis played two-seasons together after Porzingis was taken with the fourth-overall pick in the 2015 NBA Draft. They endured two 50-loss seasons together, playing for three different coaches. Though they struggled to mesh at times in Phil Jackson's triangle offense, Anthony was always complimentary of Porzingis and reverse was true as well.
Anthony, who is seventh on the Knicks all-time scoring list, spent seven seasons in New York before he was traded to Oklahoma City in a three-way deal in October.
Anthony isn't the only NBA star to reach out to Porzingis. Players around the league have expressed their shock and dismay, especially in light or the recent rash of injuries in the NBA, as noted by Daniel Rapaport of Sports Illustrated.
LeBron James took to his Twitter account to express his sympathies to Porzingis. Porzingis was drafted by James to play on his team in the upcoming All-Star game after he was selected as a reserve. Joel Embiid, while noting he thinks Ben Simmons should replace him on the team, expressed his sympathy to Kyle Neubeck of the Philly Voice and thinks Porzingis will grow from the recovery process.
Was hoping for the best news when I saw the play after the game. ??‍♂️!! Best wishes and have a speedy healthy recovery @kporzee!! #InjuriesSuch??

— LeBron James (@KingJames) February 7, 2018
Giannis Antetokoumpo, who was guarding Porzingis while he was hurt expressed his prayers on Twitter, as did teammate Enes Kanter and former teammate Willy Hernangomez, who was traded to Charlotte on Wednesday for Johnny O'Bryant and two second round draft-picks.
Pray for my brother @kporzee ?
Kristaps Porzingis

Please!!! pic.twitter.com/UeaXvJylGP

— Enes Kanter (@Enes_Kanter) February 7, 2018