The song and dance about making the playoffs has officially concluded for the New York Knicks. Their attention must now turn to the impending trade deadline, which could have an immense effect on the team's fortunes not just this season, but for years to come.
T
here are few things more compelling in life than the moment when a contestant in a close game of America's preeminent trivia game show lands on Double Jeopardy.
It feels like once an episode this results in a make or break moment when the contestant is either going to run away with the game or put themselves out of contention. They do everything in their power to make the wisest possible decision to succeed, considering their knowledge of the topic, their score, the scores of their opponents, and the number of clues left in the game. Ultimately though, the one variable they don't know—the clue—leaves them at the game's mercy. It's reality television at it's finest.
The NBA trading deadline is right up there with it. Teams know so much before making their decisions—how their salary cap breaks down, the way their players have been performing, the short and long-term goals of the organization, and everything in between—but the one thing they can't predict is the future.
Around this time of year in the NBA, we see fans and media people issuing proclamations that make it seem as if this singular unknown did not, in fact, exist at all. "The Knicks must trade Joakim Noah!" and "The Knicks can't give into temptation by trading Joakim Noah!" are two popular ones in these parts. These folks proceed on the assumption that the future is already determined, because then and only then, could such an absolute course of action be considered the correct one.
Any move the organization makes which doesn't jive is obviously boneheaded. Such is life in the world's most unforgiving media market.
Except here's the thing that should be obvious but isn't: nobody knows how the future is going to play out.
Case in point. At the 2011 trade deadline, the Cavs took on a bad salary in Baron Davis in exchange for the Clippers unprotected first round pick that year. At the time of the trade, Los Angeles was the eighth worst team in the league, so although the move was questioned at the time, nobody thought the repercussions would be disastrous.
Three months later, that Clippers' pick won Cleveland the Kyrie Irving lottery and history was forever changed.
These days teams are more frugal when tossing around first rounders, and generally, those "too good to be true" deadline deals no longer exist. It's all the more reason why the "only one right answer" approach to the trade deadline is, in fact, the only wrong way to handle it. Much like the contestants on Jeopardy, Scott Perry doesn't know how the future is going to play out. All he can do is consider the information he has and put the organization in the best position to succeed given those parameters.
Here, at absolutely no charge, are five tips for him as the clock winds down to 3 p.m. ET on Thursday afternoon.
Cherish 2019 cap space like your child's college fund
The last times the Knicks operated under the mindset that clearing cap space for a particular summer was an organizational be all, end all, it didn't go so well. New York was spurned by LeBron James and Chris Bosh, and Amare Stoudemire's knees held up for about 50 games before turning into the inside of Aunt Lucy's pudding pie.
It doesn't mean the strategy was flawed. This time around, the Knicks have two things going for them that were missing nine years ago: a young superstar already in place and a much easier path to max cap room that doesn't involve sending out assets to clear bad money from the books (remember Jared Jeffries, then-promising rookie Jordan Hill and a future first rounder for Tracy McGrady's expiring contract?)
If the Knicks can merely unload Courtney Lee's salary between now and July 1, 2019—something that shouldn't be hard given all the trade buzz surrounding the 3 & D wing in a market starved for such types—they would be a Joakim Noah waive and stretch away from being thisclose to having max salary space for a player with seven-to-nine years of NBA experience (the always excellent @KnicksFilmSchool gives the full breakdown here).
Stop me if you've heard this one, but there are some fairly decent players available that summer. Kawhi Leonard, Kyrie Irving, Klay Thompson, and Jimmy Butler are all max players who are set to hit the market. Kemba Walker also hits free agency in 2019, as do several restricted free agents whose teams may be leery of matching an aggressive offer for one reason or another (including Kelly Oubre and Terry Rozier, to name two).
Of course, we don't know the future, and whether any of these max players would sign on the dotted line in New York, especially since their current situations are four of the best in the NBA. But stranger things have happened, and there's no good reason not to keep this avenue open in the meantime.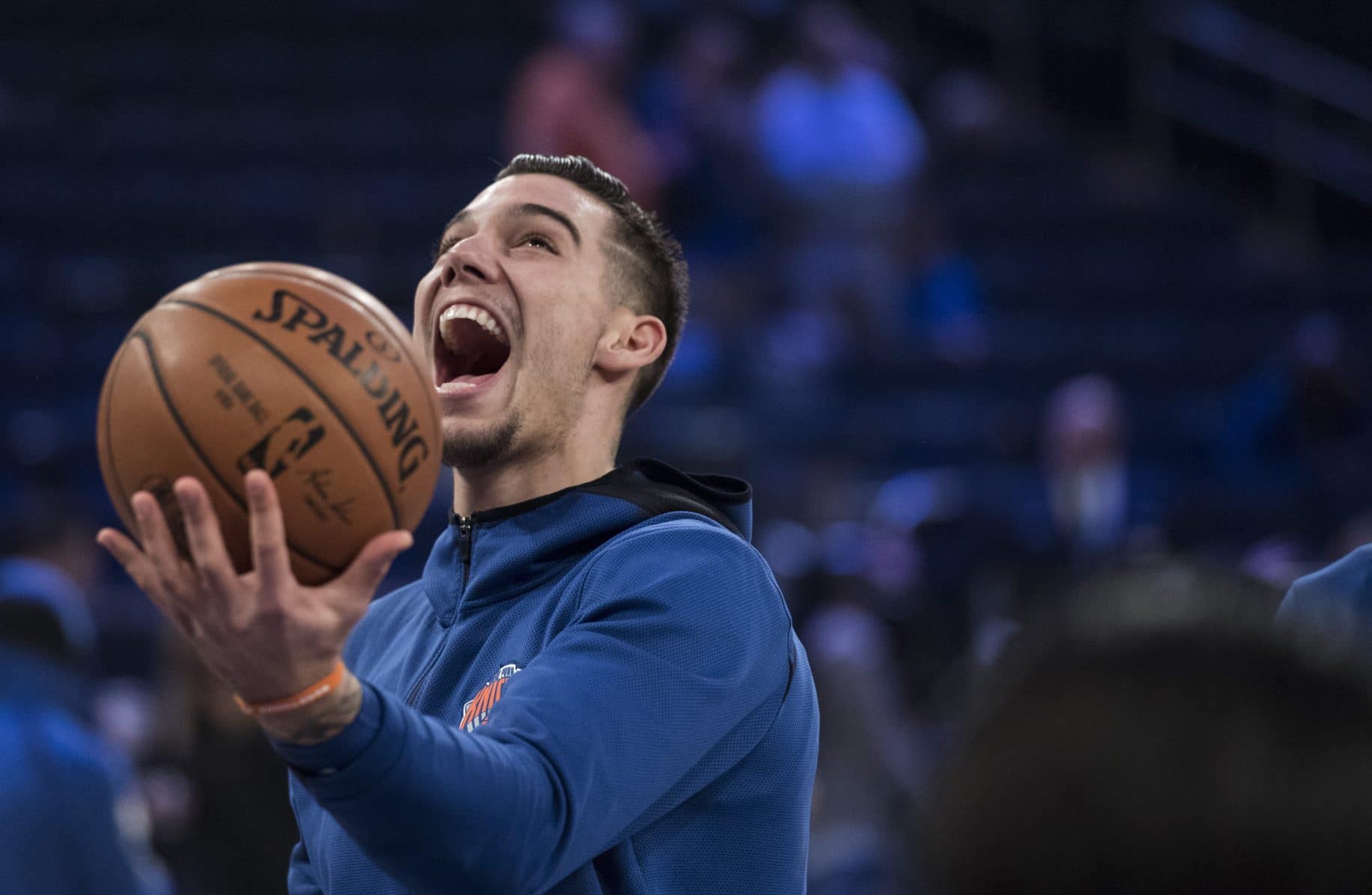 No trades for trading's sake
For some time now, the majority of the fanbase has settled on the line of thinking that certain players should be moved out of town merely because they aren't going to be a part of the franchise's long-term core. This was hammered home after Sunday's home loss to the league-worst Atlanta Hawks, which ended the competitive portion of New York's season for all intents and purposes.
First in line in this category of player is local product Kyle O'Quinn, who has a player option for next season that it is widely assumed he's going to exercise and become a free agent.
If the Knicks get offered a promising young player, a first rounder (don't hold your breath) or even a decent second, obviously run, don't walk, to the fax machine to notify the league office of the deal. But for a top-55 protected second round pick? No thanks.
Why not get something when you can, even if the something really amounts to nothing? Again, no one knows what the future will hold. What we do know is that if the team is gearing up for 2019, they need to avoid long-term money at all costs. That likely means this summer is going to be a slow one. There's a very real possibility that O'Quinn opts out and then agrees to come back on something like a one year, $10 million deal.
Is O'Quinn the player worth $10 million? Of course not. Could he have immense value as an expiring contract, or start in a pinch if Enes Kanter himself decides to opt out in favor of a long-term deal the Knicks are unwilling to give? Absolutely.
This is just one possible scenario, but it shows that an asset is never as invaluable as you might think. It's something the Knicks should also keep in mind for Courtney Lee, Lance Thomas, and anyone else teams decide to call about.
That being said…
Unless a trade involves a mythical beast, keep your ears open
The Knicks have exactly one player who they should consider untouchable: the unicorn himself, Kristaps Porzingis.
It should also take an unfathomable offer to even get them to listen to an offer for Frank Ntilikina. Opinions have been all over the place on the young Frenchman, but trading a 19-year-old guard adjusting to a new country and league just because he hasn't been Donovan Mitchell would amount to organizational malfeasance unless the return was too good to be true (and no, Kemba Walker does not qualify).
They also consider the now-not-terribly-overpaid Tim Hardaway Jr. a core piece, which is perfectly fine.
Other than those three, they can and should listen to offers for everyone.
There have been many words written this season about how this player or that player should be considered a part of the long-term core of the team.
To those who say this, I have a piece of advice: go watch a Warriors game that Golden State actually cares about winning (you might have to wait a while). Ask yourself: who on the Knicks could potentially be on the court in the last five minutes of a playoff game against that team? KP, Frank, and Timmy all qualify, or at least they should in a few years. Either due to age or limitations, no one else on the roster does.
It's harsh, but virtually everyone is expendable.
Well, everyone except someone who doesn't actually exist yet …
Do not trade the 2018 first round pick
In the Knicks' dream world, the trio we just mentioned continues to progress and makes of up three-fifths of the team's proverbial "closing five" – the lineup you're going to ride or die with for the foreseeable future. In this scenario, Mystery Free Agent X will become the fourth member of the group.
That still leaves one spot. By far, the most logical place to fill that void is through this June's draft. Currently, the Knicks sit 10th in the draft order with a class some observers consider to have a clear top-12.
There is virtually no scenario where it makes sense to deal this pick. Trade it in a shortsighted move to get Joakim Noah's contract off the books, and they still won't have enough extra money on top of one max slot to get that elusive fifth guy two summers from now. Trade it for an established player and it compromises the max cap space you'll need to lure one of the big names. It's a lose/lose situation.
What about trading the pick, but with protections that mean it likely won't convey until at least next season? Not only is this a dangerous game to play— – just ask the Memphis Grizzlies, who are going to need to pay the piper pretty soon—but it also limits the moves they can make in the future.
Thinking again about the summer of 2019, what if the Knicks get an agreement from a premium free agent and need to open up the cap space by either waiving and stretching Noah or moving the last year of his contract. At that point, with the core of the team theoretically intact, a first rounder would be far more expendable. Instead of being saddled with Noah's dead money on the cap, the Knicks could ship off the remainder of his deal as an expiring contract by attaching a first rounder to it.
Of course, this might not be possible if that pick is in limbo, waiting to be conveyed at some future date.
Everyone loved the Eric Bledsoe deal for Milwaukee, but because of the protections on that pick, the next first rounder they can deal might not convey until 2023. They're now incredibly limited in the moves they can make to improve their team.
The Knicks would be wise to learn from their mistake. Unless the player they're getting back for the pick is someone with promise on a rookie deal who they won't need to extend until after 2019 (and why in the world would the dealing team be moving such a player in the first place), they should hold onto that pick at all costs.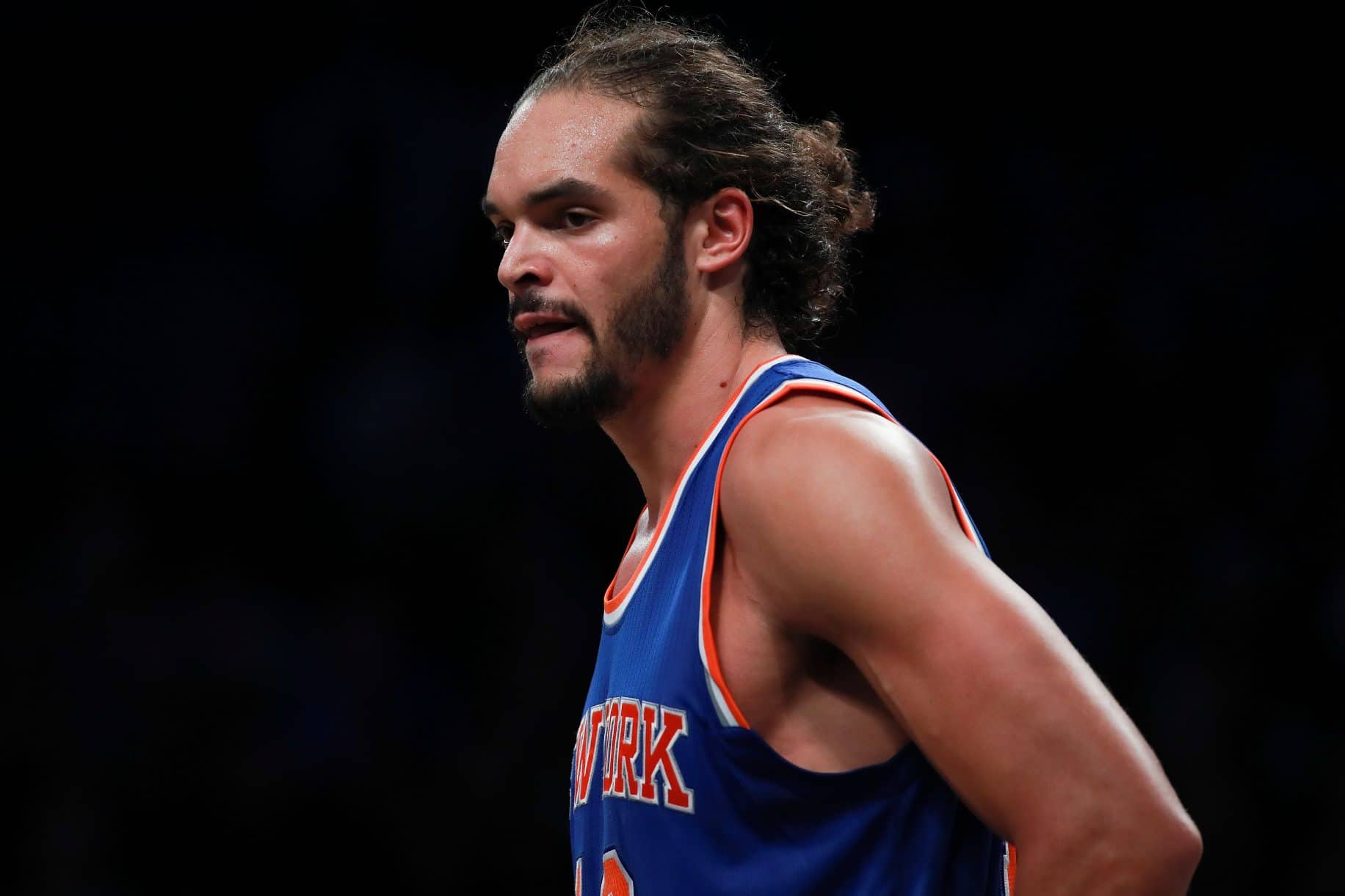 Keep Joakim
The whole gist here has been "keep an open mind, and don't operate under absolutes." While this remains true, there is almost no scenario where trading Noah's deal or waiving and stretching him makes sense.
If the Lakers call and want to do a straight-up swap with Luol Deng at the price of a future second rounder, have at it. Guess what: it's not happening.
The path to prominence for this team is clear: draft well this year, look decent next year and make yourself attractive to a big-time free agent in seventeen months.
Getting rid of Noah now, no matter how it happens, doesn't help this mission. The downside of attaching a legitimate draft asset to dump his contract should be obvious and need not be discussed further. As for why you don't deal him for a superior player but one on a more expensive contract that lasts longer (Nicholas Batum's name has been mentioned for this type of deal), the answer gets a bit more complicated.
While it's true that having a better basketball player in Noah's place would improve the team next year, and big-time free agents like coming to good teams, the Knicks simply can't afford to tie up the extra cap room to make this possible without delaying the KP extension until July of 2019.
Doing this would be akin to playing Russian Roulette with three bullets in the cylinder. The whole benefit Porzingis gets by signing an extension in July of 2018—the soonest he can sign his next contract—is that it eliminates the injury risk he faces. For a player as tall as him, this has immense value.
If you ask him to hold off on signing his extension for the entire 2018-19 season in order to get $10 extra million in cap space (the difference between his cap hold and the first year of the extension he can sign) in July of 2019 and the year goes poorly, he may just sign his qualifying offer instead and count the days until unrestricted free agency.
This is NOT an option you want to push on your franchise player. While there are no signs of discontent yet, his checkered history with the organization can't be ignored. If, say, the team hovers around .500 next season—certainly a possibility—it's reasonable to expect that the idea of joining a ready-made contender could at least draw his interest.
He would be leaving about $20 million on the table by signing a qualifying offer in July of 2019 rather than a new long-term deal, but his camp has already made very clear that money is not the driving factor behind their decision making. Even if the team was much better in 2019-20, they would face the prospect of Porzingis as an unrestricted free agent in this scenario. Again, this is NOT a dance they want to engage in.
All of this could be avoided, of course, by signing him to a five-year max in five months. If they want to do that and hold onto max space in 2019, that means they can't take on more long-term money, even if it means sacrificing the opportunity to get a more useful piece than Joakim Noah in the interim.
All of what I've suggested here requires an ample amount of patience, but there is a reason why it is a virtue. Despite not being able to predict the future, the Knicks brass has enough information to know that taking the low and slow approach to building this team is the right way to go.
Here's hoping they follow through with their actions over the next 72 hours.