No one would dispute that New York Knicks star Kristaps Porzingis is a great player. But he's got to improve one area of his game if he's going to truly be one of the NBA's elite talents.
A 7-foot-3 specimen of athletic dexterity, Kristaps Porzingis sauntering across the lane and swooping in for a dunk, then stepping beyond the three-point arc and swishing a three-pointer like someone a foot his junior is a sight to behold.
Kevin Durant dubbed him a mythical creature. Fans, opponents and media alike marvel at the Unicorn.
There is no doubt Porzingis is the toast of the Big Apple and a budding superstar. He leaves us in awe on a nightly basis, but make no mistake, the third year Latvian forward/center is far from a perfect player. There is no excuse for a player of his size to be averaging 6.8 rebounds per game. Kristaps Porzingis needs to become a better rebounder, period.
Make no mistake, he's improved markedly in his first season as the Knickerbockers primary weapon after the departure of Carmelo Anthony. He has matured offensively. Porzingis' shot selection—not settling for the three—has improved along with his midrange game where he has learned to create easy shots and exploit one-on-one mismatches. He is also learning to slow the game down and recognize when double-teams come to set up teammates and make those around him better which is the mark of a true star.
On the other end of the floor, Porzingis has shown much more consistency, staying out of foul woes whilst becoming a consistent rim protector, leading the league with 2.23 blocks-per-game. What was once a weakness has become a strength of his game as opponents are now cognizant of his presence as he helps compensate for the defensively impotent Enes Kanter.
Stars, however, are held to a certain standard. Seven-foot-three inches is 7-foot-3, plain and simple. Kristaps Porzingis' rebounding numbers are nothing short of atrocious. In fact, rather than improve, his rebounding has declined since his rookie season when he averaged 7.3 rebounds over 28.4 minutes per game. This season, like last, he is playing 32.8 minutes per game yet his rebounds have dropped from 7.2 last season to 6.7 this year.
His rebounding percentage—the rate of available rebounds a player corrals—is alarmingly low at 11.7, a marked drop from 14.0 as a rookie. Conversely, his fellow All-Star phenoms have both improved their rebounding rate every year they have been in the league. Giannis Antetokounmpo has improved his overall rebounding rate from 10.2 as a rookie to 16.4, while Joel Embiid has seen his rise from 17.0 as a rookie to 18.8 this season.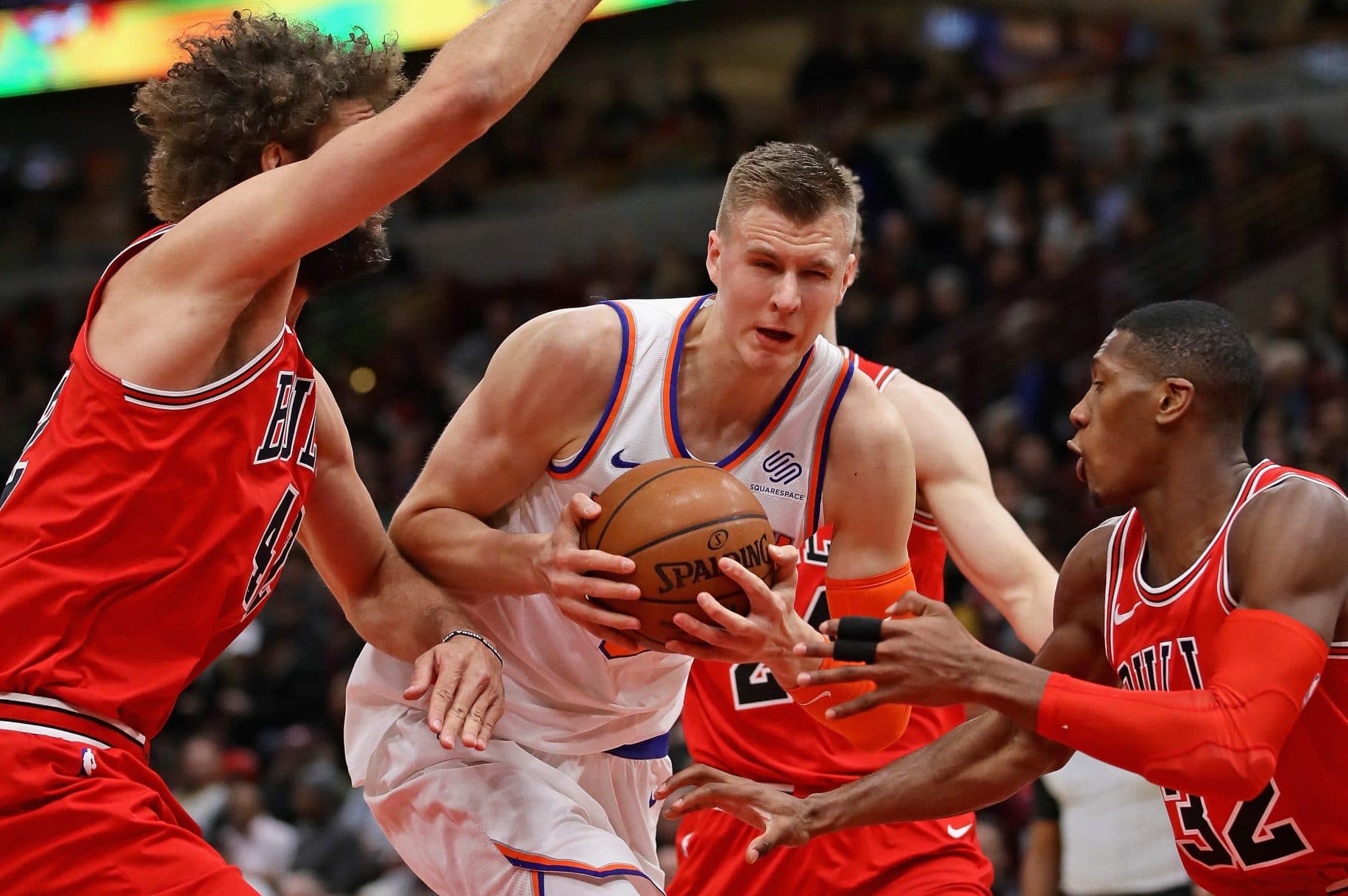 While offensive rebounds can often be a product of offensive positioning and defensive responsibility—Patrick Ewing was a notoriously poor offensive rebounder, while Kanter crashes the offensive glass—it's at the defensive end where Porzingis' rebounding effort leaves much to be desired. Again, take Embiid, who grabs 29.4 percent of available defensive boards and Antetokounmpo, who grabs about one quarter (25.4 percent) of available defensive rebounds, while Porzingis grabs boards at a rate of 18.5 percent, despite the height advantage over both.
One need not ask KP to be a combination of Dirk Nowitzki and Dennis Rodman, however, at his height, Porzingis needs to be approaching a double-double on a nightly basis. One would think he would be able to grab six or seven boards by happenstance and few other by guile and effort. In his third season, the 22-year-old Porzingis is far from a finished product, one hopes.
Great players look to improve those areas of their game which are lacking, and if he and the Knicks are going to be a winning ballclub, the next step in the evolution of Kristaps Porzingis needs to be on the glass. Rebounding is an integral element on both ends of the floor and essential to effective team defense. Second-chance points spell doom for losing teams down stretches of games. Too many times the Knicks have allowed crucial second-chance points. As the tallest player in the league, KP needs to take ownership of the defensive glass to take his game to the next level.
Unicorn or not, 6.7 rebounds per game is unacceptable. Elite superstar players are notorious for their attention to detail and impact on every aspect of the game. If KP truly wants to join the top echelon of NBA stars and the Knicks want to win it needs to start with Porzingis making a concerted effort on the boards.