The price was right for Sandy Alderson and the suits in the front office. Bringing Jose Reyes back was the right move for the New York Mets to make.
T
he
New York Mets
once let a franchise player walk. Different era, different player, different financial commitment. This time the price was right, and free agent
Jose Reyes
is once again a Met.
No, Jose Reyes is no longer the player he was in 2006 when he hit .300 and swiped 64 bags or in 2011 when he won the first batting title in Mets history and they let him walk. While Reyes hasn't been an All-Star since then, the Mets made a solid move and this time brought back a solid player when they re-signed Reyes for another season at the bargain basement price of $2 million.
While some have been critical and see this as this as just another lateral move in a quiet offseason, to add a player of his caliber for that price is a coup for the gritty offensive player. After arriving in controversial fashion upon his release from the Colorado Rockies in 2016, Reyes spurred the Mets offense at the top of the order with a .769 OPS while playing a new position. Despite his awful start, he again was solid in 2017 while providing speed, pop and playing three different infield positions for the floundering Mets. The bottom line is that Reyes has been a net positive for the Mets and has done everything asked of him during his second tenure with the team.
A batting title or 60-plus stolen bases may no longer be in the cards, but a 35-year-old Jose Reyes is a solid player with an above average offensive game who provides the Mets with athleticism, versatility and, above all, leadership.
While a lesser player, he is still a galvanizing force both on the field and in the clubhouse and fulfills multiple needs for the Mets: middle infield depth, top-of-the-order speed and fervor and enthusiasm for the game can be a catalytic element for any winning team.
Reyes becomes part of an infield that, while not spectacular, is versatile and interchangeable. Reyes, Asdrubal Cabrera and Wilmer Flores can all play multiple positions, with Cabrera likely penciled in at third and Reyes at second barring another significant move. Both Reyes' and Cabrera's days as an everyday shortstop are over. Both provide depth at the position, while Flores can play second, third, and first where he provides a right-handed complement to former star Adrian Gonzalez. Dare we even mention the name of David Wright?
While the infield has lots of moving parts, as he proved during the second half of 2017, Reyes is more than capable of playing every day at second base both offensively and defensively—and certainly would be an above-average utility player should the Mets add another infielder on through trade or on the open market. With Reyes on board, that now becomes a luxury purchase rather than a necessity.
Reyes' 2017 aggregate offensive numbers were deceivingly low.  He finished the season with just a .246/.413/.728 slash line, but it was really the tale of two seasons: one an outlier, the other more typical of his career output.
Early in the year Reyes looked a shadow of his former self and ran into a lot of bad luck. Mired in a season-long slump, he was below the vaunted Mendoza line for much of the first half.  That being said Reyes, while struggling, also ran into an analytical buzzsaw of sorts — namely bad luck, with just a .223 batting average on balls hit in play, which self-corrected during the second half. Balls began to drop, and the real Jose Reyes resurfaced.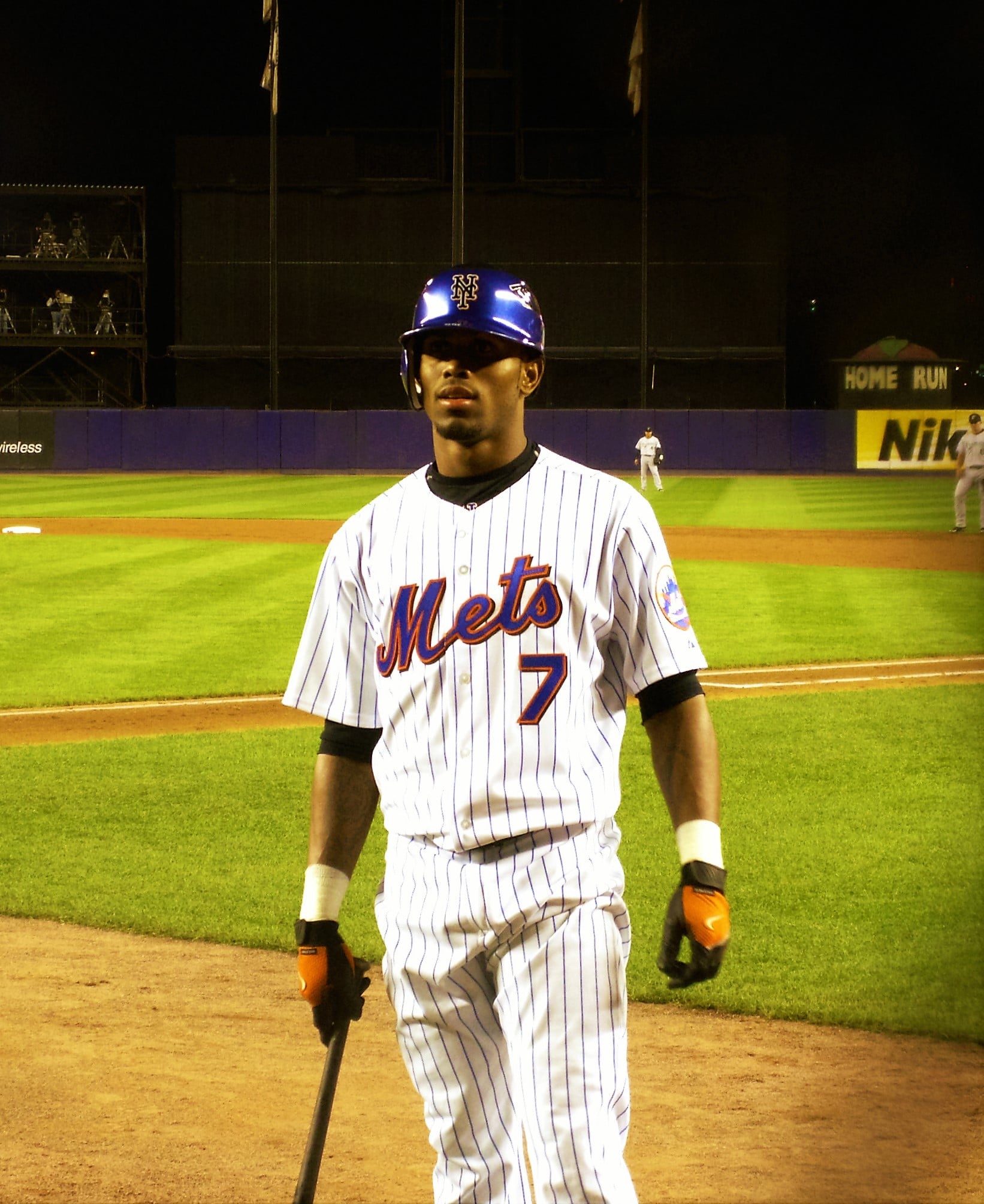 Reyes was nothing short of excellent in his role during the second half of 2017 and more typical of the player that Reyes has been throughout his career. Reyes' second-half split line was .288 /.472/.828 while getting on base at a .356 clip. With a more typical .323 BABIP, he showed himself to be a similar offensive player that he has been since he left New York in 2012. He also has displayed more pop since joining the Mets, finishing the year with 15 HR after slugging .443 with a .769 OPS in 2016.
Reyes also still owns above-average, if not game-changing, speed. While the days of 50 steals are long over, Reyes has an 80 percent success rate over the last five seasons, swiping 24 of 30 bags in 2017. Reyes has learned to pick his spots while remaining a threat on the bases, still possessing vaunted baserunning ability that elicits the ever-omnipresent and much lauded Reyes run.
Aside from being a tale of two halves for Reyes in 2017 (his OPS+ was 127 during the second half, 50 points above his first-half output), Reyes was also hurt by defensive metrics. That said, the most damning numbers came as a shortstop, where he is not slated to play on a regular basis. While some analytics show defense as a concern, it was the innings he logged at shortstop that exposed his lack of range and hurt his dWAR. While he made all the plays, Reyes was a -15 DRS at SS, which helped bring his dWAR to -2.0.
Then Amed Rosario arrived. It was Rosario's arrival last year in similar fashion to his own in 2003 that seems to rouse Reyes from the doldrums on both sides of the diamond. While taking Rosario under his wing, Reyes also began to thrive at second base after Neil Walker went down, which allowed Reyes to shift to second and Cabrera to third. In fact, Reyes had a decent 0.4 UZR at second. As a second baseman, he made all the plays, not committing a single error in almost 100 chances.
The combination of Reyes and Rosario gives the Mets athleticism up the middle and an added element of team speed, something they have lacked for the most part in recent seasons. Consistency up the middle is paramount to team defense, and the two seemed to gel while turning the double play, which should help a pitching staff with the league's highest ERA in 2017.
No one is mistaking Reyes for Bill Mazeroski or Rey Ordonez, but fielding metrics can be deceiving. He made all the plays and combined with Rosario to provide the Mets with a solid double-play combination. While not ideal, in a pinch he can make all the plays hit toward him at short and third, and still possesses a big arm which partially compensates for his much-maligned range metrics.
Numbers only tell part of the story. The eye test and intangibles are still an inextricable part of the grand old game as is that immeasurable quality that makes certain talented teams lose and propels others into the postseason.
Team chemistry and clubhouse harmony matter to winning. Reyes provides leadership in the clubhouse, his hustle and infectious effervescence providing an example to budding stars like Rosario and older teammates alike as to how the game ought to be played. With a new manager at the helm and the Mets coming off a losing season, team chemistry and momentum are essential.
Jose Reyes can still do, albeit with a little less panache, what he always has: get on base, score runs and be a galvanizing force both in the clubhouse and when a line drive splits the outfielders. For $2 million, that's a steal. In fact, that equates to plenty of them.