Standing pat with their roster would be a dangerous approach for a New York Rangers team who needs a reload more than a fringe Stanley Cup Playoffs push.
T
he temptations for the
New York Rangers
to keep their roster intact for a run at a playoff spot are certainly there.
Rick Nash turning in back-to-back two-goal games. Pavel Buchnevich continuing to develop into a legitimate offensive threat in his second NHL season. Michael Grabner is producing away, hitting the 20-goal mark on the season seemingly with ease. And of course, Henrik Lundqvist is playing as well as ever.
The Rangers had rebounded from a 0-4-1 stretch with two straight wins, before Saturday's 3-1 loss to white-hot Colorado. They're back in Wild Card position in the Eastern Conference. So why mess with a good thing?
Because it's high time for those who matter to see the club for what it is—a team in the middle, which has had its considerable flaws covered up by the brilliance of Lundqvist and backup Ondrej Pavelec in an unsustainable approach.
The Rangers give up tons of shots. They're soft in their own zone. They lack any discernible grit and in the offensive zone, seem determined to play an east-west game that results in too many passes, not enough shots and not enough goals rather than a north-south approach that works so much better for them when they occasionally get around to it.
So what to do?
Well, despite the seeming uncertainty surrounding the situation, trading Nash, their only player who approximates a game-breaker (sometimes), should be the way to go.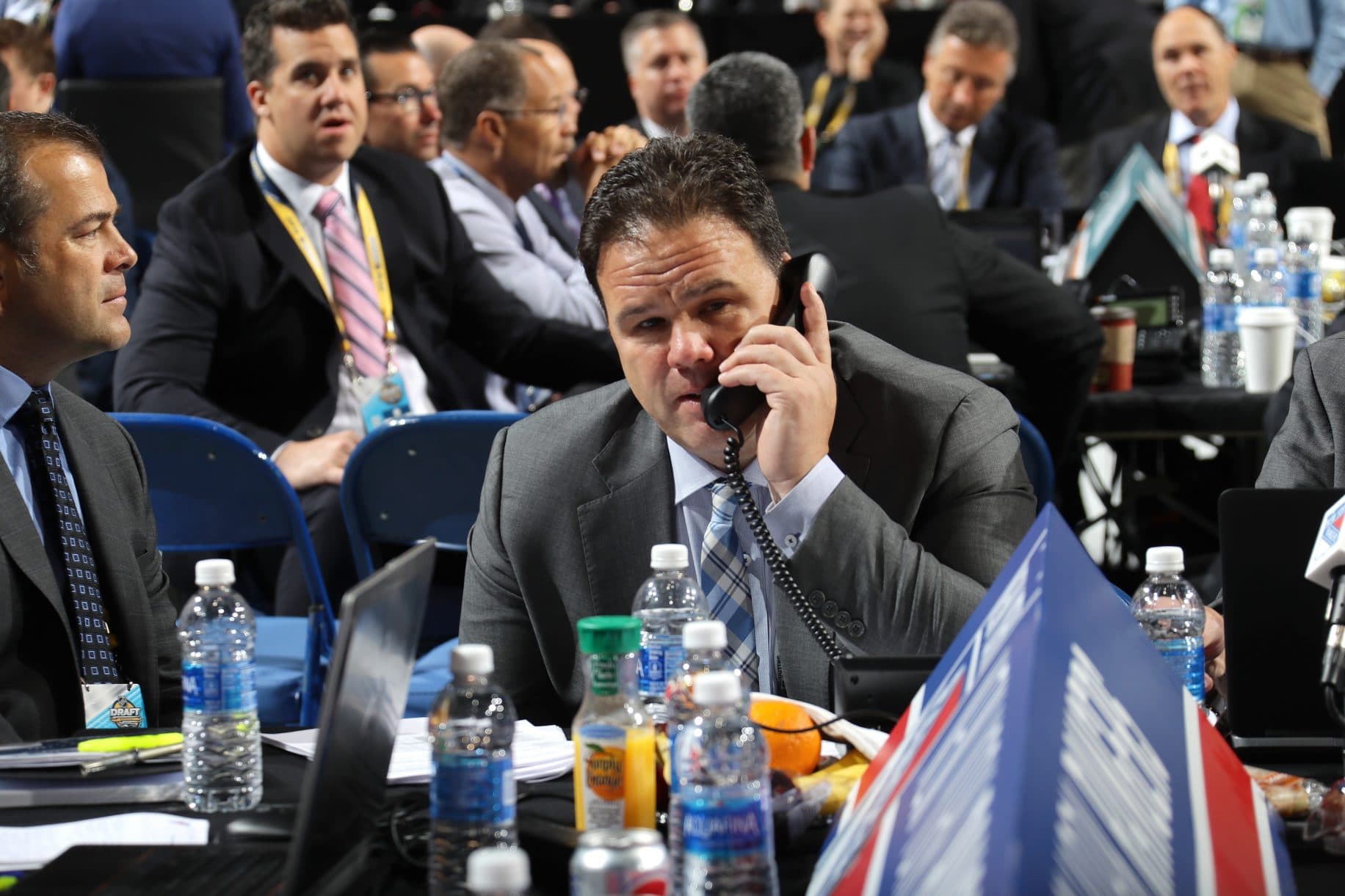 Seems counterproductive? In the short term, perhaps. Despite his recent goal burst, it's worth remembering that Nash hadn't scored in 12 straight games and just twice in the previous 25 before the consecutive two-goal performances. If anything, perhaps the Blueshirts wish those efforts had come closer to the Feb. 26 deadline, when his value would have been artificially inflated for potential suitors looking for a short-term rental.
Nash isn't the same player who scored 42 goals three seasons ago in his finest season on Broadway. As evidenced over the past few days, he can still reach that level sometimes. He continues to be a strong all-around player who possesses an excellent defensive game and can be a major threat to score while on the penalty kill.
All of that, however, makes him more valuable to a legitimate Stanley Cup contender than his current team. If Nash continues to deliver and draws a strong deadline offer—a low first-round pick and additional futures, perhaps?—dealing him really should be a no-brainer.
Nash, no dummy, understands this.
"Catch-22," he told Larry Brooks of the New York Post after the Rangers' 4-3 home victory over Buffalo on Thursday (thank goodness for the Sabres, who've accounted for two of the Blueshirts' four wins in the new year). "That's certainly the reality of (possibly being traded), I understand that, but I can honestly say I'm so focused on my game and helping the Rangers that I don't think about it.
"I can control my performance. I can't control what decisions the front office might make. I have a family and two kids in preschool, so it's not something you want to really think about even though you might have to, but it's what we all signed up for."
Despite the two straight wins, storm clouds keep gathering.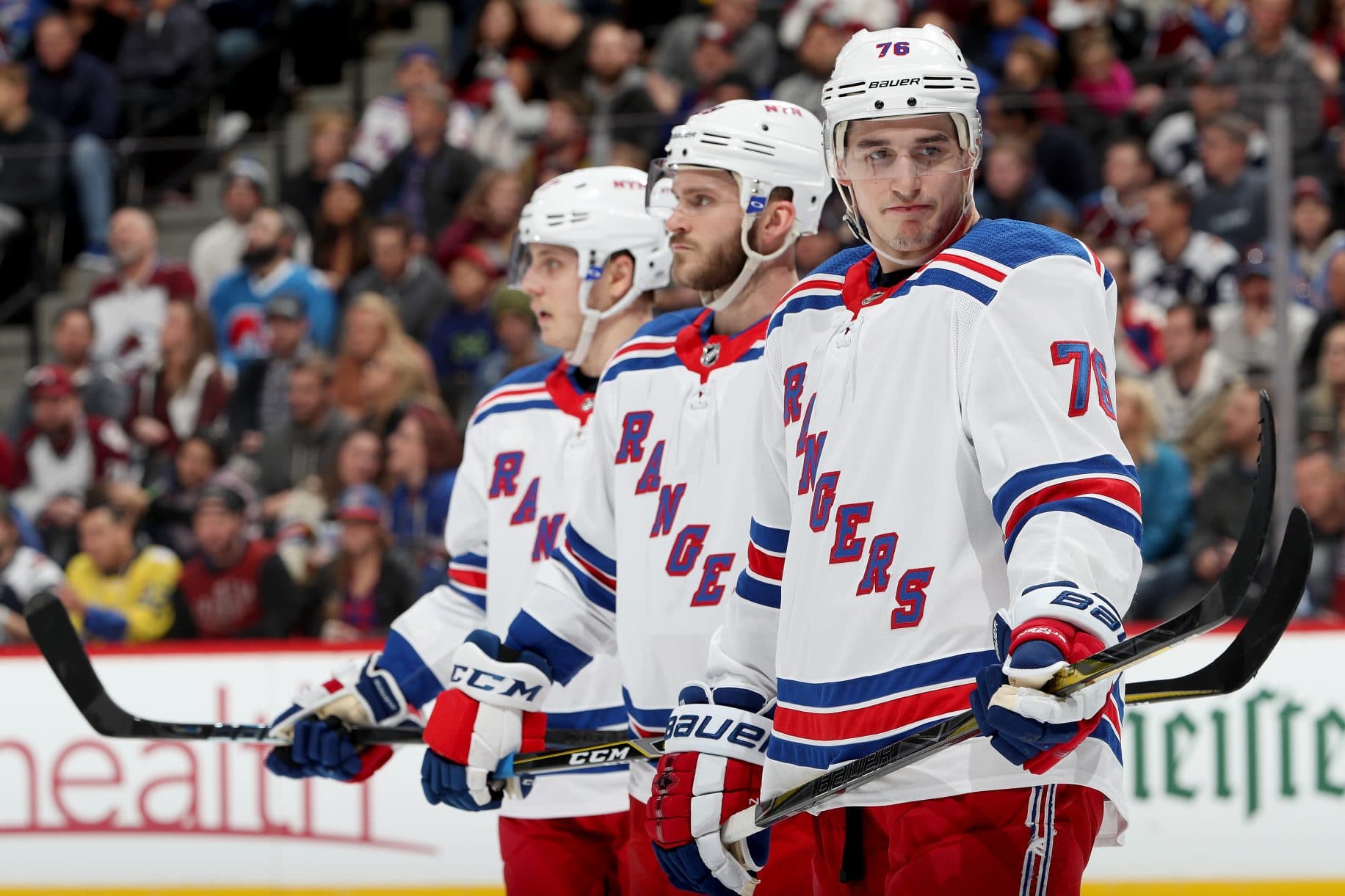 The beleaguered defense, such a source of excitement coming into the season, took another major hit Friday when it was announced Kevin Shattenkirk is out indefinitely due to a torn meniscus that will require surgery. That injury overshadows the loss of Marc Staal, who will miss at least the next two games due to a hip pointer.
Add in the injury issues with key center Kevin Hayes and the overall lack of depth at that critical position, not to mention the long-term loss of winger Chris Kreider, and positive trends don't abound with this club. Losses like the 7-2 pounding at the hands of the archrival Islanders last Saturday shouldn't be viewed as an anomaly any more than the 8-5 loss to Toronto in the Rangers' second game of the season should be. Such eyesores – and numerous other ugly games that could have been just as lopsided if not for the brilliance of Lundqvist and Pavelec – are natural results for a team that just isn't very good at five-on-five.
Put simply, does even the biggest diehard fan think these Rangers can make a run at the cup? No? Then it's time to put aside the always-present sentimentality about winning a championship for Lundqvist – a completely understandable emotion – and do what's best for the franchise.
Dealing Nash and perhaps others in order to restock a nearly nonexistent base of minor-league talent that was sacrificed as much better Rangers teams chased an elusive cup, in the form of four straight traded first-round picks, is the responsible thing to do. And though that idea might enrage some, it's worth pointing out that dealing veterans doesn't necessarily equal an automatic fall from contention.
A look north to the Bronx is Exhibit A. No, the Rangers don't have the young talent base of the Yankees, whose 2016 selloff resulted in a surprise run at the playoffs before they came within one win of the World Series with a rising roster.
But a Nash deal would open a more permanent spot for Vinni Lettieri, a player who would rather put the puck in the net than make pretty passes, a desperately needed quality on this club. It would also heap more responsibility on Buchnevich and J.T. Miller and the rest of the Rangers' up-and-comers, and they just might respond to that as well as the Baby Bombers did in what was a much larger roster restructuring in 2016. Maybe the Blueshirts are also joined by another talented youngster who's already on an NHL roster through a Nash deal, and a changed team unburdened by expectations continues the Rangers' run at a Wild Card berth.
It would also be both extremely awkward and pleasing if the defense improved now. Shattenkirk makes the power play better; the same can't be said of his club's ability to keep the puck out of the net. Shatty simply isn't a very good defender, which has been starkly exposed after playing for elite teams in St. Louis and Washington that were able to cover up for his deficiencies. No such luck in New York. Shattenkirk is a minus-14 – near the bottom of the NHL among defensemen – and was minus-4 against the Islanders last week to make him minus-8 in his last seven games. By the way, Dan Girardi is a plus-15 in Tampa.
Maybe all of the Rangers' bad trends finally catch up to them in the next five weeks, they fall out of it and selling off veteran assets in an easy call. The difficult call comes if they remain in the race – especially if they are in Wild Card position.
That doesn't change the fact that trading Nash and other veterans if a strong return can be extracted, would be just the right thing to do for general manager Jeff Gorton and the long-term health of the franchise.
And knee-jerk emotional reactions aside, such a decision might bring The King closer to hoisting the cup than if his Rangers stand pat instead.