Jhoan Urena and Gavin Cecchini should not be counted out as viable players for the New York Mets just yet despite seeing their respective stock prospects flounder in recent years.
When it comes to our favorite teams, like the New York Mets, and prospects we always tend to gravitate towards the shiny new toy. Often we look past those players we were once enamored with for the younger guy who recently broke onto the scene.
There's a phrase that goes, "The devil I don't know," and that seems to fit the prospect frenzy cycle perfectly. What we should not forget is why we were once so intrigued by a prospect, to begin with.
The Mets farm system has fallen off in terms of high-end talent, but that is to be expected when your system graduates multiple All-Star pitchers and the number one prospect in baseball, Amed Rosario.
Now the organization will be tasked with developing a new class of young talent for the future. So, where do our two overlooked prospects fit in? If progression is on their side, these two youngsters could be contributing in Queens sooner rather than later.
Jhoan Urena 
It seems like Urena's prospect hype is ancient history, and that's because it kind of is. Urena was signed by the Mets out of the Dominican Republic in 2011, almost seven years ago. Just two years later, at 19 years old, Urena was named to Baseball America's "Ten Sleepers from the Florida Gulf Coast League."
The next year in Brooklyn, Urena backed up that selection slashing .300/.356/.431 with five home runs and 47 RBI in just 75 games. The future was bright for the offensive-minded third baseman, who was quickly gaining prospect hype.
Unfortunately, the 2015 and 2016 seasons were not so great towards Urena, as he failed to hit over .225 or produce an OPS close to .700 in either year. There is an excuse for this poor performance, and it stems from broken bones in both of his hands.
More specifically, hamate bone breaks, which are known for their long recovery periods.
So why should Urena be back on our radar after two down season? Well, that's because his 2017 season is a better indicator of his future than two injury-riddled seasons.
In 2017 at Port St. Lucie he played in 122 games slashing .282/.364/.437 all the while driving in 67 runs and sending 11 balls over the fence. The offensive-minded third baseman got his identity back in 2017, which should be enough evidence for a revival of his past hype at the hot corner.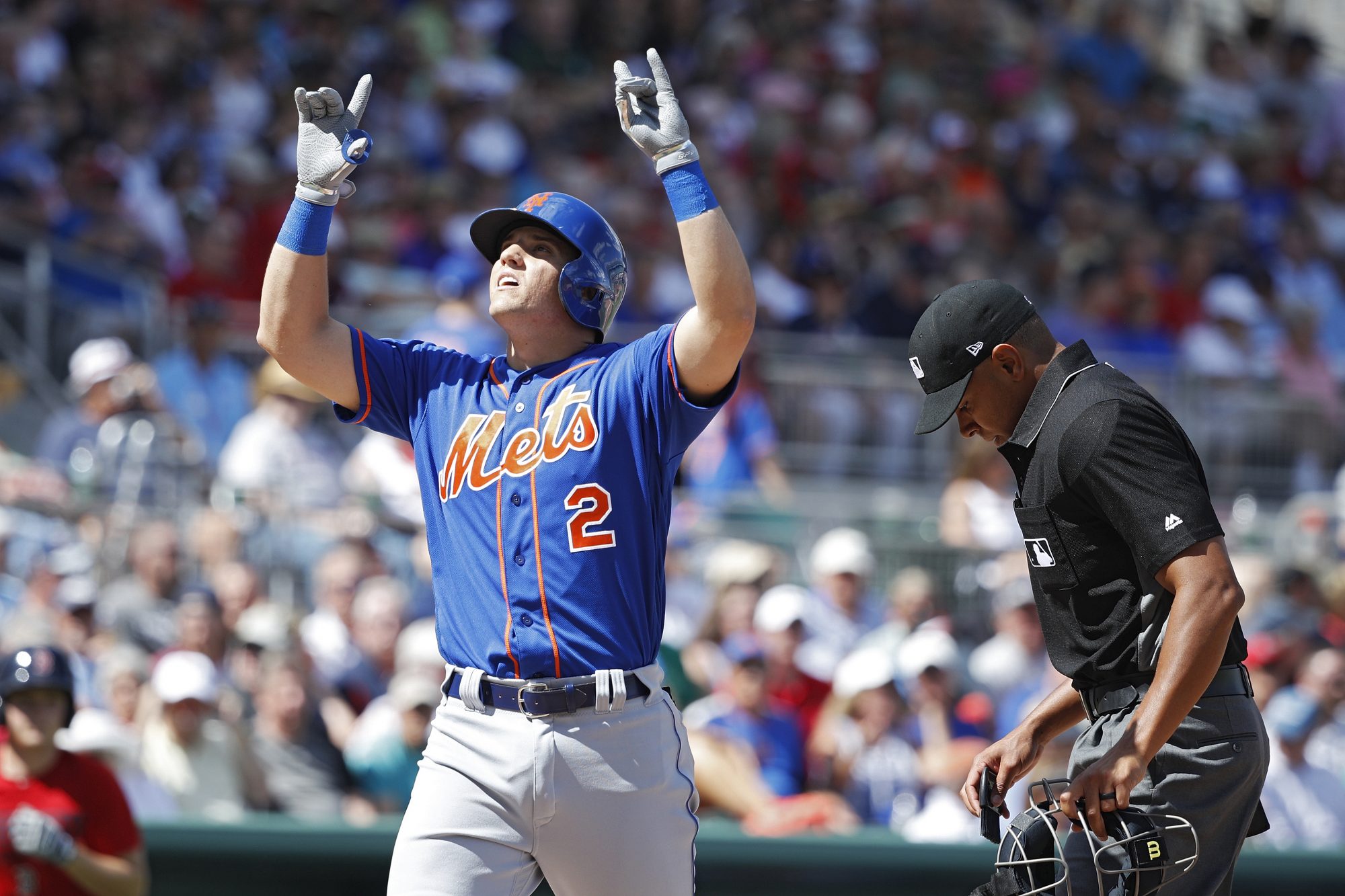 Gavin Cecchini 
How crazy is it that Cecchini has seemingly fallen out of favor after being a first round pick in 2012. Cecchini was a September call-up in 2016, which led to speculation that he'd get a chance to display his talent on a dismal Mets team down the stretch of 2017.
Yet, even after his early 2017 call-up and a home run off Clayton Kershaw he was pushed back down to AAA Las Vegas for the likes of Jose Reyes. A highly touted prospect who could only get 82 plate appearances for a struggling team whose second baseman took multiple months to break the Mendoza line for batting average, it just does not add up.
It is true that Cecchini had a rough year in Las Vegas slashing .267/.329/.380 in 2017, drastically worse than his .325/.390/.448 line just a year before in 2016, at the same level.
But, there is still hope when it comes to Cecchini because one down year should not disqualify his potential. He'll never be a high home run player, 31 career home runs in 6 total seasons, but he has gap power to hit doubles.
One of his best assets is his plate approach which he uses to keep his strikeout and walks nearly equal (55 strikeouts and 48 walks in 2016). If he can continue to get on base at a high clip and hit for a little more gap power he can be an asset to the major league club as soon as 2018.
However, he will have to start 2018 in Las Vegas to attempt to prove himself to the organization again and reclaim his place as a top 10 prospect.