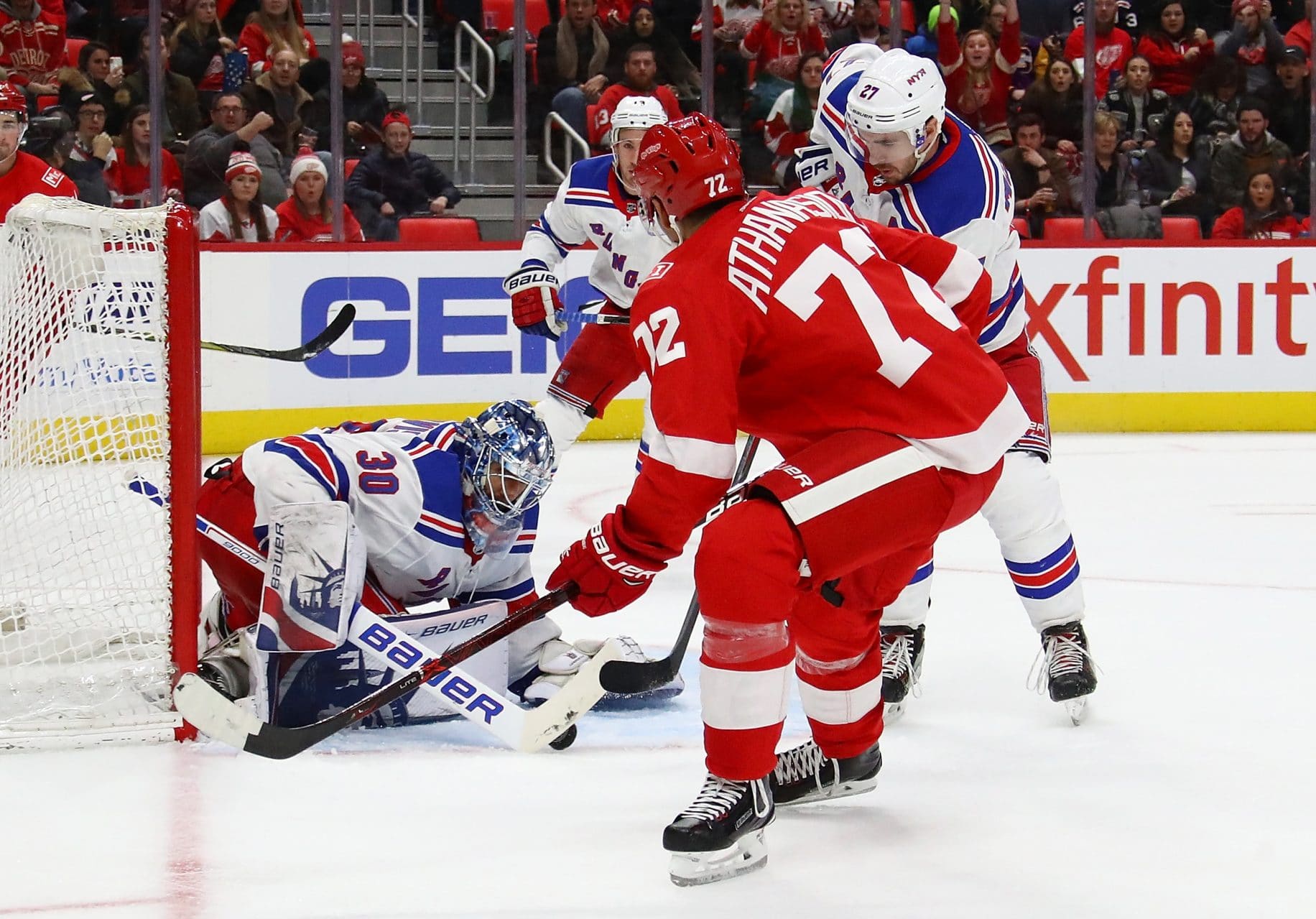 In what may be the save of the year, Henrik Lundqvist absolutely robs Andreas Anthanasiou prior to New York Rangers youngster Vinni Lettieri collecting his first NHL goal. 
I think it's about time we stop asking if Henrik Lundqvist is still an elite goaltender, at least for the time being. In the second period, the Detroit Red Wings have turned up the heat on the Rangers and it is Lundqvist who is single-handedly keeping this one in check.
Dylan Larkin squeezed by a Ranger along the boards by the blue line and found a streaking Andreas Anthanasiou, who has suddenly found some serious confidence since scoring his first in 17 games earlier. Lundqvist was able to show some serious athleticism going post to post to get the blocker and right pad over to rob a sure second goal for Anthanasiou:
HENRIK LUNDQVIST, WHAT A SAVE TO ROB ATHANASIOU! pic.twitter.com/nfIkdzJrsE

— NHL Daily 365 (@NHLDaily365) December 30, 2017
The Red Wings really turned the tables after the 15-minute mark the f second period. If not for this save and numerous others, the Rangers would be faced with a serious deficit.
It's still hard to believe many feel Lundqvist has lost it when he's still making saves like this and literally carrying this team on his back. Ryan McDonagh was left to fend for himself as Nick Holden made a poor choice to step up in the neutral zone which allowed the two-on-one break. Kevin Hayes, caught in a bad spot, was unable to pick up and backcheck Andreas Anthanasiou. So I would wager Nick Holden may owe his lineup spot to Lundqvist right now and may want to consider a steak dinner for Hank.
For now, though, the Rangers can breath a sigh of relief as the second frame has come to a close and the onslaught can stop for now.
So carry on if you still believe Lundqvist still isn't an elite goaltender, but the Rangers wouldn't be sniffing a playoff spot if not for saves and heroics like this from Henrik Lundqvist.
After Hank's beauty, the youngster, Vinni Lettieri (playing in his first NHL game), decided to also collect his first NHL goal.
Boo Nieves set him up perfectly after young Lettieri traveled down the middle of the zone into the perfect place for the one-timer:
Yes, Kramden and Norton, DANCE the night away (as seen in MSG during the old-school goal-scoring days), for young Vinni Lettieri tallies his first NHL goal on a beauty of a set up from Boo Nieves. #NYR up 2-1 in Hockeytown. pic.twitter.com/fflOAHFPhC

— Elite Sports NY (@EliteSportsNY) December 30, 2017
Lettieri got it done with his family in attendance.
The score is 2-2 midway through the third period after veteran Henrik Zetterberg tied things up.