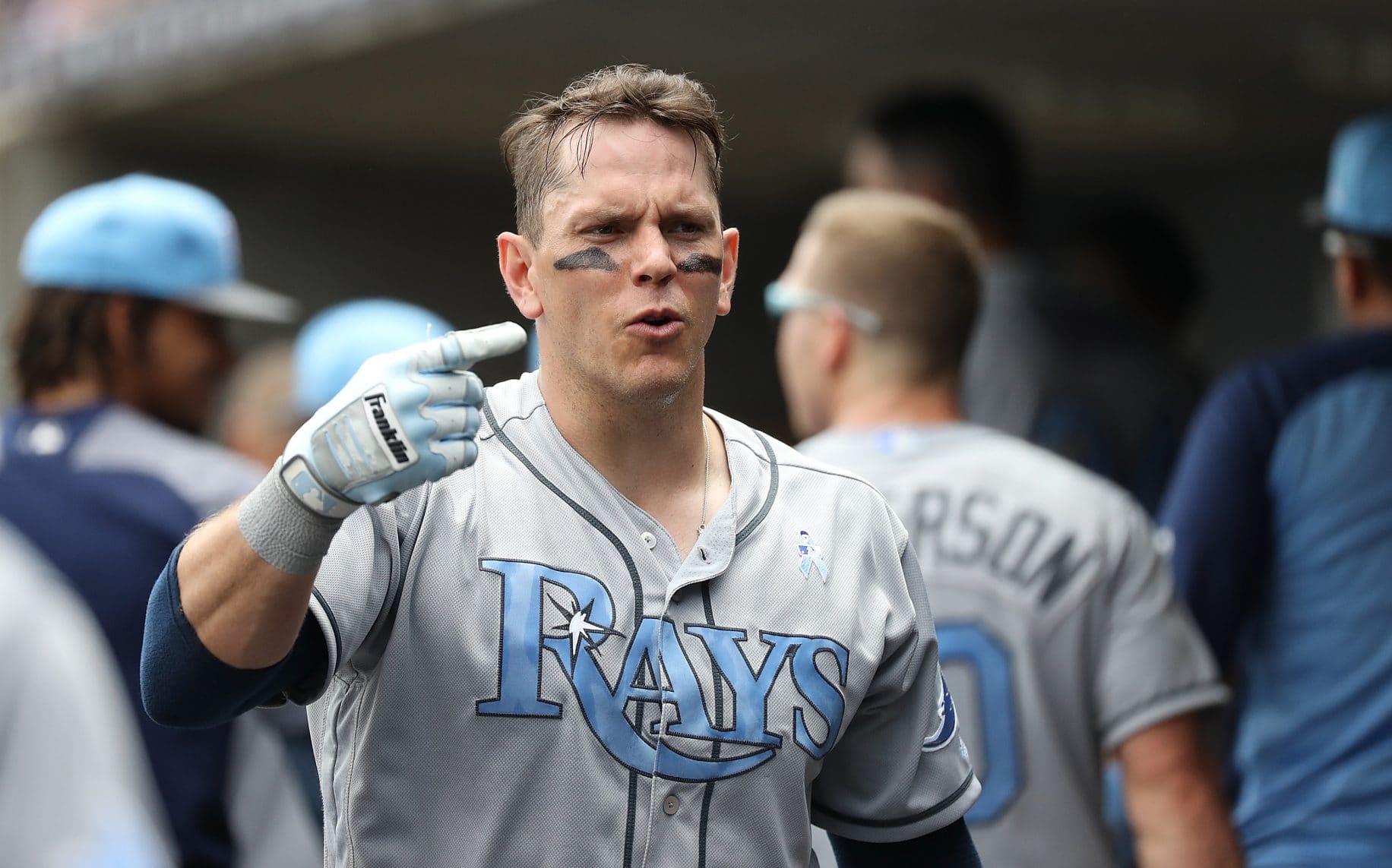 The Mets are apparently going gaga about getting Adrian Gonzalez on the cheap. A better fit with the future in mind in Logan Morrison.
The lights came on in the New York Mets front offices when they heard there was a veteran first baseman available on the cheap in Adrian Gonzalez. Too bad, because Logan Morrison is the guy they should be going for.
Almost predictably, the Mets were announced as significant players in pursuing Gonzalez, despite the fact, two teams, first the Dodgers and now the Braves, have dumped him into the trash barrel in a matter of days, at the age of 35.
You can assume the Mets are among teams kicking around idea of pursuing long-time All-Star Adrian Gonzalez. They're looking for a short-term add-on at the position; when healthy, he's a good hitter/defender; was just cut by ATL, and costs nothing more than minimum salary in '18.

— Buster Olney (@Buster_ESPN) December 19, 2017
The report from ESPN's Buster Olney makes sense for all the wrong reasons, except for one, which is that it fits in with the Mets self-imposed and as of yet undisclosed salary cap. Exceeding the cap could cause the Wilpons to move the team to Guam, or something even more drastic.
Joe Giglio, reporting for NJ.com, points out, "If the Mets go cheap at first base, a scenario could be present for spending in the outfield, second base or third base later this winter." All well and good, except the Mets haven't given any reason to indicate they are will willing to open the coffers for any position.
Gonzalez, if he is signed, will not hurt the Mets. The question, though, is to what degree will he help them? And then the other thing is that a deal for Gonzalez in the wake of having anointed (several times) Dominic Smith as the future at first base only serves to shine a light once again on the dysfunctional and fleeting Mets front office.
Bottom line—and I know Mets fans don't like bottom lines because they know what they mean—is that Gonzalez represents another foolhardy attempt to kick the can down the road without adding anything to the team beyond this season.
Why not turn instead to a player whose future is ahead of him at the age of 30? Here, for example, is a summary put together by Kyle Downing of MLBTradeRumors.com.
"Morrison's power breakout came during a season in which he made adjustments to his swing, helping him hit more balls in the air. "Valuing… launch angle and all that stuff — has helped me out a lot," he said to Fangraphs' David Laurila back in August. Whatever adjustments Morrison made, they worked like a charm. His fly ball rate skyrocketed from 34.7% to 46.2%; that amounts to a whopping 33% increase in fly balls over last season."
The Athletic's Ken Rosenthal has suggested that Cleveland could be a potential landing spot for the free-agent slugger.
According to Downing, Morrison a potential deal for Morrison might be a three-year contract in the range of $36 million. That's apparently a lot more than the $500,000 or so the Mets would pay for Gonzalez but look at the upside and the return you get, not only in 2018 but for another two years.
Morrison hit 38 home runs last season, which is nothing to sneeze at, especially when you consider the Mets salary dumped Lucas Duda, Curtis Granderson, and Jay Bruce, creating holes still not plugged in their lineup. And by the way, those home runs all counted…
Pitted against Gonzalez, who is projected by Baseball-Reference to hit 12 home runs with 52 RBI in an abbreviated season of only 350 at-bats, we are left straight back into the swamp of what it the New York Mets.
Morrison is the quintessential power bat of baseball today. He will not hit for a high average, but he will play every day and be a run producer in a lineup that sorely needs it.
I've said it before, and I'll repeat it. What, if anything, is going to kick the Mets in the butt, changing the culture of the franchise from one which looks only to survive another season to one that plans and executes to manufacture a team built not just for today, but next season and the season beyond?
Your guess is as good as mine, but shunning Gonzalez and reaching out to Morrison would go a long way to restoring some of the trust we felt in the seasons leading up to 2015.
That collateral has all but evaporated by now, and it's time to not only rebuild the team with players but more significantly, with the trust that comes with a culture engendered from the top down all the way to fans like you and me.
In a microcosm of the New York Mets today, Gonzalez says no to that while Morrison, or another player like him the Mets could target, says yes. I'm waiting.