Head coach Jeff Hornacek and the New York Knicks should look to get shooting guard Ron Baker some more run.
New York Knicks' shooting guard Ron Baker has endured an injury-riddled start to the 2017-18 season. Now healthy, head coach Jeff Hornacek and the Knicks should look to give him more playing time.
Nursing an ankle injury and a sprained left shoulder, the Wichita State product has been unable to truly progress his game. Appearing in just eight of the Knicks' 26 contests, Baker has only averaged 3.9 points and 2.9 rebounds per game.
Averaging just 14.9 minutes a night, Hornacek has not given Baker a significant role in the team's rotation. At the same time, when the head coach has granted him a reasonable amount of playing time, he has produced.
In his last two appearances, versus the Indiana Pacers and Atlanta Hawks, Baker averaged nine points, four assists and one steal per game in 26.5 minutes a night — which is exactly the type of play management and the coaching staff became accustomed to seeing from him last season.
While he didn't wow anybody, averaging just 4.1 points per game on 37.8 percent shooting, Baker played with a grit and willingness to compete on both ends in his rookie season. Diving after loose balls, playing tight on-ball defense and moving well off the ball, Baker showcased a gritty skill set on both ends. That led management to re-sign him to a two-year deal in the offseason.
The Knicks are currently playing without arguably their second most valuable player and starting two-guard ,Tim Hardaway Jr., who is out with a knee injury that will sideline him for the foreseeable future and potentially as long as two months, per Marc Berman of the New York Post.
Hardaway Jr. has, undoubtedly, been a key component to the Knicks' offensive attack. Averaging 17.8 points per game, the 25-year-old has been a focal point of Hornacek's offense. Whether it be attacking the rim, finishing off fast breaks or hitting the outside jumper, Hardaway has contributed to the Knicks' offense in a number of ways. He's also held his own defensively, despite not being known for his play on that end of the floor.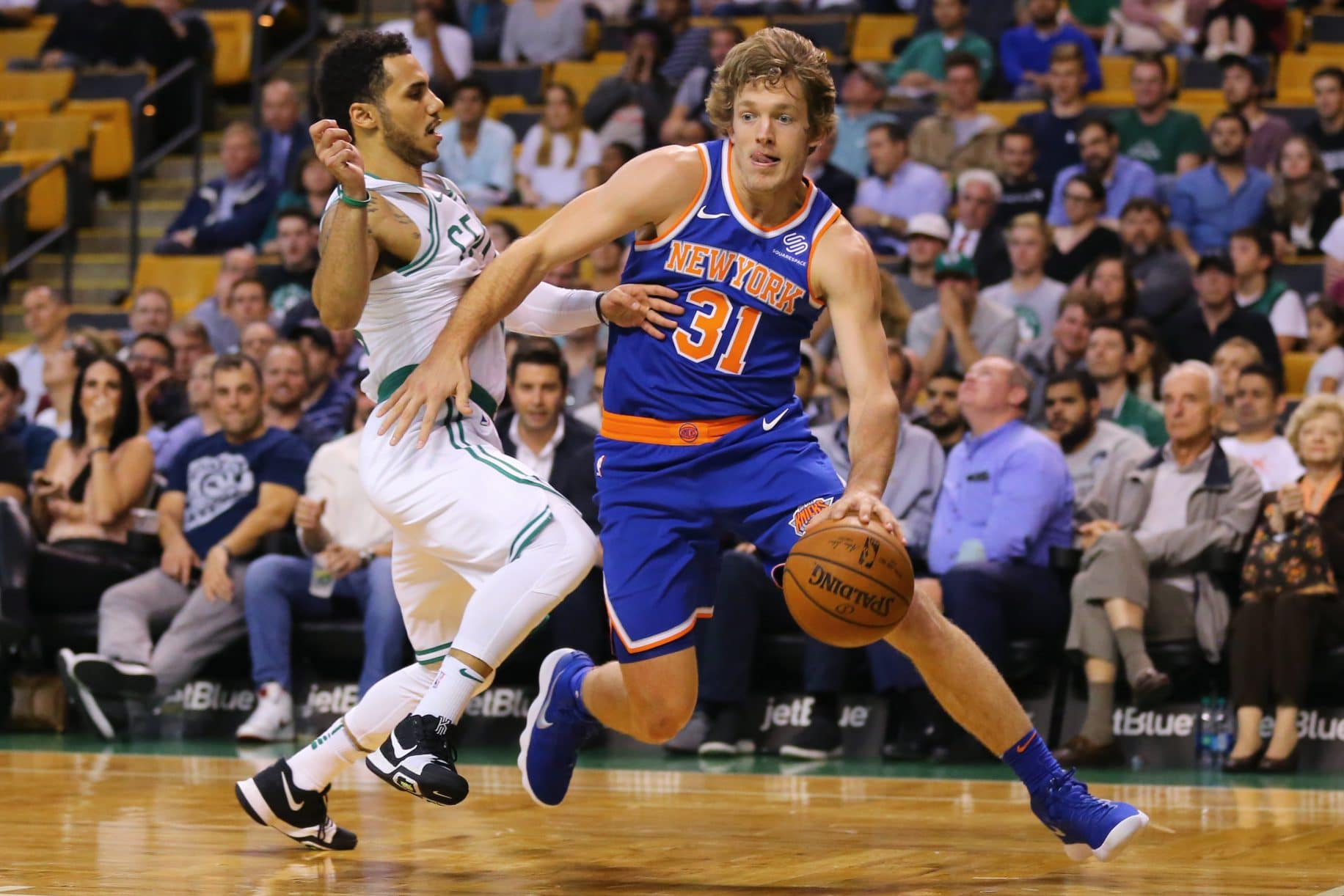 Playing without Hardaway Jr. is a killer for the Knicks and it'll be hard to make up for the impact he has on their team. At the same time, no is going to feel sorry for them. It's next man up and Baker has just the mentality to thrive under those set of circumstances.
Hornacek appears to be set on starting Courtney Lee in Hardaway's place while plugging Lance Thomas in at the three. After the two wings, the Knicks will look to allocate minutes accordingly and Baker should be at the center of those promotions.
Baker is a two-way player. While not yet adept at hitting the outside jumper with ease, he can finish in the paint, but more importantly, plays hard defensively. He can come off the bench and provide the Knicks with energy on both ends, as well as a player who could develop his game with more playing time.
The Knicks cannot replace Hardaway's offensive impact. Simultaneously, they can look to shore up the shooting guard's weakness and put forth a valiant effort defensively — hence inserting Baker into the rotation on a consistent basis.