Frank Ntilikina might not be an impact stud like some NBA lottery picks, but the point guard is coming along nicely for the New York Knicks.
Frank Ntilikina's NBA career has gone as expected thus far; he's still getting his feet wet and figuring out the NBA game. Consequently, the 19-year-old has been relatively inconsistent and had his fair share of struggles. However, in recent games, he has shown more signs and seems to be heading in the right direction.
The New York Knicks selected the Frenchman with the eighth selection in the 2017 NBA Draft and both he and the organization have faced endless criticism since. This is largely unwarranted and is based upon the Dennis Smith Jr. narrative that the Knicks were the only team to have passed on the explosive guard. Players taken ahead of Ntilikina have all experienced ups and downs just as he has. Right now he is par for the course with his fellow rookie class.
The largest knock on Ntilikina earlier in the season was how passive he was and how little he looked to attack or look for his shot. He was more so looking to run plays to a tee and make the right passes. This can all be easily explained. Ntilikina lacked understanding of the NBA game or style of play and during his time with Strasbourg as it was a very 'my way or the highway' approach from the coaching staff. He did not have the freedom to bust the play in Europe. It has taken 23 games, but the Knicks' rookie is finally learning and figuring out how to play at the highest level.
The NBA is often a read-and-react game where your natural instincts are more helpful rather than attempting to perfectly execute the play called out by the coach. This is what is allowing Ntilikina to find more success. In recent games, he has shown more confidence in his jump shot and has taken what the defense has given him, connecting on 40 percent of his three-pointers over the last five games. Opposing defenses have been going under screens all season long and Ntilikina is finally taking and hitting the shots that he needs to.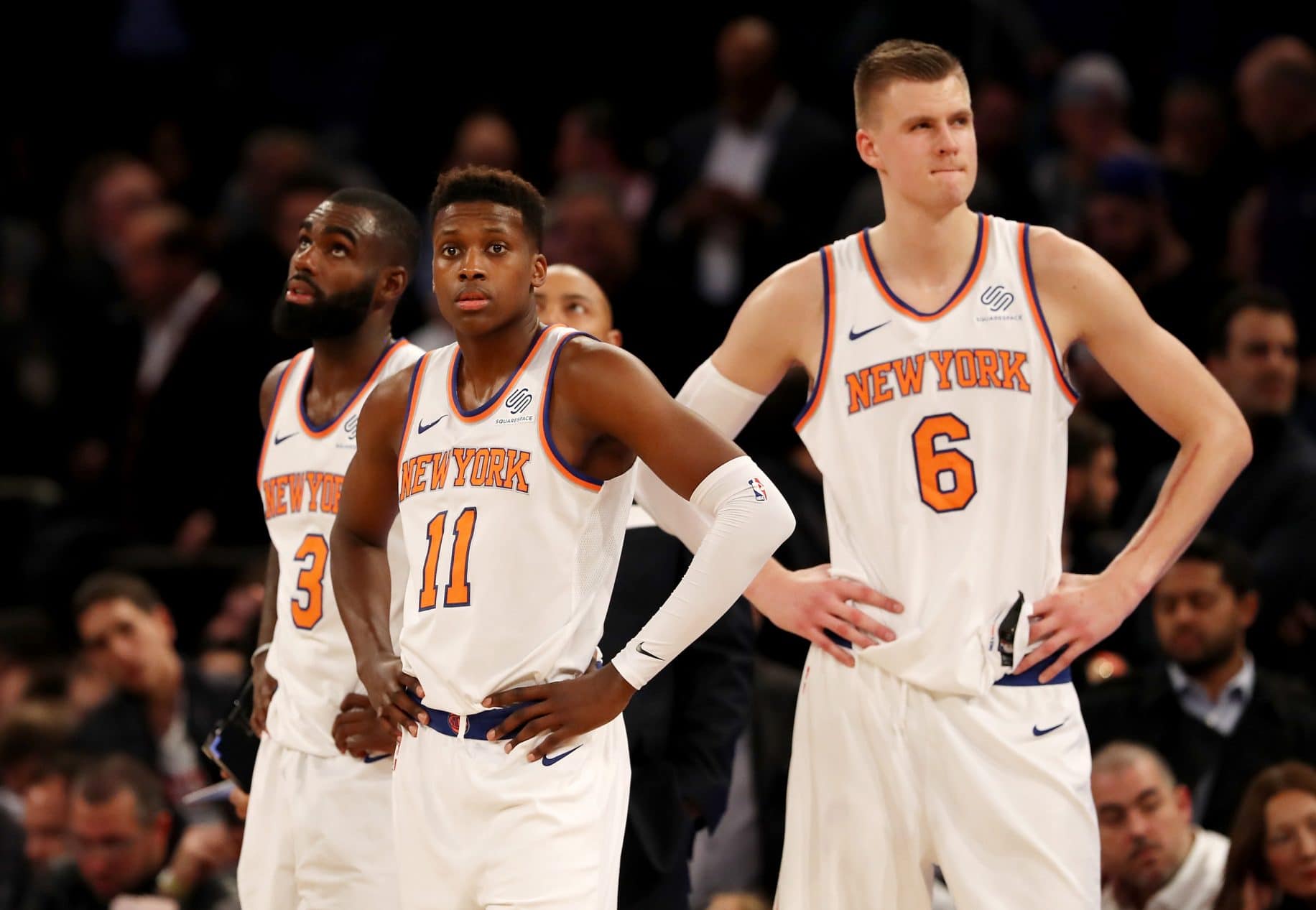 Additionally, Ntilikina is also looking to attack and penetrate more often, which has resulted in a spike in his free throw attempts. Through the first 19 games, Ntilikina averaged 0.7 free throw attempts per game but over the past four, it has risen to 3.1 attempts per game—including eight against the Grizzlies. The rookie's shot attempts inside 10 feet have also risen form 12.5 percent through 15 games to 21.7 percent since.
Ntilikina's passing does come and go but his decision-making off the dribble has vastly improved. He now has the confidence to throw the kick-out pass to the corner and, in doing so, has created a nice rapport with Doug McDermott. Also in more recent times, his dump off passes have been better. Ntilikina is no longer leaving his feet and creating offensive charges but rather utilizing the jump stop to halt his momentum but draw the big for the easy pass and buckets.
Defensively Ntilikina has been consistent for the most part. He knows how to use his length to disrupt opponents and he always fights over screens which shows his effort on that end. Nitilikina is also learning and improving in reading the play off the ball. He has terrific instincts and awareness, which when combined with his length, means he's able to jump into the passing lanes and create turnovers. In New York's victory over Atlanta, Knicks' broadcaster, Walt Frazier, referred to him as "The Rubberband Man" and "Stretch Armstrong" which is by no means an adoration.
In summation, Ntilikina's confidence seems to be on the rise and offensively has been displayed in his willingness to take and make the open shot without hesitation as well as looking to attack the rim more frequently. Defensively his ability to read the play has improved and he isn't afraid to leave his man to deflect a pass or jump into the passing. Although the sample may be small, there's enough there to know that Ntilikina will be just fine with the confidence he has, as well as the confidence his coaching staff and teammates have in him.