The path to the promised land for the New York Mets is easier than it seems. A few key moves this offseason will help them return to glory.
The New York Mets made the postseason in 2015 and 2016, just the second time in franchise history they produced back-to-back trips to the playoffs. After that success it was expected the Mets would make the postseason once again in 2017, right? It's safe to say that they fooled us all. The 2017 season was an utter disappointment as the Mets finished with a 70-92 record, 27 games out of first place in the NL East.
But the Mets can easily return to the promised land in 2018. It all starts with staying healthy. The coaching changes, free agent acquisitions, or possible trades will not matter if their current players cannot stay on the field. However, that is a pretty obvious recipe for success. Let's take a look at what the Mets need to do this offseason so they can find success in 2018 and beyond.
Sign a Veteran Starting Pitcher
Oh, how the mighty have fallen. Jacob deGrom, Noah Syndergaard, Matt Harvey, Zack Wheeler, and Steven Matz were supposed to be this dominant starting rotation for years to come. Then the injury bug came along. deGrom seems to be the only pitcher that Mets' fans can actually rely on when the 2018 season comes around.
The Mets need to go out and sign a veteran arm that can eat up innings and give this injury-plagued staff a break. The idea of a six-man rotation may not be that crazy when 2018 comes around. If all five of the aforementioned arms can stay healthy, then the Mets will have nothing to worry about. But can they really count on that happening?
There are three names that the Mets should be keeping an eye on this winter: CC Sabathia, Jaime Garcia, and John Lackey.
A return to the New York Yankees has been talked up more for Sabathia since they were eliminated from the Shohei Ohtani "sweepstakes," but he could definitely fit with the Mets. He's thrown at least 145 innings in each of the past three years and would bring a veteran's touch with postseason experience to a young staff.
Garcia is still a crafty lefty who has logged more than 130 innings in each of the past three seasons while filling lots of roles for lots of teams. He's not as good as he used to be, but he can help this rotation.
My favorite of the three, however, is Lackey. He can be a headcase at times, but he is a workhorse. Only three times over his 15-year career has he thrown less than 160 innings, and he's got three World Series rings on his fingers.
All three pitchers should come rather cheap due to their age or lack of recent success. The Mets would be wise to sign one of them to add some depth and insurance to the backend of their rotation.
The move: Sign John Lackey to a two-year, $14 million deal
Sign a Relief Pitcher
The Mets weren't as busy at the trade deadline as many would have hoped. People were expecting a fire sale due to the lack of success, which in return would bring back some big-named prospects. That didn't happen. Instead, the Mets quietly made some solid acquisitions to bolster their bullpen.
In those trades, the New York Mets acquired six relief pitching prospects. All of those prospects are 24 years old or younger. Four of those six ended the 2017 season among the Mets' top 30 prospects, per MLB.com. Jacob Rhame is ranked 21, Stephen Nogosek is ranked 22, Jamie Callahan is ranked 28, and Gerson Bautista is ranked 30.
The best move the Mets made at the deadline was acquiring Marlins' closer A.J. Ramos. Ramos is entering his final year of arbitration and, after a down year in 2017, isn't likely to cost a fortune to keep around. Last year was probably the worst year of Ramos' career, but he has been dominating in the past. From 2013 to 2016, Ramos pitched 278.1 innings in which he accumulated 319 strikeouts, 72 saves, and a 6.2 WAR. He only allowed 12 home runs in that span, while his ERA was an impressive 2.59.
Ramos is going to be a key piece for the Mets' pen in 2018 along with Jeurys Familia. They also have a dominant lefty-specialist in Jeremy Blevins. However, they need one more solid arm in their bullpen to be considered one of the best. The Mets do not need to go out and spend a ton of money on guys like Wade Davis, Greg Holland, or ex-Met Addison Reed.
So, who should they go after? Brandon Morrow, Bryan Shaw, and Steve Cishek are the names for the New York Mets to watch this off-season. Morrow and Shaw should be able to get a deal in the range of three-years, $24 million.
Between those two, Shaw would be the better option. He has a history with new manager Mickey Callaway, as they were in Cleveland together. Shaw is also younger and has been the more consistent pitcher throughout his career. Shaw has never had an ERA over 3.50 in his seven-year career, while Morrow has recorded a 3.50 ERA or above six times in his 11-year career.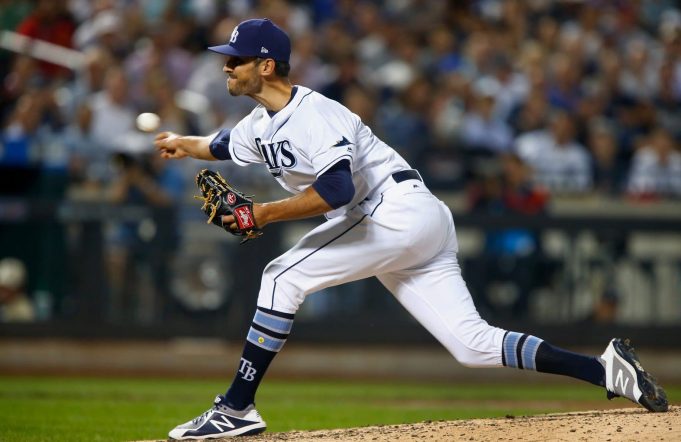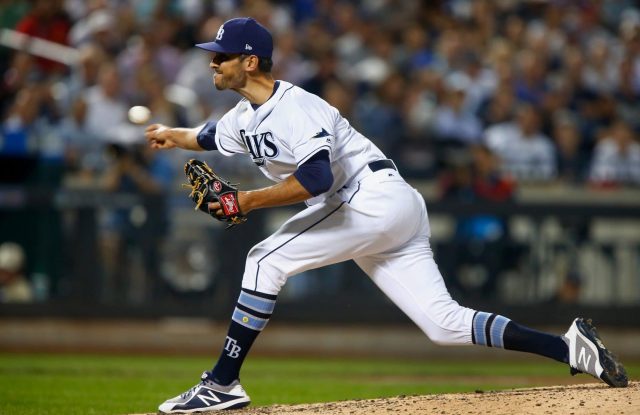 But the best option for the Mets would be to go for a cheaper option than Shaw or Morrow. Cue Cishek. He's been reliable throughout his career, has never pitched to an ERA above 3.58 (in 2015) and won't cost as much as the other guys. On top of that, Cishek's funky motion would be a nice complement to Ramos and Familia in the Mets' pen.
The Move: Sign Steve Cishek to two-year, $14 million deal
Sign an Infield Bat
Offensively, the Mets were a mixed bag last year. They were tied for seventh in MLB in home runs (224) and were tied for 13th in OPS (.755) but finished tied for 18th in runs scored (735) and 19th in batting average (.250). Not great numbers, but far from terrible.
The outfield is basically set for the 2018 season. Michael Conforto should be ready to go for spring training. He will be joined by Yoenis Cespedes in left field and either Brandon Nimmo or Juan Lagares in center field.
The questions are in the infield. The Mets will be looking for Travis d'Arnaud to build off a strong finish —he hit six home runs with 19 RBI and a .999 OPS over the last month of the season. Up the middle, the Mets are pretty set with Asdrubal Cabrera at second base and Amed Rosario at short. However, they have a hole at third base and they do not seem set on Dominic Smith at first base. I'm not even going to begin talking about David Wright because, let's face it, his career is over.
Signing a corner infielder will be the biggest key for the Mets this offseason. This is where the Mets need to spend. They definitely have the money to do so, as they currently have only $71 million in payroll, which is 19th in the league. Eric Hosmer, Carlos Santana, and Mike Moustakas are the biggest corner infield names on the market.
The ideal situation would be for the Mets to sign one of these impact players, but after giving Cespedes a four-year, $110 million deal, that's unlikely. Just another case of the Mets being the Mets.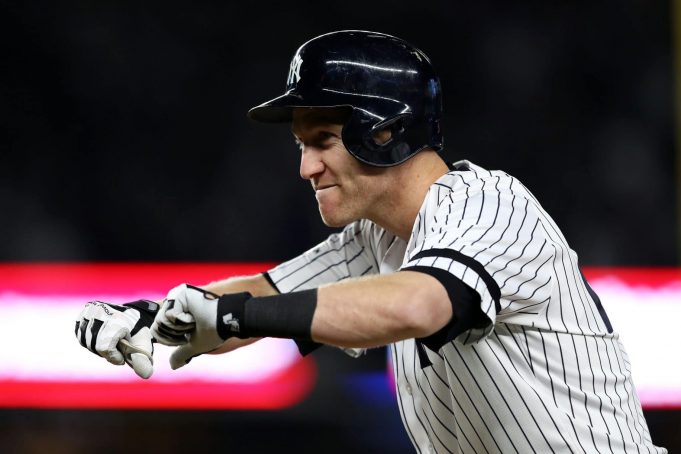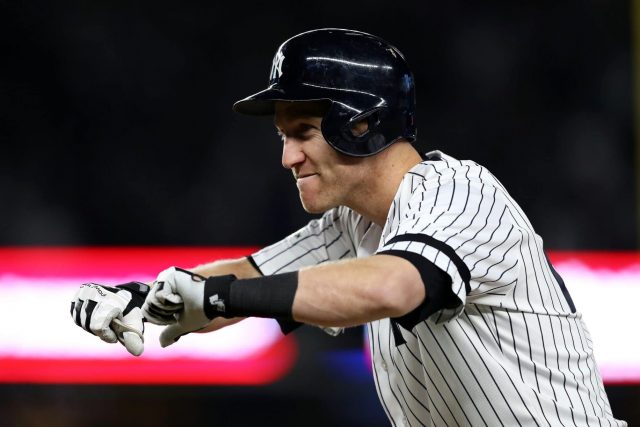 A more realistic option would be to sign Todd Frazier or Yonder Alonso. Alonso had the best year of his career in 2017 in which he appeared in his first All-Star game. He slugged 28 homers to go along with 67 RBI and a .866 OPS. Still, he isn't likely to get more than a one-year deal for around $7 million. The Mets can surely afford that.
The better situation for the Mets would be to sign third baseman Todd Frazier. Before even looking at the stats, Frazier is a great clubhouse guy. He grew up locally in New Jersey and was a fantastic fit with the Yankees. Frazier seemed like he was the guy to rally the Yankees when it was needed. Frazier can play the same role with the Mets while being an upgrade in terms of production as well.
Right now, it seems that Wilmer Flores will be playing third base unless the Mets sign someone to man the position. In terms of OPS, Flores was more productive than Frazier. The advantage of Flores over Frazier ends there.
Frazier provides a ton more pop than Flores—he hit 27 homers compared to Flores' 18—while driving in 22 more runs than Flores. Defensively, it is not even close as Todd Frazier is light years above Wilmer. In 2017, Flores recorded a .929 fielding percentage, -1.3 dWar, and -8 Rdrs. Frazier, meanwhile, finished with a .960 fielding percentage, 1.0 dWar, and 10 Rdrs. As you can see, Frazier would be a huge upgrade at third base for the Mets in 2018.
The Move: Sign Todd Frazier to three-year, $33 million deal
If the Mets make these moves—and can stay healthy—there's no reason they can't get back into the playoff picture in 2018.