Lonzo Ball's rookie season has gotten off to an interesting, but not stellar start in the City of Angels. However, the Los Angeles Lakers should not be worried about their 20-year old floor general.
Lonzo Ball and the Ball family. You know them. I know them. We all know them — for better or worse. As the No. 2 pick in last summer's NBA Draft, the sky still remains the limit for the kid.
Ball, though, is yet to show any signs of stardom, whether that be in his scoring ability or lack of an aggressive mentality.
Head coach Luke Walton and the Lakers shouldn't be worried about their rookie guard because he's actually adjusted well to the NBA when considering the way he played in college.
In his one year at UCLA (last season), Ball showcased an intriguing skill set — one that had NBA teams turning their heads.
Ball, a facilitating, play-making guard, was adept at finding his teammates in college. Whether it be in halfcourt sets, transition, or the pick and roll, Ball could find his teammates just as well, if not better than anyone in the nation. While his 7.6 assists per game don't give off a Steve Nash-esque impression, Ball thrived at finding and assisting his teammates, while making others' around him better in the process. He also hit the boards at an impressive rate.
Reeling in 6.0 rebounds per game, Ball was a presence on the boards for the Bruins.
In addition to his passing and rebounding prowess, Ball, while not known for his scoring ability, still managed to post 14.6 points per game in his Freshman year. Shooting 55.1 percent from the field and 41.2 percent from beyond the arc, Ball was capable of putting the ball in the cup when he had to.
Fast forward to this season, and he has been underwhelming offensively.
Averaging just 9.0 points per game going into Monday night, the rookie point guard has yet to establish a consistent offensive game. However, he has been impressive in other areas. While he's averaging just nine points, Ball is simultaneously posting 7.1 assists and 7.4 rebounds per game. His ability to do so is incredibly impressive, for a rookie nonetheless.
Ball's defensive play is his "achilles heal." While not abysmal, he is not adept at shutting down ball handlers in one-on-one sets. In a Western Conference that features star point guards such as Stephen Curry, Russell Westbrook, Damian Lillard and Chris Paul, Ball's defensive play could get utterly exposed when matched up against the best in the West.
Ball is not, nor has he ever been known for his scoring ability, despite the impressive numbers in college. He's a pass-first, rebounding guard, who sees the floor well; he has all the potential to be the modern-day version of Jason Kidd.
Kidd, a pass-first, floor general, was not much of a scorer, though, he became more of an outside shooting threat as his career went on, while playing competitive defense.
However, for the meantime, Ball has shot just 31.5 percent from the field and 25.0 percent from beyond the arc going into Monday night — which is far from ideal and not quite at Kidd or even Nash's level.
If the the 20-year old Californian wants to be the second coming of Kidd, or a top-tier point guard in the NBA, he will certainly have to improve his play on that end of the floor, and become a more sound defender in the process. But despite those current weaknesses' in his game, Walton and the Lakers should not be worried about Ball.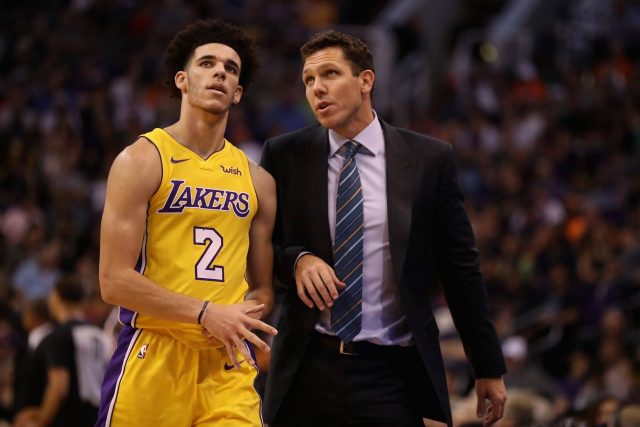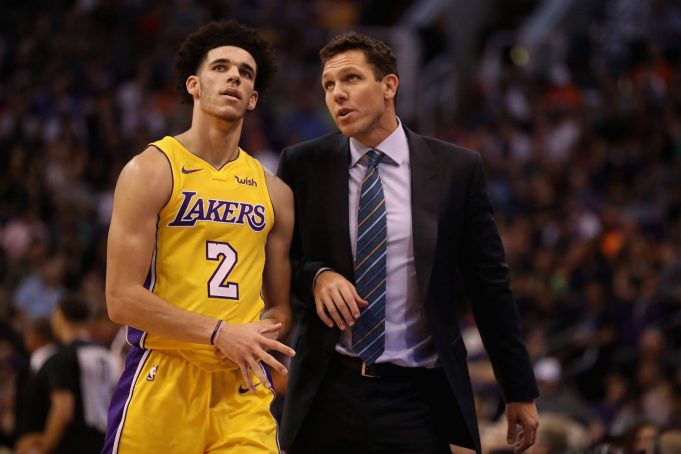 First off, while the NBA has become a point-guard driven league, in terms of scoring, Ball is more than capable of posing an athletic and quick threat. He may not be the scoring threat some desire for point guards to be in 2017, but Ball sees the court well.
The Lakers have a very deep young core. With Brandon Ingram, Larry Nance Jr., Julius Randle, Kyle Kuzma, Jordan Clarkson and Ball in place, the Lakers have a number of young players who offer intrigue for the present and future; Ball is, of course, a big piece of that optimism going forward. And as long as he can continue to be that facilitating, play-making guard, the Lakers should not worry about Ball's NBA evolution.
The biggest reasoning for the constant worry about Ball's play just 20 games into the season is the media attention he's garnered ever since the NCAA tournament with his father, Lavar, talking up a storm about how good he is; literally anything he does on a basketball court is now dissected to no end. But in reality, while he may not be filling it up offensively, Ball has been just as advertised.
Ball has played to his strengths, that being setting up his teammates and hitting the boards. Does he have to improve his shooting percentage and get more aggressive when the Lakers need a bucket in crunch-time, or just to end a run? Of course. Does his lack of aggression when it comes to attacking the rack give off a passive vibe? Sure, whether it be a rookie or a ten-year veteran, a starter must shoot, at the very least, a respectable percentage from the charity stripe; shooting below 50 percent does not cut it, nor does the fact that Ball's attempted under 40 free throws 20 games into the season.
But the thought that Ball is a "bust" because he's not scoring at will is silly — he's not that type of player. Ball has displayed his selfless, play-making arsenal, while also hitting the boards; he's performed like the player the Lakers and the NBA should've expected, and luckily for both parties, there's room for growth on Ball's end.