Noah Syndergaard lit up the sports pages and social media Friday night with a snarky Tweet poking fun at Donald Trump. That part, I liked, but could the balance be shifting away from his day job?
Some would say Noah Syndergaard blew up the New York Mets season last year when, unless you believe in coincidence, he refused an MRI the Mets insisted he should have, went out to pitch the next day, injured himself.
Bam. Season over.
Questioning a ballplayer's personal life is a slippery slope. I get that. But at the same, I want to see Noah Syndergaard be all he can be pitching in the big leagues and most of all, as a leading man in bringing a championship home to Queens.
Talent will take Syndergaard only so far. And maybe New York has been spoiled by Aaron Judge, with his innate abilities to ignore the hype, stay focused, and act like he's 25 going on 40.
Put it this way. I'd feel a lot better if the next time I looked at Syndergaard's Twitter Page, I saw a post that reads:
"Met fans. Don't worry. I got this one. 20 wins or bust!"
Noah Syndergaard: Talent like Thor
Make no mistake. Syndergaard is blessed with a talent for pitching a baseball like no other. Tom Verducci, writing for Sports Illustrated in 2016, quoted a rival general manager who makes the point vividly:
"Right now, he stands alone with his stuff. Nobody sits at 99 mph and throws a slider 93. Nobody. It's just a matter of time before you see a perfect game, a no-hitter or a 17-strikeout game. When he goes up against a team with right-handed hitters that's not an elite offense—San Diego in San Diego, Milwaukee—you're going to see something special.

"The question is, does he hold up? There's almost no one else to go by."
My question, though, is not if he holds up physically, but whether or not he will ever adjust himself to the game mentally. And by that, I'm not suggesting he's a looney or some basket case on the brink of self-destruction.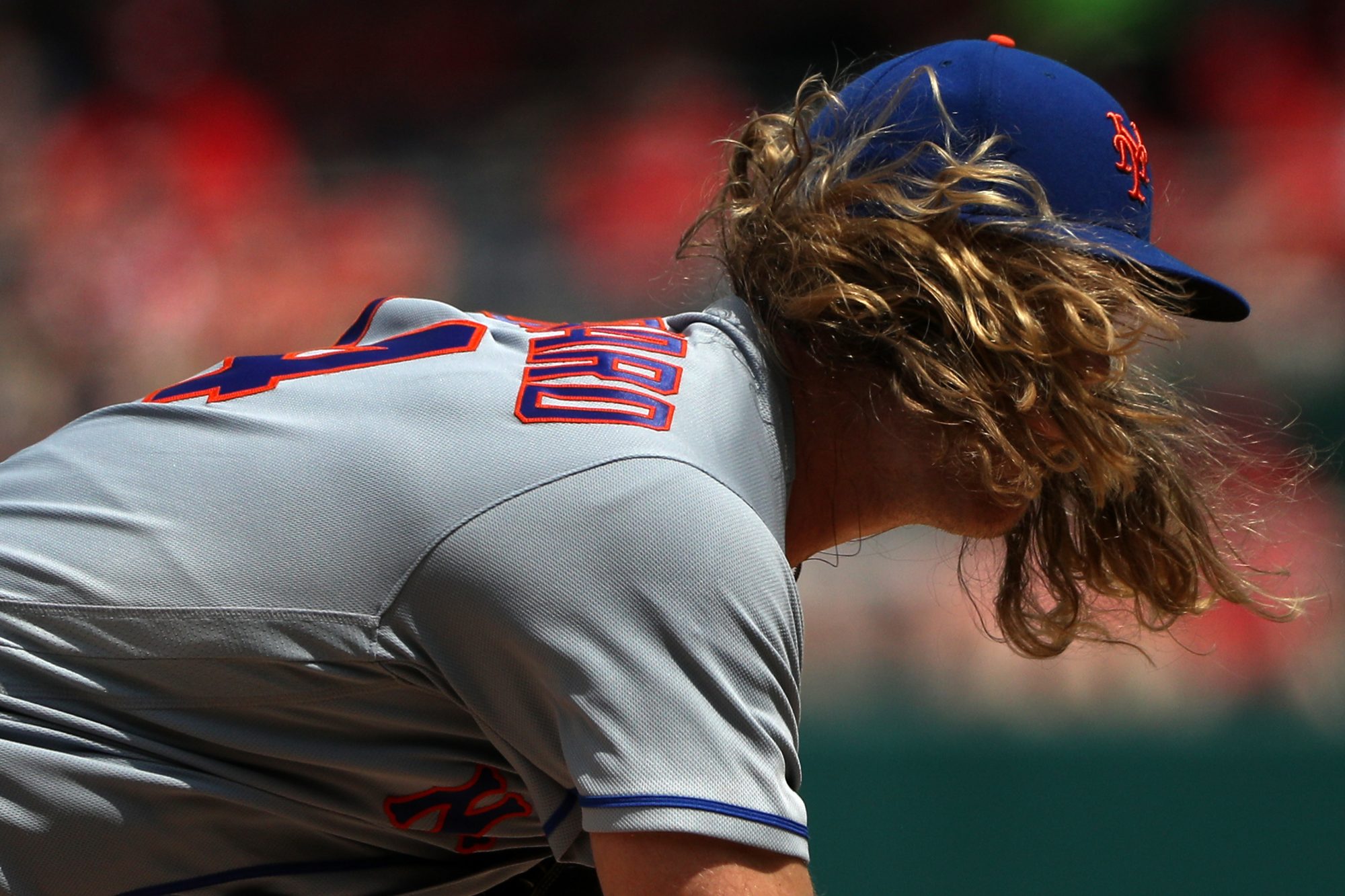 What I'm saying is when is Noah Syndergaard going to begin to take the next step forward in his baseball career, fully dedicating himself mentally, to separate himself from all the rest?
Corey Kluber has 64,000 Twitter followers. But he's pitched his team to the World Series twice. Clayton Kershaw has sent out only 217 Tweets, his last one coming on Oct. 8 and it was in support of the charity he runs. Luis Severino's recent Tweet was a few days ago, and it centered on a video of his regular workout, the day before Thanksgiving.
We've been through this before with Matt Harvey and his propensity to gather up the back page of the New York Post quicker than he gathered up strikeouts. It reached the point where I was regularly referring to him as Matt "The Brat" Harvey in stories I would write. Harvey has been quiet of late having been brought back to earth by a rash of injuries.
There is a time to reap and a time to sow. With Noah Syndergaard at the age of 24, opportunities abound, especially for a ballplayer in New York City. For now, it should be the time to plant the seeds of a Hall of Fame career. The tangent rewards can come later.
Nothing is worse in sports than talent that is wasted. New York fans, and in particular fans of the Mets, quickly recall the rise and fall of both Dwight Gooden and Darryl Strawberry as they made their way through the streets of New York City.
Will the real Noah Syndergaard step forward
Syndergaard made the major league minimum salary of $605,500 last season. In baseball terms, that's not even chicken feed. He'll be a free agent in 2020 and arbitration eligible in 2018 because he's something MLB calls "Super 2".
Major league teams today look at the head as much as they do the arm. Kids in high school throw 97 nowadays. But it takes a particular kind of person to be a Justin Verlander, or for that matter, a Jacob deGrom in this league.
As Tom Verducci wrote, Syndergaard may have talent beyond one's imagination. Ten years from now, we don't want to be reading stories about Syndergaard wondering where all that talent went. That's all I'm saying.