The New York Knicks are exciting, likable, and winning basketball games, but they need to look towards the future and sell high on some key pieces.
Tanking has become a buzzword in sports and more specifically, the NBA. The Sixers are the most dramatic example of a team tanking in the history of the NBA. They spent years trotting out teams with the intent to lose. Their goal was to completely rebuild by obtaining high draft picks. The organization knew that it needed a superstar player to compete in today's NBA and they did everything in their power to get their guy. Fortunately for Philly fans, they got two of those guys in Joel Embiid and Ben Simmons. This kind of tactic may have worked in Philadelphia, but it is bad for basketball.
Signing stars through free agency can be difficult. Drafting well is crucial, but there's no reason for the Knicks to follow the Sixers blueprint. No fan of a team wants to watch that kind of on-court product. Additionally, the Knicks are not in the state of disrepair that the Sixers found themselves. The Knicks are in a unique position and they need to explore the trade market. Selling high on a couple players this season may be in their best interest.
Where Do The Knicks Stand?
The Knicks are off to a surprising start and Madison Square Garden is buzzing. The 10-8 Knicks are currently eighth in the Eastern Conference and fans are as optimistic as ever. It looks like Kristaps Porzingis is taking the next step towards becoming a superstar. He's averaging 27.3 points per game and 7.4 rebounds per game. It's nearly impossible to win an NBA title without a superstar. The Knicks have theirs.
The Knicks look like a much-improved basketball team, but how far can this team really go? Yes, they would be in the playoffs if the season ended today, but it's too early to buy into this team as a legitimate contender. They have struggled mightily on the road. Their only road win this season came against the Cavaliers before LeBron James decided to put the city of Cleveland on his back.
Even the most optimistic of fans would have a hard time imagining the Knicks beating the Cavaliers or the Celtics in a playoff series. Additionally, the Wizards and Bucks are probably a couple years ahead of the Knicks. Throw in the aforementioned Sixers and the Knicks are staring down an Eastern Conference that they aren't capable of navigating. Yet.
The Knicks are trending in the right direction, but they can't fall into the trap that too many NBA teams fall victim to. Teams like the Hawks, Raptors, and Clippers that are perennial playoff teams, yet have never been able to get over the metaphorical hump. Failing on draft picks or trading away these precious picks can be the quickest way to fall victim to this trap. It's a cycle that the Knicks can't afford to get caught up in.
So should the Knicks start intentionally losing games while the Garden chants Trust The Process? No. They need to continue to play and develop players while looking towards the future. If they make the playoffs, young guys will get valuable experience in playoff games and that shouldn't be understated. But if they were to miss the playoffs, they have a better chance at finding that diamond in the rough.
Draft, Draft, Draft
Commissioner Adam Silver led the charge to reform the draft lottery to try and limit the use of tanking by franchises. The league restructured the lottery odds to repel teams from tanking. This lottery makes the lottery less attractive for teams at the bottom of the barrel but doesn't change much for the teams in the middle of the pack.
Here is an ESPN graphic on how NBA Draft lottery odds change in 2019 pic.twitter.com/Jk8X7q0J3Z

— Adrian Wojnarowski (@wojespn) September 28, 2017
The Knicks have retained both of their draft picks and got the Bulls second-round pick via the Carmelo Anthony trade with the Thunder. That Bulls pick is likely to be a higher pick. If they can manage to trade a veteran and get a valuable pick back, they need to do it.
Who Isn't Going Anywhere?
No player is ever really off limits, but there are clearly some guys on the Knicks that aren't going anywhere. Porzingis isn't going anywhere. It looks like the Knicks are committed to Frank Ntilikina (which they should be). Tim Hardaway Jr. just signed a big contract and the Knicks have given no reason to believe they're going to bail on him. No one will take Joakim Noah's contract. Guys like Doug McDermott, Jarrett Jack, Michael Beasley, and Kyle O'Quinn are not necessarily off limits, but they won't be the centerpiece of any trades this season. That leaves a few guys that the Knicks may consider moving.
This may sound crazy at the moment. Kanter is playing the best basketball of his career and is a fan favorite in New York. He seems to be developing a chemistry with Porzingis. His biggest deficiency has always been his defense and even that part of his game looks to be improving. He's averaging a double-double with 13.6 points-per-game and 10.2 rebounds-per-game. His effective field goal percentage is up to 64% from his career mark of 53.8 percent.
The Knicks have to decide if Kanter is in the long-term plans for this team. Is he destined to regress towards his career averages or can he be the Knicks' future at center? There's a good argument for both sides. Kanter's minutes have gone up this season and the Knicks play well when he is on the floor. On the other hand, his per-36 averages are lower than his previous seasons in Oklahoma City.
The biggest reason to try and deal Kanter may be that his hot start means that his value on the trade market is at an all-time high. He was the centerpiece of the Anthony trade and since then his value has only increased.
It's hard to figure out exactly how much the Knicks could get back for him, but let's use Greg Monroe as a frame of reference. Kanter and Monroe are similar players with comparable stats. The difference is that in recent years, Monroe has been trending downward while Kanter is trending upwards. Kanter's per-36 numbers are also slightly better than Monroe.
So what does this mean? Monroe was recently included in the package the Milwaukee Bucks sent to the Phoenix Suns for Eric Bledsoe. Granted, there were two draft picks included in that package, but this shows that Monroe, a declining player, still has value.
Kanter is the Knick with the most value. The Knicks may see him as a big part of their future, but he can opt out of his contract at the end of the season. There's no guarantee he stays and it may be the best move for the organization to flip him for a draft pick.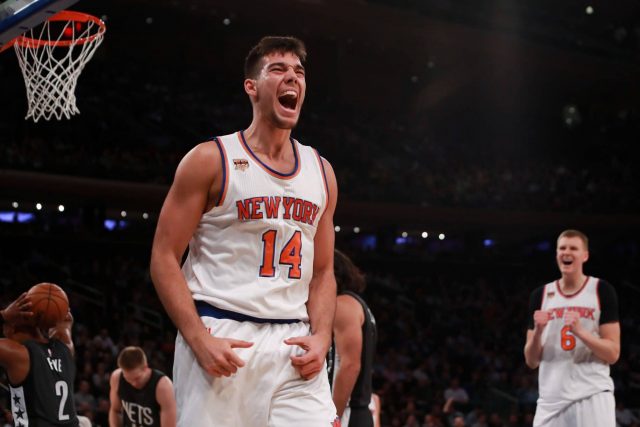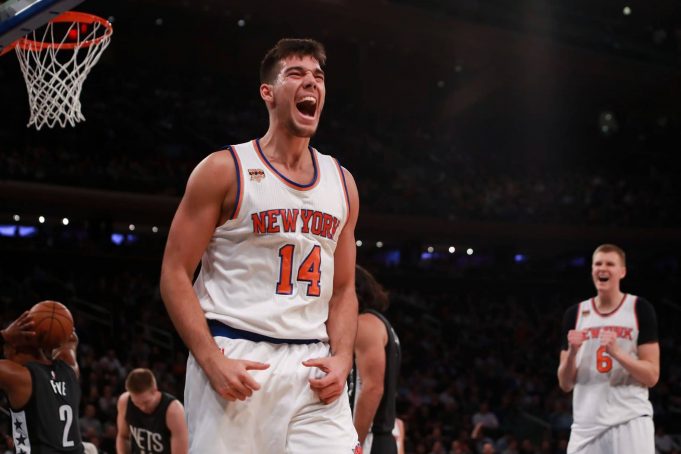 Knicks fans who were hoping for Willy Hernangomez to improve on his impressive rookie season. Unfortunately, Hernangomez isn't getting enough minutes to make any real impact on this season. He's only played 72 minutes in 9 games so far this season. He's fallen victim to the logjam at forward and center. Kanter, Porzingis, and O'Quinn have all gotten minutes ahead of Hernangomez. Joakim Noah is off of his suspension and will be suiting up as well.
It's unclear how the Knicks see Hernangomez fitting into their future. He is coming off a rookie season where he made the NBA All-Rookie First Team and his numbers per 36 minutes last season were promising. That being said, the Knicks could stick with what they have up front with Porzingis, Kanter, Noah, and O'Quinn. If they are content with what they have they need to move Hernangomez. He's more valuable as a trade piece than as the 12th guy on the team.
It's hard to tell how much Courtney Lee may be worth to a contender. It was harder to find a "Greg Monroe" for Lee. We can be sure that Lee would be a nice addition to a team in the hunt. Lee does everything pretty well. He scores enough, rebounds well for his position, plays defense, and has some playoff experience. He could be a nice addition coming off the bench to provide depth for a contender.
Lee would most likely be included in a package with Kanter or Hernangomez. He is having a great season and he has been another guy Knicks fans have embraced, but he's on the wrong side of 30.
Look Towards The Future
This season has been a pleasant surprise, but the Knicks can't let this distract them from the overall goal. If that means trading a few guys and sacrificing a few wins this season, so be it. This isn't tanking or trusting any processes. This is about building a team that can compete for an NBA title year in and year out. In order to do that, they need to stay ahead of the curve. Sell high.