When LeBron James "needs to," he does, and Kristaps Porzingis and the New York Knicks just caught a whiff of that at MSG Monday night.
New York Knicks (7-6)
Cleveland Cavaliers (7-7)
NBA, East, Final, Box Score
Madison Square Garden, New York, NY
When he wants to, he does and the young New York Knicks just felt the wrath of LeBron James and why he's been to seven-straight NBA Finals.
Up 15 entering the fourth quarter and up big most of the game, the Knicks had Madison Square Garden going. It felt like two decades ago with hustle plays and team ball galore.
It was sensational.
The entire city was buzzing.
Until LeBron owned the fourth quarter.
Numer 23 changed up everything. He decided to guard Kristaps Porzingis on defense and play a true point guard with four shooters spread out on offense. It led to a 43-point outburst in the final quarter featuring Kyle Korver's pinpoint precision from downtown.
After KP missed two crucial free throws, Channing Frye drilled one to tie the game just before James hit a left elbow three in Porzingis's face to put the Cavs up three points.
? @KINGJAMES FOR THE LEAD! pic.twitter.com/ahpolN2ImX

— Cleveland Cavaliers (@cavs) November 14, 2017
FRY3. pic.twitter.com/afbUnpmjit

— Cleveland Cavaliers (@cavs) November 14, 2017
KYLE. KORVER. pic.twitter.com/d3jSNNahxl

— Cleveland Cavaliers (@cavs) November 14, 2017
New York simply couldn't figure it out. Guys like J.R. Smith and Dwyane Wade were overplaying their assignments and the offensive flow completely stopped. Jeff Hornacek was also forced to take Enes Kanter out of the game in that fourth quarter due to the small lineup trashing the Knicks defense. It led to a couple huge Cavs offensive rebounds.
Earlier in the game, young Frank Ntilikina and Kanter mixed it up with the King so appropriately after his Dennis Smith Jr. comments a couple days ago.
BRAND NEW NEW YORK #KNICKS TEAM. That's all that needs to be said. Come on, LeBron. Standing over Frank Ntilikina like you own MSG. You don't. pic.twitter.com/SPCtU8QFx0

— Elite Sports NY (@EliteSportsNY) November 14, 2017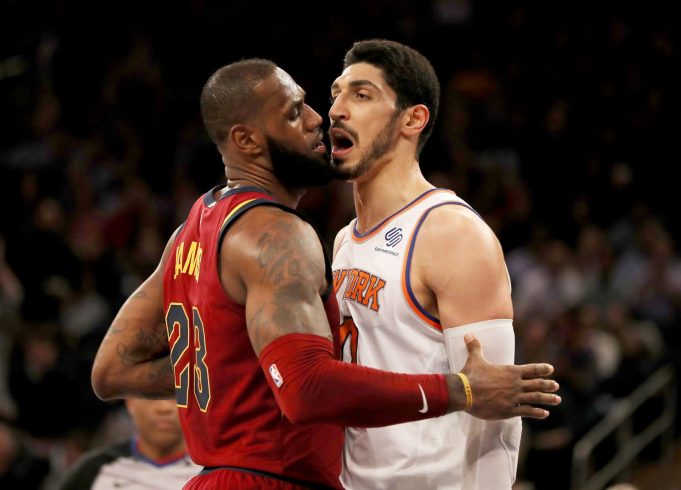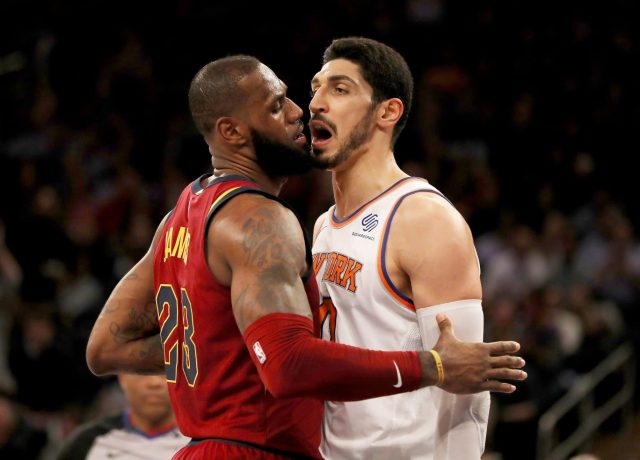 James finished one rebound shy of another triple-double (23 points, 11 assists, nine rebounds). Korver went for 21 including five three-pointers, all of which came in that final frame.
For the Knicks, interestingly enough, KP was forced to leave the game early due to foul trouble and finished with just 10 points on 7-of-21 from the floor. Cleveland was looking to push him around and often complained that he was flopping. Nonetheless, Porzingis missed two crucial free throws prior to Frye three that tied it up and ultimately completely switched the game towards the Cavs.
Tim Hardaway Jr. was fantastic finishing with a team-high 28 points on 10-of-20 from the floor. Kanter also finished with 20 points to go along with 16 boards. Ntilikina came away with six steals in total, five coming in the first half.
After licking their wounds from such a blown lead, the Knicks will turn their attention to the Utah Jazz who come to New York for a Wednesday night matchup.
Final ? pres. by @zteusa:

Hardaway Jr.: 28p | 10r
Kanter: 20p | 16r
Porzingis: 20p
Ntilikina: 6s pic.twitter.com/yHdlQMmn6u

— NEW YORK KNICKS (@nyknicks) November 14, 2017
Steal ➕ Slam = ? pic.twitter.com/rEn2uRJ60P

— NEW YORK KNICKS (@nyknicks) November 14, 2017
You ready for more? pic.twitter.com/shaUyZFt14

— NEW YORK KNICKS (@nyknicks) November 14, 2017
McDunk pic.twitter.com/ZurxJ1ZqrD

— NEW YORK KNICKS (@nyknicks) November 14, 2017
KP ? pic.twitter.com/KvXU5U2EiQ

— NEW YORK KNICKS (@nyknicks) November 14, 2017