Kristaps Porzingis has raced out of the blocks this season. However, there's still one aspect of his evolution that's missing.
Aside from setting and breaking countless scoring related franchise marks, Kristaps Porzingis has led the New York Knicks to a 7-5 record which has shocked almost all of the pundits. He has single-handedly made being a fan of the Knickerbockers enjoyable again.
However, despite his stellar play, the 22-year-old has one glaring hole in his game. Porzingis has shown he can rebound. That's not a problem. He is currently the best rim protector in the NBA and third-best shot blocker. That's not the problem. And, as aforementioned, he's getting buckets at will. That's furthest from the issue. The next stage in the development of Porzingis is his passing.
In his rookie season, the former fourth overall pick averaged just 1.3 assists per game. That barely jumped in his sophomore year, ticking up to a mark of 1.5 per game. This season, Porzingis has 10 assists in 10 games and he has gone assist-less four times. Considering that he's the main option, it doesn't exactly add up, but in fairness, Porzingis himself doesn't exactly add up.
The Knicks' centerpiece is a walking mismatch, which therefore enables him to either just shoot over double teams or turn away from the attention and shoot. This basically means that in situations where your average power forward would be forced to pass, the uber-confident Porzingis still has a relatively clean look. The issue, though, it that isn't sustainable. This has been proven already.
In New York's early season embarrassment in Boston, Porzingis was held to a season-low 12 points. The Celtics aggressive, scheming defense was the sole cause of that. Over his short career, the Celtics are a team that Porzingis has notoriously struggled against and it's no coincidence. They have always matched their strongest body against him and attempted to make him feel uncomfortable. As was seen early this season, they throw strong double teams at him, forcing him to take poor shots and make poor decisions. Porzingis has averaged just 14.3 points per game while shooting 39 percent and turned the ball over 2.2 times per game in nine outings against the men in green.
Porzingis may be rendering defenses utterly useless right now, but eventually, more and more teams will adopt the Celtics' style of physical, suffocating defense in an attempt to make life more difficult for him. In turn, this will force the 22-year-old to make the extra or just, simple, pass.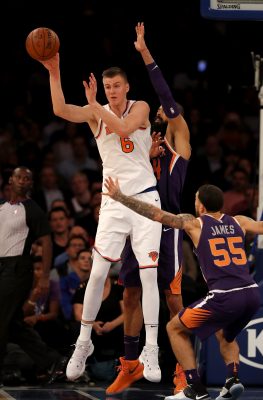 That's why Porzingis must improve his passing ability, which involves anticipation and patience. The stats may seem alarming at how little he seems to pass the ball, however, head coach Jeff Hornacek has done an excellent job at getting Porzingis into positions where he is receiving the ball off of movement, which doesn't allow overcrowding or standing around, which prevents heavy double teams. Despite this, there are simple things Porzingis can do to get teammates involved and bump up his stats.
With how much Porzingis has the ball in his hands and will continue to have over the coming seasons all he needs is to exercise some patience, in a similar way his teammate Kyle O'Quinn does. The Queens' native is dishing out 2.2 assists per game simply by being patient. Similar to Porzingis, O'Quinn catches the ball from the elbow extended in a lot of the action and he faces up, with his head up, and waits for the play to develop. Thus far he seems to have developed a good chemistry with Doug McDermott, whom he regularly seems to find cutting to the rim, or popping from a screen for a three-pointer.
As a big man, these are the only passes Porzingis has to make. He doesn't have to initiate action like a guard and make ridiculous cross-court passes—he can just leave that to Frank Ntilikina. Kristaps' mindset is currently to flat out score the ball. This isn't a negative thing right now, but he will have nights where he's not able to operate or get the shots he wants and as the star player the burden is on him to make other guys better and to get them involved, much like Carmelo Anthony did for Raymond Felton and J.R. Smith in 2012. These small things go a long way to making a team better.
It's not like we haven't seen Porzingis do this before.
In summation, Porzingis just needs to exercise patience. He doesn't have to shoot upon every touch, but rather face up to the basket, wait for the cogs to move and then find a cutter or a shooter. Finding your teammates will help them to feel involved in the game and energize them defensively, which are all contributing factors for a winning team.
Considering how easily Porzingis has adjusted to being the main option offensively, finding a way to get his counterparts involved shouldn't be an issue.