We all experienced a little taste of Dominic Smith a season ago, but we all also still wonder: is he the real deal for the New York Mets?
There are a lot of questions that need to be answered by the New York Mets this offseason and one of them is: Will Dominic Smith be the long-term answer at first base.
Smith was the Mets first-round draft pick in the 2013 Amateur Draft out of high school. He flew through the minors as it only took him four years to get to the show and make his major league Debut for the Mets. Smith hit a combined .302 throughout the minors with a .366 OBP, 316 RBIs and 40 Home Runs.
Each level that Dom Smith went up, he seemingly got better at the plate, hitting for a higher average and hitting more home runs, which was a concern because first base is a power-driven position. Smith came up at essentially the same time as top prospect Amed Rosario and was clearly outshined by his talent, even though they were both top 50 prospects.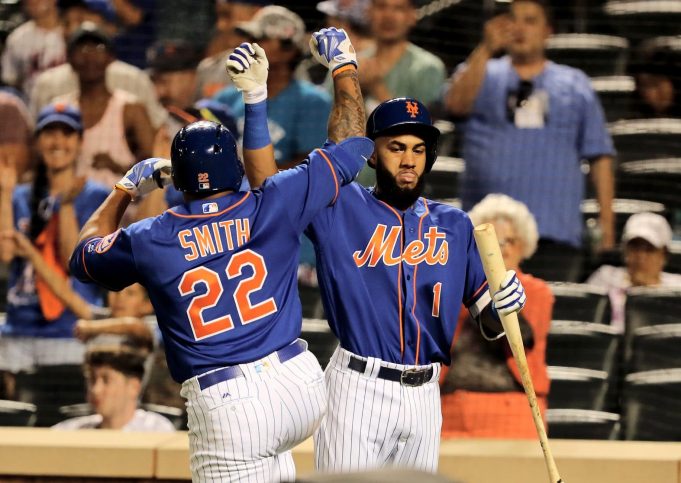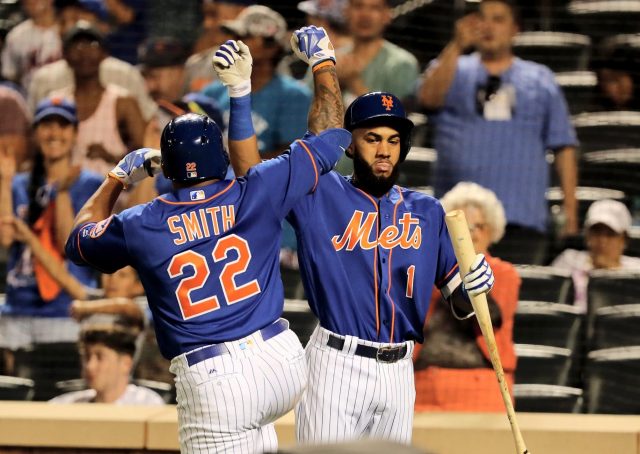 Rosario is clearly the guy that the Mets view as the future at shortstop. He is a five-tool player only 21 years of age. Rosario impressed in his two-month tryout, hitting decently well, flashing his glove and tearing up the base paths with his speed. However, there are a lot of questions surrounding Smith who had more struggles than flashes of greatness in his two months last year.
Dom Smith has an abundance of talent, but there are legitimate concerns regarding his ability to be an everyday first baseman. Critics say that he cannot hit for enough power to play first base, and he is too heavy to sustain a full season at the big league level.
Smith only hit .198 with 49 strikeouts, 26 RBIs, and nine home runs in 49 games at the big league level. That is why people are concerned, but if you look at his track record he struggles when he starts at a new level, then slowly increases his production.
People do have to realize that he is only 21. Furthermore, he has shown he has the ability to drive runs in, as he has been a contributor throughout the minors including his short stint in the bigs. In this time period in baseball everyone and their mother hits home runs, so if Smith only hits 15-20 but bats .300 like he did in the minors, he will be helping the club out in a big way.
When it comes to the weight issue, he will need to lose about 10-15 pounds this offseason for multiple reasons. He will be a bit more athletic and, more importantly, it should become much easier for him to last for a full season.
One factor that Dom Smith has on his side is his fielding ability. He is an exceptional fielder and flashed his glove on multiple occasions in his 49 games on the big league level.
Although Smith has not proven himself to the majority of scouts and fans, he is the real deal. The kid should start out in a timeshare situation at first base with a guy like Wilmer Flores or whomever the Mets sign in the offseason to be the backup first baseman. A timeshare would force him to compete for playing time and could lead to him developing at a faster rate.
As long as Dom Smith has a good spring training, there is no reason for him to go down to Tripe-A to start the season. Smith is a former first-round pick that has dominated the minors, so he should be given some time to feel out the big leagues.
He is not as good as Rosario now, but with a bit of time, he could turn into a perennial MLB All-Star or at least a legitimate starter who helps out on both sides of the ball. Smith may not seem like the answer right now, but it would be a mistake to move on from the 21-year-old already.