If the New York Mets want to contend for an NL East title in 2018, then they need to add another reliever this winter.
When you look at the New York Mets offseason needs, the bullpen will be one of the spots that Sandy Alderson tries to address to improve the team's playoff chances in 2018.
True, they have the eighth and ninth inning locked up with Jeurys Familia and AJ Ramos, but as the Mets saw with the team up in the Bronx last month, you can never have too many options and this free agent class has plenty of good choices.
While no one should expect the Mets to win a bidding war for Wade Davis or Greg Holland (who both got qualifying offers), there are a couple of setup names that New York could use that would fit in the seventh inning of games on nights when they can't use Jerry Blevins.
First, look no further than a pitcher New York saw often in the second half last season in right-hander Brandon Kintzler. If the Washington Nationals can't bring back Kintzler, then the Mets should take a run at a pitcher that had a 0.82 ERA in the seventh inning last season and held hitters to a .205 average.
Kintzler is used to pitching in a pitcher's friendly ballpark from his time with the Minnesota Twins. The one area of his game to be concerned about is the lack of strikeouts (4.9 per nine innings this season). With that being said, the All-Star usually will find a way to get hitters to hit the ball on the ground (55 percent last year according to Fangraphs).
If the Mets want to go to someone with postseason experience, two other names that come to mind are Indians right-hander Bryan Shaw and Dodgers right-hander Brandon Morrow.
Let's start with Morrow, who was used in all seven games of the World Series by Dave Roberts. While he only made 45 appearances last year, he had 10.3 strikeouts per nine innings, teams hit .189 against him after the All-Star break and left-handers hit a mere .125.
There's always a hesitancy to go after a reliever that had one great season because its tough to predict how most relievers will do on a year-to-year basis. However, Morrow got his average fastball up to almost 98 miles-per-hour in 2017 (Fangraphs) to go with his slider and cutter, which helped the 33-year-old be one of the good surprises in 2017.
Finally, it is hard to ignore Shaw. New manager Mickey Callaway was his pitching coach with the Indians. Shaw has been reliable as ever, making 70-plus appearances in each of the last five seasons and is only heading into his age-30 season.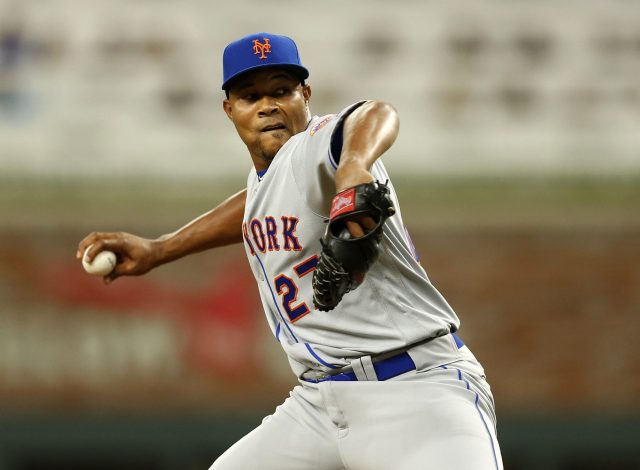 Shaw has appeared in 14 postseason games in the last two seasons, so he has the track record that Mets fans would want. If you go off FIP (fielding independent pitching), he had the best season of his career in 2017 (2.96). Plus, he is used to pitching behind Andrew Miller and Cody Allen in Cleveland.
Whomever the Mets decide to add out of these relievers, the Mets do need to add relievers. It would allow the team to conserve innings early in the season for their top starting pitchers and it would allow Callaway more options late in the game.
If they do add another reliever, it would also take some of the pressure off of Paul Sewald, one of the surprises of this season, and some of the pitchers they traded for last year (Jamie Callahan, Jacob Rhame).
While the New York Mets were watching the postseason last month, they had to notice the depth each team had in their bullpen. If they took their notes and did their homework, then another quality late-inning arm is something they will attempt to get this offseason.