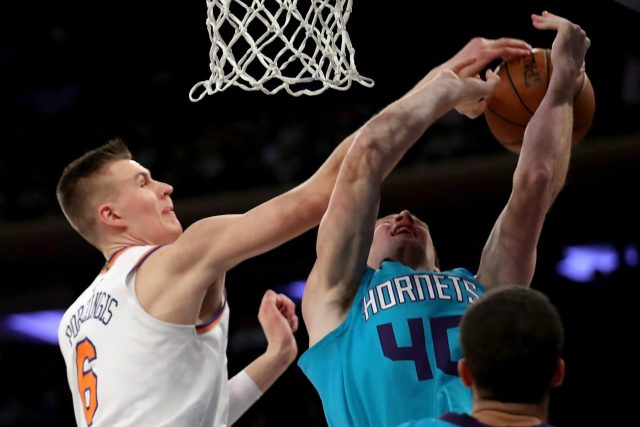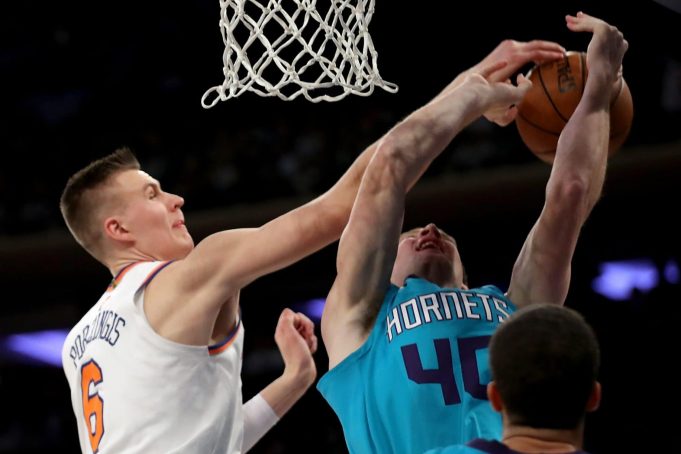 New York Knicks bigs Kristaps Porzingis and Kyle O'Quinn make Charlotte Hornets big man Cody Zeller feel like Charles Smith.
On Tuesday night, all fans of the New York Knicks who are old enough to remember the 1990's smiled a little bit.
It was Game 5 of the 1993 Eastern Conference Finals. Pat Riley's Knicks were so good that they entered the series against the Chicago Bulls as the top seed with homecourt advantage. In fact, it was the same series we saw John Starks put up one of the most memorable plays in Madison Square Garden history.
This 60-win Knickerbockers team remains the best team in franchise history since the '73 championship squad.
After they took a 2-0 series lead, Michael Jordan and the Bulls responded with two victories. Needing a bucket late in Game 5, Charles Smith was simply rejected time and again by Chicago.
Put it right up there with the Patrick Ewing finger roll of '95. It remains a killer.
On Tuesday night, Kristaps Porzingis and Kyle O'Quinn teamed up to reverse the block under the same exact basket at the Mecca.
Bruh. pic.twitter.com/7I9Jl0IW7E

— Bleacher Report (@BleacherReport) November 8, 2017
As one Walt 'Clyde' Frazier would say, "How sweet it is."
The Knicks defeated the Hornets by a final of 98-93 to improve their record to 6-4 on the young NBA season.