After signing a lucrative four-year deal with the New York Knicks, guard Tim Hardaway Jr has disappointed to start the season.
Knicks fans didn't react well this summer when news broke that guard Tim Hardaway Jr would be returning to New York.
Not because anyone has anything against the guard personally; but because he signed a four-year, $71 million deal, locking up the team budget for the next four years.
Now, four games into the season, his stock with Knicks fans continues to decline.
Hardaway's averaging 9.8 points on 27 percent shooting from the field, to start his $16.5 million year. He's scored double-digit points once, and connected on only 6-of-27 three-pointers attempted.
What is it that's causing Hardaway, who's coming off a career year, to play so poorly?
A look at his first four games back in a Knicks uniform, and what could have prompted such a slouch in the guard's production.
---
---
Minute Exposure
A simple answer could lie in the number of minutes Hardaway has seen to start the year, now averaging 32 through the first four games. Sure, he's signed up for a starting role with New York, but maybe the first two games were an indicator of how prepared he was.
In an offense like one he played in with the Atlanta Hawks, the Knicks guard had a legitimate point guard in Dennis Schroder, and honestly, a legitimate coach in Mike Budenholzer. The transition to a team with no strong point guard presence and coach on the hot seat was guaranteed to be a challenge from the jump.
Last year, he did average 27 minutes per game, but that's once he got settled into the Atlanta offense. In the first ten games of the 2016-2017 season, Hardaway averaged 22 minutes per contest. The last ten? He was on the floor for 30+ a night, by that time an established scorer in the Hawks' rotation.
Should coach Hornacek dial back Hardaway's minutes from here on out? Maybe it will force Hardaway to focus, though he's undoubtedly not happy with his performance thus far. When asked what was wrong with the Knicks after their third straight loss this past Tuesday, he gave The Record's Steve Popper one word:
"Everything."
Say he's getting the right minutes, but maybe he's not playing them at the right moments. In the fourth quarter, Hardaway is averaging 40 percent shooting from the field, and 50 percent from deep (per NBA.com). You can't make this stuff up.
He's come up with buckets in the clutch, after missing seven or eight shots prior each game. The aggressiveness we're seeing from the Knicks guard late just isn't there in the first three quarters.
Defensive Matchups
Who knows, maybe Hardaway just was just the unlucky guy in each of the first four games. The Knicks schedule didn't set him up for success, going against some of the better teams in the NBA to start the year.
First up? Hardaway posted 8 points under the defensive scrutiny of Paul George, in New York's loss to Oklahoma City. He was outmatched in length, size, and overall ability on the defensive end. George is an elite perimeter defender and certainly had a say in Hardaway's 3-for-10 shooting on opening night.
---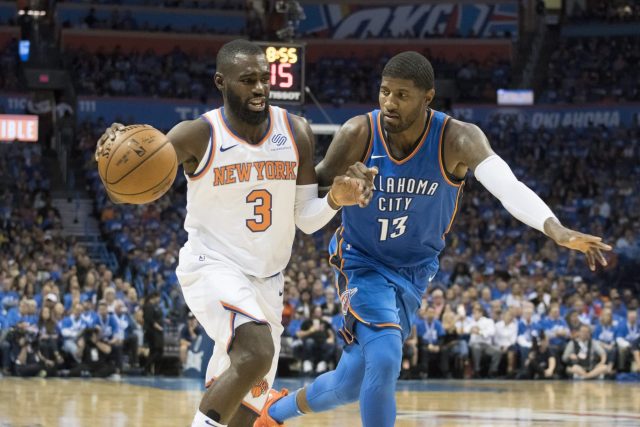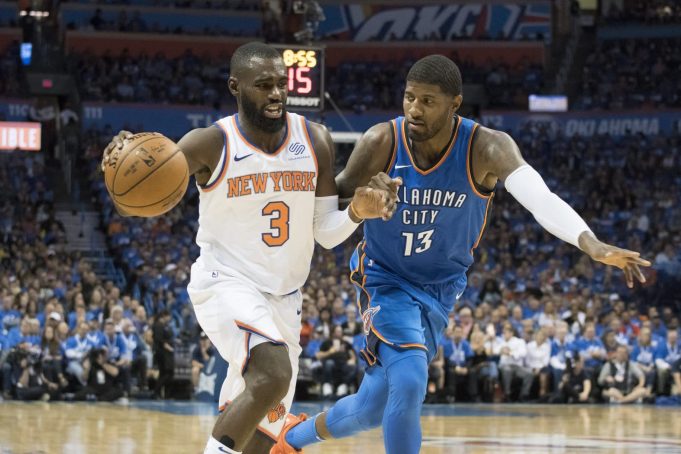 ---
Okay, it was a rough first game playing with a bad team.
Next up? Hardaway had to go against Tobias Harris of the Detroit Pistons and played what was his worst game thus far. He shot 3-for-10 from the three-point line alone, though he made some clutch buckets late. Harris is three inches taller and nearly 30 pounds heavier than Hardaway, and it showed in the Knicks second loss.
It didn't get any easier for poor Tim when New York traveled to Boston. Gordon Hayward is out, but Jayson Tatum and Jaylen Brown played some strong basketball, including this dunk over Hardaway early on.
First basket of the game, Jayson Tatum tip-slam on Tim Hardaway Jr.'s dome ? pic.twitter.com/xB0npqqjG7

— Rob Perez (@World_Wide_Wob) October 24, 2017
They're two young guys, but Brown looks like a man on a mission, while Tatum could be named Rookie of the Year come June. Again, Hardaway has seen no time to breathe up to this point, and it's well apparent.
Then came the Brooklyn Nets, who posed the smallest challenge to Hardaway, completely gassed after a win over the Cleveland Cavaliers. It was a 21-point Knicks blowout, and arguably his best game of the year.
He posted 11 points on 33 percent shooting overall, against DeMarre Carroll. Another well-equipped defender, the Nets forward still pushed the guard into shooting 4-for-12.
In each of these games, Hardaway has had to exert even more effort on the defensive end than the offensive. Back in Atlanta, forwards Kent Bazemore and Paul Millsap were there to help him recover on faulty defensive plays.
In New York, it's Hardaway and Courtney Lee against the world.
Coaching, Knicks Culture
The New York Knicks are not a winning basketball team. This is nothing new. For Hardaway Jr, the biggest difference between his previous team and the franchise that so graciously overpaid him is culture.
Atlanta is a winning basketball club despite their current status. They sit on the brink of a total rebuild, after multiple years as a top contender in the Eastern Conference. Hardaway Jr was apart of that.
With New York, he's chosen to play for a team that has no clear direction on offense and may always struggle on defense. After the loss to the Celtics Tuesday, Hardaway wasn't very encouraging when speaking with Popper:
"We're all out there just running like we don't know what's going on. We've just got to go to the drawing boards and get back to practice, just go out there knowing what we have to do offensively and defensively."
Those aren't the words you want to hear, from a player who put your team's chances at any free agency success at bay for the foreseeable future.
But for the New York Knicks, this is the path they've chosen. Mediocrity and an unknowing locker room full of players questioning the coaching staff and higher-ups.
For new players and old, it will continue to be a factor in games played and overall attitude. Phil Jackson is gone, but that doesn't change the Knicks terrible personnel tactics.
---
For Tim Hardaway Jr, this season can be used to rewrite the perception of New York fans, and cement himself as a player that helped bring back winning basketball to the Knicks.
With his back against the wall after only four games, expect Hardaway to respond in turn, and get back to doing what he does best: succeeding, with both fans and the odds against him.