With the Mets lacking enough major league caliber talent in the infield entering 2018, does it make sense to bring Jose Reyes back?
It's a tale as old as time. A top prospect rises to the major leagues at the ripe, old age of 19 and bursts into superstardom. He sets franchise records, leads the team to the playoffs, and brings the excitement to fans that only few players can.
Then, because his homegrown team is financially strapped, he departs in free agency to maximize his value and cash out. Things are never the same and following a series of trades, a scandal threatens to completely destroy his career. Upon returning from baseball purgatory, his original ball club takes a flyer on him, hoping to revive his career in a low risk/high reward situation.
If you haven't figured it out already, I'm talking about Jose Reyes.
Once a great New York Met, we watched him cash out with the Miami Marlins, before trade stops in Toronto and Colorado. A domestic violence scandal almost resulted in the end of Reyes' baseball career, but after the Rockies released him, the Mets took a shot on their former star given that it would cost virtually nothing.
I was initially in favor of bringing Reyes back. He was only 33 when he rejoined the Mets, and by baseball standards that is an age where you tend to have plenty of career left in you. Nevertheless, it was expected that Reyes would need time to round back into form after a suspension had kept him off the field for more than half of 2016. When he did finally take the field with the Mets in 2016, he put forth a solid showing, batting .267/.326/.443 with eight home runs and 24 RBIs in 255 at-bats.
His 2016 numbers didn't blow anyone away by any means, but it was indicative that Reyes still had plenty of quality baseball left in his body. Unfortunately, the early returns of 2017 hinted that may not be the case. An ice-cold start in April, featuring a .174/.260/.302 slash line, made all of us question whether Reyes was a wasted use of a roster spot. With super-prospect Amed Rosario waiting in the minor leagues, the criticism and pressure reached a breaking point almost immediately. It didn't help that Reyes' poor play extended to May and June where he posted .216/.280/.330 and .213/.289/.288 slash lines respectively.
If it wasn't for the unprecedented wave of injuries the Mets had to deal with, Reyes would have been exiled to the bench on an almost permanent basis, or even worse, released. However, the Mets were in need of a major league caliber shortstop, and lucky for all us, his defense was still serviceable. The opportunity to remain in the lineup allowed Reyes to rebound in the second half of the season, posting a batting average north of .300 in both July and September. 2017 is a cruel reminder of what an ice cold start can do to a major leaguer, but his final numbers seem to indicate that Reyes is not done yet.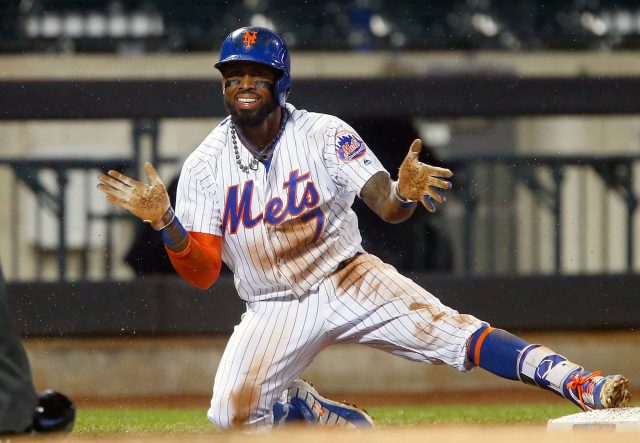 This puts the Mets in an interesting dilemma as they begin the figure out their roster for the 2018 season. A clear implosion of Reyes would have made it easy to cut ties with him, but because of his late season resurgence, it is unclear how Sandy Anderson and the front office will proceed.
On one hand, Reyes is tainted goods and is therefore likely to come relatively cheap. Because of the guaranteed money he was receiving from Colorado, he was able to join the Mets under the league minimum salary. If the Mets do choose to bring him back, it would most likely be with a raise, but in the scheme of the entire payroll, the difference would be negligible.
On the other hand, is it really worth shelling out a few million for a player that could implode at any moment?
The fact of the matter is that the Mets are in clear need of quality, major league caliber infielders. Amed Rosario has a monopoly on the shortstop spot, but this is a club littered with questions regarding second and third base entering 2018. David Wright underwent another spine surgery, but there is absolutely no guarantee he will be ready to play next year or even healthy enough to play third. Gavin Cecchini and Matt Reynolds could be seen as internal options, but as I wrote last week, neither has proven to be serviceable big leaguers yet and may not ever. T.J. Rivera, probably the Mets' most versatile bench option, finds himself out indefinitely as he recovers from Tommy John surgery. Wilmer Flores has proved himself to be worthy of being in the lineup by way of his bat, but is lacking on the defensive end and may not be a confident option to man the hot corner.
Of course, the Mets can bring back Asdrubal Cabrera whom they hold a team option over, but at $8.5 million, his price tag may be a major deterrent to his return. Given the major hole they find themselves in, it is almost a no-brainer to bring Reyes back on this roster and slot him in at second or third base. If the Mets are going to compete behind their extremely talented starting rotation in 2018, then shoring up their infield would go a long way to ensuring success.
The return of Reyes may not be adding an NL All-Star to the equation, but it would certainly give them a big league caliber player who still seems to possess some form of upside.