At Big East Media Day, the St. John's Red Storm were picked to finish sixth in the conference while the great Patrick Ewing returns. 
L
ast season, the
Big East
sent seven of their ten teams to the NCAA Tournament. If that trend holds true in 2017-18, then
St. John's
might be in good shape heading into the season. Yesterday, at Big East Media Day at Madison Square Garden, the St. John's Red Storm were projected by the coaches to finish sixth in the league this season.
Time To Chase The Cats!@NovaMBB Tops #BIGEASThoops Preseason Poll@SetonHallMBB, @XavierMBB + @PCFriarsmbb complete Top-4#BEmediaday pic.twitter.com/UeihpD0KnL

— #BIGEASThoops (@BIGEASTMBB) October 18, 2017
Now, the Red Storm have one of the best backcourts in the country returning in Shamorie Ponds and Marcus LoVett. Both guards were named to the All-Big East second team by the coaches.
Ponds and LoVett should continue to be among the top scorers in the Big East this season, but head coach Chris Mullin said during one of the coaches roundtables that he would like to see them share the ball more:
"Offensively, we want to maintain and get more efficient. I've put a lot of pressure on Marcus and Shamorie to include their teammates. Make sure that ball is moving. That's a big emphasis on the offensive end for us."
When you look at St. John's going into this season, rebounding is something to keep an eye on. Last year, they were fourth in the conference in offensive rebounds (10.2 per game) and fifth in overall rebounds. Mullin said that has been one of the things the team has worked on in practices:
"We aren't an overly big team, so we will have to rely on rebounding-by-committee. That has really been a focus of our preseason," replied Coach Mullin.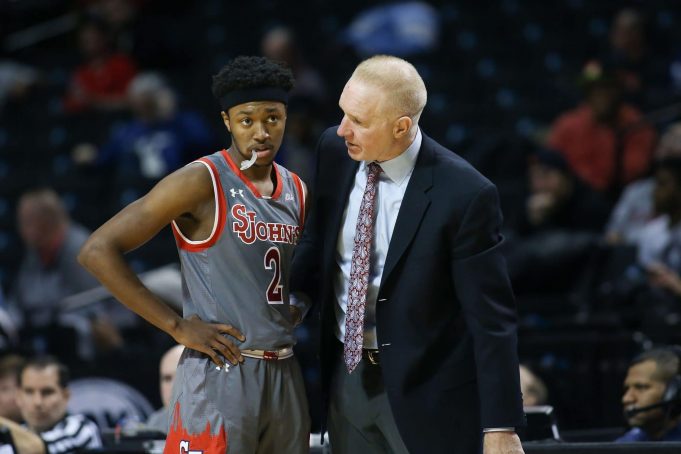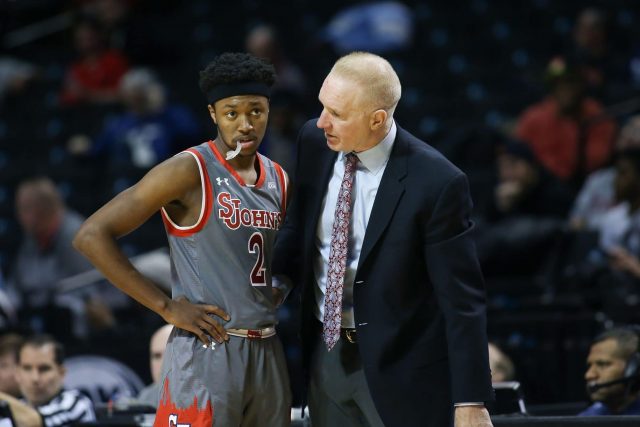 Last season, Ponds and LoVett combined for 108 steals and both were in the top ten in the league in that category (Ponds' 68 steals were the most in the Big East). I asked each of them how quick the chemistry developed between the two of them last season:
"I think it's going to be important because we are going to base our team off defense because we know we can score the ball. We are going to set the tone by our ball pressuring," replied Ponds.
As for LoVett, here's what he replied about that success on defense and he was surprised that the two of them had that many steals combined:
"It's huge. It's definitely something that we need this season. I have to keep working hard defensively and continue to do what we need to do for our team. Pressure the ball and making turnovers."
Once the schedule came out last month, the main topic of conversation was around the fact that St. John's plays only three conference home games at MSG. So, how big is it to establish that home court advantage at Carnesseca Arena this year?
"It's going to be great. We love playing there. We are looking to take advantage of that in a positive way," said Mullin.
Historical pictures in msg with the GOAT coach Carnesecca! #BEMediaDay pic.twitter.com/2u0T9on1VH

— BIG EAST Conference (@BIGEAST) October 18, 2017
The mascots are taking over #NYC for #BEMediaDay! Tag us if you ? them! pic.twitter.com/CLkuMzJFIg

— BIG EAST Conference (@BIGEAST) October 18, 2017
From the players' perspectives, LoVett told me about how the crowd was crazy at Carnessecca after the upset win over Butler last January. "That was the best feeling. I had goosebumps during the game. We plan on having more games like that."
Every team needs senior leadership and that is where Amar Alibegovic and Bashir Ahmed come into play. Alibegovic talked to me about his role as one of the leaders on this year's team:
"Bashir and I are definitely the guys holding the helm for the team. We try to especially teach these younger players what we've gone through. Our team chemistry is so good, we learn from each other every day."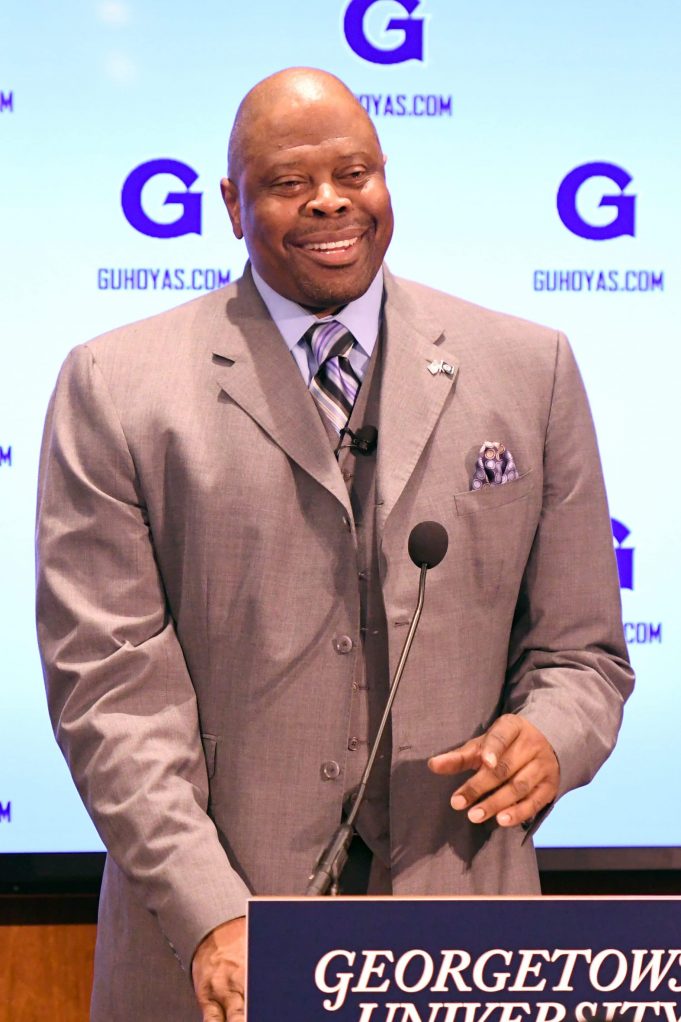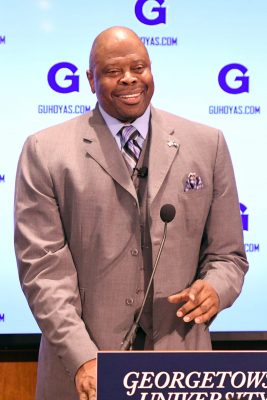 Outside of St. John's, the big news of the day was new Georgetown head coach Patrick Ewing back at MSG. The former Hall-of-Fame Knick center takes over a team that doesn't return many players and he said during the roundtable that they are going to play a different style compared to Hoyas teams of old:
"I'm still getting to know my players and they are still getting to know me. We are laying the foundation and I'm pushing them to get the most out of them. We will have to push the pace, get up and try to pressure, and play more up-tempo."
This season, the favorite to win the league is Villanova. They received eight of the 10 first-place votes (Seton Hall and Xavier each got one). Wright's club has won the Big East regular-season title each of the last four years and they have the Preseason Player of the Year in junior guard Jalen Brunson.
Two years ago, Brunson was a freshman on the team that won the National Championship and has played with Ryan Arcidiacono and Josh Hart just to name a few. So, what lessons did he take from playing with those players that can help him this year?
"Most important, be a leader. I saw how they were leaders and putting that together, make myself my own leader. I think the most important thing is how we start games, how we focus on defense and rebounding, playing hard and playing smart. If we focus on those things, the other guys will follow through with that."
Brunson would add that one thing that Coach Wright has said that has stuck with him is "having the right attitude in the basketball game and in life. I think that motto relates to everything."
For a conference that got so many teams in the NCAA Tournament a year ago, they have an opportunity to get at least five teams in the big dance this season. It should be a fun year in the Big East.