Without the drama of Carmelo Anthony always ruling the narrative, the young and energetic New York Knicks can finally play legit basketball.
T
he news that ESPN The Magazine's
Chris Broussard
broke on Feb. 22, 2011, set the stage for the greatest pre-hype nights in New York sports history.
"I'm coming home."
Who does it better than the Garden?
Forget the idea that Carmelo Anthony grew up in the suburb of Towson, Maryland. Forget the painstaking memory of a "punch-and-run" in Madison Square Garden with his time in Denver:
Fans, rightfully so, didn't care. They had finally landed their guy — the guy who wanted the challenge of the bright lights in the Big Apple. It had been so long since big names wanted to come to Manhattan that the arrival of Melo equaled pure ecstasy.
Despite the level of interest via basketball boss Donnie Walsh, the New York Knicks officially acquired the scoring machine known as Melo and vet Chauncey Billups for Danilo Gallinari, Wilson Chandler, Timofey Mozgov and Raymond Felton. Within one quick half a calendar year, the Knicks had gone from pretenders to contenders. Melo counted as that second star to Amar'e Stoudemire — the very same S.T.A.T. who played so well through the first half of his Knicks career that he garnered NBA MVP votes.
One great season and a few years short of a decade later, it didn't work out.
Melo and Stoudemire didn't work. Melo and Jeremy Lin didn't work. Melo and Mike D'Antoni didn't work. Melo and Phil Jackson didn't work. And nearly seven years later, No. 7 is ready to tip-off the brand new campaign against the Knicks from his new home in Oklahoma City.
This means the New York Knicks can finally start playing legit basketball.
Melo's All Name, Little Substance, Much Drama
You can still love Melo while understanding the reality of things. The man is a future Hall of Fame player thanks to his scoring propensity. In fact, at one point in his career (with Denver), he represented one of the greatest one-on-one scoring threats in NBA history. Not in the NBA at the time. In NBA history. That's how dominant he was.
An unstoppable blend of power and quickness with his big bodied frame made his offensive arsenal a dream. Since his prime years, however, so much of what he does hurts a basketball squad rather than helping it.
Defensively, forget about it. The only opportunities Melo had to play well defensively was years ago when he played the four under Mike Woodson's strategy. Since the 50-plus win season, Melo defensively literally destroys an entire team's integrity. He's slow. He's sluggish. He just cannot move anymore at 33-years of age with two bum knees.
He can still shoot the ball and create his own shot when called upon, but in terms of an overall basketball player, his loss is a positive for a franchise looking to gel and build around young Kristaps Porzingis.
Additionally, the drama that both Melo and Phil Jackson created via social media over the last two years could be rated worse than your 12-year-old niece's Facebook account. The childlike behavior is now gone.
The worst aspect of Melo's game is the following … the way he plays with the Iso and shot usage would have been a much nicer fit during the 1990s. In today's game, that's out. What's in is team basketball and defense — both areas Melo struggles mightily in.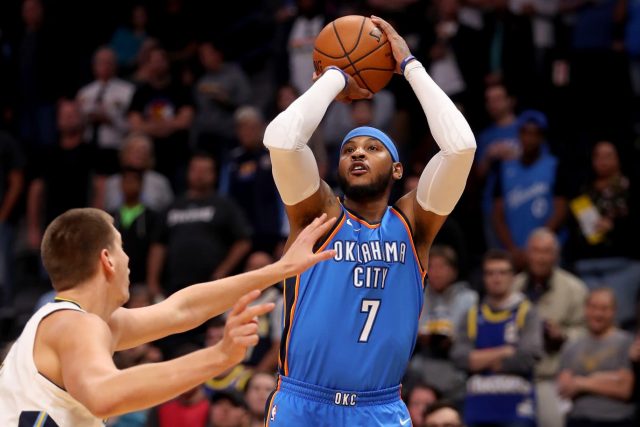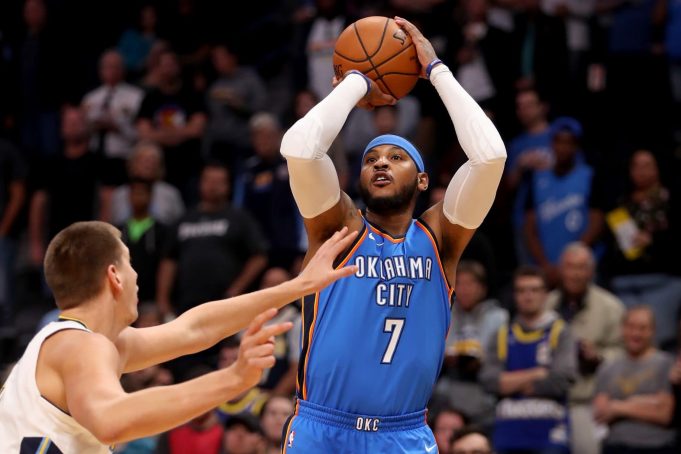 Knicks 'Stabbed me in the Back'
Speaking of childlike behavior, Melo's continuing the drama in the mid-west. In classic perfect timing Melodrama, Anthony had these words to say on the eve of his first game as a Thunder against his former team, via Fred Kerber of the New York Post:
"This whole summer I always said that to myself, 'Where did it go wrong, what did I do?' … I can't pinpoint where," said Anthony, who can't give a when, either. "I can't pinpoint the exact time."

"I was always [thinking] I'm going to put my trust in Phil," Anthony said. "That diminished after a while. I'm out here doing everything I can and I'm still getting stabbed in the back. I'm not trusting in that anymore."

"I knew what was going on behind closed doors. I just wanted them to come to me direct and say, 'Look, this is what we're thinking' and not have to read it or hear about it and go to them say, 'What is this?' " Anthony said. "I was very honest and direct with them about wanting to be in New York. … I just didn't feel like they were honest with me."
Stabbed in the back? Isn't this the same guy who was enraged and felt he was "hoodwinked" by the drafting of young Porzingis, via Stephen A. Smith of ESPN? I mean, I thought he just said he "trusted Phil" the entire time?
"I [was] talking to my sources last night. All they said was, [Anthony's] furious, he's livid. He feels completely hoodwinked and betrayed by [Knicks president] Phil Jackson," Smith said. "He feels like he was lied to, like he was sold a bill of goods. And he's willing to concede that he wanted his money. But he didn't know it was going to be like this. He didn't know it was going to be this bad. And he can't believe that his second season under the Phil Jackson regime, he has to look forward to it being worse than even last year was."
Wasn't this the same guy who stabbed the Denver Nuggets in the back while also hurting his own team's (Knicks) chances moving forward by demanding a trade instead of just waiting until free agency? Isn't this the same guy who couldn't reduce his shot usage while shotting a horrid .433 and .434 the last two years respectively when KP was ready to assume more of the offense?
This is the same team who chose you over everybody (Donnie Walsh, S.T.A.T., Lin, Stoudemire, Jackson), and they stabbed you in the back?
Come on, man. New York treated you extremely well. Phil even re-signed you and MSG Networks put a "Summer of Melo" special on-air while you were flirting with signing with the Chicago Bulls.
It's this type of drama and brand-building that hurts organizations. To the outside, it looks like he cares more about controlling the narrative about his brand over winning basketball games. If that's not true, why even talk about the Knicks or the situation at all? Just go out and win with OKC.
Face of the Franchise. What?
Much the narrative recently has revolved around Melo's absence creating a hole at the "face of the franchise" spot. To me, this makes little sense for a team who's finished 37, 17, 32 and 31 wins the last four seasons.
What's the point of a face of a franchise when that franchise isn't winning?
Naturally, KP is now the man. He'll struggle mightily at times this season. He'll slow down. He'll even become frustrated. The overwhelming positive entering this season is this: we need KP to experience this negative stuff.
Until Porzingis is put in the situation to struggle as the man, he won't be able to be the man. With Melo here, it was impossible to place the right pieces around KP and allow him to fail. With Melo gone, the organization can finally look to acquire parts that fit KP rather than Melo and KP (a marriage that just doesn't fit due to size and defensive ability).
Final Thoughts
As a fan, you just won't fully understand or grasp it until you witness it play out with your own two eyes. At 33-years of age, Carmelo Anthony is a nice third scoring option who's probably best to come off the bench and play around 24 minutes a game.
Despite rabid fan backing, that's where he is right now.
The Knicks, as currently constructed, have no shot of contention this season. Everybody understands that. With Jeff Hornacek at the helm and very little defensively, the defensive structure cannot allow for an even semi-contender to take shape.
However, not having to work around that awkward pairing of Melo-KP will do wonders for this team.
They're going to be a potent offensive squad that can actually do some damage in the weak eastern conference while struggling on defense all night. There will be no drama. There will be "half-steps" in worrying about the big name in the room.
What'll be apparent right from the get-go is how youthful, energetic and feisty this team can be when all five players can move and hustle up until every whistle.
In OKC, Melo found himself in a perfect situation surrounded by Russell Westbrook and Paul George. The Knicks did a tremendous job in dealing him to a great place … and he's still complaining? He's still telling the world that the Knicks "stabbed him in the back?"
If that doesn't tell you all you need to know about Carmelo Anthony, nothing will.