These are your highly unlikely NBA season awards all headed towards the Big Apple. Here's how the New York Knicks could win each NBA yearly award.
T
his will be a tall order even for every New York Knicks fans' favorite player. Porzingis is not yet in the conversation with the best guys in the league like LeBron, Durant, Curry, Westbrook, Harden, and Kawhi. That being said, he is taking over as the Knicks main offensive weapon and an increase in scoring and rebounding totals could put him in this conversation.
In 2016-'17, he averaged 18.1 points per game and 7.2 rebounds per game. If he bumps up his scoring close to 25 points per game and averages 10-plus rebounds per game, I think you will at least hear Porzingis' name get thrown around in MVP talks.
One argument we all heard last season was that the MVP should come from one of the best teams in the league. Clearly, the voters don't agree with this line of thinking as Russell Westbrook edged out James Harden despite the Rockets getting the three seed and the Thunder getting the six seed.
If the Knicks are in playoff contention late in the season, it will be because of Kristaps Porzingis' improved play and that will garner some MVP consideration for the young Latvian.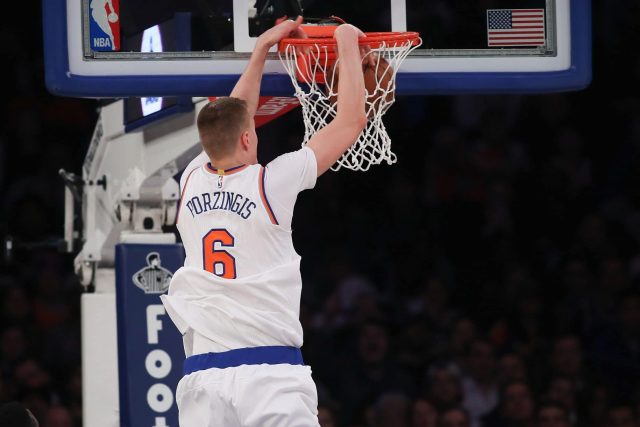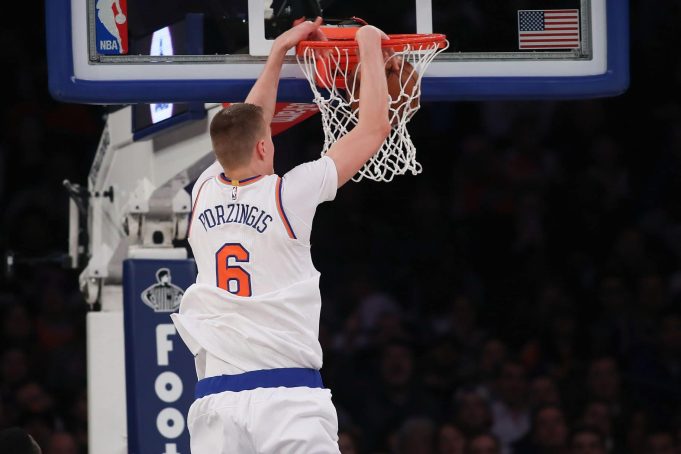 Defensive Player of the Year – Kristaps Porzingis
The Knicks defense is going to be terrible this year. There is no sugarcoating it, but if Porzingis has any chance of winning this award it will be because of his improved presence as a rim protector. He averaged two blocks per game last season and is great at making highlight reel blocks, but he will need to get stronger inside.
Luckily for Porzingis, the Knicks are deep at Center so he will get a lot of time at Power Forward this season. Unfortunately for the Knicks, he could be seeing a lot of minutes with Enes Kanter who isn't known for his defensive presence.
This one is a longshot, but in Porzingis we trust.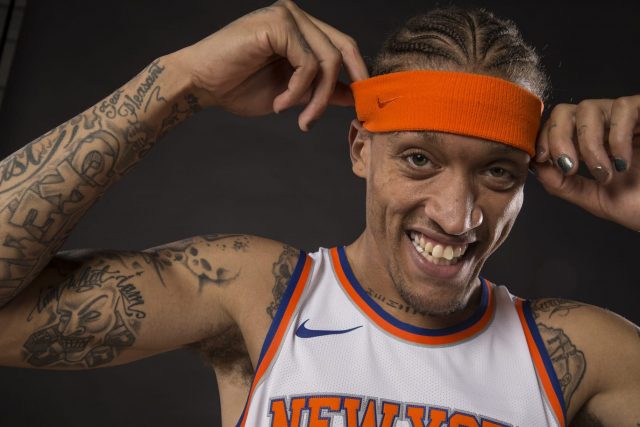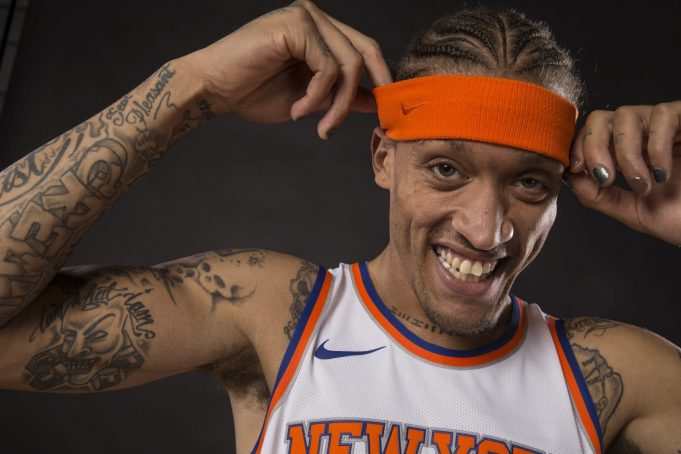 There is a mold for winning the 6th-Man of the Year award. It is usually given to a guy who can come into the game and produce offense in bunches. The past five years the award has gone to Eric Gordon, Jamal Crawford (twice), Lou Williams, and J.R. Smith.
With Carmelo Anthony's departure to Oklahoma City, there are going to be more shots available for the rest of the Knicks. Beasley could take charge of New York's second unit and put up enough offensive numbers to win this award. Beasley was a highly touted recruit out of high school and people forget that he was drafted second overall by the Heat in 2008. The talent is there.
He has had off the court issues in the past, but sometimes a change of scenery leads to increased production. Think of J.R. Smith from 2012-'13 when he brought home the 6th-Man of the Year award as a Knick.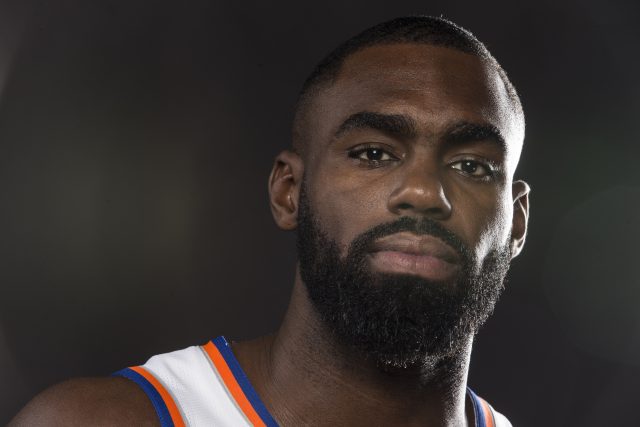 Most Improved Player – Tim Hardaway, Jr.
This award could be the best chance any Knicks player has at an award this season. After examining the past 5 winners of the Most Improved Award, it isn't crazy to think Tim Hardaway Jr. could have a realistic shot at winning. He needs to do a few things this year to win Most Improved Player.
In 2016-17, Hardaway Jr. averaged 14.5 points per game, 2.8 rebounds per game and 2.3 assists per game. In all likelihood, he will need to make a sizeable jump up to 20 points per game. He also needs slight increases in his rebounds and assists. There is going to be an opportunity for Tim Hardaway Jr. to take on some of the scoring load.
Another factor for Most Improved Player is an increased win total for his team. He's going to be the second option behind Porzingis. If this Knicks team can flirt with a playoff berth, THJ will be a major contributor.
It may be optimistic to project Hardaway Jr. as the Most Improved this year, but the opportunity is there. Knicks fans would love to see THJ take home the hardware. That would put him in a pretty talented class of NBA players. The last 5 winners of the MIP have been, Giannis Antetokounmpo, CJ McCollum, Jimmy Butler, Goran Dragic, and Paul George. Pretty good company.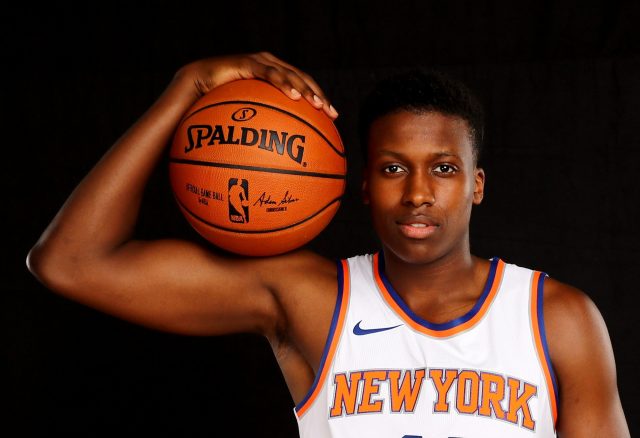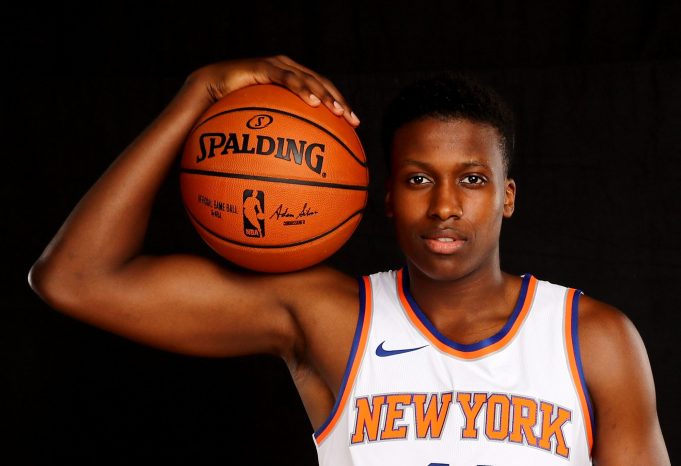 This is a tough one. This year's draft class could be one of the most talented in a long time. There are already some promising candidates for Rookie of the Year with Lonzo Ball, Markelle Fultz, De'Aaron Fox, Jayson Tatum, Dennis Smith Jr., and Ben Simmons among others. Frank Ntilikina is facing some stiff competition.
Ntilikina's best chance at winning this award will rest on how well he and Porzingis mesh in New York. The theme of this article may be that Porzingis needs to play exceptionally this year for the Knicks to have any chance at any type of success. Hopefully, Ntilikina can rack up a ton of assists by feeding Porzingis off of high ball screens.
This one is incredibly unlikely, but let's take a stab at it anyway. The expectations are incredibly low for this Knicks team. Not many expect this team to be even close to .500 this season. The bad news is only one coach with a losing record has won the Coach of the Year. That was Johnny Kerr with the '66-'67 Bulls that finished the season 33-48.
The last time a coach won the award with less than 50 wins was Sam Mitchell with the 2006-'07 Raptors. That team finished 47-35 and was the 3rd seed in the East. Doc Rivers won the award in '99-'00 when his Orlando Magic went 41-41. There is some hope for Knicks fans.
It is highly, highly unlikely that Hornacek wins this award. If the Knicks are hovering around .500 and are close to a playoff spot it wouldn't be crazy to hear Hornacek for Coach of the Year