After spending two years as teammates, Kristaps Porzingis and Carmelo Anthony prepare to face off in the Knicks and Thunder season opener. 
Carmelo Anthony was traded to the Oklahoma City Thunder the night before training camp. Now, he's hosting his old team in the 2017-2018 season opener.
Kristaps Porzingis was lobbying for Anthony to remain in New York, but has found peace in seeing his ex-teammate take on a "new challenge."
Porzingis told Ian Begely of ESPN New York this move was something Anthony needed, in order to take steps to winning a championship.
"For myself, I wanted him to stay, and to play with him and learn from him and so on. But from the other side, I understand that he needed a new challenge in his career."
Speaking of championships, the young Latvian forward thinks Anthony has found a good place to compete.
"He wants to win a championship one day, so I'm happy for him. He's in an environment where he might be able to do that soon."
Now with the Thunder, Anthony will be filling the power forward slot.
That means when the two teams face off, a defensive matchup with Porzingis is imminent.
---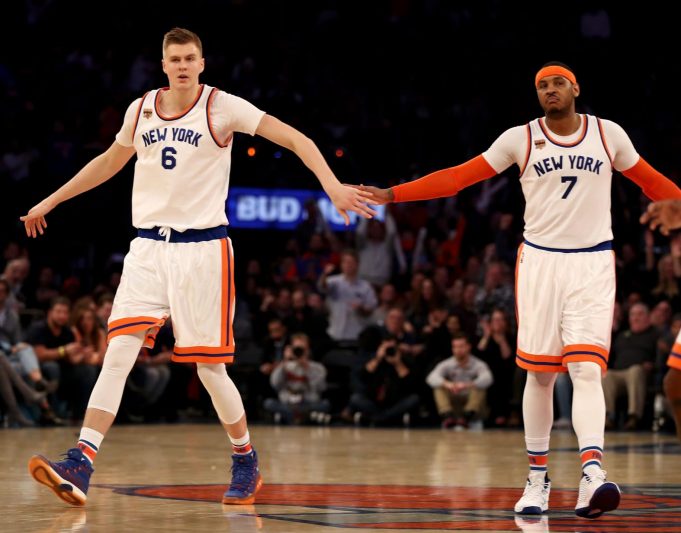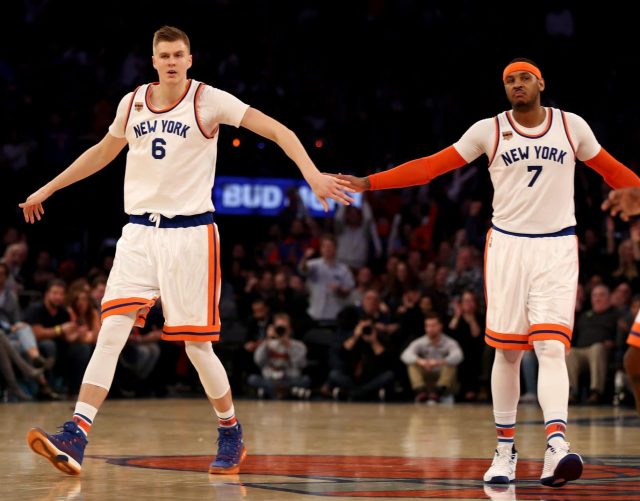 ---
For the Knicks star, it's a difficult task at hand.
"I think everybody knows what he's doing but nobody can stop him. It's going to be a challenge for me. I'm going to do my best."
After two years of playing together, Porzingis says there isn't any tape he can watch to prepare for this matchup.
"I watched him every day for two years. I know what he does, how he can score. If there was an answer to what he's doing and how to defend that, that would be nice. There's no film I can watch and say 'Now I know how to guard this.' So I'm going to try to use my length as much as I can."
Knicks head coach Jeff Hornacek told ESPN New York it's the matchup to watch come tip-off.
"Porzingis knows his game; Carmelo knows his. It's going to be a good battle."
---
The New York Knicks and Oklahoma City Thunder will tip-off Thursday night, 8:00 PM EST.