While he may not man a significant role in his sophomore year, New York Knicks center Willy Hernangomez can still progress his game in the 2017-18 season. 
T
he New York Knicks have a logjam at the center position. With the recently-acquired
Enes Kanter
,
Joakim Noah
,
Kyle O'Quinn
and
Willy Hernangomez
all present, the Knicks are very deep in the middle. Out of the quartette, Hernangomez possesses the most intrigue.
At 23 years of age, Hernangomez has plenty of room to grow based on the intriguing skill set he showcased in his rookie season. However, the Spaniard may very well be unable to get the starting nod at center, though, that doesn't mean he can't progress his game in his sophomore year.
Last year, Hernangomez was a pleasant surprise for the Knicks, despite garnering limited playing time.
Posting 8.2 points and 7.0 rebounds per game in just 18.4 minutes a night, Hernangomez showcased an ability to score in the paint and hit the boards. A particular aspect of Hernangomez's game that makes him unique is his post play.
In the constantly-evolving NBA, it's become a rarity to see big men get drafted out of college or overseas and be post-up threats. They tend to become outside shooters, instead of interior threats; even established big men have gravitated towards playing out on the perimeter.
Hernangomez just so happens to go against the reoccurring trend amongst big men. He can play with his back to the basket and can finish inside; Hernangomez also saw some success in his midrange game, although there's work to be done in that aspect of his game. However, on the flip side, he has struggled a great deal defensively.
Unlike his encouraging offensive skill set, Hernangomez is not a sound product defensively. He's not adept at staying on his feet and can be taken advantage of, at times, in the post; collectively, he must improve his play on that end of the floor, if he aspires to be a force in the middle for the Knicks going forward.
Many already have the second-year center a step behind in his development, being that he may not see big minutes. But regardless of whether he starts or not, Hernangomez will most certainly have the chance to progress his game in the regular season.
At the moment, it appears as if Kanter or O'Quinn may very well get the starting nod in the middle, barring a last-second change. And head coach Jeff Hornacek doing so is understandable; Kanter brings a veteran presence, as well as a player who can hit the boards and play in the post, while O'Quinn is a gritty player in the paint on both ends. Heck, he owned the best player efficiency rating (PER) on the Knicks last season (20.6). However, no matter who starts or even how many minutes Noah is granted — when he returns from his suspension — Hernangomez's development will not be halted.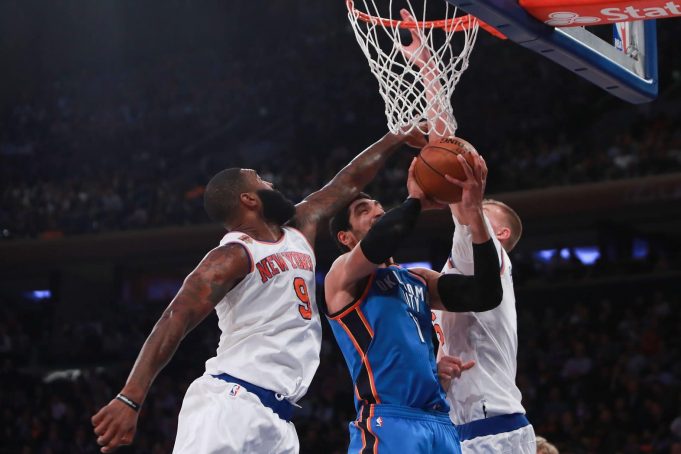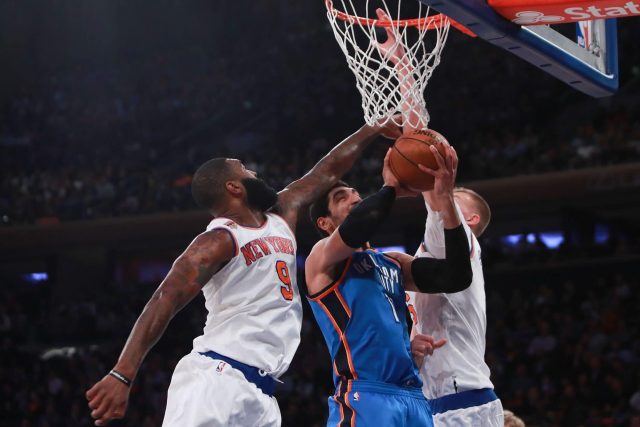 It's important to remember that even with his 2016-17 play, it was never set in stone that Hornacek would feature Hernangomez in his starting five. Based on his defensive woes, Hornacek could never fully commit to starting him at the five, despite being the most intriguing player at the position.
But the notion that Hernangomez can't improve his game playing just 24 minutes per game, as opposed to 28-32, is simply not true.
Last year, Hernangomez played under 20 minutes a night and still produced. With a team searching for an identity, in the midst of a youth movement, Hornacek will most certainly find some more playing time for the players he's familiar with — such as Hernangomez.
In all likelihood, Hernangomez will serve as the Knicks' 6th man, or at the very least, their first big off the bench. And there's a good chance that he grabs that starting gig away from O'Quinn, Kanter or whoever midseason. Plus, Kanter has thrived off the bench in year's past. Maybe Hornacek opts to give Kanter the 6th man duties yet again as the year goes on and Hernangomez shows signs of growth?
He may not breakout to average a double-double or win most-improved player, but Hernangomez will most certainly have the opportunity to improve his game, despite the plethora of bigs present.