Free agent signee,Tim Hardaway Jr, is poised for a breakout season in his return to the New York Knicks.
T
he most notable and controversial free agent signing of the offseason for the
New York Knicks
was
Tim Hardaway Jr.
After his draft night exit via trade two years ago, as well as the series of events that have transpired in his absence, Hardaway's signing was viewed from a cynical mindset.
Yet when you actually decipher and assess what his role will be this season, Hardaway is bound to endure a career and breakout year.
It's no secret that the four-year Michigan product is not an established defender, though he has improved a bit since his first stint with the Knicks. While still not adept at defending his man at ease, Hardaway has improved his perimeter defense. He's more aggressive on the outside, and has forced contested jumpers.
On the other hand, Hardaway provides the Knicks with two key attributes — offense and youth. When the Knicks forked over $71 million to the 25-year old Hardaway, they made it clear they were heading in a different direction. While it took two months to come to fruition, trading Carmelo Anthony was the major domino effect.
With Anthony out the door, the Knicks have an overwhelming amount of opportunity and minutes for the taking. His departure instantly makes Kristaps Porzingis the focal point of not just their offense, but the entire team. It's time to see whether their budding star has what it takes to be "the man". After Porzingis, Hardaway will be the Knicks' next best source of offense.
---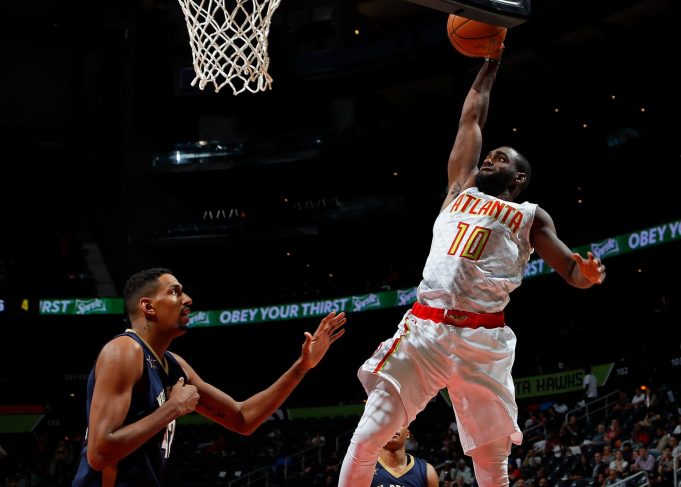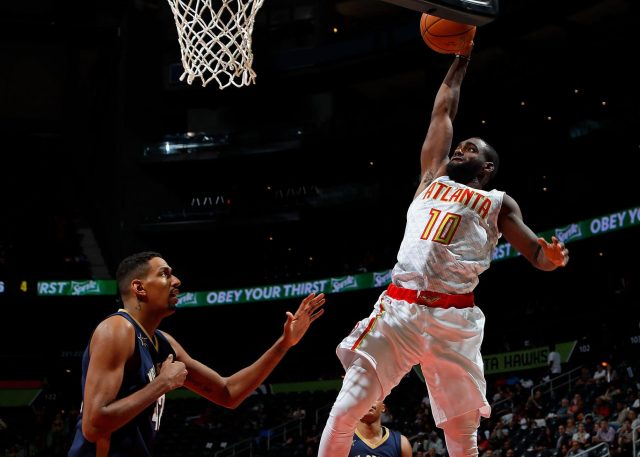 ---
Last year, Hardaway posted a career-high 14.5 points on 45.5 percent shooting in just 27.3 minutes per game. He also shot 35.7 percent from beyond the arc, which while not great, is the best he has shot from long range since his rookie year. But the most improved aspect of Hardaway's game is how he's become such a well-rounded scorer.
Throughout the first few years of his career, Hardaway developed a tendency for just spotting up out on the perimeter. He has always showcased his ability to get up and fly, but overall, Hardaway was more of a jump shooter. Last year, that was not the case.
By forcing the issue at the rim and taking defenders one-on-one, in addition to playing on the outside, Hardaway became a more sound scorer in his final year with the Atlanta Hawks. Now that he's a more balanced and dangerous offensive threat and not as much of a liability defensively, Hardaway is in prime position to finally breakout.
Last year, Hardaway put forth the most productive year of his career, but did so as the fourth and maybe even 5th option. With Paul Millsap, Dennis Schroder, Dwight Howard and even Kent Bazemore all present, Hardaway was, in a way, held back in his final year with the Hawks. Now with the Knicks, no such roadblock exists to stand in the way of his production.
After Porzingis, there aren't many players who are in position to have a bigger impact than Hardaway. Enes Kanter has always been a post-up threat, Doug McDermott can play out on the perimeter, Ramon Sessions can run an offense and Courtney Lee can score when he has to, but neither one of them is a better scorer or has more upside than Hardaway.
Hardaway is guaranteed a starting role in Jeff Hornacek's starting five — whether it be at the two or three. He's an improved player and is going to be a focal point of this Knicks' offense.
Yes, he's under an immense amount of pressure to succeed given the big contract he was granted. But at the end of the day, he's going to man a big role. Based on his success with Atlanta last season as the 4th option, Hardaway should be able to produce between 15-20 points a night, while continuing to improve his defensive game.