Knicks forward Carmelo Anthony has finally been traded, after extending his list of trade destinations to three teams. Why did he never consider Portland?
T
he
New York Knicks
have successfully rid of Carmelo Anthony, after a strenuous and turbulent summer. Anthony extended his list of teams to three total on Friday night, completing half of the trade that would be finalized Saturday afternoon.
The Oklahoma City Thunder sent Enes Kanter, Doug McDermott and a future second-round pick to the Knicks in exchange for the 10 time NBA All-Star. Now that he's been traded, and the deal has been released, one has to wonder.
Why did Anthony never agree to waive his no-trade clause for the Portland Trailblazers?
Before Friday Anthony had only approved one team as a trade partner for New York, the Houston Rockets. With that becoming more and more unlikely, Adrian Wojnarowski of ESPN reported that he had expanded his list of teams.
Who was new? The Cleveland Cavaliers and the Oklahoma City Thunder.
Fans were surprised to learn that the Portland Trailblazers weren't included on the list, though Wojnarowski noted in his report they weren't out of the mix just yet.
"Portland still could emerge as a possible destination for Anthony if New York is unable to find deals with teams on his current list."
Yet to most, Portland seemed like the clear-cut and best possible destination for all parties involved. For Carmelo however, they remained a fourth option at best.
Why was he so reluctant to join a team that's seen the postseason in four consecutive seasons?
The West is Tough, Even Tougher for Underdogs
Sure, Anthony originally elected to join the Houston Rockets, also in the Western Conference. But they are a team that blazed their way to a third-seed finish and 55-27 record last season.
Now joined by veteran point guard and nine-time NBA All-Star Chris Paul, the Rockets were considered by many as the favorites to compete with the Golden State Warriors.
In Oklahoma City you have similar promise. 2016-17 MVP Russell Westbrook carried the Thunder to the Western Conference's sixth seed and a 47-35 record. Now they've added Paul George, and with Anthony, could be serious contenders.
The Portland Trailblazers? Not so much.
After recording an impressive 44-38 season in 2015-16 and finishing fifth in the West, Portland slid to 41-41 last year and the eighth seed. Anthony is 33 years old chasing a ring, and he chose to do so with an already established championship threat.
---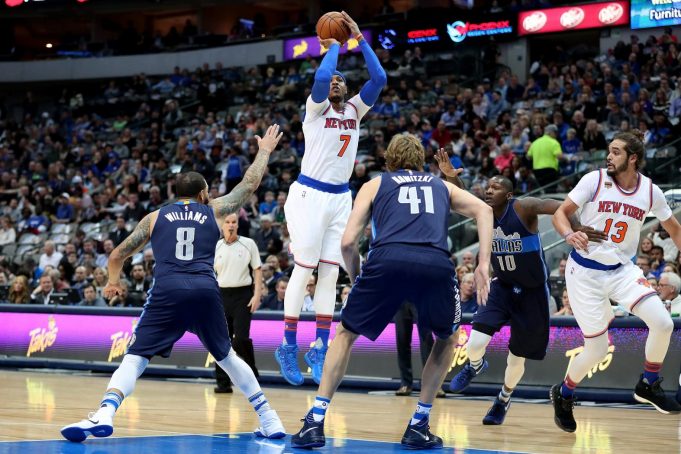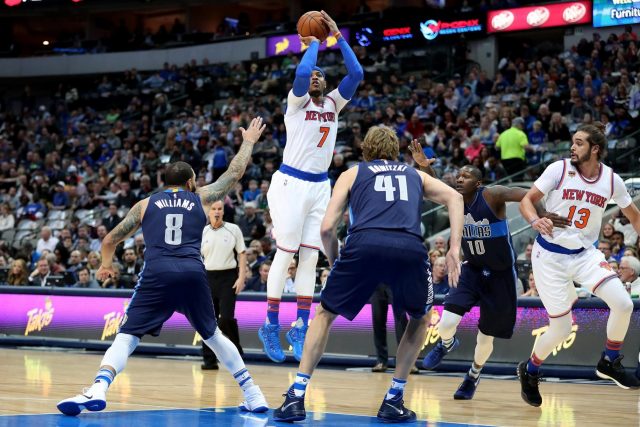 ---
It's "Show Friends" for Anthony, Not Show Business
All three teams that made up the trade list have one thing in common, a longtime associate of Carmelo Anthony.
In Cleveland, it's LeBron James. Not to mention JR Smith, who he's played on multiple teams with already.
In Houston, it's Chris Paul. Nene Hilario is in the mix too, who Anthony played next to in Denver.
In Oklahoma City, it's Russell Westbrook. Plus the Thunder signed Raymond Felton, likely Anthony's favorite point guard of his Knicks tenure.
In Portland? Two fan girls who took to social media in expressing their desires for Anthony to join the team. Maybe not their best idea, or most professional means of which to tamper.
Anthony may have been looking just to compete with friends, after playing through such a hostile and demeaning environment in New York. In each one of his preferred trade destinations, he had that.
Anthony Wants to Lay Low, Shoot, and Score
It's possible that after being labeled as a "ball hog," Anthony was looking to for a team where he's not the number one option. Not to say that in an offense with Damian Lillard, CJ McCollum, and Jusuf Nurkic he'd be the primary scorer.
The Portland Trailblazers just aren't a passing team, and with Anthony being the fourth scoring option in their offense, they likely wouldn't become one overnight.
Now traded to the Thunder, Anthony gets Westbrook, who finished third in the NBA's assist per game leaderboard last season.The reigning MVP has been dying for a reliable shooter on the wing, and this Knicks forward fits the bill and then some.
As a member of the Rockets or Cavaliers offense, Anthony was going to see a lot more open looks from some All-Star facilitators.
Both Houston and Cleveland's assist per game average last season ranked them in the top half of the league. The Rockets were the third overall, and the Cavaliers the 13th.
For the Cavaliers, four-time MVP LeBron James keeps the offense moving. He averaged 8.7 assists per game last season, a career-high on his 14-year career. In Cleveland, Anthony would have split scoring opportunities with second option Kevin Love.
Then there was the new backcourt duo of Chris Paul and James Harden for Houston, who averaged a combined 20.4 assists per game last season. With two point guards sharing the court, Anthony would have seen more open looks than ever before.
---
Carmelo Anthony did his duty, and was fair to New York by presenting multiple options. All scenarios intrigued his desire for winning and playing strictly as a second option scorer.
Unfortunately for the Portland Trailblazers, they just didn't meet the likely complicated qualifications Anthony held for his next destination.