After executing the Carmelo Anthony blockbuster with the Oklahoma City Thunder, the Knicks should look to start Enes Kanter — who they netted in the deal — alongside Kristaps Porzingis.
Saturday afternoon, the New York Knicks finally made the move. Executing a three-player deal to ship Carmelo Anthony off to the Oklahoma City Thunder, they finally put an end to the drama between management and the All-Star forward.
In return, they netted big man, Enes Kanter, Doug McDermott and a 2018 second round pick.
This deal rounds out the Knicks roster as they head into training camp this upcoming week and in his arrival, they should look to start Kanter alongside the new face of the franchise — Kristaps Porzingis.
All summer long, the Knicks attempted to get Anthony to his preferred destination — the Houston Rockets. After coming to his senses that no such deal was likely, Anthony expanded his trade list and the Thunder were one of his new destinations. In reality, Kanter, McDermott and a second rounder isn't a bad return for the Knicks.
McDermott gives them another young piece who can score and Kanter offers them an established frontline presence. Based on what he provides, Kanter should get the starting nod from head coach, Jeff Hornacek.
Many people are down on Kanter's game based on his limited defensive ability and unfriendly contract. He possesses below average defensive qualities, whether that be interior or out on the perimeter. Owed approximately $36 million over the next two years (with a player option in the final year), Kanter's value has been slightly diminished.
Yet look at what Kanter can and has done.
Ever since he began to play starting and/or big minutes, Kanter has showcased an ability to hit the boards and pose as an offensive threat.
Dating back to the 2013-14 season, Kanter has averaged 7.8 rebounds per game in just 24.4 minutes a night. He's also posted 13.7 points per game in that span.
What's even more impressive is what he did last year alone. Finishing the 2016-17 regular season averaging 14.3 points and 6.7 rebounds in just 21.3 minutes a night, Kanter was an extremely productive force off the Thunder's bench. With Russell Westbrook and Victor Oladipo present, Kanter was unable to be a go-to or reliable guy on a consistent basis for the team. With the Knicks however, there's ultimately no alpha dog.
While it's clear as day that the Knicks are now Porzingis' team with Anthony out the door, Kanter can step in and produce in a big way for the Knicks. The best way for Hornacek and the coaching staff to take advantage of that is by plugging him in their starting five.
---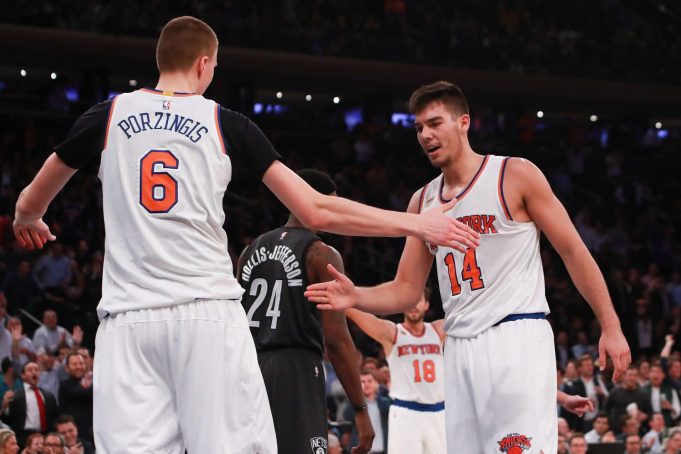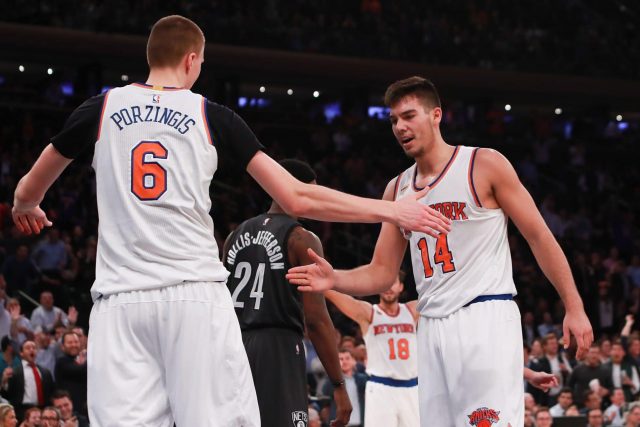 ---
Kanter has thrived off the bench in a winning culture, but this is a Knicks team that's in the midst of a major overhaul and the Turkish big is apart of that; he also joins a Knicks team that's very deep in the paint.
With Kanter, Porzingis, Willy Hernangomez, Joakim Noah and Kyle O'Quinn all present, the Knicks have a logjam in the middle. It would look silly if they had near $36 million coming off their bench with two bigs alone (Kanter at $17.9 million, Noah at $17.8 million). While starting Kanter takes away minutes from the second-year Hernangomez and potentially delays his progression, the reality is that trading Anthony was ultimately done to pave the way for the Porzingis era to commence.
A youngster like Hernangomez could only benefit from playing big minutes, but Kanter's fit next to the Latvian could be awfully intriguing.
Kanter and Porzingis are utter opposites of one another. On one hand, Kanter can play in the post, is adept at hitting the boards and is an established presence on the offensive end; defensively he's not as large of an asset.
On the other hand, Porzingis is a perimeter player who can force the issue at the rim, while holding his own as a shot-blocking presence on defense. Though he has struggled to develop a consistent post game.
Kanter and Porzingis couldn't be more different from one another and that's not always the worst thing. The two bigs can balance out each others' strengths and weaknesses. Kanter can serve as the low-post threat, while Porzingis stretches the floor.
To accommodate Kanter's defensive woes and Porzingis' growing game, the Knicks can start Courtney Lee at the three to help fortify their play on that end of the floor.
This's a Knicks team that is officially in rebuilding mode with Anthony gone. At the end of the day, it wasn't likely for the Knicks to get a haul back for Anthony that included a plethora of youthful prospects with upside and/or draft picks. They were seemingly destined to take back a hefty contract and the Knicks could've done worse than Kanter (Ryan Anderson's three-year deal).
It was no steal for President Steve Mills and the front office, but getting McDermott, a future pick, and an established big in Kanter isn't terrible.
Having Hernangomez come off the bench to begin the regular season may be a tough pill to swallow for Hornacek, but based on what he brings to the table, starting Kanter on the frontline makes sense.