The forgotten occurrence that sparked the downfall of the New York Knicks was James Dolan stripping general manager, Glen Grunwald, of his duties before the 2013-14 NBA season.
O
ver the course of the past several years, the New York Knicks have been a team in disarray. In that time, they've endured an overwhelming amount of drama, coaching changes and identity swings. But the forgotten and most important element which sparked the epic downfall of the Knicks was James Dolan removing general manager Glen Grunwald from his role in the organization before the 2013-14 season.
After he spent three years as the team's president, Donnie Walsh stepped down and Grunwald was promoted. After one year under the interim tag, Grunwald became the Knicks official president and general manager after the 2011-12 season.
After getting promoted, Grunwald got down to work. Making the bold decision to let Jeremy Lin walk to the Houston Rockets in free agency and bringing back Raymond Felton, Grunwald went with his gut to upgrade at the point for the Knicks and it worked.
Posting 13.9 points and 5.5 assists per game in the 2012-13 season, Felton posed a scoring threat as well as a playmaker for the Knicks offense as a whole.
In addition to Felton, Grunwald brought in a plethora of veteran players. Inking Jason Kidd, Ronnie Brewer, Rasheed Wallace and Marcus Camby, Grunwald helped establish a veteran presence in the Knicks locker room — which benefited them greatly.
With a point guard upgrade in place and impactful veterans to complement the play of Carmelo Anthony, Tyson Chandler and J.R. Smith, the Knicks were able to put together a 54-win season, winning the Atlantic division and making it to the Eastern Conference Semi-Finals. Their ability to do so was also generated by the coaching philosophy of Mike Woodson.
After taking over midseason in 2012 for Mike D'Antoni, Grunwald penciled in Woodson as the team's head coach. In his first year as the set in stone head coach, Woodson preached a defensive mentality and trusted his veteran players. Woodson's defensive-minded approach helped make the Knicks a force on that end of the floor. They allowed the seventh-fewest points in the NBA and they never surrendered 100 points in a single game versus the Boston Celtics in their first-round series matchup.
After their successful 2012-13 season, Grunwald went out and made two key offseason transactions. Executing a multi-player trade with the Toronto Raptors to acquire forward Andrea Bargnani and signing Metta World Peace, Grunwald and the Knicks appeared more loaded than ever going into the 2013-14 season. But before they could do so, Dolan threw a curveball.
Demoting Grunwald from general manager to an advisory role and bringing back Steve Mills (who was once with the organization) to run things, Dolan made a drastic front office maneuver at such an odd time.
If Dolan had his mind set on bringing Mills back and letting go of Grunwald, he should've done it right after the season. If he did so, he could've at least let Mills oversee the offseason and make the moves he wanted to make. But at the end of the day, he didn't do that and there was never any real reasoning for letting a man who put together a 54-win team go.
Why would an owner let go of someone who put together a team centered around "Dolan's guy," Anthony? It didn't and still doesn't make any sense, especially when you take account of the front office turmoil that has existed since he was booted.
In year one of the Mills era, the Knicks went 37-45. While the team in place was originally put together by Grunwald, it was decisions in the organization that were made after his departure that saw things go up in flames.
In the midst of their regular-season struggles, Woodson was the easy target. As a result of the Knicks' fourth-quarter heartbreakers and inability to make a legitimate playoff run, management, fans and the media all pointed the finger at Woodson. But it wasn't set in stone that he'd be fired at year's end until Dolan decided to undergo yet another front office shakeup.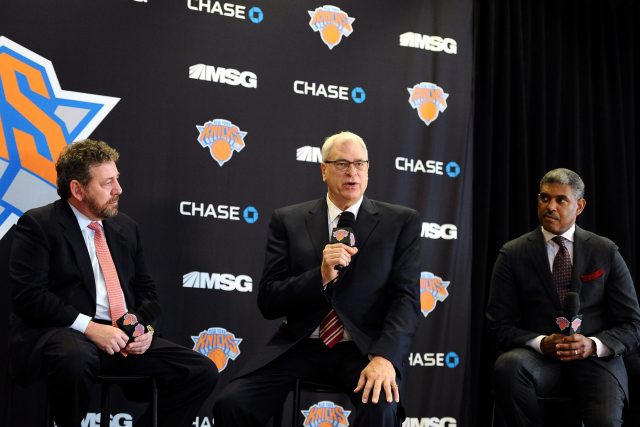 Bringing in legendary head coach Phil Jackson on a mega five-year, $60 million deal to be the team's president, Dolan was putting his faith in the Zen Master being the gateway to attracting stars and winning to the Big Apple, despite having zero executive experience. Dolan also agreed that he'd have no say in basketball decisions with the team, stepping away from the circus; this allowed Jackson to do as he wished without any interference.
In order for Jackson to execute his agenda, though, he needed people around him that he could trust or had ties to. Step one: Fire Woodson.
Despite leading the Knicks to the playoffs twice, including a trip to the Conference Semi-Finals, Jackson's mind was set on getting someone who could run his triangle offense in the Big Apple — something which Woodson had never run before.
So who was Jackson's man for the job?
Fresh off his final year in the NBA, Jackson felt that his former Lakers point guard Derek Fisher was tailor-made for the head coaching role. A big part of that was the idea that Jackson could keep Anthony in the fold.
After opting out of his contract in late-June, Anthony hit the free agent market for the first time in his career. While he wavered between the Knicks and Chicago Bulls for quite some time, the All-Star forward decided to stay in New York. But one can't help but wonder if his reasoning for doing so was the near-impossible contract he would've been turning down.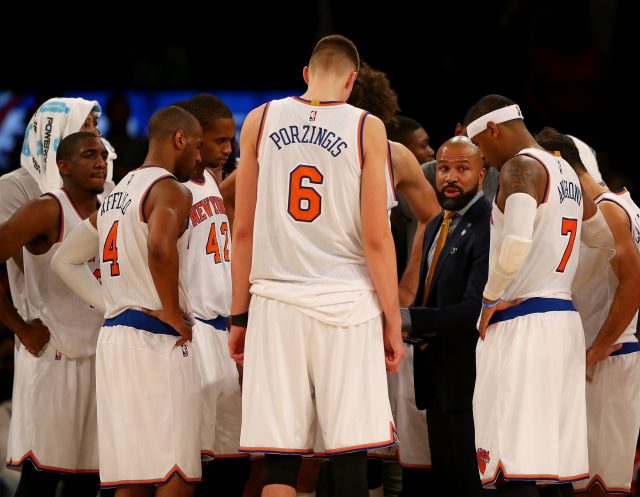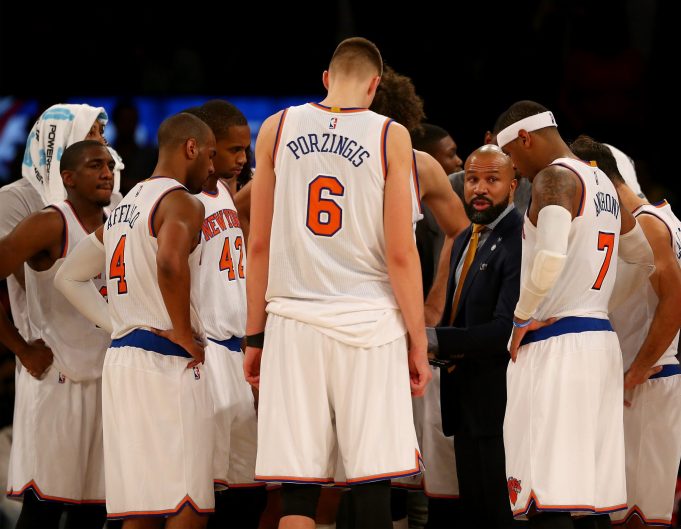 Giving Anthony a five-year, $124 million deal that included a no-trade clause, as well as a trade kicker, Jackson offered Anthony a deal that he couldn't refuse.
With Anthony in place, Jackson gave Fisher a focal point to run the triangle through. Little did Fisher know, however, that Jackson was setting him up to fail.
After their overwhelming struggles in regards to finding ways to win basketball games, Jackson blew it up. Trading away Smith, Iman Shumpert and Pablo Prigioni, as well as agreeing on a buyout with Amare Stoudemire, Jackson and the Knicks were setting their sights on the NBA Draft and striking big in free agency.
They struck gold in the draft, swinging for the fences with Latvian forward Kristaps Porzingis. Jackson snatched a player who, today, the organization views as a franchise player. Free agency was not as sound.
Failing to woo Greg Monroe, DeAndre Jordan, LaMarcus Aldridge and Marc Gasol to New York, people began to question Jackson's plan with the Knicks. How was he pitching this team? Is it all about the triangle? Is it about finding a superstar to put next to Anthony? Does Jackson have any idea what he is doing?
After settling on Arron Afflalo and Robin Lopez in free agency, the Knicks were of the mindset that they could compete for a lower seed in the Eastern Conference. But for the third consecutive year, no such feat was accomplished.
Finishing 32-50, the Knicks, yet again, disappointed many. And in the midst of their losing season, Jackson fired Fisher and temporarily replaced him with Kurt Rambis — a Jackson confidant.
Rambis, however, was demoted back to assistant coach at year's end, as Jackson hired former Phoenix Suns head coach, Jeff Hornacek — which was portrayed as an odd hire.
Based on the fact that they had no documented ties with one another in the past and were fond of different offensive philosophies (Hornacek ran a run-and-gun offense in Phoenix), Hornacek's fit was murky.
Ultimately, the Hornacek experiment ended in flames. Despite the acquisition of Derrick Rose and free agent signings of Courtney Lee and Joakim Noah, the Knicks endured yet another losing season (31-51).
Then, after selecting French point guard, Frank Ntilikina, with the 8th pick in the NBA Draft, Dolan decided to come out of hiding and part ways with Jackson. While Jackson certainly outdid his welcome, the timing of this essential firing was bizarre.
It made sense why Dolan would want to rid the Knicks of Jackson based on his absurd insistence of running the triangle, but if his mind was set on letting him go, it should've been done before Jackson made a decision that affected their future — that being drafting Ntilikina.
Today, the Knicks are now under the watch of Mills and general manager Scott Perry, while Dolan watches from afar yet again. Will this new combo do right by Dolan and the fans? It's an utter mystery, but the fiasco that's taken place in New York the past four years could've and should've been avoided.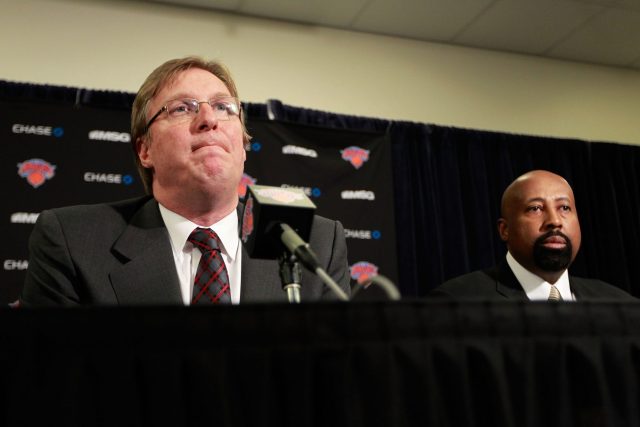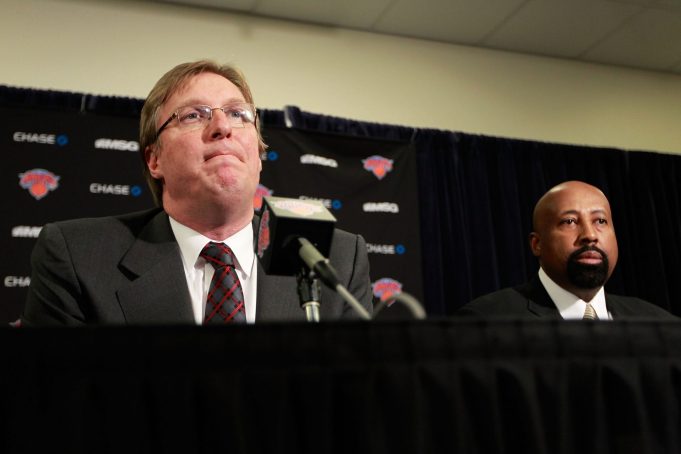 Grunwald put together a 54-win team in 2012, one that was viewed as a force in the East. The team that took the floor the ensuing year was assembled by him yes, but how in any way does it make sense for a general manager to be fired after his first year on the job when he saw a great deal of success? It's not a trick question.
Maybe if Dolan had keep Grunwald in place, never brought Mills back or inked Jackson, the Knicks would've let Anthony walk?
When he hit the free agent market in 2014, the Knicks had options with Anthony; they could've let him walk or maybe worked out a sign-and-trade with Chicago (who was a serious threat to steal his services from the Knicks). In a potential deal, the Knicks could've taken back the expiring contract of Carlos Boozer, a pick and/or a young player such as Jimmy Butler (look at Butler now).
What about head coaching? Maybe Woodson never gets fired, the Knicks prioritize improving defensively and let Anthony walk.
At the end of the day, Woodson was a dead man walking when Grunwald was let go and Mills came in. It's a trend in the NBA that when a new face comes into the front office they bring in their own guys and staff; the combo of Mills and Jackson was something Woodson had no chance of overcoming.
Ever since Dolan stripped Grunwald of his duties, the Knicks have gone 117-211. If you want to question what began the Knicks downfall, it was undoubtedly getting rid of the general manager that got them to a division title.