It will be difficult for New York Knicks head coach Jeff Hornacek to find minutes for forward Michael Beasley.
T
he reoccurring notion surrounding the New York Knicks is that they're not a playoff team, but free agent signee 
Michael Beasley
 begs to differ.
"Do I see us better than a 30-win team in Vegas? Listen, I don't even go to Vegas. So yeah, I do. I think we've got a position to be not only a playoff team but a five-, six-seed team if we do it right." Beasley told Stefan Bondy of the New York Daily News.
Don't tell the former number two pick that the Knicks aren't a force to be reckoned with offensively either.
"Tim Hardaway Jr., Carmelo Anthony, Kristaps Porzingis and myself — those are four guys that can score 25 points per game."
At the end of the day, while Beasley's confidence surrounding his teammates, as well as his own game is admirable, it will be difficult for him to find minutes in Jeff Hornacek's offense based on the pieces already in place.
Beasley, a frontline player, comes to the Knicks after an encouraging 2016-17 campaign with the Milwaukee Bucks. Posting 9.4 points per game, while shooting a career-high 53.2 percent from the field in 16.7 minutes a night, Beasley was an efficient product on the offensive end for head coach Jason Kidd and the Bucks.
Attacking the rim at will and taking opposing defenses one-on-one, Beasley has always played with an attacking mindset. What also contributed heavily to his game last year, though, was his play from beyond the arc.
Shooting a career-high 41.9 percent from long distance last season, Beasley saw an improvement in his perimeter play.
The biggest knock on Beasley's game is his suspect defense. He's not adept at defending his man and struggles to guard the perimeter. That said, he believes he's a better defender than his reputation leads many to believe.
"I am not as bad a defender as you say I am," he told Bondy. "My help-side defense has been (shaky), I'll give you that. But not a lot of people can score on me on the ball."
Overall, Beasley's scoring prowess makes him an intriguing piece for Hornacek and company. But his underwhelming defensive play and the depth the Knicks possess out on the perimeter will make it hard for Beasley to find minutes.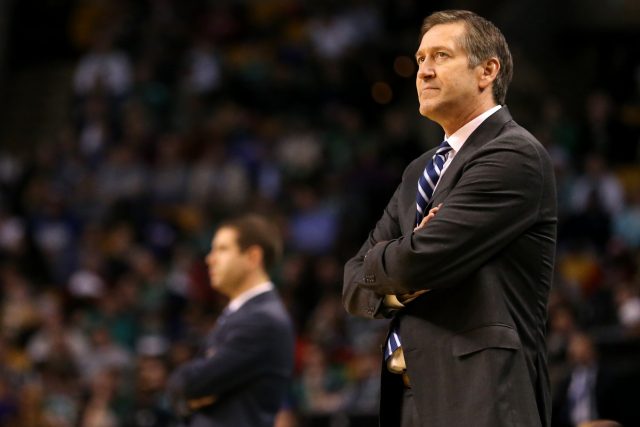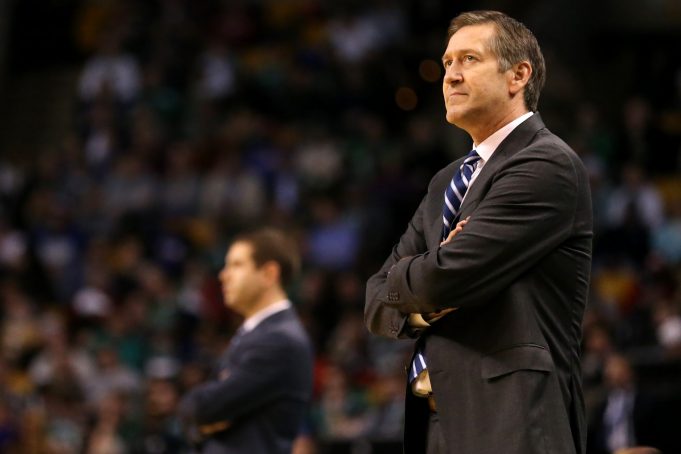 Despite the ongoing rumors and speculation about Carmelo Anthony's potential departure from New York, the tenured forward remains a Knick; barring an unforeseen trade, he will all but likely be dawning the blue and orange next season — likely resulting in him starting at small forward for a seventh consecutive year.
Anthony's "wingman" will likely be free agent signee Tim Hardaway Jr. After inking a four-year, $71 million deal to come back to the Big Apple, Hardaway appears to be the Knicks' set-in-stone shooting guard.
After Anthony and Hardaway, there's Courtney Lee (who started last season at shooting guard) and Lance Thomas. Both Lee and Thomas provide the Knicks with two-way play and as a result, will be one of the first players off the Hornacek bench.
Second-year forward Mindaugas Kuzminskas will also be in the mix for minutes on the Knicks frontline.
Based on it being highly unlikely that Beasley starts or garners minutes as a backup at either position, the veteran forward will have to garner minutes down low.
With center, Joakim Noah suspended for the first 12 games of the regular season, Kyle O'Quinn will likely garner the majority of minutes as the team's backup five; that opens up minutes for Beasley at the four.
Beasley could come off the bench and maybe substitute for Willy Hernangomez. In doing so, Anthony and he could play alongside one another on the Knicks frontline, resulting in Kristaps Porzingis playing center.
But once Noah returns, he will absolutely be granted a reasonable amount of minutes — for 72 million reasons — which will negatively affect Beasley's playing time.
If he truly wishes to make a profound impact in Hornacek's rotation, Beasley will have to do his thing on the offensive end, but more importantly, become a more sound and respectable defender — which isn't an easy task for a veteran player.
He could be a spark plug off the bench, but the Knicks depth and his inconsistent defensive play will make it an uphill battle for Beasley to garner playing time.