The New York Knicks' have longed for depth at the point guard position for years and this season they may finally have it.
N
ew York traded for star forward
Carmelo Anthony
back in 2011, but have been unable to pair him with a star point guard during his tenure.
The best point guard to don a New York Knicks' uniform in the Anthony era has been Raymond Felton, who was originally a piece moved to Denver in that very trade.
Fortunately for fans, all that heartbreak and frustration is about to change.
Thursday afternoon, Michael Scotto of Basketball Insiders reported that New York and veteran point guard Jarrett Jack agreed to a one-year, non-guaranteed deal.
New York Knicks and free agent point guard Jarrett Jack have agreed to a one-year, non-guaranteed deal, league sources told @BBallInsiders.

— Michael Scotto (@MikeAScotto) September 14, 2017
This is the third point guard New York has signed this offseason, right behind Ramon Sessions, who inked a one-year deal back in July.
This makes for five point guards who will make an appearance at training camp.
Let's take a look at each point guard on the New York roster and why they're more prepared now than ever before.
The only point guard who's coming back from the 2016-17 season, Ron Baker appeared for New York's D-League affiliate Westchester Knicks on and off last season.
After playing 52 games with the Knicks last season, he was signed to a two-year/$8.9 million deal in July.
Last season, Baker averaged 4.1 points and 2.1 assists in an average of 16.5 minutes per game. However, he had some big games, earning him 13 starts on the year behind Derrick Rose's injury. In a loss to the Toronto Raptors on April 9, Baker recorded 11 points, 8 assists, and 8 rebounds in 38 minutes.
Baker has real potential, though isn't quite considered starting guard material. Expect him to make a couple more appearances in the starting five regardless, as New York limits rookie Frank Ntilikina's exposure for his rookie year.
Ntilikina was selected with the 8th overall pick of the 2017 NBA Draft, and like his teammate Kristaps Porzingis, his selection was met with heavy criticism from the fans.
Another European star, Ntilikina has already played two professional seasons with SIG Strasbourg in France. He averaged 3.2 points and 1 assist through two seasons overseas.
---
---
Ntilikina is more of a defensive prospect, but is highly regarded among those in the Knicks' front office. After being ranked as the 24th worst defensive team last season, the Knicks are looking to emphasize that this season. Drafting Ntilikina was a part of that, among other things.
3. Ramon Sessions
A 10-year veteran, Sessions is being brought in as the main mentor for rookie Ntilikina. He signed a one-year/$2.3 million deal back in July.
After playing for seven different teams across his career, Sessions is expected to share the starting position with Ntilikina and, occasionally, Baker. Last season with the Hornets, he averaged 6.2 points and 2.6 assists on an average of 16.2 minutes per game.
Considered an upgrade from last year's starting point guard Derrick Rose, Sessions will optimally take on a role as the main facilitator next season. He posted a Per 36 average of 5.6 assists, and recorded a 24.2 assist percentage last season.
---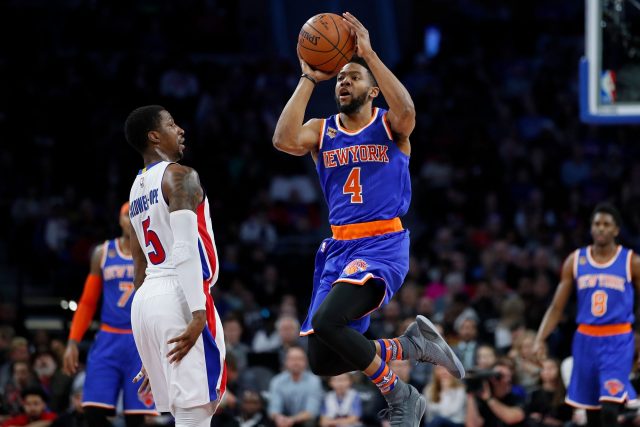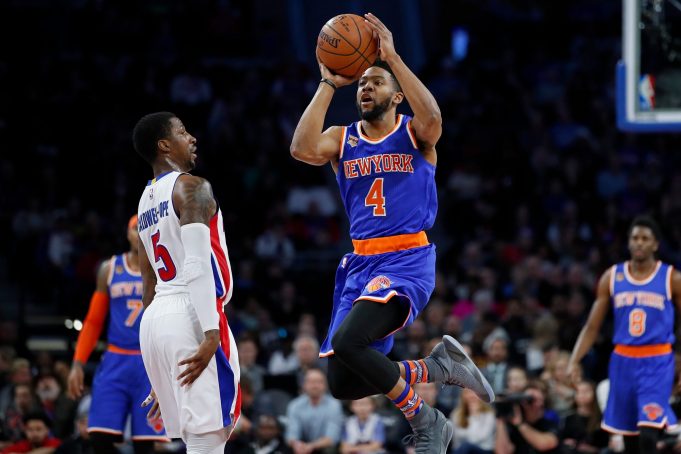 ---
Randle entered the 2015 NBA Draft out of Stanford University, but exited undrafted.
After playing with the Golden State Warriors in the 2015 Summer League, he joined ČEZ Nymburk of the Czech Republic's National Basketball League.
As most do, Randle put on a show overseas, recording averages of 15.3 points, 2.4 rebounds, 2.3 assists and 1.6 steals per game.
Randle joined the New York Knicks in the Summer and D-League last year, earning a couple 10-day contracts along the way. That is, until Feb. 27, when he signed a deal through the 2017-18 season.
In 18 games with the Knicks, Randle averaged 5.3 points, 1.6 rebounds and 1.6 assists per game. It's hard to determine what kind of minutes he'll be playing in a plethora of point guards, so expect to see him featured in more D-League games next season.
Jack is no stranger to New York basketball, as he signed with the Brooklyn Nets in the 2014-15 offseason. He averaged 12 points and 4.7 assists per game that year, but tore his right ACL the following.
He would miss the last 50 games of the 2015-16 season.
Jack signed with the Atlanta Hawks last summer but was waived, once deemed unable to join the team at training camp. He rehabbed his knee and signed with the New Orleans Pelicans in February of last season. Unfortunately for Jack, he suffered yet another knee injury after only two games with the team.
This will be the veteran point guard's eighth team over a 12-year career, but if healthy, he could easily steal the starting spotlight from Sessions and Baker. Before injuring his ACL in 2015-16, he averaged 7.4 assists per game.
Assist numbers like those will elevate him above the other guards on the roster and would ultimately be the best outcome for the Knicks' hopes of developing Ntilikina.
Role Assignment
Ron Baker will serve as bench fuel to the Knicks' offensive fire. Given the right minutes behind Ntilikina and Sessions, Baker can score the basketball as well as any backup. Per 36 minutes, he averaged nine points on 38 percent shooting last year.
Ramon Sessions serve as the main mentor to Ntilikina and facilitator for the starting five. He's also the best shooter from behind the arc, after shooting 34 percent last season.
Frank Ntilikina is the point guard of the future, he's just here to observe and learn this season. His time will come. But with so many guards on roster, the coaching staff will want to see isolated and efficient basketball from the rookie.
Chasson Randle is going to be a reserve scorer, but has displayed flashes of court vision in both his career overseas and through the 23 games he played with the Knicks. It may take some time in the D-League to get in tune with his shot, because he doesn't operate as well on reserve minutes.
Jarrett Jack has the potential to be the Knicks' starting point guard, should he return to the same level of play before his injury. For a player to return from two major knee injuries however, rarely happens, especially to prime play (see Derrick Rose). If still signed to a contract, he may prove to be a better reserve scorer than Randle in the short term.
---
The New York Knicks assist numbers have ranked in the bottom half of the NBA for the last five years, including the league's worst in 2012-13. With so many potential facilitators on roster, this could be the year they climb to the top 15.
With Sessions and Ntilikina starting, Baker and Randle/Jack holding down the second unit and reserve, New York will be deeper than ever at the point guard position.
Don't get me wrong, these aren't superstars that are going to average 10 assists a game.They're NBA talent guards who are all going to significantly contribute to the development of franchise cornerstone Frank Ntilikina.