Whether New York Knicks fans like it or not, Carmelo Anthony will likely be playing in the Big Apple for the 2017-18 season.
T
he goal was simple for the New York Knicks: trade
Carmelo Anthony
. But with training camp just two weeks away, no such transaction has taken place — and whether Knicks fans like it or not, Anthony is all but likely staying put.
All summer long, the NBA rumor mill featured Anthony going to the Houston Rockets with a chance to team up with his buddy Chris Paul and star guard James Harden. In doing so, many thought the trio could compete with the almighty Golden State Warriors out west. Unfortunately for Houston, chances are no such deal will occur.
Remaining unwilling to take back the contract of forward Ryan Anderson — or any other unfriendly deals — the Knicks have been stubborn throughout the duration of the offseason when it comes to Anthony trade talks. They've also been unsuccessful in trying to orchestrate a three or even four-team deal to ship Anthony to Houston while still accommodating their desires.
The other two potential destinations speculated upon were the Cleveland Cavaliers and Portland Trail Blazers. Many thought teaming up with LeBron James could get Anthony to waive his no-trade clause. On the other hand, in Portland, stars Damian Lillard and C.J. McCollum have been recruiting Anthony to Rip City, but clearly to no avail.
It's been Houston or bust for Anthony and that mindset has never changed, nor will it. The Knicks have remained consistent as well; they're not taking back contracts that hurt their cap room for the foreseeable future and want an asset of intrigue in return for the All-Star forward. Because of this, Anthony is not going anywhere.
There's nothing more for the Rockets and Knicks to discuss. They know each other's agenda in any potential deal by now and their mindsets just happen to make executing a deal near impossible.
When looking at this Knicks roster, it's easy to see the young talent. With Kristaps Porzingis, Willy Hernangomez, Tim Hardaway Jr. and Frank Ntilikina all present, the Knicks possess an intriguing, young core. But Anthony is clearly in the way of that core's development.
If the Knicks had gone through with a deal that netted them young talent or a future pick for Anthony, that core could become even more enticing. But it's September — and if Anthony was going to be dealt, it would have happened by now.
So for head coach Jeff Hornacek and the Knicks, they need to make the best of the situation at hand.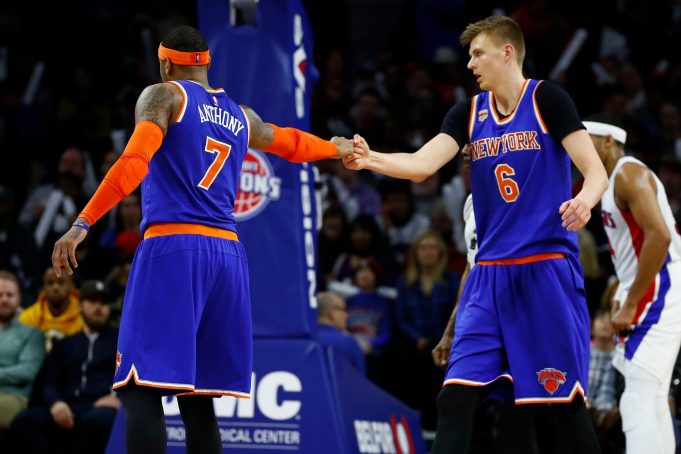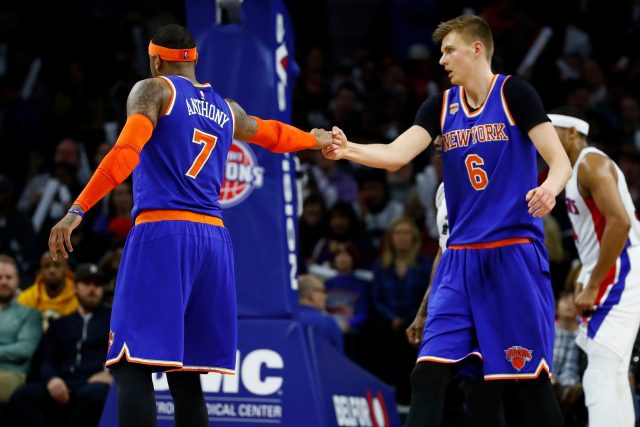 At the end of the day, while he may not be their most valuable player, Anthony remains the best product on the Knicks roster. He's still one of the best post scorers in the NBA, can pull up from midrange, play out on the perimeter and go iso on anyone. There's a role for him on this team.
If you are the Knicks, maybe you play Anthony at the four and move Porzingis to the five. With Anthony slowing down a bit over the years and Porzingis being a two-way force at 7-foot-3, the Knicks could see how the two play when moved up a spot.
Moving Anthony and Porzingis up would result in Hernangomez being the team's backup center. Doing so would allow the Knicks to experiment with a small-ball lineup. Simultaneously, they could toy around with a big man duo of Porzingis and Hernangomez when Anthony is off the floor. Hernangomez off the bench could pay dividends early on when you take into account center Joakim Noah being suspended for the first 12 games of the regular season — which opens up minutes to be played.
Overall, many Knicks fans probably never envisioned or wanted Anthony back this season; he's 33 years old and takes away minutes from their youth. But the reality is the truth: Anthony isn't going anywhere, so the Knicks have to try and make the best of the situation at hand.