The latest breakthrough on the Carmelo trade front features Jabari Parker as a potential return. A look at how he, next to Kristaps Porzingis, could impact the Knicks' future.
T
he Milwaukee Bucks selected Jabari Parker with the second overall pick of the 2015 NBA Draft. Three years later, he may be changing uniforms.
Where to?
New York City, as a means of shipping Carmelo Anthony to the Houston Rockets.
The Knicks and Carmelo have been working towards a trade and part ways nearly the entire summer.
They've set eyes on Houston for Carmelo's future, as it's the only team he'll waive his no-trade-clause for. However, a third team is required to facilitate the blockbuster deal.
Cue the Milwaukee Bucks, who at some point this summer, were interested in taking part.
According to ESPN New York's Ian Begley, Milwaukee had very preliminary talks with New York about entering the trade as a third team.
The proposed deal would send Parker, either John Henson or Greg Monroe, and a first-round pick to New York. Ryan Anderson and a first round pick would be sent to Milwaukee, with Anthony landing in Houston. A win-win for all sides.
Once the report surfaced fans exploded, and Knicks Twitter was a unified mess. Some hated the idea, some loved it, and others just want to see Anthony gone.
There's one factor to this potential deal that people seem to forget: We'd get to watch Jabari Parker play next to Kristaps Porzingis. That in itself is rewarding enough for the years of suffering as a New York fan.
Having those two next to each other would elevate the level of basketball at Madison Square Garden for years to come.
---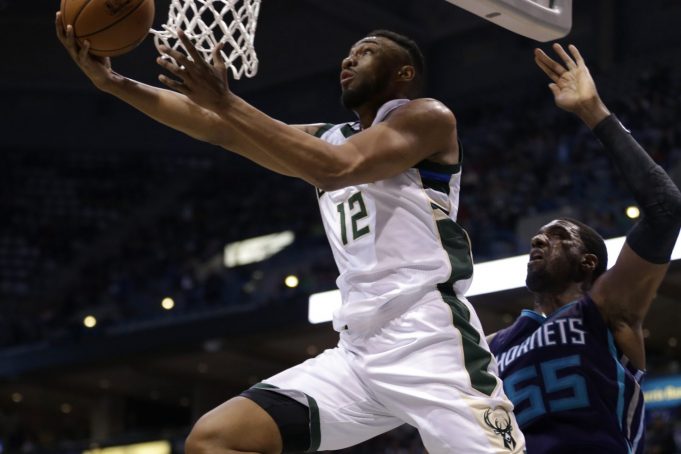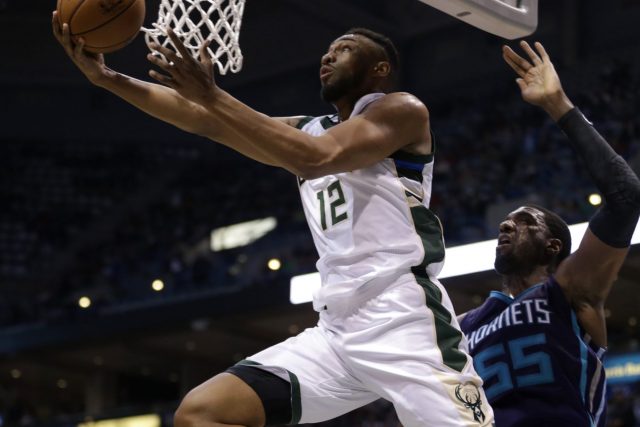 ---
When healthy—which isn't often, as he's missed 94 games over parts of three seasons—Parker has been solid, averaging 15.8 points and 5.6 rebounds per game.
Though he's a year younger and missed half as many games, Porzingis has dealt with similar struggles and put up similar numbers. Over parts of two seasons, the Latvian forward has averaged 16.1 points and 7.3 rebounds per game.
Strengths, Similarities
Parker's game revolves almost entirely around the low post. Last year, nearly 60 percent of his field goals were either alley-oops, dunks, or layups. Away from the basket, he's got a smooth jumper and converted 35 percent of them in his third season.
Since his rookie year, Parker's three-point shot has seen major improvement. When he entered the league, he played only 25 games and tore his ACL. We'll exclude those stats for the time being, though they were impressive.
He returned and played a full 76 games his 'sophomore' season, shooting an abysmal 26 percent from behind the arc. Last year, though he tore his ACL after 51 games, Parker shot an above league average 37 percent from deep. He's become a real threat and a player that defenders refuse to leave open along the perimeter.
His dunks, oh his dunks. The entire arena shakes when Parker slams the basketball, and most players make the business decision to clear the lane when he clears for takeoff.
Watch this highlight slam from a game against the Chicago Bulls last year.
---
---
His athletic dominance and offensive versatility make him a nightmare for opposing defenders. While his confidence has grown, so has the frequency of his shot.
Parker posted a 26 percent usage percentage last season and shot a career high 16 field goals per game. Porzingis posted a 22 percent usage rate and averaged 14 field goal attempts.
Once dubbed "the next Carmelo Anthony" and "the best HS prospect since LeBron James," Parker has made a name for himself in the NBA. His dynamic play would re-engage Knicks fans that have may have given up on the team otherwise.
Elsewhere in the NBA, New York's draft selection of Kristaps Porzingis was met with heavy speculation. Phil Jackson was labeled a madman and criticized openly by fans of the franchise.
Though Parker has length, Porzingis 8-foot wingspan makes him more of a difficult matchup for nearly every defender. He dunks and he shoots but is always prone to scoring.
Though it's his three-point shot that makes him such a 'unicorn,' it took time to spread his range.
Similar to Parker, Porzingis excels in converting plays under the rim. However, the Latvian took more than 250 more jump shots than the Bucks' forward last season.
Despite the high volume, Porzingis still shot 36 percent on jumpers, in comparison to Parker's 35.
At 7-foot-3, Porzingis can knock down threes from nearly 30 feet out. A look at his three-point shot, particularly clutch, in this series against Milwaukee.
---
---
As seen in the highlights, this kid is a play maker. It's not easy to go from a block to a deep three, especially over the Bucks' Giannis Antetokounmpo. Though often considered a defensive liability, his length makes him a prime shot blocker.
This is what really separates the two young forwards, shot blocking and overall length. It's also why they're so compatible.
Having Parker play through numerous defenders in the paint, and Porzingis spacing the floor while knocking down jumpers will make the Knicks' offense an unstoppable force of nature.
Money, and Other Pros
Having these two young players on the roster simply isn't about their play making ability or knack for offensive dominance. These two guys are young, which means, for the time being, they're cheap.
Jabari has two years left on his deal, with a qualifying offer of $7.4 million for the 2018-2019 season. Kristaps has three years left on his contract, with a similar qualifying offer of $7.5 million for the 2019-2020 season.
New York can have both Parker and Porzingis under contract through the 2018-2019 season for $24.3 million, which is less than Carmelo's 2017-2018 salary.
---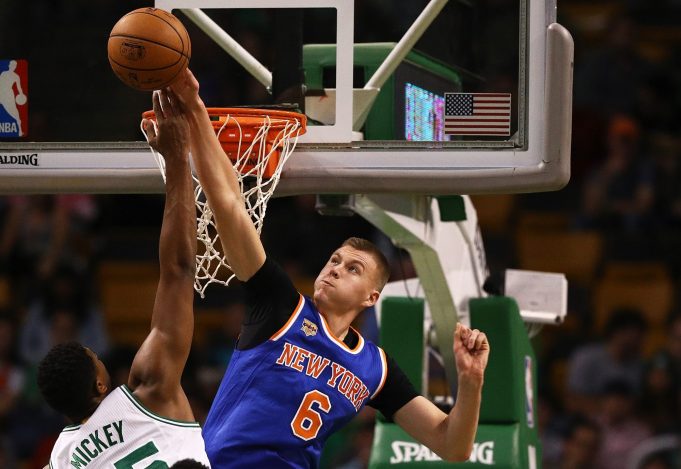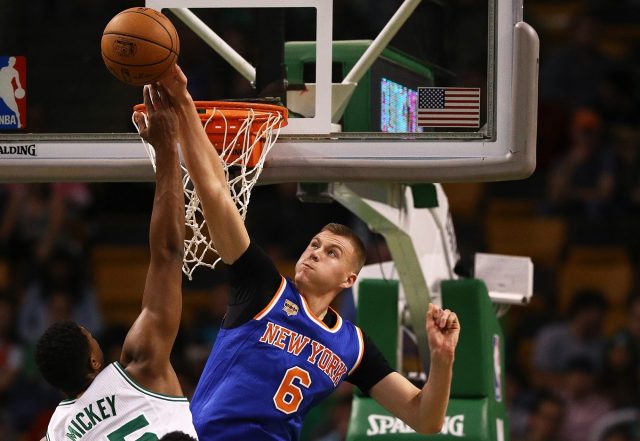 ---
Beyond their bargain contract values, both players are young. At only 22 they would be the perfect pair to spearhead the franchise into a rebuild.
Next to rookie Frank Ntilikina and sophomore Willy Hernangomez, the Knicks would have arguably the best young core in the league.
More importantly, this is likely the best return for Anthony in terms of player replacement. No other potential deal reported has the Knicks receiving such an established small forward with which they could transition with ease.
Parker's timetable for return is still up in the air, but having him down the stretch is more than they would get in a player like Moe Harkless.
Probability
It's hard to say whether this is something Milwaukee was even considering, or if Parker is on the table at all. He's seen plenty of games despite injuries, but a reoccurring ACL tear would scare even the Cleveland Cavaliers into listening to offers for LeBron James.
One thing to keep in mind moving forward is Parker's desire for a max contract extension in Milwaukee. Gery Woelfel, of Woelfel's Press Box:
"multiple sources claim Parker will be seeking a contract similar to the one he expected to receive prior to his latest injury – a max contract of five years."
Sure, it means the kid wants to play there. Or is he just testing the waters, to see what kind of money he's subject to after two serious injuries?
Either way, Milwaukee's eagerness to offer him that contract will determine how far talks with the Knicks and Rockets go. On the other hand, maybe New York will decide they're better off not tangling with two young players both due for max contracts.
---
---
Both Jabari Parker and Kristaps Porzingis have shown what it takes to become a star in today's NBA. Joining the two forwards together would mean laying a foundation of success for Knicks' future.
With no ceiling in sight for either youth, New York needs to invest now, and do what it takes to pull off this return for Anthony. It could be the difference between growing a contender now or waiting through more years of lottery picks and finger crossing.