Tracy McGrady's career holds parallels to that of New York star Carmelo Anthony. The most recent member of the Hall of Fame, is it safe to say Anthony will be too?
T
he NBA held their Hall of Fame induction ceremony last night, and Tracy McGrady was among the 2017 class.
Though so very different, his career path was very similar to that of New York Knicks forward Carmelo Anthony.
Does this make Anthony a lock for the Hall of Fame?
Tracy McGrady was drafted by the Toronto Raptors with the ninth overall pick of the 1997 NBA Draft. Mostly known for his stints with the Magic and Rockets, McGrady was a monster on the offensive side of the ball.
He won two scoring titles in 2003 and 2004 and holds a career average of 19.6 points per game. That ranks him 51st among the NBA's career leaders. The contradicting aspect to McGrady's path to stature is found in his lack of postseason success.
Through his prime, McGrady teams saw playoffs seven out of eight years. Not once did his team win a round of the playoffs. The ultimate asterisk on an incredible career.
Nonetheless, McGrady was a seven-time NBA All-Star, the 2001 Most Improved Player, and recorded just over 18,000 career points.
---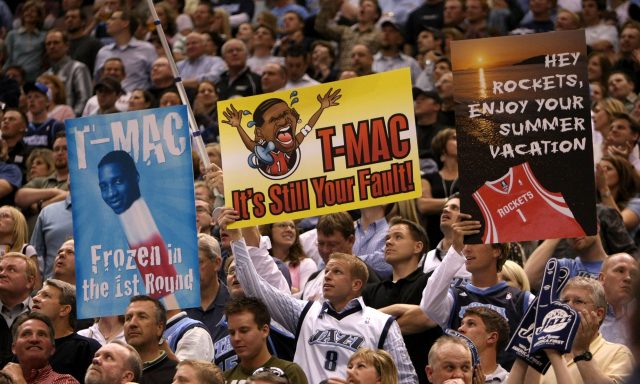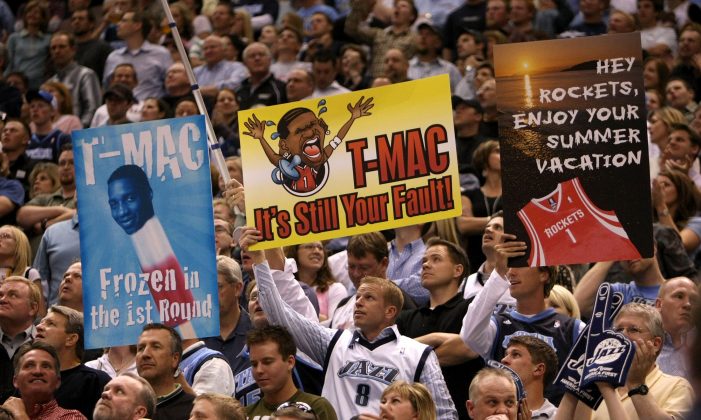 ---
Carmelo Anthony was drafted with the third overall pick of the 2003 NBA Draft by the Denver Nuggets. He hit the ground running and saw the postseason as early as his rookie season.
Not wanting to stick around for a Denver Nuggets rebuild, Anthony lobbied for a trade to the New York Knicks. He and Denver went to the playoffs each year of his tenure but surpassed the first round only once-which resulted in a Western Conference Finals loss.
He arrived in New York as a man on a mission. The Knicks would make the playoffs his first three years but haven't been back since 2013. Anthony has put on a one man scoring display and reached Hall of Fame career marks.
He's a 10-time NBA All-Star, won the 2012-2013 scoring title, and has recorded nearly 25 thousand career points.
---
---
Compare and Contrast
To simply put it, McGrady and Anthony are two score first small forwards who didn't know their own limits.
Once thought of as franchise players, and leaders for a team with eyes on a championship, McGrady's fate is sealed in its own tier of irony. Anthony still has time but will soon join him in that regard.
To be fair in statistical comparison, I placed the first six seasons of both players through basketball reference.
Games Played:

McGrady 420, Anthony 445

Points Per Game:

McGrady 20.3, Anthony 24.2

Assists Per Game:

McGrady 3.9, Anthony 3.1

Rebounds Per Game:

McGrady 6.5, Anthony 6.1

Field Goal Percentage:

McGrady 45 percent, Anthony 46 percent

Three-Point Percentage:

McGrady 36 percent, Anthony 31 percent

Offensive Rating: 

McGrady 110, Anthony 107

Defensive Rating:

McGrady 103, Anthony 103
The similarities stand, and the comparisons are apparent. Where McGrady was a more talented shooter, Anthony was overall a better player. Don't believe me?
Look at the last years of McGrady's career. His last full season was 2007-2008, his 11th season of 15 total. Beyond that, his injury plagued prime would catch up to him, and he would fall out of relevancy.
He would go on to play for the New York Knicks, Detroit Pistons, Atlanta Hawks, and even appear for just the 2012-2013 postseason with the San Antonio Spurs. All short spurts, McGrady served simply as a guy who could score a couple baskets from the reserves unit.
A low point for one of the NBA's best scorers of all time.
Look at where Anthony is now. Last season, his fourteenth mind you, he was tied with Kyle Lowry for the 21st highest point per game average in the league. And 6th among small forwards. He's seen his own share of injury, but nothing that put a limp on his career.
Where "T-Mac" holds the upper hand in scoring, Carmelo's play propelled his team to actual victories in the postseason. The Knicks forward has won three playoff rounds in his career. It's not much, but when people are comparing careers, it's going to help his case.
---
---
Tracy McGrady was one of the best in his era. He is an NBA legend, clear cut and indisputably. Now a Hall of Fame member, he will be remembered as one of the best to ever score the basketball.
Carmelo Anthony is one of the best scorers of his generation, yet took the wow factor that made McGrady who he is and sustained it far beyond the Hall of Famer's limits.
The universal truth lies in one of McGrady's recent comments about his career.
"Anybody can win a championship. Everybody can't get in the Hall of Fame."
The question isn't whether or not Carmelo Anthony will be inducted into the Hall of Fame, that much has already been made clear.
It's a matter of when, and how people will respond to another ring-less NBA great reaching what may be the only achievement that transcends a championship.