The New York Knicks have given up, with all eyes set on tanking and rebuilding from the ground up. Big man Willy Hernangomez plays a big part in that. 
W
illy Hernangomez had an impressive rookie season and showed the potential to become a young, yet balanced center.
With the mold of New York's future slowly forming, he'll have to show improvement in his second year if he wants to solidify his place in the team's framework.
Originally drafted with the 35th overall pick of the 2015 NBA Draft by the Philadelphia 76ers, his rights were traded to the Knicks on draft night. Prior to the start of the 2016-17 season, he signed with New York.
Hernangomez exceeded all expectations and earned a starting position in light of Joakim Noah's injury and later suspension. He was named the Kia Eastern Conference Rookie of the Month in April, and to the 2016-17 All Rookie Team this summer.
Through 72 games and 22 starting appearances, he averaged 8.2 points and 7.3 rebounds per contest. Basing that as his foundation for improvement, Hernangomez can secure a place in the Knicks' future by building upon last year's success.
---
---
Hernangomez's rookie year was phenomenal, but there's always room for improvement.
A couple aspects to his game, in need of an upgrade.
Mid-Range Shooting
The Spanish big man was highly efficient from the field, shooting 53 percent on the season.
Playing inside the pit isn't an issue, as he drained 62 percent of all his shots within three feet of the basket. Outside however, he was much less efficient.
From three-to-10 feet from the hoop, Hernangomez shot just 43 percent. From 10-to-16 feet he shot 42 percent, and anywhere further away he shot a lowly 29 percent.
Extending his range will be crucial and put him on par next to some of today's best big men.
---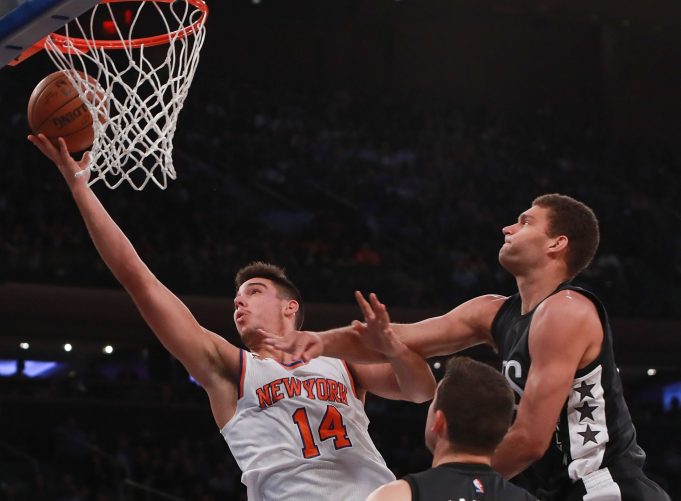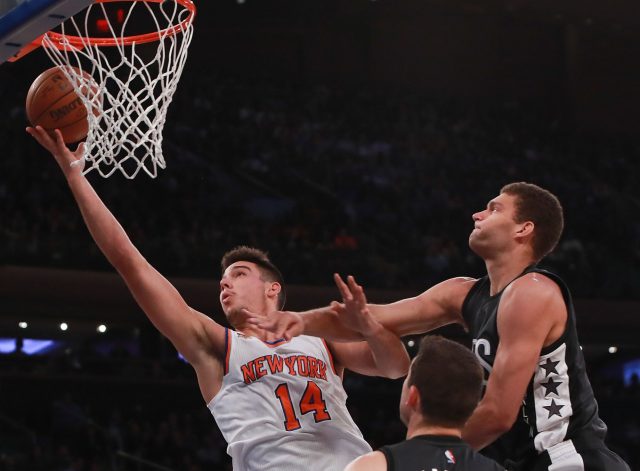 ---
Physicality
At 6'11" and 240 pounds, Hernangomez has the build to not only compete on the glass, but alter and block shots anyone hoists in the lane.
Last year, the Spanish big man averaged only 0.5 blocks per game. He recorded a season-high three only once and went the last nine games of the year without recording one at all.
Now, going into this off-season, one of Hernangomez's biggest goals was bulking up. As you can see here, he's certainly made an effort and put on some size.
If the sophomore center can make his way to at least averaging a block or two a game, he'll make for a nasty front court next to Kristaps Porzingis.
Passing
Today's big man is nothing like those of NBA past. They've adapted to the present play style, and the best are dropping dimes. That's it, Hernangomez needs to pass more.
Though he tallied nearly 100 assists on the year, that still only averaged out to 1.3 per game. With rookie Frank Ntilikina at point guard, any additional passing would benefit the Knicks.
Hopefully while playing for team Spain, Hernangomez can learn a thing or two.
Phenomenal passing by Spain's bigs in their blowout win today.

Willy Hernangomez w/ the no-look touch-pass and then Marc Gasol w/ a beauty: pic.twitter.com/oWzT4LX3vz

— Tommy Beer (@TommyBeer) September 2, 2017
He is playing next to Memphis Grizzlies center Marc Gasol after all, who averaged 4.6 assists last year. A spike in Hernangomez's passing will help make for a more fluid offense.
---
---
Alongside Ntilikina and Porzingis, this Spanish big man is the perfect third addition to this talented young core.
With a strong sophomore season, he can secure his place in the Knicks immediate future and path to rebuilding.
The New York Knicks will open the 2017-2018 season Oct. 19 against the Oklahoma City Thunder.