With little center depth on the New York Knicks roster, Kyle O'Quinn will have the chance to showcase his worth in the first half.
T
he New York Knicks possess a very deep front line. With
Carmelo Anthony
,
Lance Thomas
,
Michael Beasley
,
Kristaps Porzingis
,
Mindaugas Kuzminskas
,
Kyle O'Quinn
,
Willy Hernangomez
,
Joakim Noah
and
Luke Kornet
all present, they have a number of players they can mix and match in rotations. But despite the depth, there are conflicts present — one being Noah.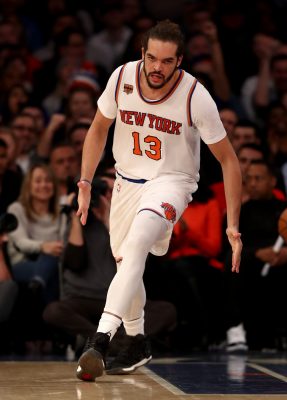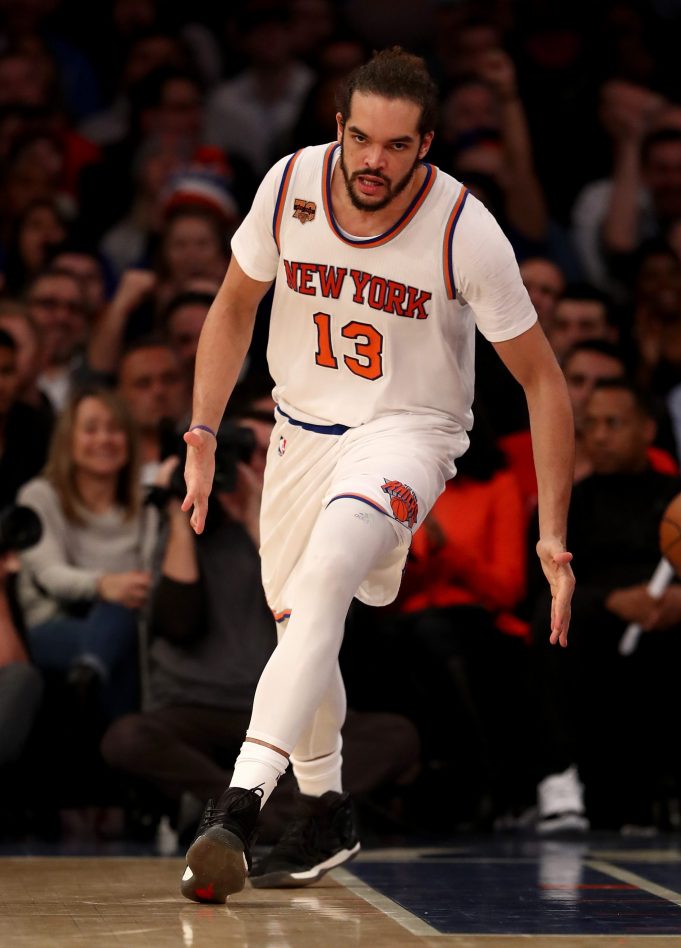 After violating the league's anti-drug policy, Noah was given a 20-game suspension without pay. He served eight of those games last season. When you consider that the veteran center will miss the first 12 games of the 2017-18 season and the fact that the Knicks possess few big men with NBA experience, O'Quinn becomes a crucial piece to the puzzle.
A Queens native, O'Quinn has produced well for the Knicks ever since inking a four-year, $16 million deal back in the 2015 offseason. He's been a valuable two-way presence off the Knicks bench.
While not a dominant offensive player, O'Quinn's ability to box out, hit the boards and finish in the paint has allowed him to hold his own on the offensive end. But where he makes his presence known—and what ultimately shapes his game—is his tough, defensive play.
Whether it's hitting the hardwood to dive after loose balls, altering-and-blocking shots or simply outworking opponents on the glass, O'Quinn stands out as a defensive force down low.
It's not surprising that he finished last season with the best player efficiency rating (PER) on the Knicks (20.6) despite averaging just 15.6 minutes per game.
Without Noah, and with a bench full of inexperienced and/or unmotivated defenders in the paint, O'Quinn becomes even more of a crucial piece for the Knicks.
One player the organization is high on is Hernangomez. While he's likely to be pegged as the team's starting center—and rightfully so—he's not a very good defender. At times last season he was pushed around in the post. He's also impatient when trying to defend jump shots and was pump-faked off his feet far too often, leading to easy jumpers.
Behind Hernangomez, there's the rookie (Kornet), veteran journeyman (Beasley) and second-year player (Kuzminskas). While Kornet was a shot-blocking presence in his four years at Vanderbilt, relying on him to be a defensive anchor in his rookie year would be asking for too much. In Beasley's case, the former second overall pick in the NBA Draft has never been a lockdown defender and, at times, has served as a liability on that end of the floor.
Then there's Kuzminskas. The 29-year-old Lithuanian forward didn't impress anyone with his lackluster defense as a rookie. Driving players blew past him at times and he lacked the overall consistency the Knicks need on that end of the floor. He'll have to show drastic improvement in training camp if he's going to see meaningful minutes.
When you look at the Knicks front line, they do have depth—but they don't have a core that, as a whole, is adept at producing at the defensive end on a consistent basis. Thomas is arguably their best one-on-one and perimeter defender, but outside of him and O'Quinn, there's not much defense coming off the Knicks bench.
Head coach Jeff Hornacek is looking to establish a defensive mentality. Due to the lack of skilled defenders on their roster, O'Quinn is going to play a huge part in making Hornacek's goal a reality.