Could Carmelo Anthony and the New York Knicks be on the verge of rewriting a situation that once took place between Stephon Marbury and Mike D'Antoni back in 2008?
T
his offseason, the
New York Knicks
and
Carmelo Anthony
have made it no secret they want a divorce.
With the Knicks looking to build around Kristaps Porzingis and Anthony seeking a trade to insert himself into a winning equation, both sides have made it clear they want each other no more. But regardless of what their intentions are, Anthony remains a Knick and appears likely to begin the year in blue and orange. But the Knicks don't appear to be willing to accept him as a big part of their plans this upcoming year.
Friday night, the Knicks' official Twitter account tweeted out a picture lacking one key player.
Never miss a moment with a 2017-18 Full Season Plan, now on sale at https://t.co/fn85V5Hfi8. #Knicks #NewYorkForever pic.twitter.com/47UwJPRpDf

— NEW YORK KNICKS (@nyknicks) August 25, 2017
In their "Full Season Plan" promo, Anthony is excluded. In his place is Porzingis, second-year center Willy Hernangomez and rookie point guard Frank Ntilikina.
While Porzingis is the more attractive player going forward, given his youth and well-rounded, two-way play, Anthony is still the best player under contract – which means one of two things: Either a) the Knicks envision dealing him before the regular season begins or b) they plan on granting him a severely limited role or one that prevents him from taking time away from others.
Based on the fact that the Knicks have failed to gain any real traction on an Anthony trade, chances are limiting his role is the most likely outcome. But in doing so, could the Knicks be looking at running Anthony out of New York much like they did with Stephon Marbury back in 2008?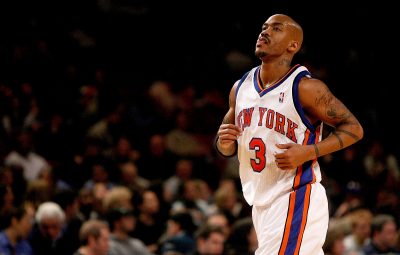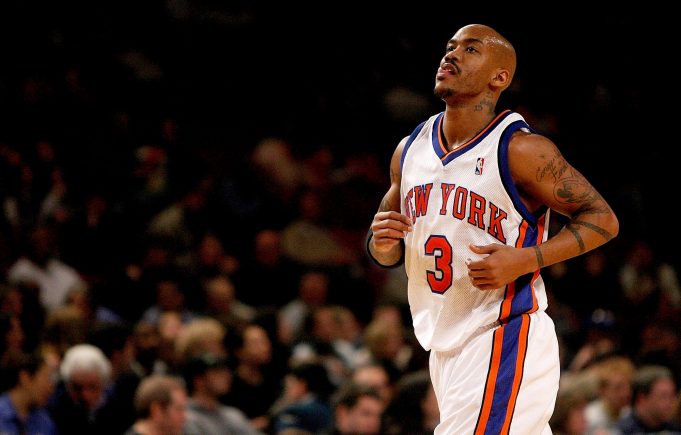 Time to turn back the clock. After the 2007-08 season, Knicks' president Donnie Walsh hired former Phoenix Suns' head coach, Mike D'Antoni, to run the show on Broadway. When he arrived in the Big Apple, some drastic changes occurred – the most notable one being Marbury's role.
Despite being the team's franchise point guard over the past four seasons, D'Antoni was of the belief that Marbury simply didn't fit his system. Instead, he felt free-agent signee, Chris Duhon, was a better fit to run the offense – which he went forth with.
What happened as a result of D'Antoni going with his gut was completely unscripted. Ranging from Marbury accusing D'Antoni of being a "liar", to management telling the guard to stay away from the team, to even D'Antoni not putting him in a single game, everyone involved put together an insane roller coaster ride. There was also the incident when the Knicks were short on players after executing multiple trades and Marbury opted to not play even when D'Antoni told him there'd be "30-35 minutes" open.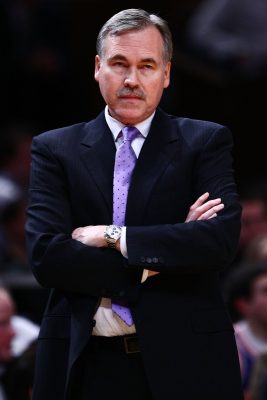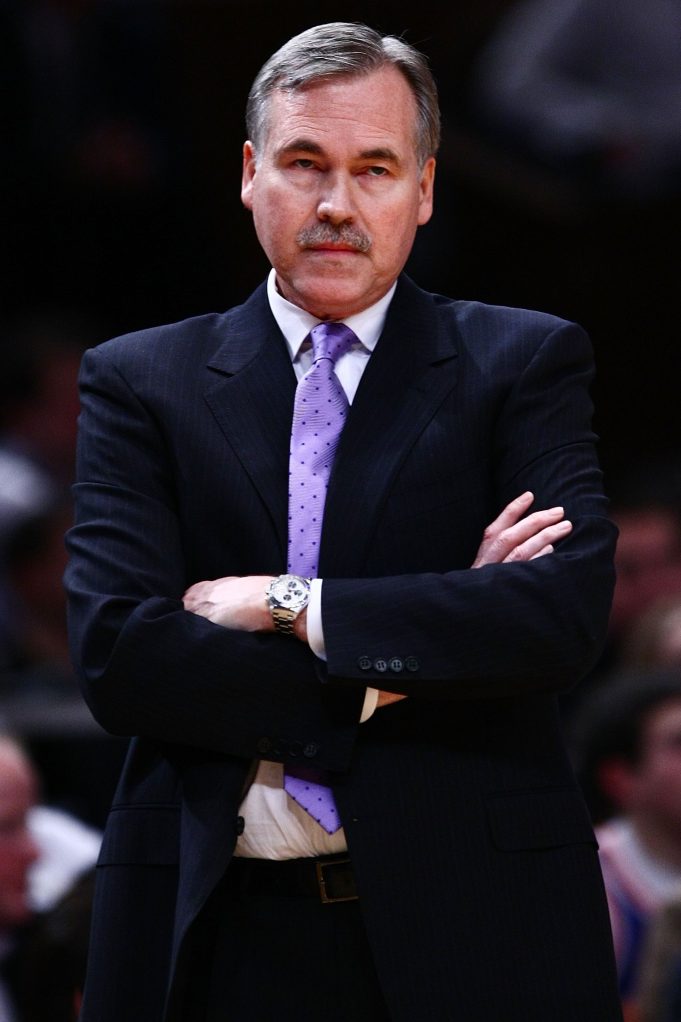 While the Knicks obviously endured a number of embarrassing feats in his time with them — mostly missing the playoffs on a consistent basis — it was insane to think that Marbury would have zero role on his hometown team. But D'Antoni didn't care about the "hometown classification" or even his past success as a lead guard — which he proved by going with Duhon and Nate Robinson.
Then, after nearly four months of their bizarre relationship, Marbury and the Knicks agreed to a buyout – marking the end of his time in New York.
Marbury was a player who signed a five-year, $90 million deal to come in and change the Knicks' fortunes. Unfortunately for both sides, no such heroics transpired and his tenure couldn't have ended in a worse way.
So how does Anthony's situation relate to Marbury?
Currently, the Knicks are salivating at the opportunity to begin a full-on youth movement centered around Porzingis — which cannot happen with Anthony present. But by not including him in an ad essentially selling their brand, the Knicks have shown they don't view Anthony as a centerpiece of their core. Remember when D'Antoni and the Knicks decided to go with their new philosophy of young, gritty guys? Isn't that situation identical to the one the Knicks have present, nine years later?
Here's more proof that the Knicks are intent on trying to exclude Anthony.
President Steve Mills formulated a blog post, regarding the state of his team: "[Ntilikina], Porzingis and Hardaway, along with Hernangómez and Ron Baker will exemplify a new defensive mindset that puts a premium on making stops," Mills wrote. "Only from there can a productive offense flow. We will emphasize ball movement, body movement, spacing and screening, while understanding that these changes will be a work in progress. We may not be there at first, but that's the brand of ball our players will aspire to fulfill.

"These players, still young, intent on enhancing their games, engaged in a common objective, are already altering the atmosphere surrounding the club."
Mills is preaching that this team is different. But if you look at their roster, how could that be? While they did draft an intriguing point guard (Ntilikina) and gambled on Tim Hardaway Jr., Anthony remains on the roster — a win-now player, who doesn't make sense on a rebuilding squad.
Those two quotes speak volumes for where Mills believes the Knicks are at the moment. But sometimes it's what you don't write that sticks out.
When you read Mills' entire post, you'll notice that Anthony's name isn't once mentioned in any way, shape or form; he's essentially invisible in their eyes. So will this lead them to treat Anthony that way once the regular season begins?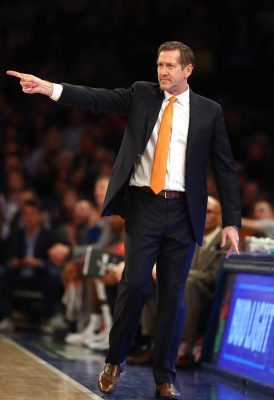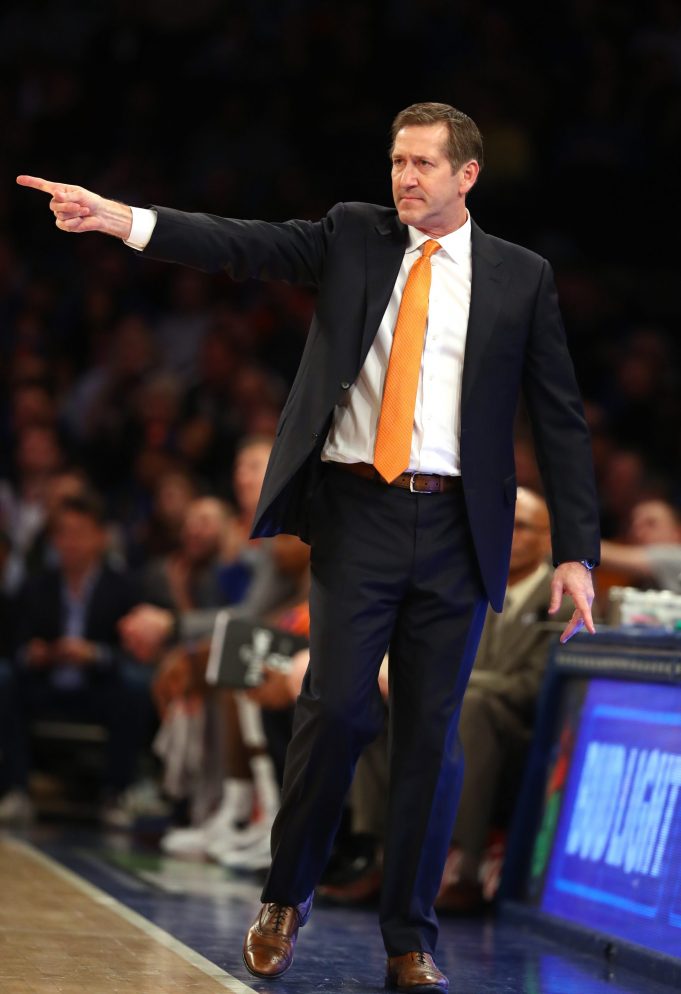 With Porzingis, Hernangonez, Ntilikina and Hardaway all present, the Knicks want to begin seeing what they have in that intriguing, young core. But if Anthony sees significant minutes, their full potential and ability to grow as a core will be halted. That's due to Anthony needing the ball in his hands in order to make an impact. So what's the only way to prevent Anthony from holding them back?
Head coach Jeff Hornacek is heading into a crucial second year with the Knicks, after leading them to a lackluster 31-51 season, so he's walking on eggshells this year. Chances are he may very well take some orders from management, in order to keep his job — especially when you take into account that Phil Jackson, not Mills, hired Hornacek. With Mills now at the helm, he could very look to put together a staff of his liking and Hornacek could be a victim, in favor of a new face on the sideline (cough, David Blatt, cough).
As a result of his job potentially being on the line this year, Hornacek may refrain from utilizing Anthony. That could mean permanently benching him like D'Antoni did with Marbury, or maybe playing him 15 minutes a night off the bench. Each scenario would speak volumes for how the franchise views Anthony.
Anthony and the Knicks both deserve blame for the situation they have put each other in. The Knicks have been stubborn in trade talks and Anthony refuses to be dealt anywhere not named Houston. But Anthony's the one that needed the no-trade clause and ultimately had the option when it came to getting out of town. But instead, he's put the Knicks in a corner. And they've made it clear as day, that they have no intentions of including him in their future — whether that's the right thing for them to do or not.
When D'Antoni was hired back in 2008, the Knicks and him were looking in a new direction — which benching Marbury proved. Today, the Knicks have made it clear that Anthony has no role in their future, so could he be facing the same fate as Marbury? It's not that crazy to consider it a legit possibility.